I loving grilling chicken.  It really is a guilt free food, and I love that 'grilled' taste.
Plus, my husband usually does the grilling at my house, so it's kind of a break for me.  Bonus!
I recently saw a grilled chicken sandwich recipe on a cooking show, but then I couldn't find the recipe online when I wanted to make it.  So, naturally, I just had to make up my own.  But I didn't want the sandwich, just the chicken.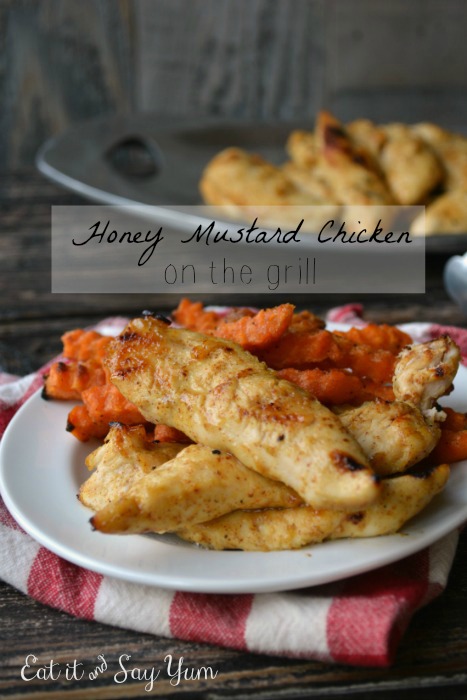 This chicken cooks up super fast, even under the broiler.  About 3 minutes per side.  It tends to rain fairly often here in Montana, even during the summer, so having a back up plan for the grill is nice.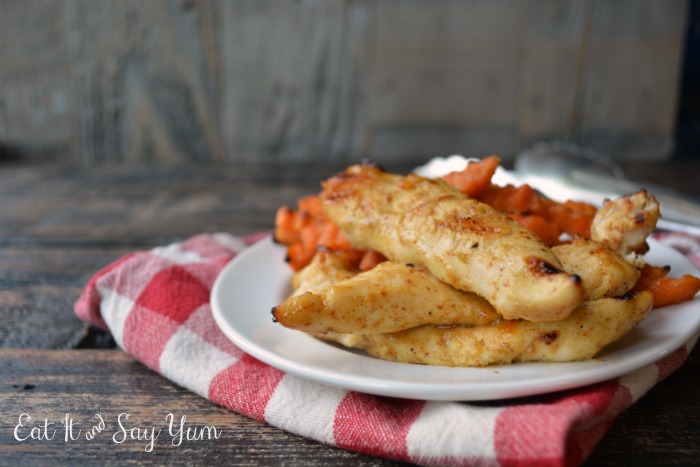 I love the sweet and tangy combination of the honey and mustard.  I add a little heat to give it some kick.
The marinade for this chicken is so easy to whip up.  I add the raw chicken, even if it's still a little frozen, into a container with the marinade and cover it with a lid.  Let sit in your fridge for anywhere from 1-24 hours.  (You could make this a day ahead of time!)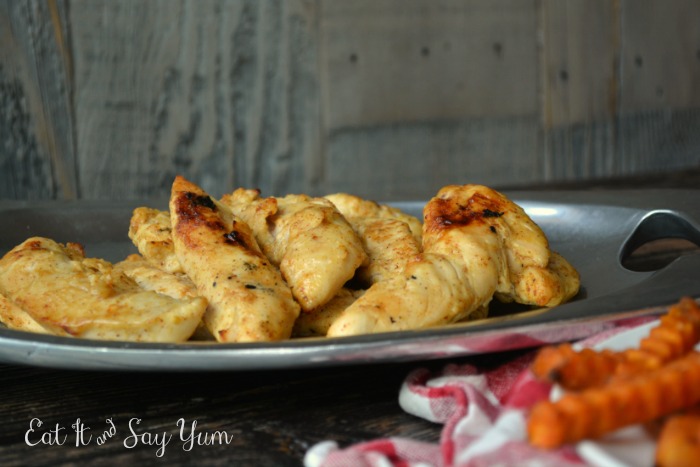 When ready to cook, simply throw the chicken on the grill or under the broiler.  I used chicken tenders and they only needed about 3 minutes on each side to cook.  Grill cooking times may vary depending on the temperature of the grill.
Grilled Honey Mustard Chicken
Ingredients
1/2 cup honey
1/2 spicy brown mustard
3/4 tsp paprika
1/8 tsp crushed red pepper flakes
2-3 dashes of cayenne pepper
salt and pepper to taste
2 Tbs apple cider vinegar
2 pounds chicken tenders, or thighs, or breasts
Instructions
In a medium mixing bowl mix up all ingredients, except for the chicken, to make the marinade. Taste the marinade, add more salt if desired. Pour the marinade over the chicken in a container with a lid. Allow to sit for 1- 24 hours, if longer than 1 hour- let it sit in the fridge.
When ready to cook, place the chicken pieces in a single layer on the hot grill, or under a hot broiler. Chicken tenders should cook about 3 minutes on each side. Thighs should cook 5-7 minutes per side. Breasts should cook 7-10 minutes per side. Chicken is done when it is no longer pink in the center. I recommend chicken tenders or thighs for this recipe.
Serve cooked chicken while still hot.
http://eatitandsayyum.com/grilled-honey-mustard-chicken/
This chicken is also great on salads, in wraps, or on a sandwich.  So many uses, for such an easy recipe.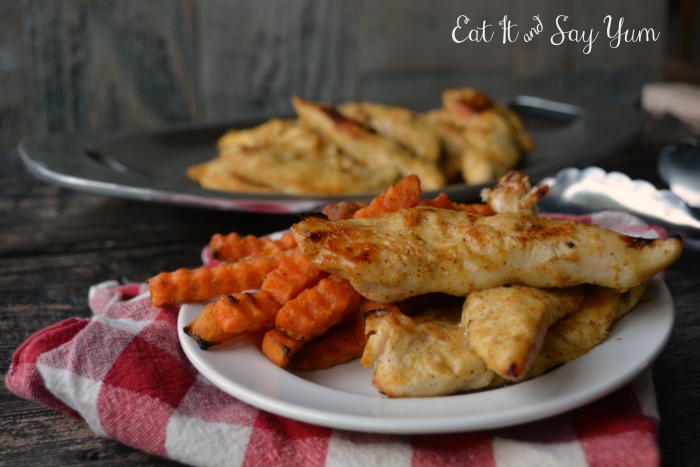 What are you grilling this summer?
See where I link up.
You might also like:
Green Beans in Browned Butter and Balsamic