I seem to have a story about pretty much all the food I make.  It either reminds me of something or time, or I can clearly remember a time I ate it.  In this case, I remember the first time I saw these pot stickers, and the first time I made them.  Let's take a trip down memory lane…
I was in college.  My roommates and I were throwing a potluck. A guy from church brought these weird looking things, that everyone else was raving about, but I'd never even heard of them.  Let me introduce you to Japanese Pot Stickers, aka Gyoza.  (Gee-oh-zah)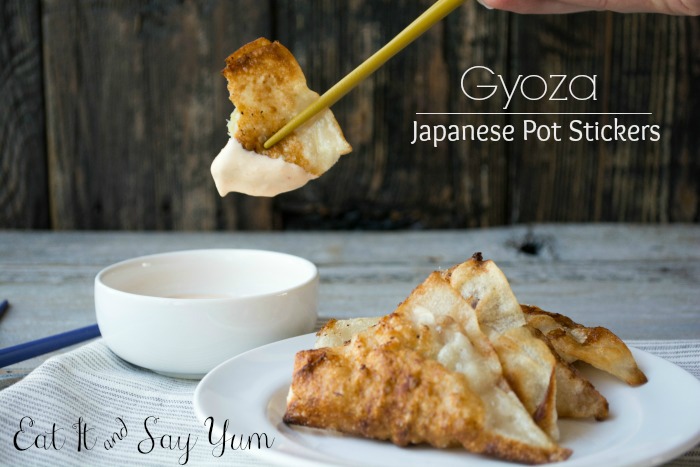 Sadly, there were not enough Gyozas that night for me to snag one.  So, I just asked the guy that brought them to teach me to make them.  Thirteen years later, he is my husband and we have 4 kids!  Hehe.  It was love at first Gyoza.  Or something or like that…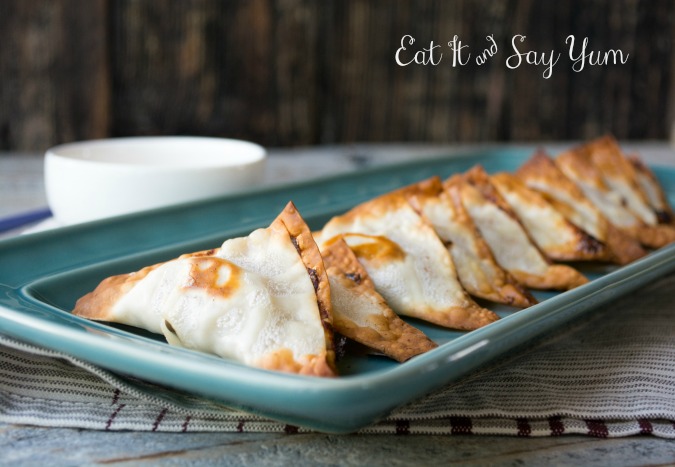 These babies do require some patience because you have to prepare each individual one, but they are so worth it.
You have a few options when it come to cooking these.  You can steam them.  But I like a crunch better than just steamed.  So, I like to steam them and then fry them to get a crispy shell.  But you can bake these as well, which is definitely an easier option.  You can bake a whole pan at once, instead of doing several batches in a fry pan.  Which ever method you choose, they still taste great.  (The gyozas on the blue plate above were baked.  The ones in the top picture were fried.)
To make these you mix up the meat mixture, I use ground pork, but I'm sure you could substitute ground chicken if you want.  Then put a heaping teaspoon full in the middle of a small wonton wrapper.  Fold it half, matching the corners, using some water to make the sides stick.  Then repeat until you run out of meat or wrappers.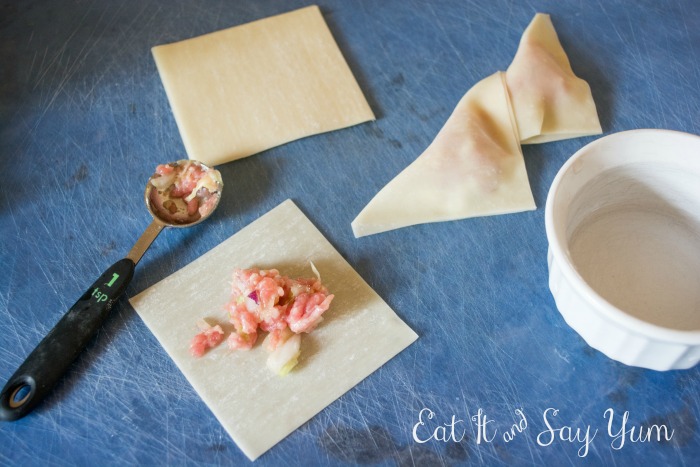 If you are steaming them, I recommend using a steaming rack, like this one.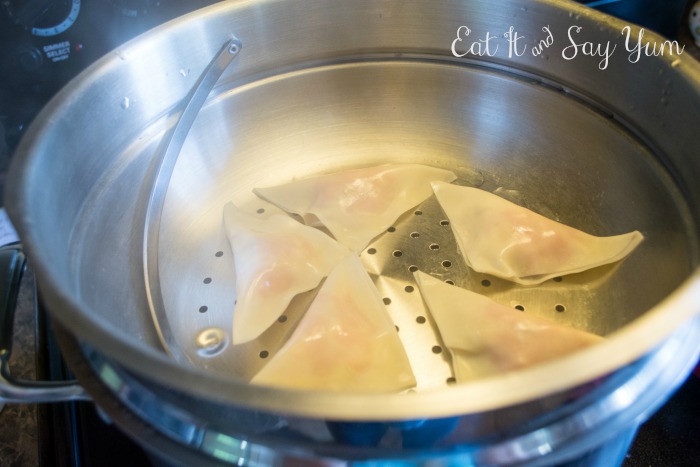 I like two dipping sauces with my gyozas.  I make a brown sauce that is bursting with great flavor, and then I also dip them in my Spicy Yummy Sauce.  The two sauces are amazing on these!!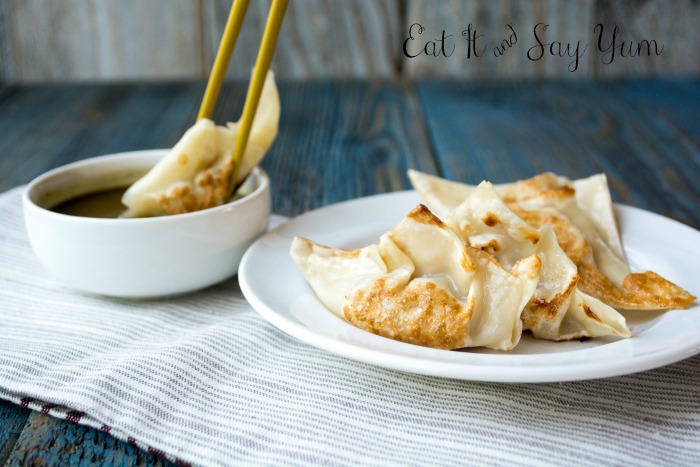 So, steamed, baked, or fried, you can't go wrong with this homemade pot sticker.
Gyoza- Japanese Pot Stickers
Ingredients
1/2 pound ground pork
1 1/2 tsp salt- divided
1 Tbs sesame oil
2 Tbs finely chopped onion
1 cup very finely chopped cabbage
1 Tbs soy sauce
2 Tbs water
1/4 tsp garlic powder
Dipping Sauce: 1/4 cup soy sauce
1/2 Tbs sugar
1 Tbs rice vinegar
5-10 twigs of cilantro- stems removed
1 Tbs water
1 1/2 tsp sesame oil
1/4 tsp ground ginger
1 clove garlic- minced
1/2 tsp sesame seeds
1/4 tsp crushed red pepper flakes
1/4 tsp corn starch
Instructions
In a medium mixing bowl add the chopped cabbage and 1/2 tsp of the salt. Mix together and pres down, let sit for 10 minutes. After 10 minutes is up, dump the cabbage onto a paper towel. Wring the water out of the cabbage, remove as much water as you can.
In the same bowl combine the ground pork (raw), remaining salt, soysauce, oil, broth, garlic powder, and onion. Stir together, then fold in the cabbage.
Using small, round or square wonton wrappers, add a heaping teaspoon full to each wrapper. Using your finger, wet two perpendicular sides of the wrappers and fold them in half to form a triangle. (So two dry sides are pressed against two wet sides.) Press the edges together to seal them. At this point you can freeze these for later use, or cook them now. To STEAM these: place on a steamer rack over boiling water for 5-7 minutes, or until the pork is cooked through. To FRY: steam for 4-5 minutes, then fry over medium high heat in hot oil. Fry for 3-4 minutes or until pork is cooked through, be careful not to burn the wrappers, adjust heat as needed. To BAKE: lay the filled gyozas on a greased baking sheet, and spray the tops with a light coating of cooking spray. Bake for 10 minutes at 375 degrees. Turn them over and bake for another 4-7 minutes, or until the pork is cooked through.
Dipping Sauce:
Add all the sauce ingredients, except for the sesame seeds, into a blender. Blend for about 10-20 seconds. Pour the sauce into a large mug or microwave safe bowl and add the sesame seeds. Microwave for 60-90 seconds, then stir. Let cool, at least slightly, then dip gyozas in.
http://eatitandsayyum.com/gyoza-japanese-pot-stickers/
See where I link up.
Are you a fan of Japanese food?  Try out these recipes: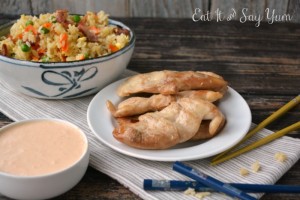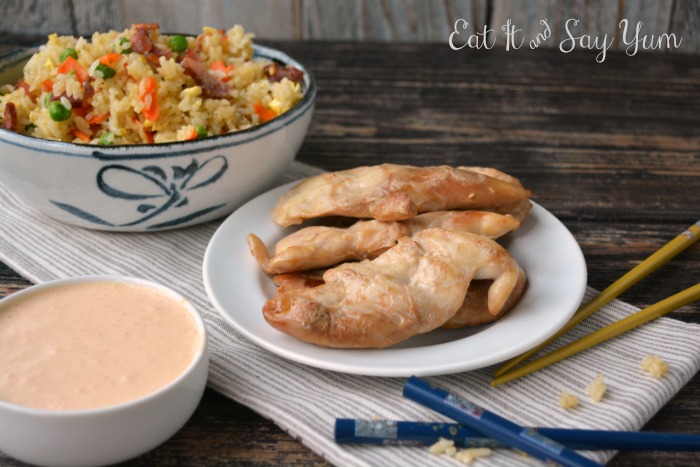 Japanese Steakhouse Copycat Spicy Yummy Sauce