Here's another fun treat for Halloween, Fall, Autumn (whatever)!  These crispy treats are so irresistible, and fun.
They are full of cocoa crispy cereal and peanut butter, for all of you who love that combination, like me.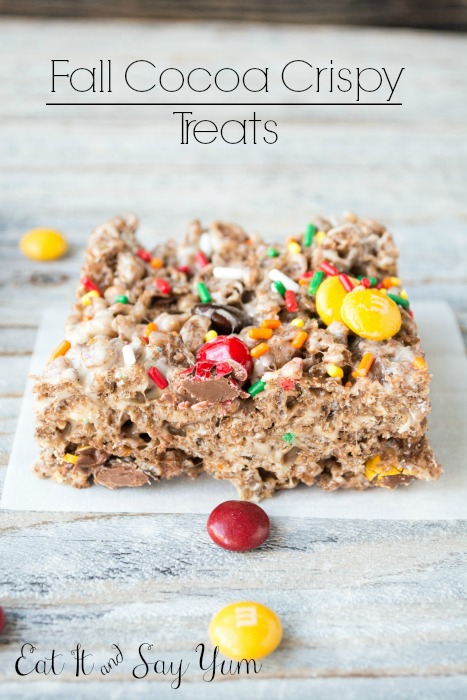 You can mix up the colors of m&ms, and sprinkles to change the look, and use at different holidays.  (I made these for Valentine's Day as well.)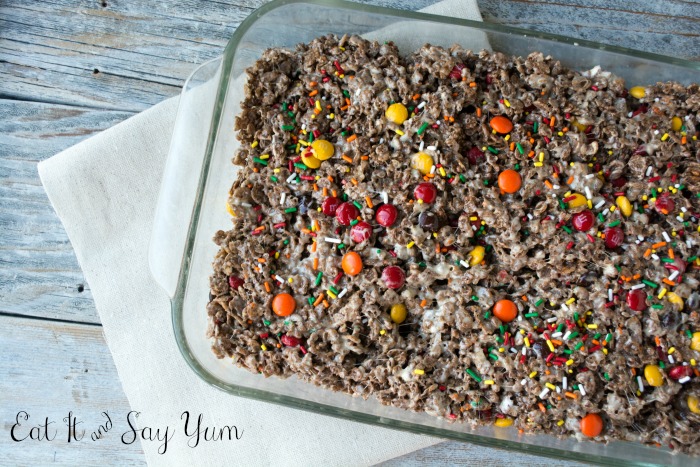 This batch makes enough to fill a 9×13 pan.  Go big or go home, right?!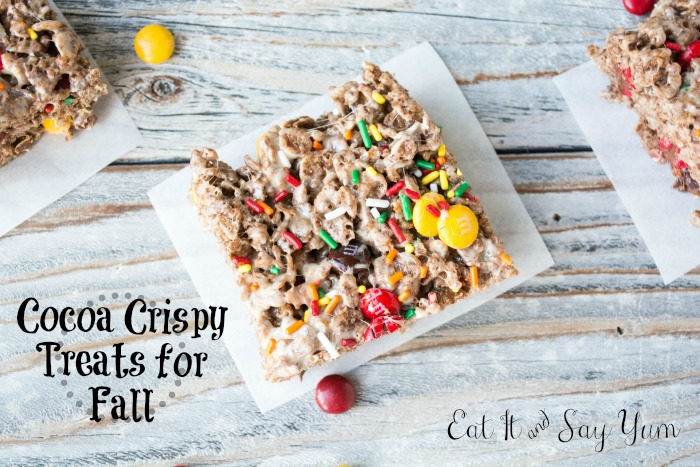 I promise that big pan won't last long.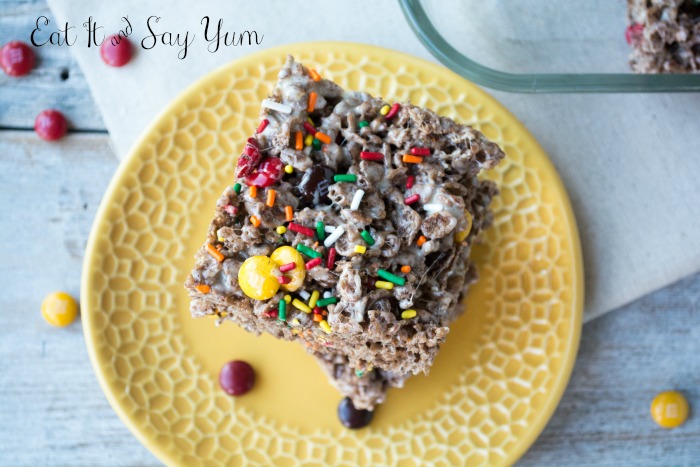 This recipe makes some soft and chewy crispy treats.  I'm not a fan of dried out, and hard crispy treats.  Who is?  These are just right.
Halloween Cocoa Crispy Treats

Ingredients
7 cups cocoa crispy cereal
46 marshmallows, the big ones (not the HUGE campfire size)
3 Tbs butter
1/3 cup peanut butter- creamy
1 cup m&ms- Fall or Halloween colors
1-2 Tbs Halloween or Fall sprinkles
Instructions
Measure 7 cups worth of the cocoa crispy cereal into a large bowl and set aside.
In a large, microwave safe bowl, add the marshmallows, butter, and peanut butter. Heat for 1 minute in the microwave, then stir with a butter knife (for easy scraping off excess). Heat for about 30 seconds more, and stir again. Marshmallows should still be creamy, but soft enough to mix together. Add the cereal and stir to mix. Once nearly combined, add the m&m's and sprinkles and stir again.
Grease a 9×13 pan with cooking spray and pour the cocoa crispy mixture into the pan. Grease your and and carefully press the treats down to fill the pan. Let cool before serving.
http://eatitandsayyum.com/halloween-cocoa-crispy-treats/
See where I link up.
You might also like:
White Chocolate Halloween Chex