I'm dreaming of a Hawaiian vacation…  (Isn't everyone?)
Until those dreams come true, I will have to warm myself from the inside out, and this Hawaiian Kahlua Pork will do just that.
One of my college roommates did a year of schooling in Hawaii, and when she came back she taught me to make Kahlua Pork.
THANK YOU, Mary!  This has been a family favorite ever since then.
Typical Kahlua Pork is eaten with rice, but I always have to add a twist to my recipes, so I serve this dish with some homemade Sweet and Sour Sauce.
The sauce ties the meat and rice together perfectly, and it adds some veggies to the dish.  Win win.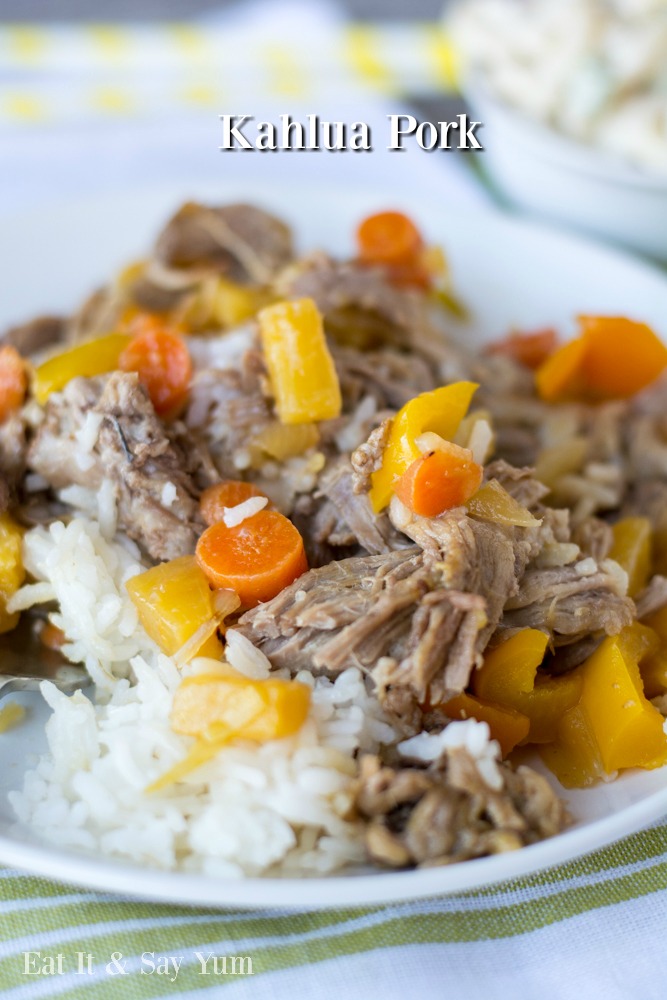 One thing I love about this pork is how tender it is.  The meat just falls apart.
To prepare the meat you give it a good soaking with liquid smoke.  You can find that near the barbecue sauces at your local grocer.  Then you coat the pork roast with coarse sea salt.  Not from a grinder, although that would work, it would just use a lot, and the measurements wouldn't be the same.  I prefer the larger pieces, and that's what I use for the recipe.  (Feel free to use less liquid smoke and salt if those flavors are too strong for you.)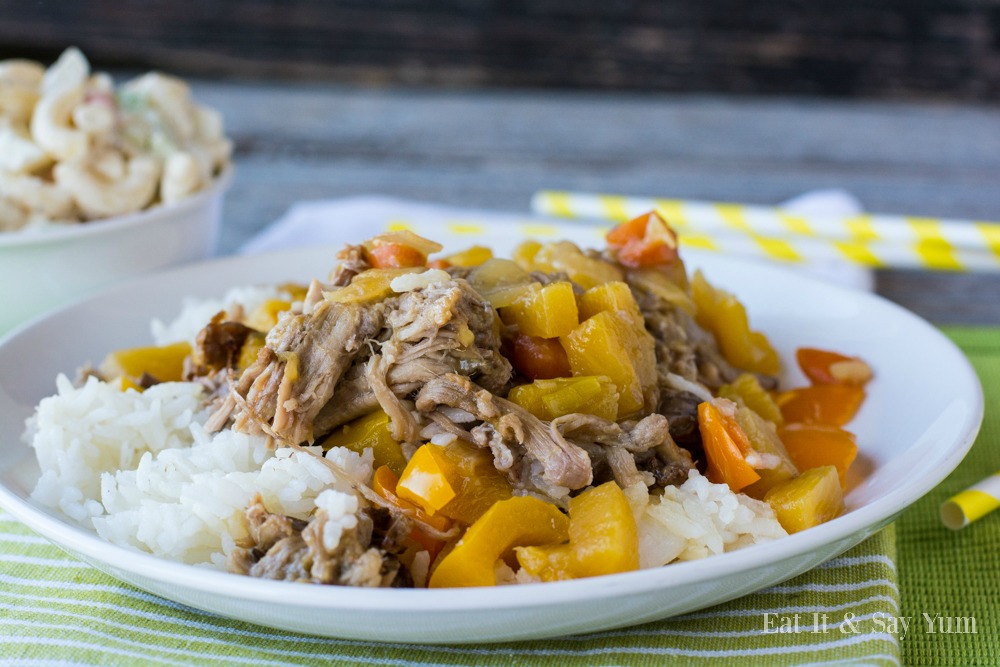 Wrap the prepared meat in two layers of foil.  Place in a 9×13 baking dish, and cook for several hours.  My general rule for this pork, is to cook it for an hour per pound, at a minimum of three hours.  So a 5 pound roast should cook in 5 hours.  Of course there are always other factors that come in to play (was the foil wrapped tight, is the oven temp accurate, does the roast have a bone in it, etc.), so check the roast after the required cooking time and see if the meat is easily pulling apart when you try to shred it.  I use two forks and pull them in opposite directions across the meat.
If it's not quite tender enough, then put the meat back in the oven.  Let it sit as long as you can.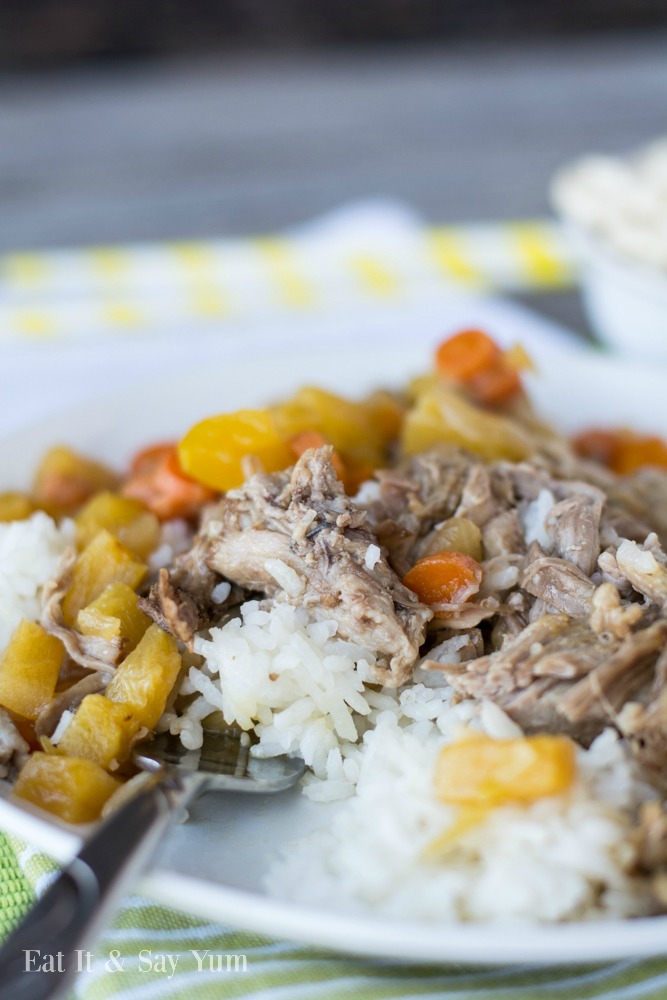 For the sauce, I chop up some fresh carrots, bell pepper, and onion.  I add pineapple, vinegar, sugar, soy sauce, and some corn starch to thicken.  Once the meat is done I use the juice from the meat to add to the sauce.  It gives the sauce the salt it needs, and makes for a juicier and more flavorful sauce.
Hawaiian Kahlua Pork with Sweet and Sour Sauce
Ingredients
5 lbs pork butt/ shoulder roast
3-5 Tbs liquid smoke
1/4 cup coarse sea salt
Sweet and Sour Sauce: 2 carrots- cut into rings
1 bell pepper- chopped
1 onion- chopped
1 Tbs oil
1, 20 oz can pineapple tidbits in juice
1, 6 oz can pineapple juice
1/4 cup vinegar
1 1/2 Tbs sugar
1 1/2 Tbs corn starch
3 Tbs soy sauce
3 cups rice- cooked
Instructions
Preheat oven to 350 degrees. Lay two large pieces of foil criss-cross in a 9×13. Place the pork roast on top of the foil, fat side up, and rub on the liquid smoke. Sprinkle the salt over the liquid smoke. Wrap the top layer of foil around the roast, sealing the edges as best you can. Repeat with the bottom layer of foil, so the roast is double wrapped in foil. Place about 1/4 inch of water in the bottom of the pan, around the foil wrapped roast. Place in oven. Cook for about 5 hours.
About 30 minutes before you want to eat, start on the sauce, also start your rice cooking now. In a large sauce pan, skillet, or pot, add oil, diced carrots, bell peppers, onions, and pineapple. Let cook for 1-2 minutes then add the pineapple juice, vinegar, and sugar. In a small bowl whisk the soy sauce and corn starch together, set aside.
Let the sauce come to a boil, then whisk in the soy sauce mixture. Reduce heat to simmer and stir to combine everything.
After 5 hours of cooking the meat, try and shred it with two forks to see if it is tender enough. If it needs more time, put it back in the oven. You can turn up the temperature on the oven to 400 degrees and let it cook for another 30 minutes or so if needed. (If it really isn't close to shredding, otherwise leave it at 350.) Remove the fat from the meat, and shred the pork roast. Add about 1/2 cup of the meat juice to the sweet and sour sauce.
Serve the shredded roast over the rice, and top the meat with the sweet and sour sauce. Serve hot.
http://eatitandsayyum.com/hawaiian-kahlua-pork-with-sweet-and-sour-sauce/
I always serve this with some King's Hawaiian Rolls.  Any leftover meat makes a great sandwich on those same rolls.
So, impress your family with this easy 'roast pig' at your next luau.  Or any night.  😉
See where I link up.
You might also like: