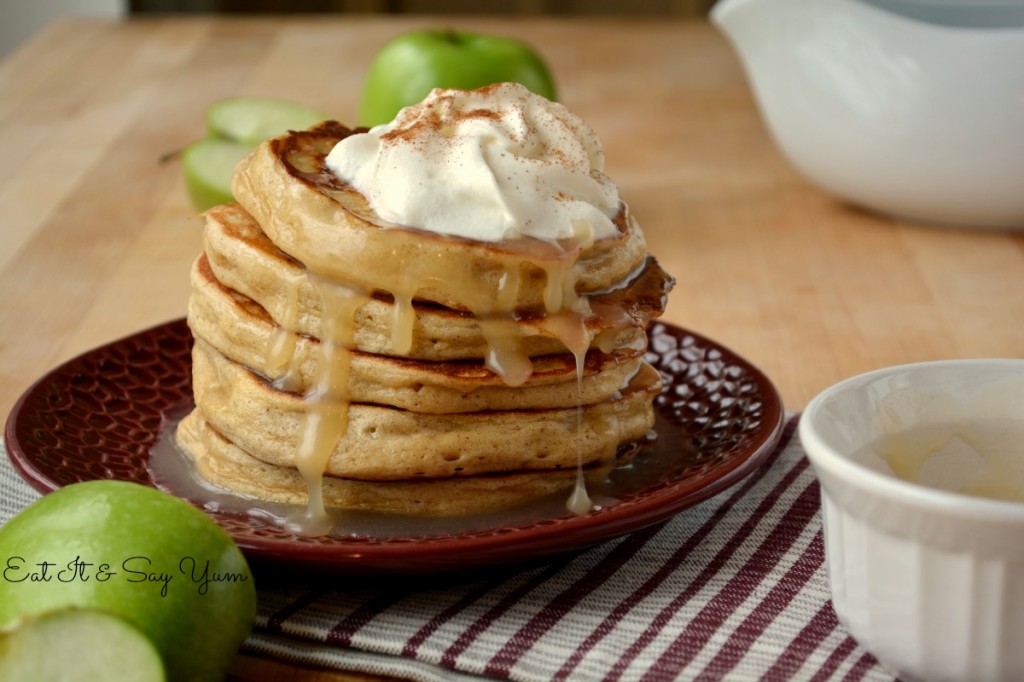 Are you noticing a trend in my posts recently?
Breakfast.  Yeah.
My kids love it.  We eat it a lot.  Like everyday.  😉
One of my favorite breakfasts are these Whole Wheat Apple Cinnamon Pancakes.  (The pancakes in the photo below were made with whole wheat, the pancakes in the photo above were made with white wheat flour.)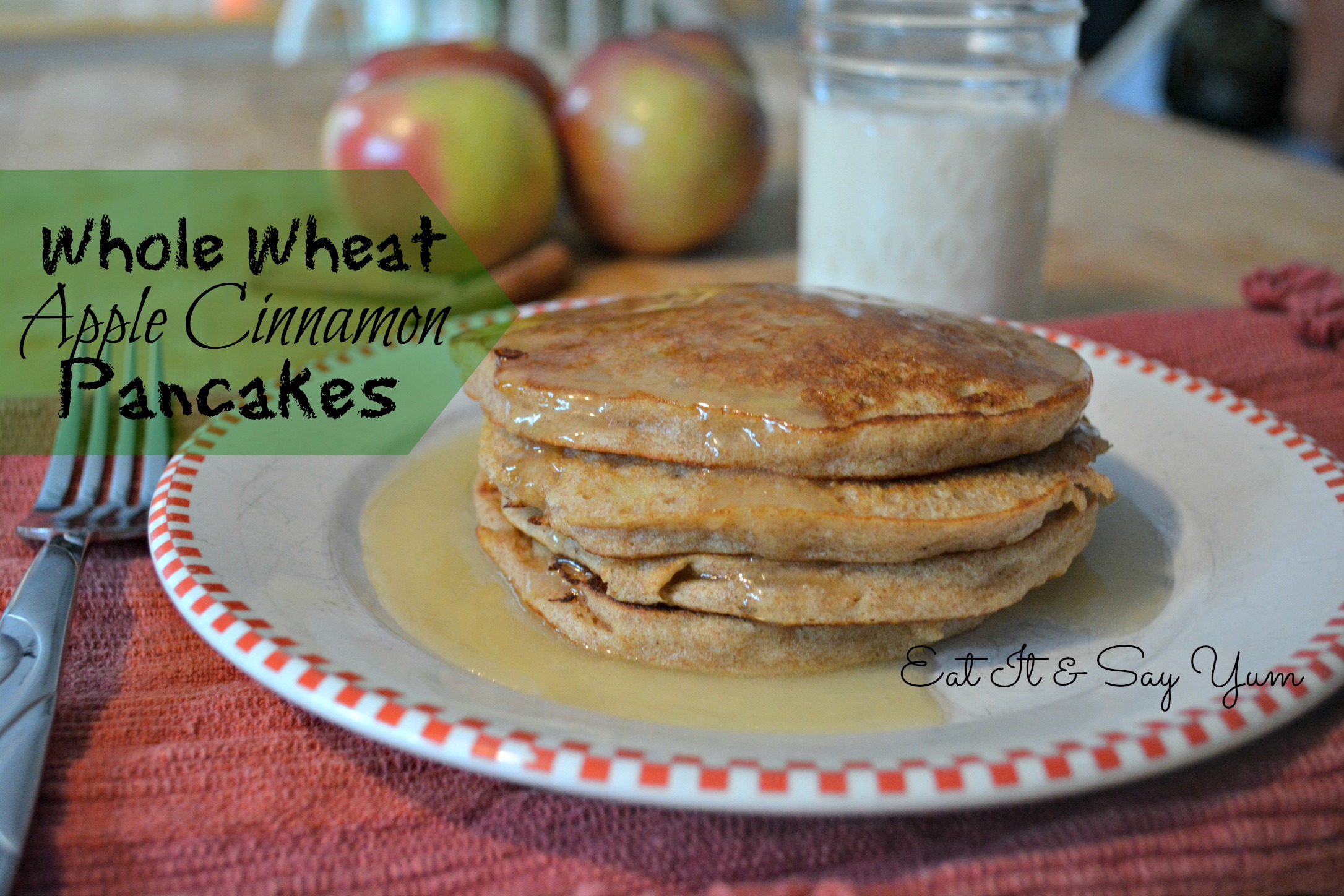 Yeah, I said whole wheat!  And apples!  So, I don't feel so bad giving these to my kids.  Even though we top them with, you guessed it, Buttermilk Syrup.
I love how fluffy these pancakes are.  And the apples and cinnamon are, of course, a prefect combination.
So, let's make some pancakes, shall we?!
For starters, let me recommend King Arthur Whole Wheat Flour, again.  Or white wheat flour, both are good.  Both types of pancakes are pictured in this post, see above.
King Arthur whole wheat flour is so good.  I use it all the time, and the texture is amazing.  I have tried other brands, and I won't ever go back.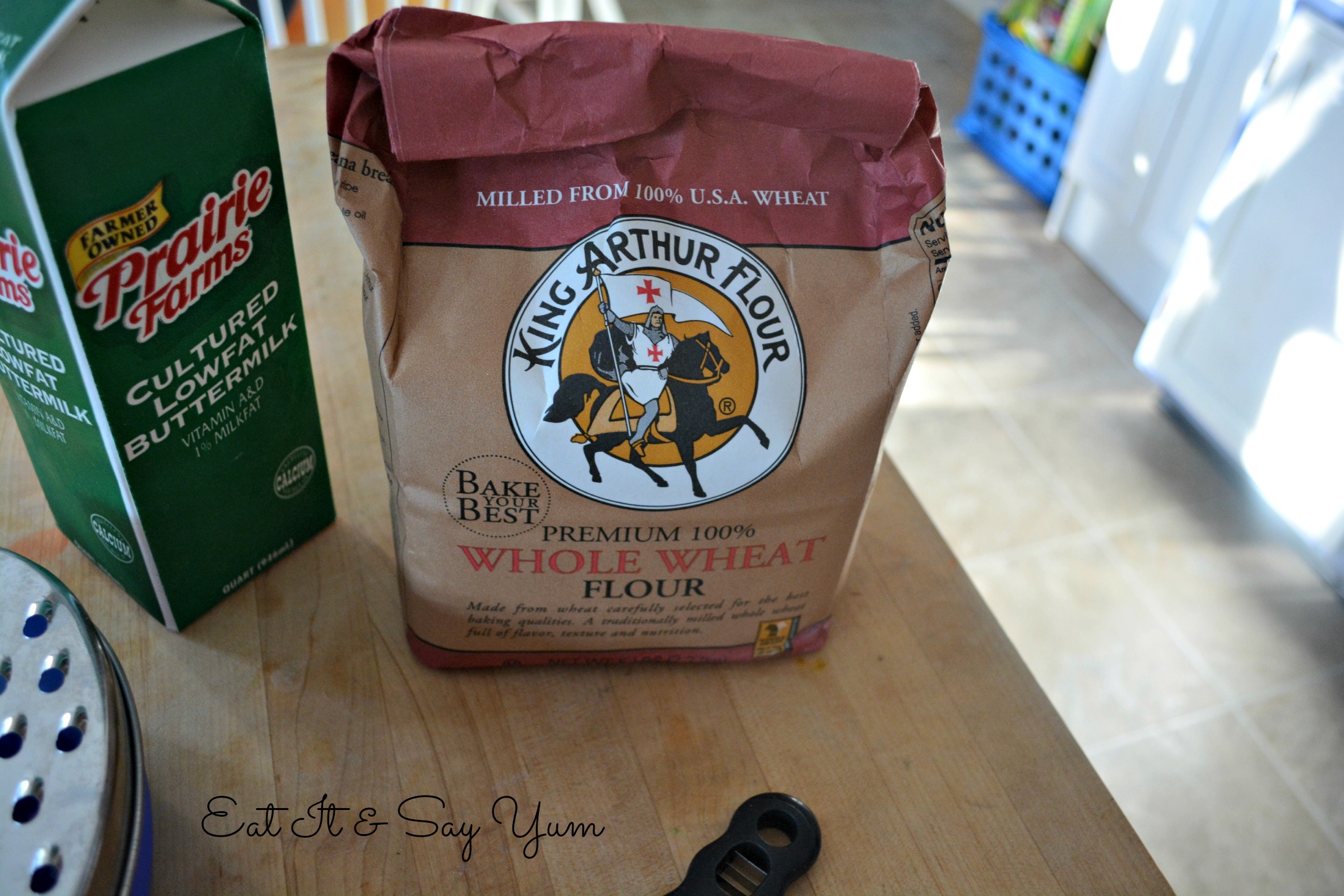 Mix your dry ingredients together (except for the baking soda).  Mix the buttermilk and baking soda in a separate bowl.  In the third bowl, beat the egg whites, the yolks go in with the buttermilk.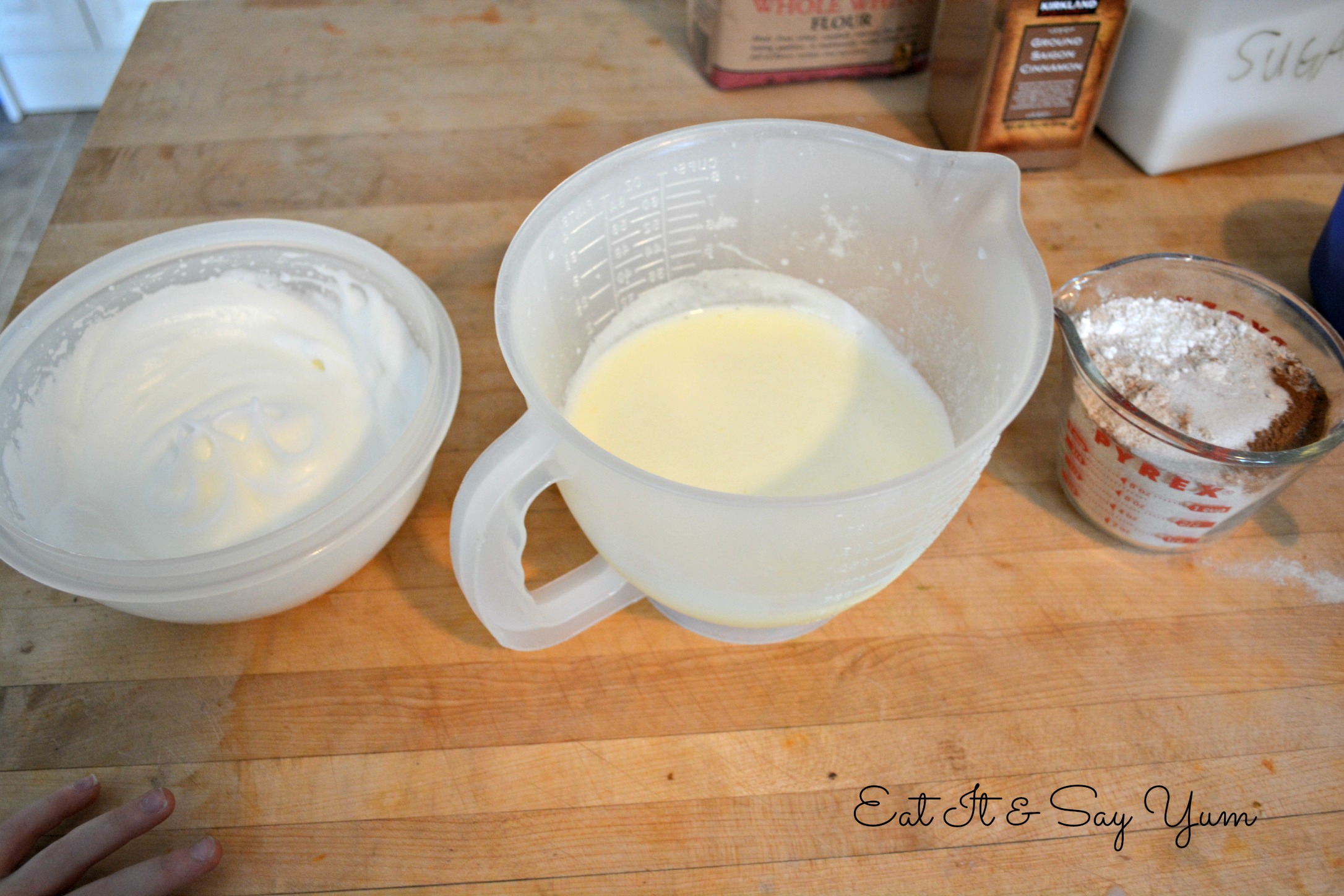 Now, grate the apples.  I like to grate them so the pieces are thin and can cook in the pancakes.  Big chunks is not what I'm going for, grating gets everything a uniform size and it's so fast and easy.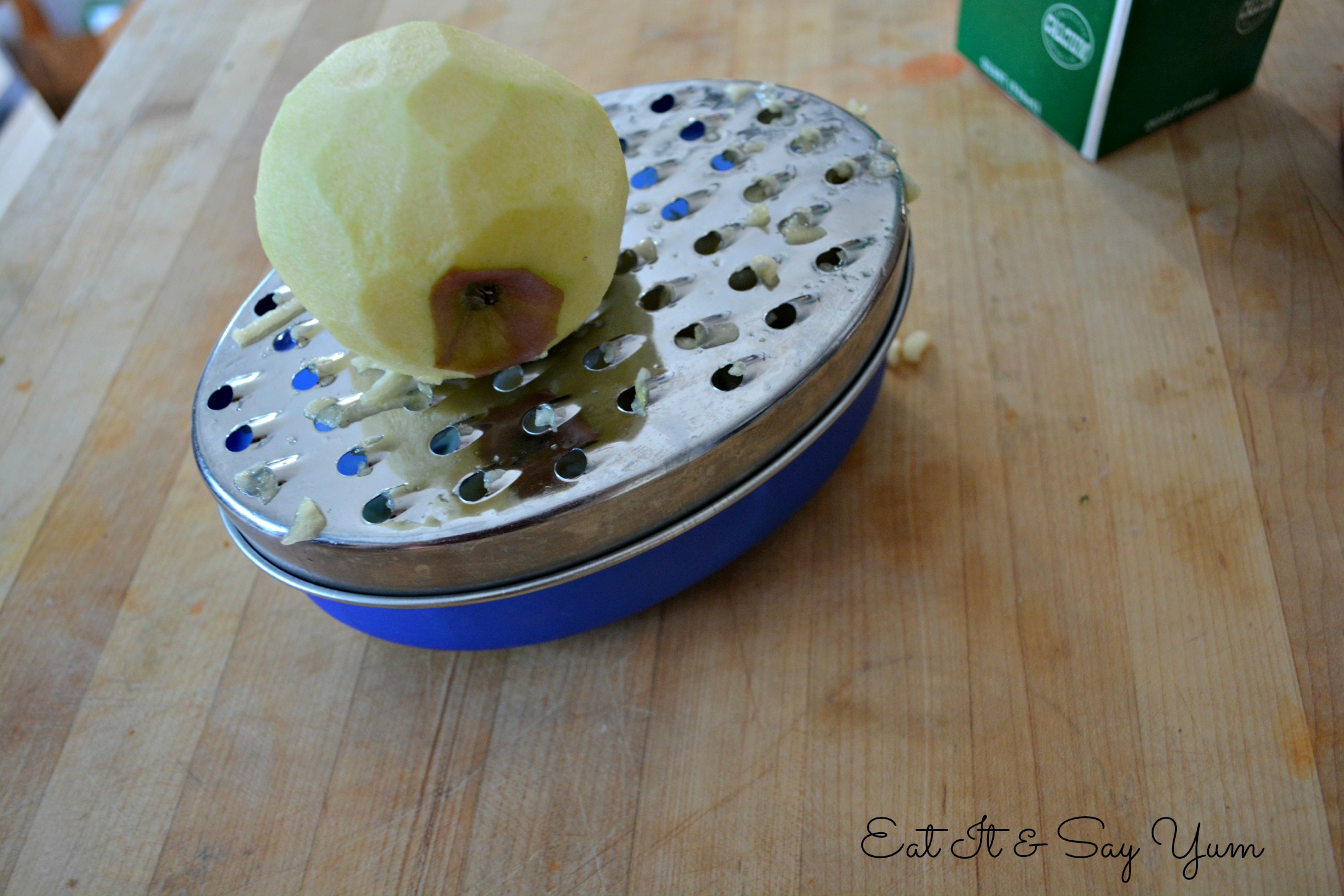 Now you can beat the dry ingredients into the buttermilk.  Then add the grated apples and oil, beat again.  Last, fold in the whipped egg whites.   (To make these even healthier you can substitute apple sauce in place of the oil.)
Cook on a hot, greased griddle.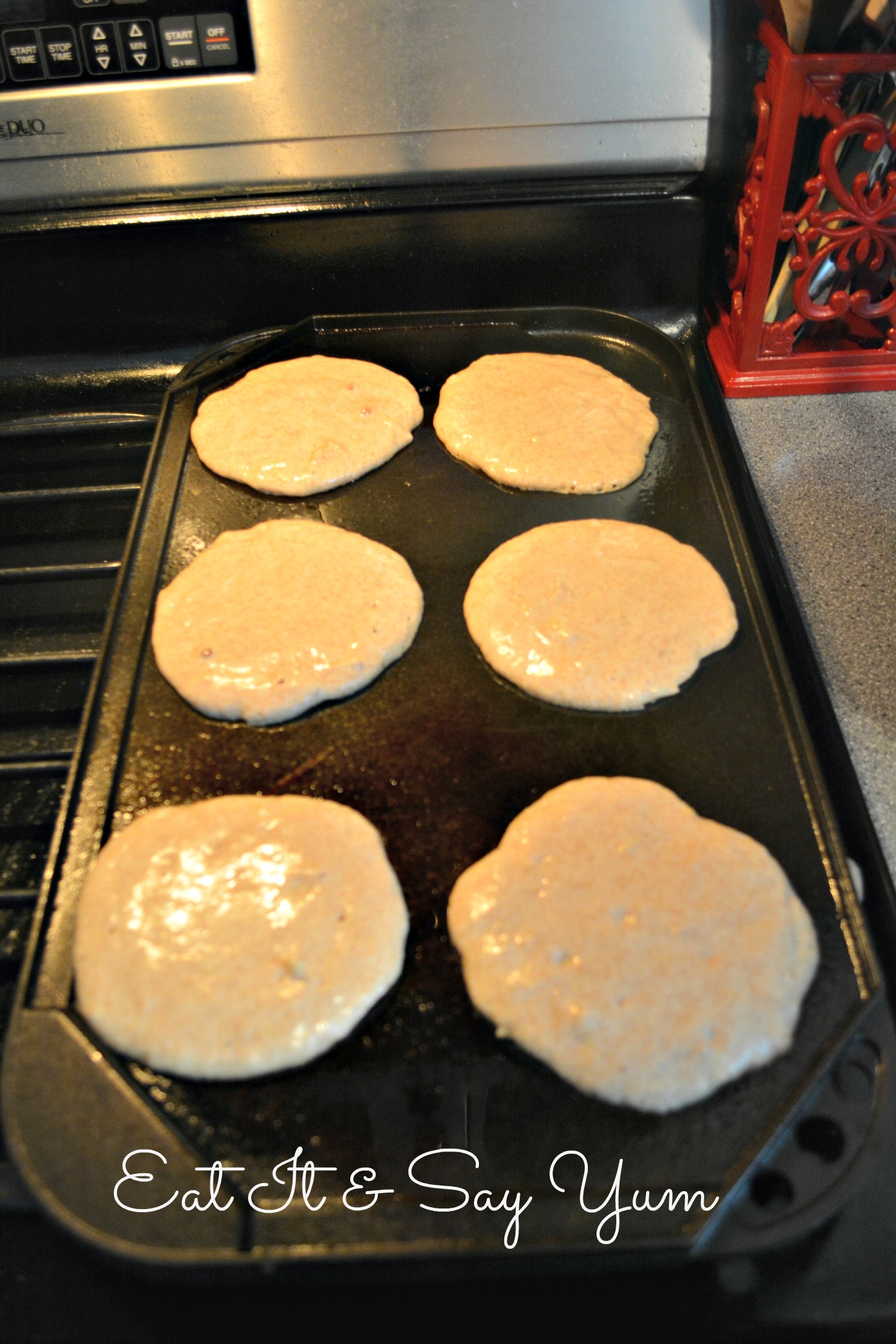 Let most of the air bubbles come to the surface before flipping the pancakes.  If you want fluffy pancakes, be patient.  Let the pancakes rise up before flipping, and flip only once.  Make sure your griddle isn't too hot, so you don't burn them while waiting for them to get fluffy.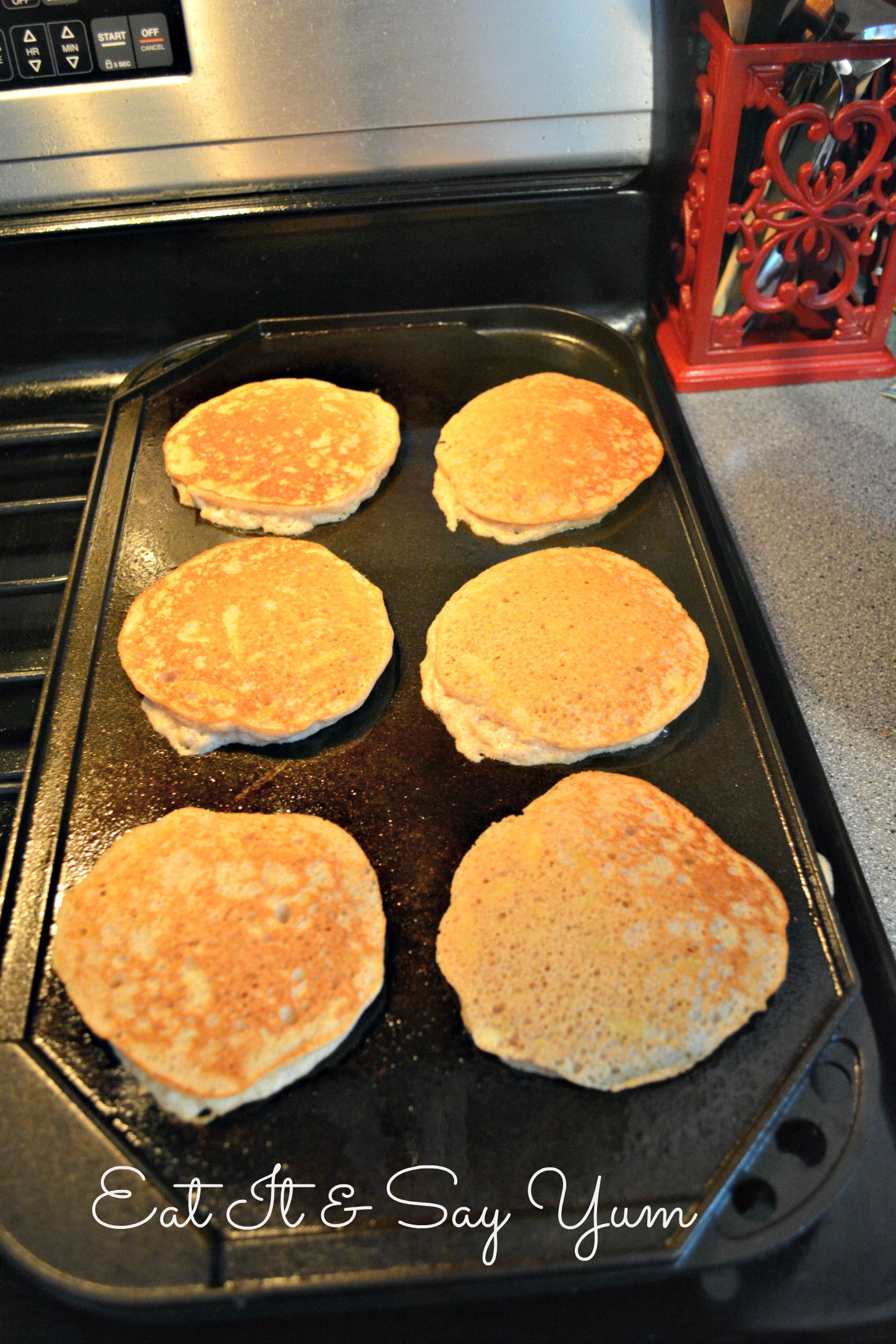 Now, drizzle with your favorite syrup and dig in.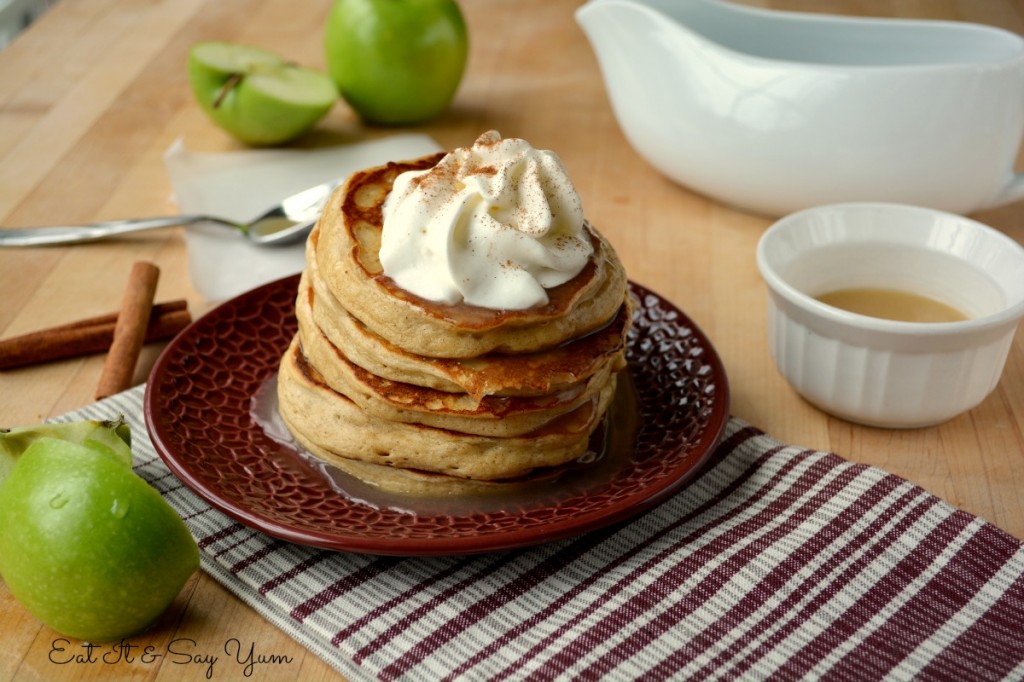 Hearty Whole Wheat Apple Cinnamon Pancakes
Ingredients
1 1/2 cups whole wheat flour (can substitute the same amount of all-purpose flour)
1 2/3 cups buttermilk
3 eggs- whites and yolks separated
1 tsp baking soda
1-2 apples
1 tsp cinnamon
1 tsp sugar
1 tsp salt
1 tsp baking powder
1/2 cup oil (or apple sauce)
Instructions
Mix flour, baking powder, cinnamon, salt, and sugar in a small bowl.
In a larger bowl mix buttermilk and baking soda.
In third bowl whip egg whites til stiff peaks form. (Remember to use clean beaters to whip the egg whites!)
Add the egg yolks to the buttermilk.
Grate the apples and set aside.
Beat the dry ingredients into the buttermilk and egg mixture.
Add the oil and grated apples, and beat again.
Fold in the egg whites.
Cook the pancakes on a hot, greased griddle. Flip over when most of the air bubbles have come to the surface, and the bottom is golden brown.
Serve hot with your favorite syrup.
http://eatitandsayyum.com/hearty-whole-wheat-apple-cinnamon-pancakes/
Your family will love these hearty and better-for-you-than-normal pancakes.  🙂
Photo overload.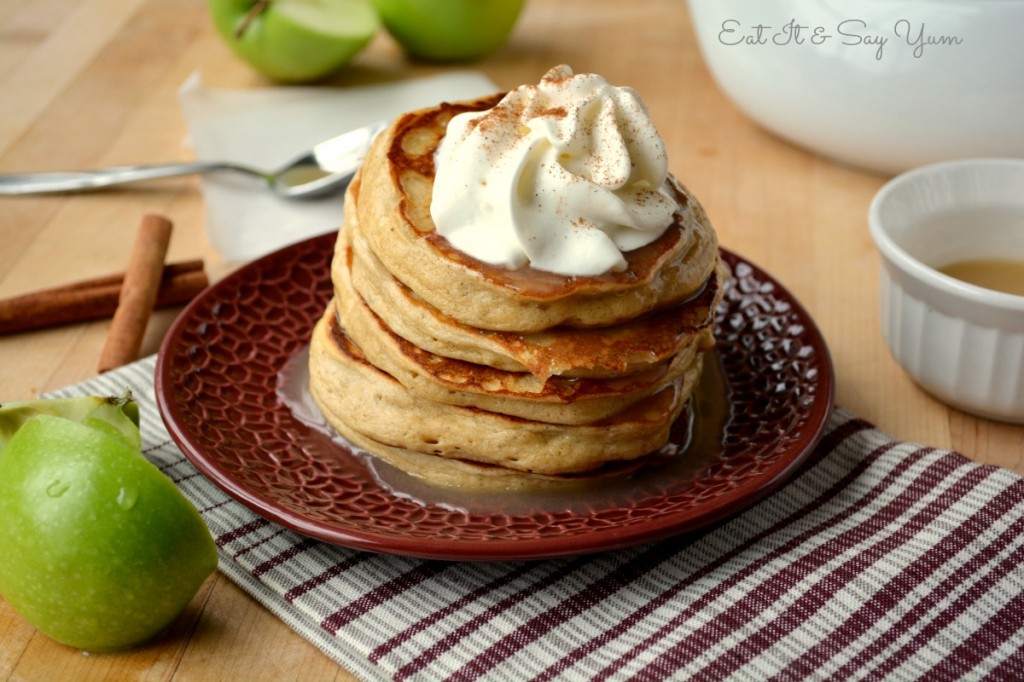 Do you see how fluffy those are!?  I'm drooling.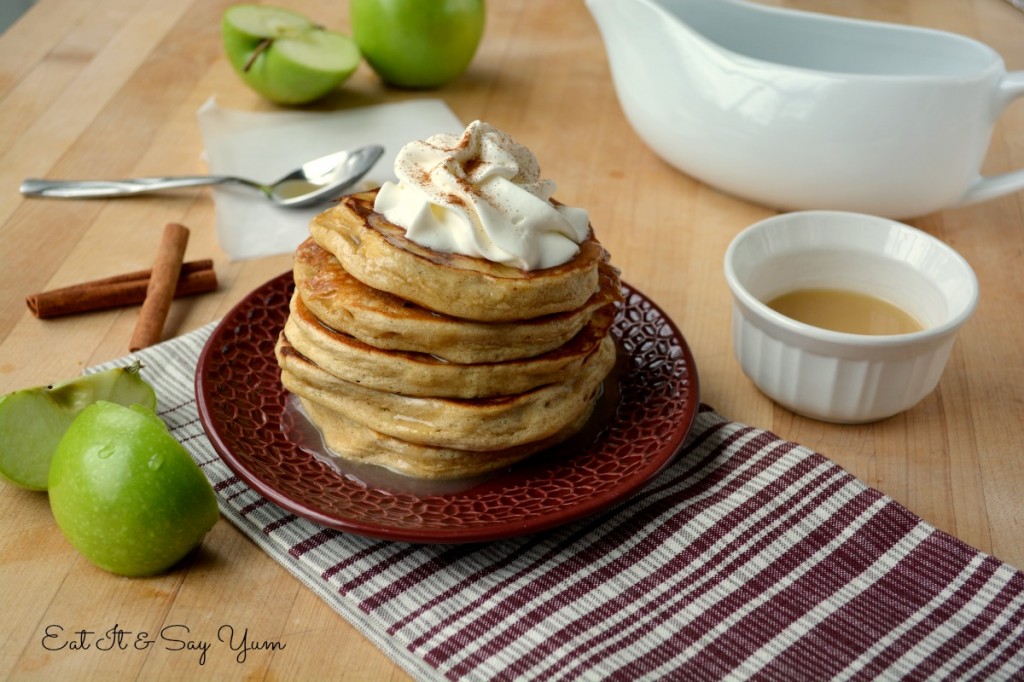 Click here to see parties I join.