Pizza is a staple at our house!
I bet that's true for everyone, right?  I mean who doesn't love pizza?!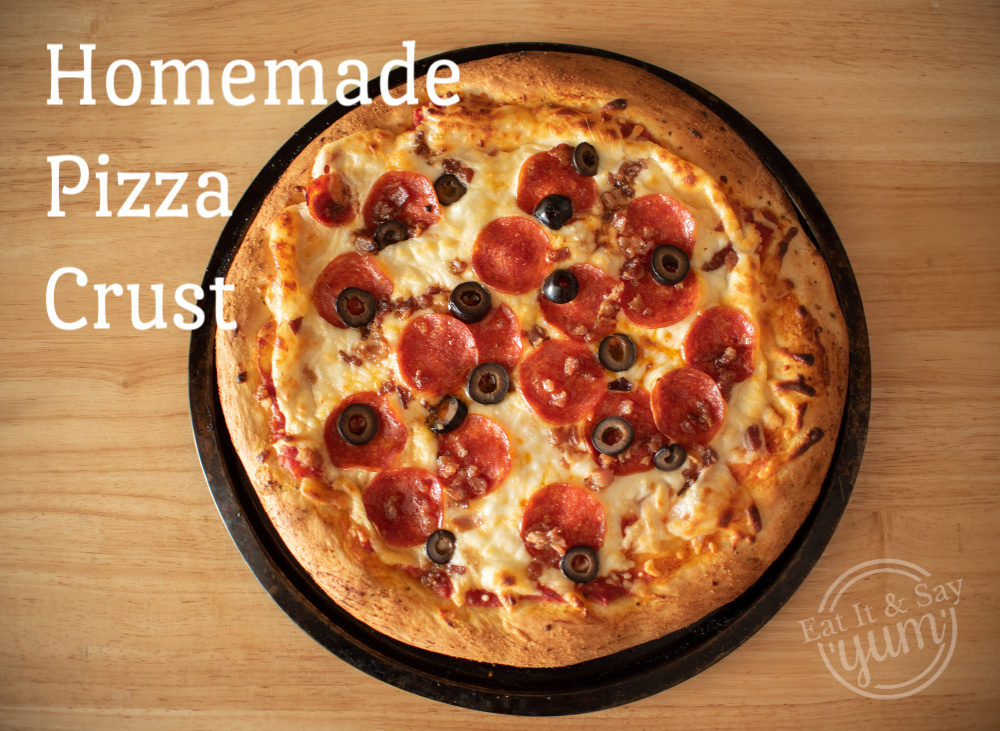 However, when we lived in a small town with no pizza place for 4 years, we had to learn to make it ourselves.  Now we live back near civilization, but we still like to make our own pizza.  It's so fun to customize with toppings, or let kids make mini pizzas.
This recipe makes 3, 12 inch pizzas.  Which is plenty to feed my family of 7.
Ingredients
1 3/4 cups very warm water
1 Tbs plus 1/2 tsp yeast
1 1/2 tsp salt
2 Tbs sugar
2 Tbs olive oil
4 1/2 cups all purpose flour (plus extra if needed)
2 Tbs butter
2 tsp garlic seasoning- any kind you want
Instructions
Add your water, yeast, sugar, salt, and oil to a large mixing bowl of a stand mixer. Mix for just a few seconds to combine it all. Let the mixture sit for about 5 minutes to let the yeast activate.
Once bubbles form from the yeast, add in the flour and mix until the dough is fully combined. If dough feels too sticky add more flour as needed.
Grease a large bowl and shape the dough into a ball. Put the dough into the greased bowl and cover with plastic wrap. Let the bowl sit in a warm place until the dough has doubled in size.
Preheat oven to 475 degrees. Divide the dough into three equal parts and spread onto three pizza pans.
Melt the butter in a small bowl and mix in the garlic seasoning. Spread the butter mixture around the crust of the pizza dough. Then top with sauce, cheese, and toppings as desired. Bake for about 10-12 minutes, or until golden brown and cheese is bubbly.
http://eatitandsayyum.com/homemade-pizza-crust/