While in high school I took a trip to Utah and visited my sister who was attending college there.
On that visit she taught me to make spaghetti sauce.  She had lived in Italy for 18 months, and also loves to cook, so she picked up on the cooking in Italy.  From REAL Italians.  😉
Making spaghetti sauce was a common thing during my college years.  It was easy, and really good.
The recipe has been tweaked over the years, and I've learned more from my sister.  This version is now a staple for my family.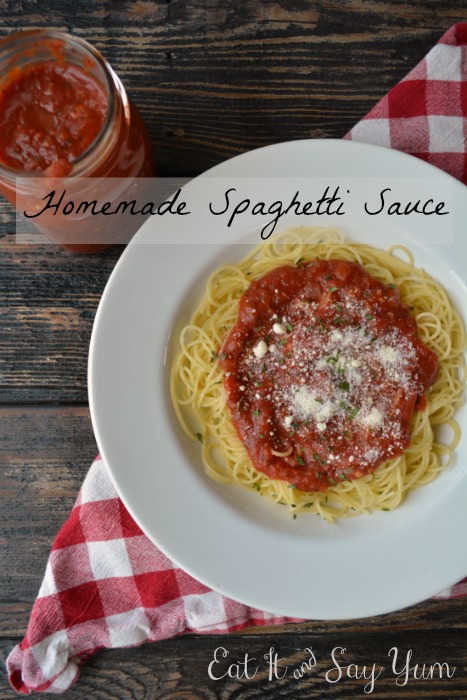 This recipe is so versatile, we use in a variety of ways.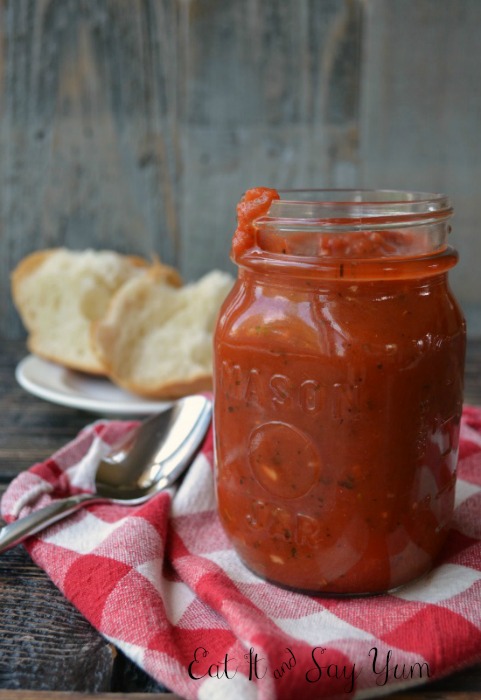 I didn't add meat to this batch, because I wanted to give you the basic recipe.  But feel free to add a pound of browned ground beef, or cooked Italian sausage.  Even shredded chicken is great.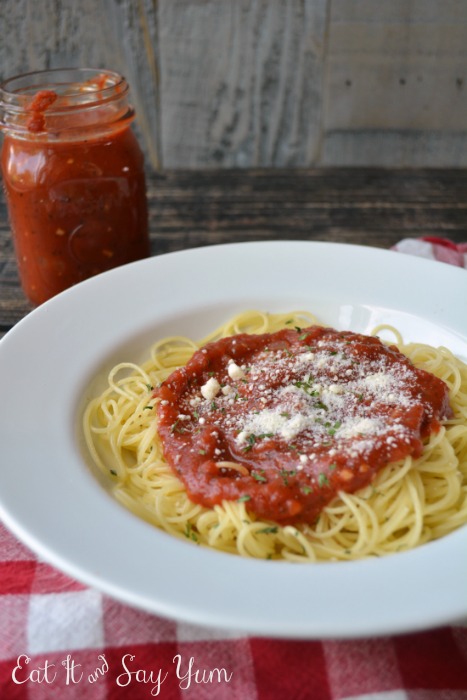 I personally love this sauce all over some bread.  Mmmm… comfort food.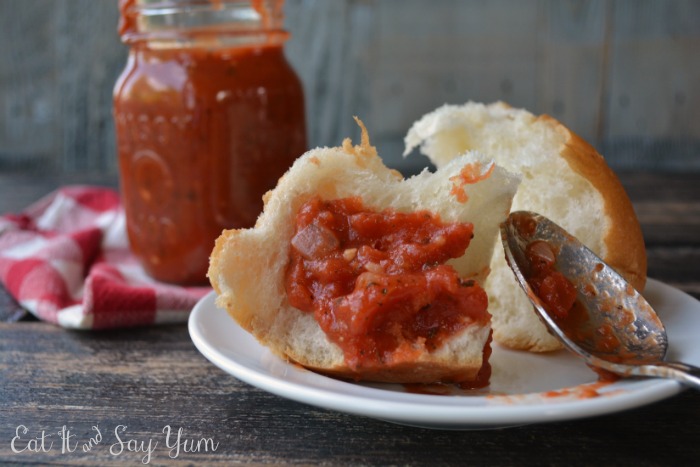 I use chicken bouillon in this for added flavor, but you could use vegetable bouillon for a vegetarian version.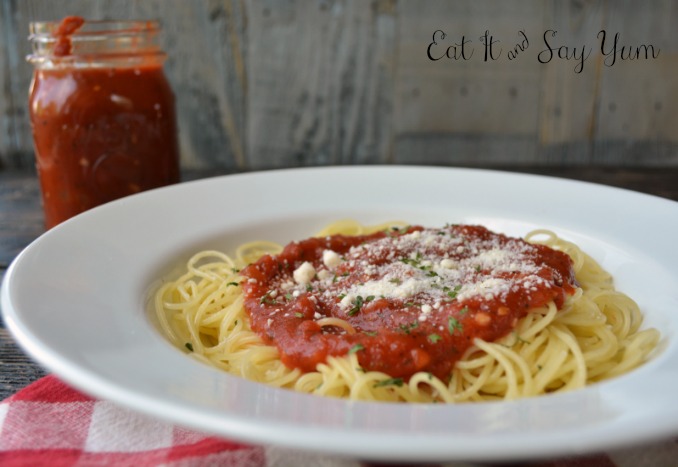 This spaghetti sauce is fairly quick and easy, but tastes so good.  It's great for week night meals, but can also be fancy poured over some chicken parmigiana.
Ingredients
28 oz can of crushed tomatoes
2 Tbs olive oil
2 cloves garlic- minced
1 small onion (or 1/2 a large)- finely chopped
3/4 Tbs – OR 2 cubes of chicken bouillon
1/4 tsp pepper
1/2 tsp basil OR oregano (use basil if not adding meat, use oregano if adding meat to recipe)
3 tsp brown sugar
1 tsp Italian seasoning
salt to taste
Optional- 1 pound cooked ground beef or Italian sausage
Instructions
If adding meat, cook the ground meat in a large pan until fully cooked. Set aside. Dice the onion and garlic, and set aside. Open the can of crushed tomatoes and have ready. In a medium pot over medium-high heat, heat the oil and add the onions. Stir occasionally and let the onions cook for 2-3 minutes. Turn down the heat if needed, so they don't burn. Add the garlic and chicken bouillon after about 2 minutes. Pour the crushed tomatoes in the pot, and stir to combine. Add all the spices, except for the salt. Add the brown sugar and simmer for about 10 minutes on low heat, or until you are ready to serve the sauce. Add salt, to taste, while simmering the sauce.
Serve over noodles, rice, chicken, with bread, etc.
http://eatitandsayyum.com/homemade-spaghetti-sauce/
See where I link up.
You might also like: