Huckleberries are a wild berry that grows in the mountains in areas of Idaho and Montana, and maybe Oregon and Washington.  I'm not really sure where else.
Anyway, to harvest them you have to go on a hike and find them.  It's not easy work.
But my sister-in-law is super awesome, and did the work for us last year.  She blessed us with about a GALLON of these delicious berries last year.  She could have sold them for $80/ gallon!
We felt very lucky to have them, and have been enjoying them ever since then.  (We keep them in the freezer and use them as needed.)
So, one of my favorite ways to use the berries is in these Huckleberry Muffins.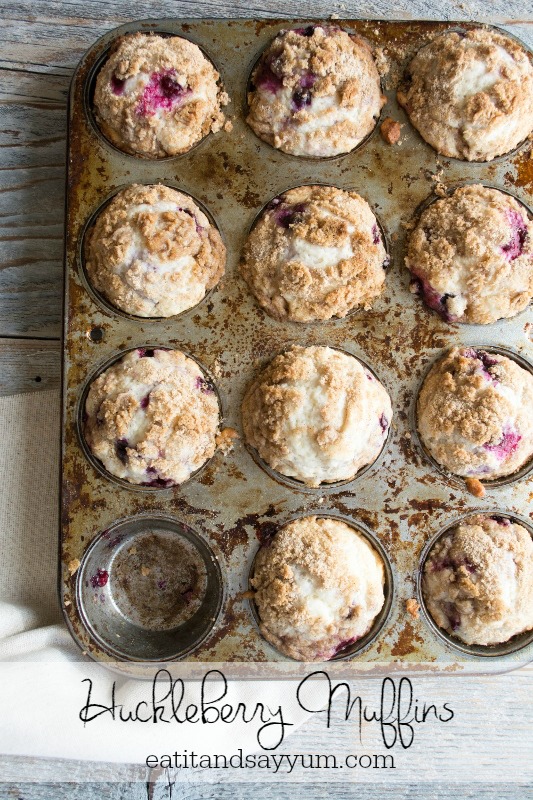 Huckleberries are similar to blueberries, but they are more tart, and a little smaller.  Plus the color is more of a red/ purple.  I think it's so pretty.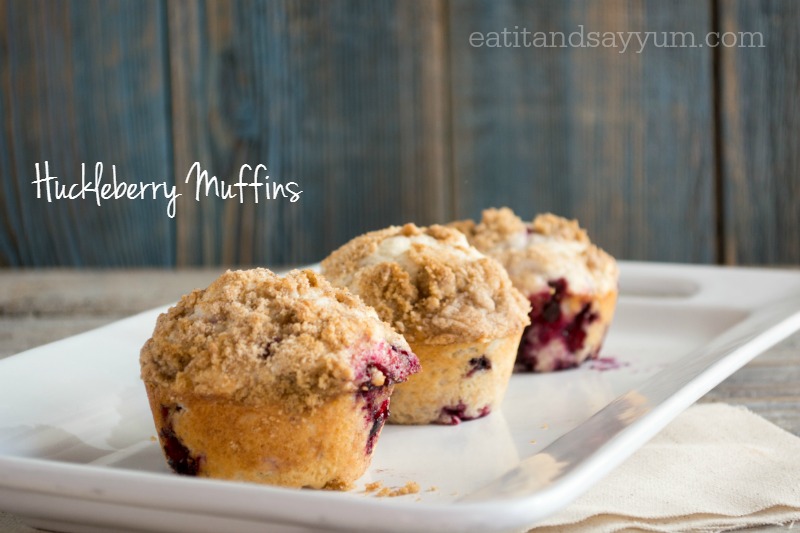 These muffins are nice and fluffy.  I just LOVE a crumbly topping.  So good.
If you don't have access to Huckleberries, you can use blueberries instead.
I have even used diced apples in this recipe!  It's pretty versatile.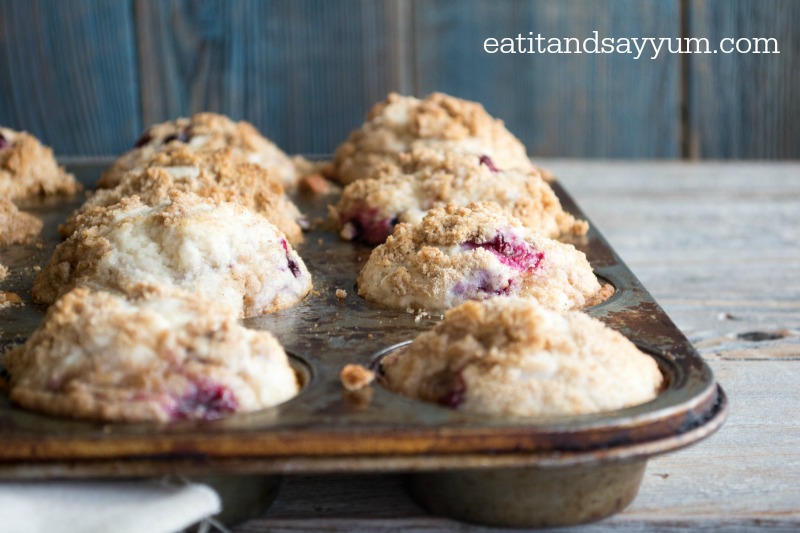 I love these muffins while they are still warm, with a slice of butter in the middle.  YUM!
So, have you heard of Huckleberries before?  Living in Montana, we have access to all kinds of huckleberry foods, like: syrup, jam, ice cream, ice cream sandwiches, etc.  So yummy!
Ingredients
1 3/4 cups flour
1/2 cup plus 2 Tbs sugar
2 1/2 tsp baking powder
3/4 tsp salt
1 egg
3/4 cup buttermilk
1/3 cup oil
1 cup frozen huckleberries
1/2 Tbs sugar
1/2 Tbs flour
Crumbly Topping: 3 Tbs brown sugar
2 1/2 Tbs flour
1/2 tsp cinnamon
dash of nutmeg
1 1/2 Tbs butter- at room temp
Instructions
Preheat oven to 400 degrees. In a medium/ large mixing bowl whisk together the flour, baking powder, salt, and first measurement of sugar. In a smaller bowl, add the buttermilk, egg, and oil, and slightly mix with a fork. Add the buttermilk mixture to the flour mixture and stir with the fork. Only mix enough to combine all the dry ingredients. Don't over mix.
In the same bowl that the buttermilk mixture was in, add the huckleberries with the second measurement of flour and sugar, toss together to coat the berries. Then gently fold the berries into the muffin batter. Spoon the batter into 12 greased muffin tins.
In the same bowl as the berries were in, mix all the ingredients for the crumbly topping, I like to use a fork to smash the butter and work it into the flour and brown sugar, etc. Work the topping until it forms into coarse crumbles. Then divide evenly on top of all the muffins.
Bake at 400 degrees for about 18 minutes. Serve warm.
http://eatitandsayyum.com/huckleberry-muffins/
This recipe was adapted from Our Best Bites Blueberry Muffins recipe.