When I was growing up, one meal my family ate regularly was Irish Tacos.
I'm not sure where my mom got the idea for these…  My family is Irish, and we did live in California…  😉
I'll have to ask her.
Anyway, take everything you love in a taco, but put that in a baked potato.
I love when the potato has a crispy skin, but a soft, buttered inside.
All the taco toppings go so well with the potato.  And it's more filling than just a tortilla, or taco shell.  So one is plenty.
I bake my potatoes in the oven, if I have time, so the skin can get crispy.  If I'm in a hurry, I start my potatoes in the microwave for a few minutes (about 4), then move them to the oven for 15-20 minutes.
The potatoes bake for 45-65 minutes, so that gives me PLENTY of time to prep all the toppings.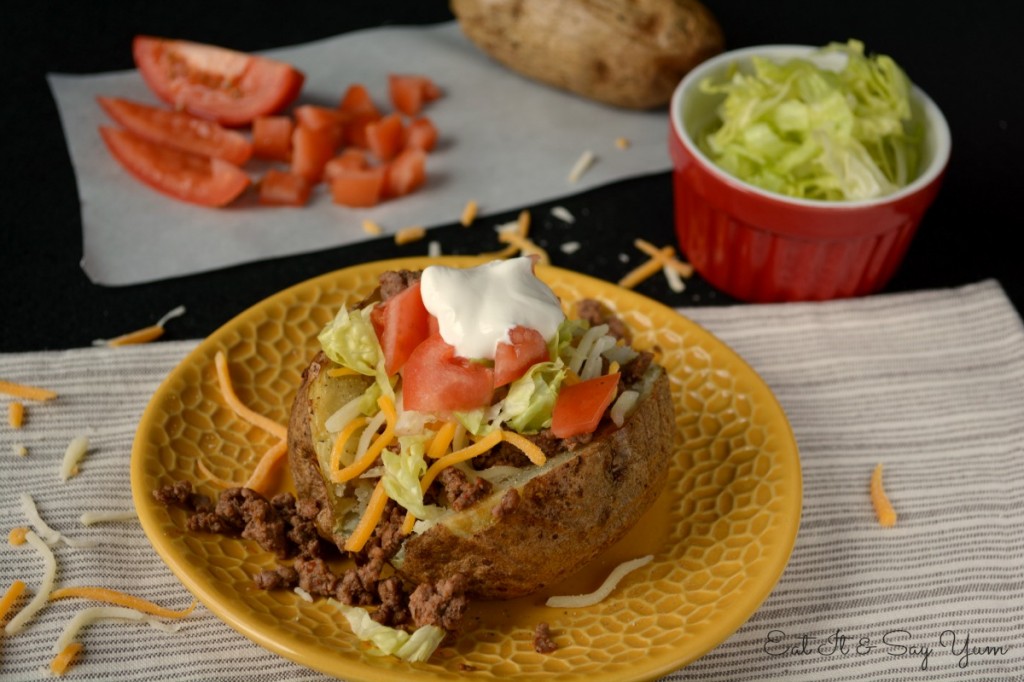 I use butter, salt, and pepper on the inside of my baked potato.  Then I layer the taco meat, grated cheese, shredded lettuce, diced tomatoes, and I NEVER forget the sour cream.  Mmmm.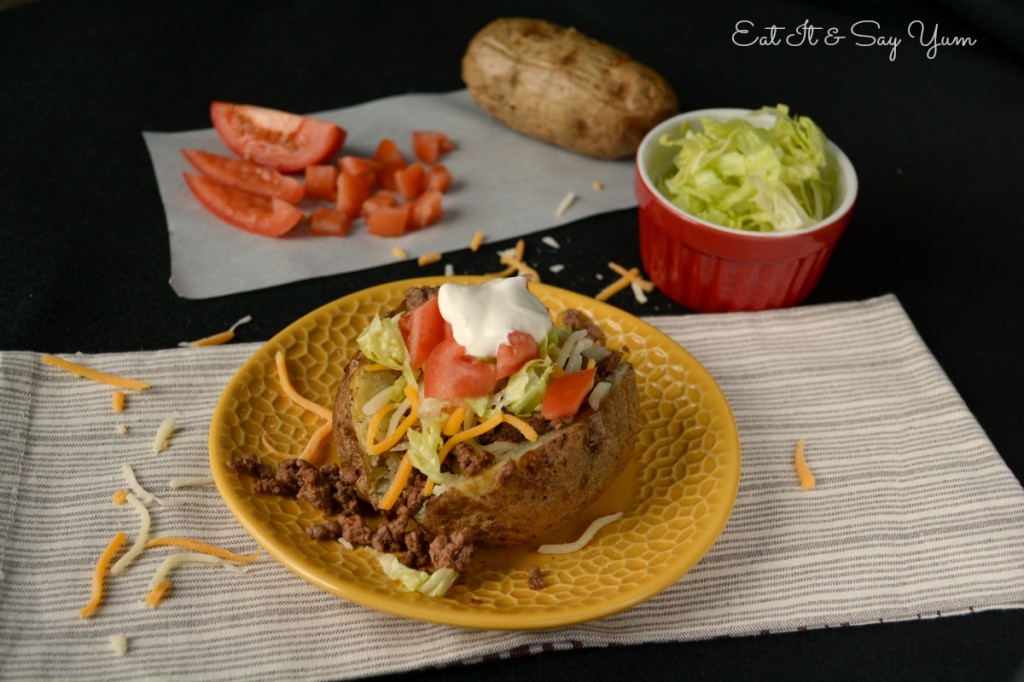 This dish is part of my 'healthier eating' meal plan for the new year.  You can easily alter this to make it fit your diet needs.  You can use low fat cheese, low fat sour cream, add extra lettuce or tomatoes, or even use ground turkey instead of beef.  You get the idea.
*This meal is gluten-free, and could be vegetarian, if you omit the meat.  😉
Irish Tacos and Taco Seasoning
Ingredients
4-6 baking potatoes, washed and pricked with a fork to let out steam
1 lbs ground beef (or ground turkey, chicken, pork, etc.)
Toppings: butter
salt and pepper
grated cheese
shredded lettuce
diced tomatoes
sour cream
Taco Seasoning:
2 tsp chili powder
1/2 tsp cumin
1/2 tsp oregano
1/4 tsp seasoned salt (like Lawrys)
1/4 tsp garlic powder- or 1 clove fresh garlic, minced
a few dashes of chipotle chili powder (optional)
2 tsp dehydrated onion, or 1/4 fresh onion, minced
Instructions
Preheat oven to 400 degrees. Wash potatoes, and prick them with a fork in several places. This allows the steam to escape during the baking process. Place potatoes directly on the oven rack and bake for 45-65 minutes until they are tender. Optional- you can rub a little oil (vegetable, canola, etc.) on the potato skins, and/ or just wrap the potatoes in tin foil if you prefer a softer skin. Baking times should be the same.
While potatoes are cooking, brown the ground meat in a frying pan. Add all the seasonings and ingredients for the Taco Seasoning recipe (above) to the meat when the meat is about half pink, half brown. Continue to cook until no pink remains, and meat is fully cooked. Set aside.
Prep all the toppings. Shred the lettuce and set aside. Dice the tomatoes, grate the cheese, etc.
When potatoes are fork tender (a fork can easily pierce the skin and flesh of the caked potato), cut a slit down the center of the potato, long wise. With your fingers, squish the ends of the potato and push toward the center to make the potato open up and for a cavity to hold the toppings.
Spread butter on the inside, sprinkle with salt and pepper to taste, then mash with a fork to mix into the potato flesh. Top with cooked taco meat, grated cheese, shredded lettuce, diced tomatoes, and sour cream. Serve immediately.
http://eatitandsayyum.com/irish-tacos-and-taco-seasoning/
Click here to see what parties I join.