I think this dish is my mother-in-law's claim to fame.
My husband's family and all their friends go crazy for these sandwiches, and they are a MUST at every family function.
My family has come to love them, too, and I don't want all of you to be left out.  😉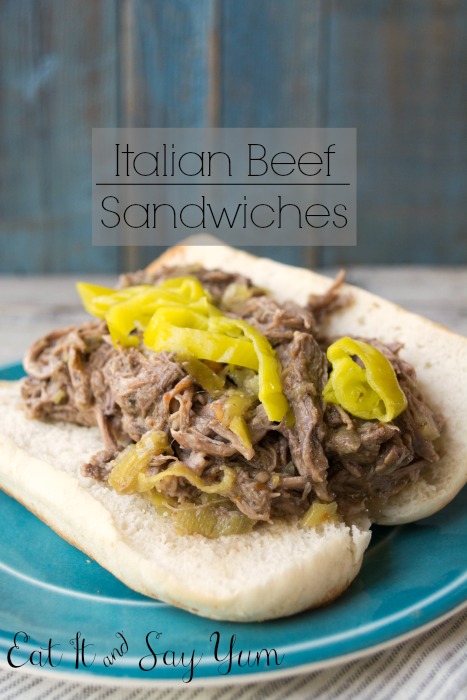 I have seen Italian Beef sandwiches on tv shows like Diners, Drive-ins, and Dives, or Man vs. Food, etc.  This is a popular dish.
This homemade version uses a very simple recipe that anyone can follow.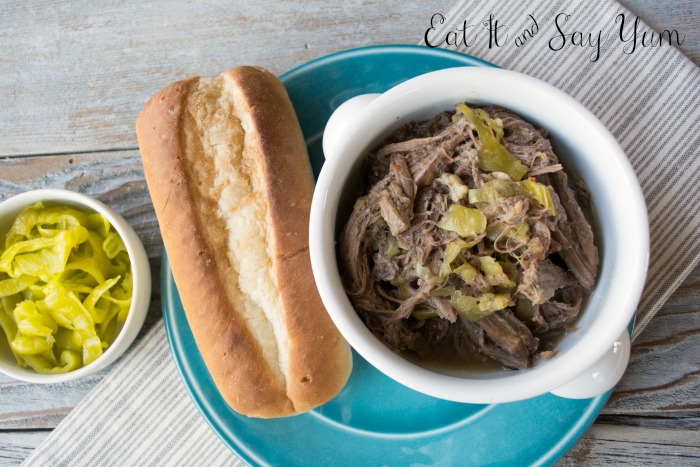 I always cook the meat in a roaster.  I love my roaster.  I can put it outside so it doesn't take up any counter space in my kitchen, and in the summer it doesn't heat up my kitchen either.  You can use a dutch oven if you don't have a roaster, just cook it in the oven at 250.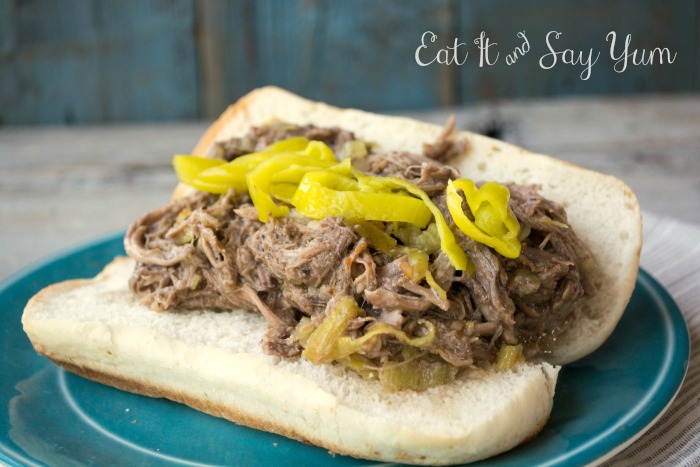 Let the brisket cook LONG and LOW to get this super tender meat.  You can set it to cook over night if you want to have this for a big lunch.  This recipe makes a LOT, great for feeding a crowd.
Or start the meat cooking in the morning so it will be ready for dinner.
About an hour before serving, shred the meat with a couple forks, or some tongs.  Then let it keep cooking until you are ready to eat.  Serve over buns or rolls.  Hard rolls work great because they can really soak up the juice from the meat without getting too soggy.
My in-laws eat just the Italian Beef and juice on their rolls, but I like to add some mayonnaise, mustard, and cheese.  Mozzarella, Provolone, Swiss, etc.  Whatever you like.
Ingredients
1 large beef brisket, upwards of 5 lbs (for large groups we use about 10 lbs)- with the fat trimmed off
2-4 packages of Good Seasons Italian Dressing mix (Use 2-3 for smaller briskets and 3-4 for larger ones)
1, 12- 16 oz jar of sliced pepperoncinis
2 quarts water
1 large onion- sliced
Instructions
Trim the fat off the brisket. Place brisket in a dutch oven or roasting pan. Cover the meat with the pepperoncinis and juice from the jar. Sprinkle the contents from the seasoning packets, and sliced onion over the pepperoncinis. Pour 2 quarts of water, or less (if you want less juice) around the meat.
Cover with a lid and set to cook at 250 degrees for 8-12 hours, or overnight. One hour before serving, shred the meat with two forks, or a fork and tongs, and let cook with the lid on again until ready to serve.
Serve on sandwich rolls, kaiser buns, etc. Drizzle some of the juice from cooking over the meat onto the bun. Store leftovers in fridge.
http://eatitandsayyum.com/italian-beef-sandwiches/
See where I link up.
You might also like: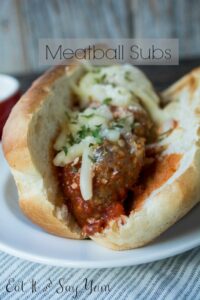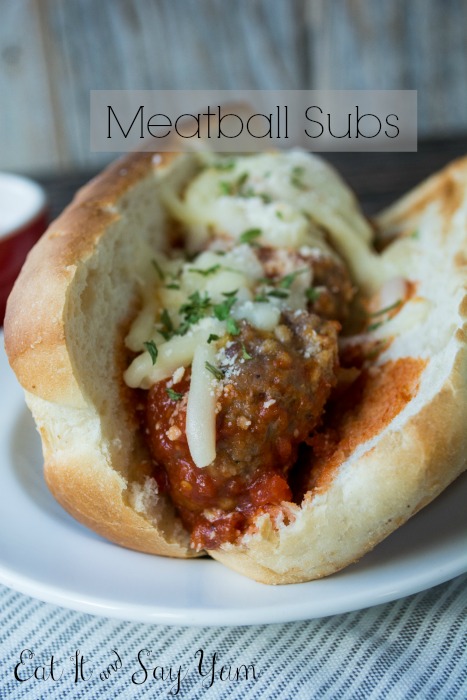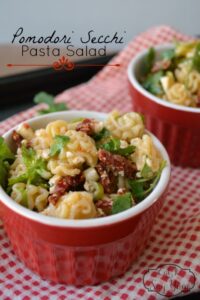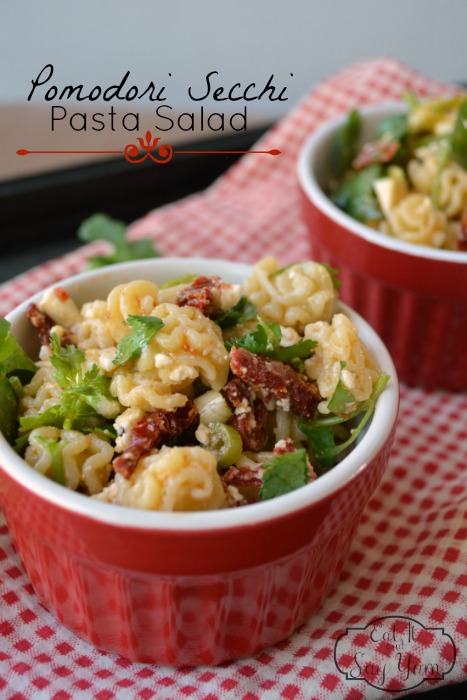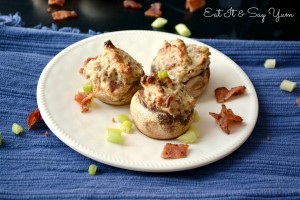 Rustic Mushroom and Garlic Pasta