Who doesn't love Italian food?
It's total comfort food.  Pasta, sausage, sauce.  Yum!
 This dish is a twist on the typical cannoli.  There's actually no pasta.  (But I serve that on the side!)
For this hand-held version, you have Italian Sausage and melty cheese all wrapped up in some fresh bread.
My sister taught me to make these, and I'm so glad she did.  So are my husband and kids…
You start with cooking the Italian Sausages, then wrapping them and some cheese in fresh bread dough.  Seal it all up and bake them.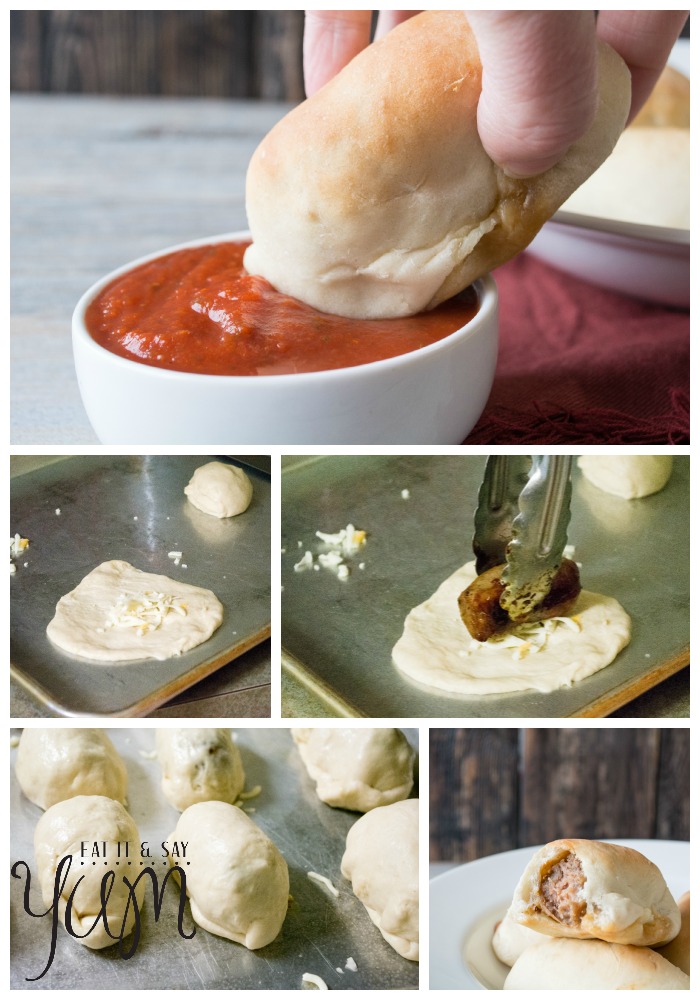 These are best eaten with your hands, and dipped in spaghetti sauce.
I serve these along side some seasoned pasta and a salad or vegetable dish.
It is a perfect meal for winter, although we have been known to eat it year round.  But the warm bread and sausage will warm your insides on a cold day.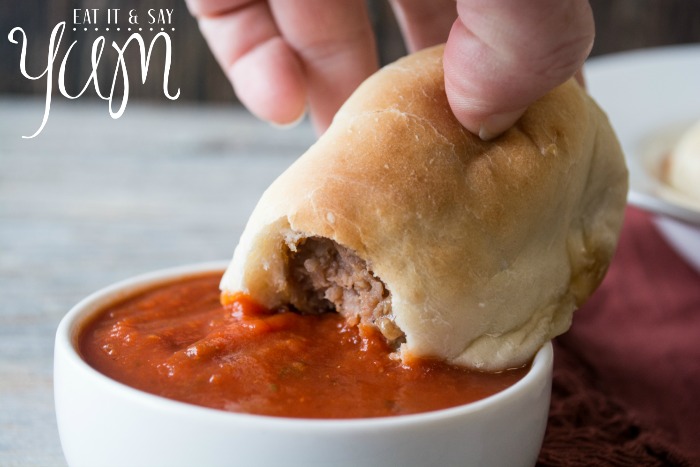 These do take a little time to cook the sausage, prep the dough, and then wrap each one.  But it's easy!  My kids can even help out.
So give this twist on a classic a try.  Your friends and family will be super impressed, and satisfied.  🙂
Italian Sausage Cannoli- with a hand held twist
Ingredients
2 packages of Italian Sausage links- 5-6 links per package
about 2 cups of grated mozzarella cheese
1 1/2 cups very warm water
1 Tbs yeast
2 tsp salt
3 1/2 Tbs sugar
2 Tbs oil
3 1/2 – 4 cups all-purpose flour
Instructions
Cut all the sausages in half, to make 20-24 shorter sausages. Cook all the sausages in a large pan (or two if they don't fit in one). If you have a lid you can add about a cup of water to the pan and cover it with the lid. Either way, turn the sausages occasionally cooking on all sides, and through the center. Takes about 15 to 20 minutes, the center of the sausages should no longer be pink.
While the sausages are cooking make the bread dough. In a stand mixer, add the yeast, warm water, sugar, salt, and oil. Let the yeast activate, or bubble, for about 3-5 minutes. Slowly add the flour and turn the mixer on to a low setting. Let the flour mix in and the dough clean the bowl. Let the dough rest until the sausages are done cooking.
Once the sausages are done cooking, preheat your oven to 400 degrees. Shape the dough into a circle and cut it in half with a metal scraper or knife. Cut each half in half again to make quarters. With each quarter divide it evenly into small balls of dough. If you have 20 sausage halves, then divide each dough quarter into 5, giving you a total of 20 dough balls. Make sense? If you have 24 sausage halves, divide the dough quarters into 6, giving you a total of 24 dough balls.
Grease or flour your hands if your dough is sticky, and flatten a dough ball into a circle-ish shape. Sprinkle some cheese in the center of the dough, top with one half of a sausage, then fold the dough around the sausage and press the edges together to seal. Place the cannoli seam side down on a greased cookie sheet. Repeat with the remaining sausages and balls of dough. Place each cannoli about an inch apart on the pan. Bake the cannoli for 10-15 minutes, until the crust is a nice golden brown.
Serve hot with spaghetti sauce for dipping.
http://eatitandsayyum.com/italian-sausage-cannoli-with-a-hand-held-twist/
This recipe makes 20-24 cannoli.  Adults eat about 2 or 3 each, and kids eat 1 or 2 each.
You might also like: