So I just got back from my big summer vacation out West.  While I was there I was treated to lots of yummy food.  My little sis, Kayla, brought lots of appetizers and this yummy drink.
She said it was like a virgin Mojito, or something… I have no idea what a mojito is, maybe it was a different virgin drink.
ANYWAY, this is a super yummy drink.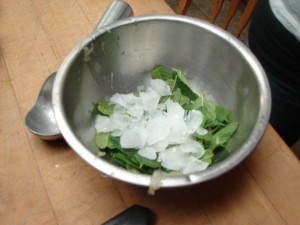 Kayla has lots of mint growing in her yard, so we had super fresh mint.  She picked off several leaves and put them in a bowl with some ice and fresh squeezed lime juice.  Then she 'smashed,' or stirred it all together with the back of an ice cream scoop.  Very technical.
She that technique here?  (Isn't she cute, her nails are even painted!)
Once she had mixed those flavors enough, she poured ALL of it (leaves and all) into a pitcher and topped it all with some lemon-lime soda.
It was so refreshing and cool.  The mint was so good with the lime.  Yum.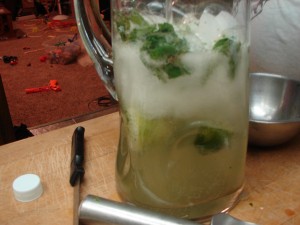 Can you see all those toys in the background?  We were obviously having a good time, and not worrying about what was in the picture… ooops.
So, trust me you want to make this.  If you don't like mint leaves floating in your drink you could easily strain those out.  Just add the ice after you strain it.  😉
Ingredients
Handful of mint leaves
1-2 Limes
2-liter bottle of lemon-lime soda
Ice
Instructions
Tear mint leaves off of stems and place in a medium mixing bowl. Squeeze fresh lime juice from 1-2 limes over leaves. Add crushed ice and mash with the back of a thick handled ice cream scoop. (Or something similar) Pour into a pitcher and add the lemon-lime soda.
http://eatitandsayyum.com/kaylas-cool-mint-drink/