You can even see some of the zest inside this one…  It's the slightly green fleck on the left side of the truffle…  See?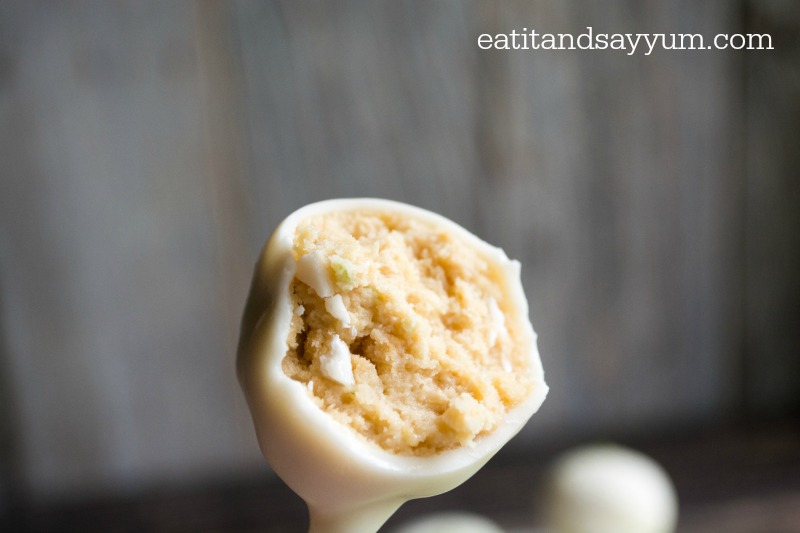 So, truffles are actually really easy to make.  I mix everything in my food processor.  It does take a few minutes to form the truffle balls, and then dipping them in the melted candy melts.  But's still not a LONG time.  Totally worth the effort.  Even kids could do it.
Key Lime Cheesecake Truffles
Ingredients
1, 14 oz package of Golden Oreos
4 oz cream cheese
juice and zest from 2 key limes
white candy melts
skewers or lolly pop sticks
Instructions
Zest the key limes and set aside. Juice the limes, remove the seeds, and set the juice aside. In a food processor, pulse all the Oreos until they are crumbs. Add the cream cheese and pulse again, only for a few seconds. Before the cream cheese is fully mixed in, add the lime juice and half of the zest. Pulse again, until the dough clumps, or sticks together. You should be able to easily form it into balls, that hold together.
Form dough into balls, about 1 inch in size. Place on a pan lined with parchment paper, and lightly grease the paper. Set the balls in the freezer to firm them up. While they are in the freezer, melt the candy melts according to package directions. A minute or two in the microwave works great. Stirring every 45 seconds or so.
Use a skewer or lolly pop stick to dip the balls into the candy melts, covering all sides. Lightly tap the stick on the side of the jar to drip any excess candy melts off the truffle.
Sprinkle a bit of the zest on the top of the truffle while the candy melts are still wet. Let dry completely before eating, or removing from the stick.
http://eatitandsayyum.com/key-lime-cheesecake-truffles/
So, what's your favorite Key Lime dessert?  I've got a few more ideas rolling around in my head.  Hopefully you'll see them here soon.  🙂

If you like truffles you might also like my S'mores Truffles.  Yummy.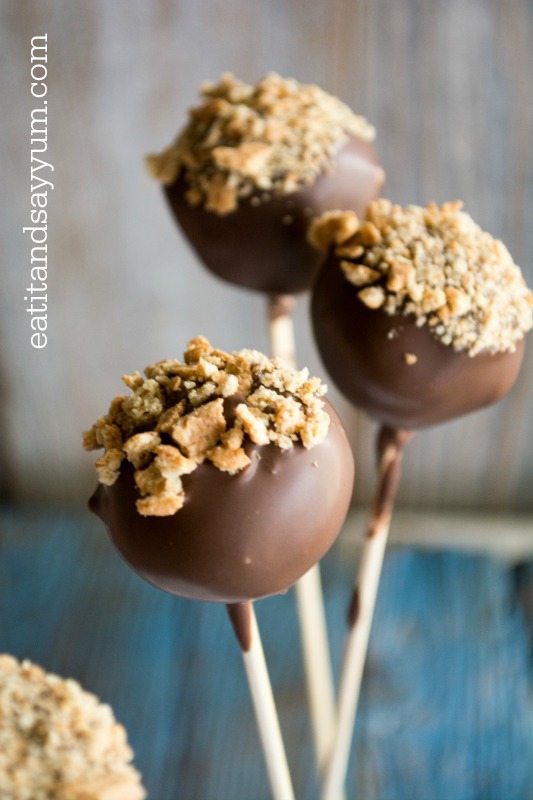 You might also like: