Guys, I love burgers.  I have asked for my husbands homemade burgers for Mother's Day on more than one occasion.  I just love 'em.
This burger is a new one that we came up with this summer.  We call it the Kitchen Sink Burger because it has lots of different flavors, and you can add ANY toppings to it.  And I do just that.  As many as I can.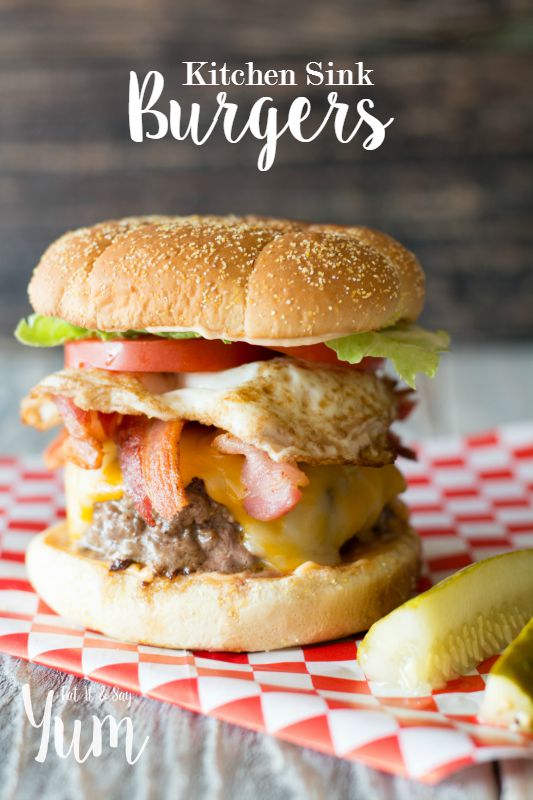 The must have toppings are bacon, cheese, and a fried egg.  But I also love avocado, onion rings, and barbecue sauce.  Or course I also add lettuce and tomatoes, but those are a given on pretty much any burger, in my opinion.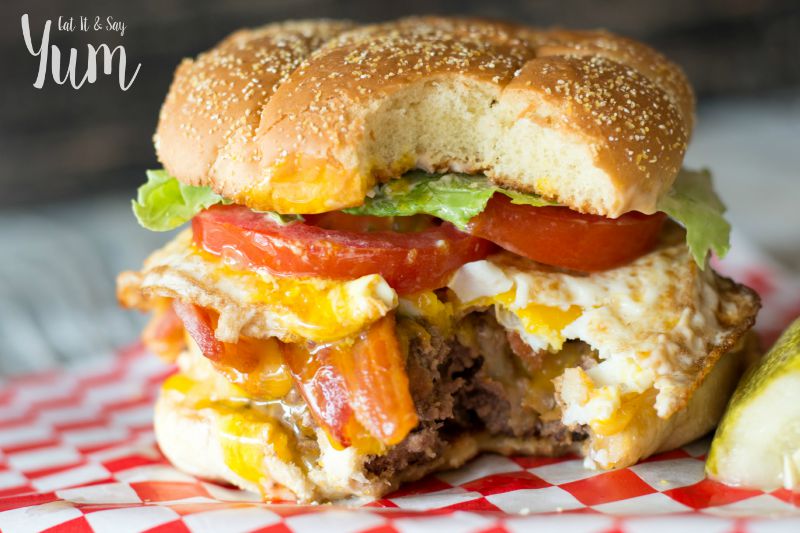 I also make Sriracha Mayo to top both buns.  I love a little heat.
Can you see that egg yolk oozing everywhere?   That's the best.  Remember the old commercials 'if it doesn't get all over the place, it doesn't belong in your face?'  So true here.  The burger itself is so juicy.  The tomatoes are juicy.  The egg is oozy.  Mmmmmmm….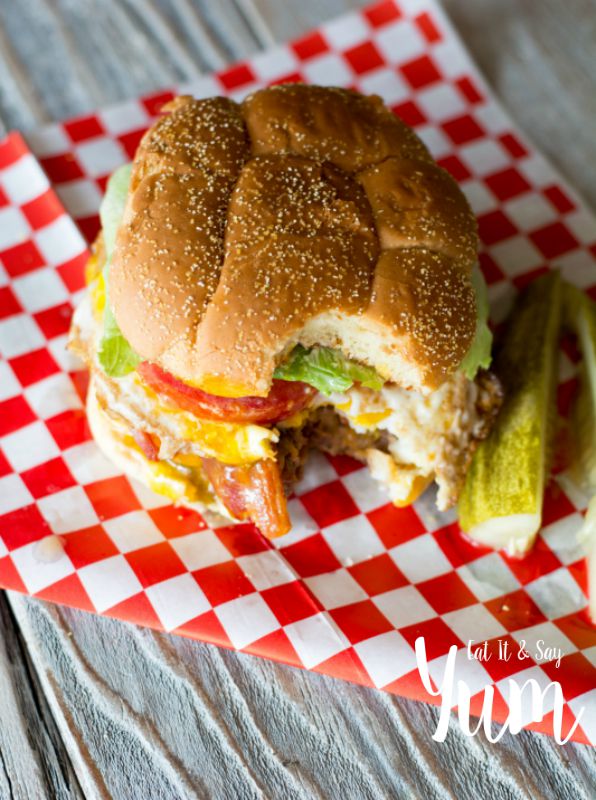 I counteract all that juiciness with toasted hamburger buns.  They toast up real fast under the broiler.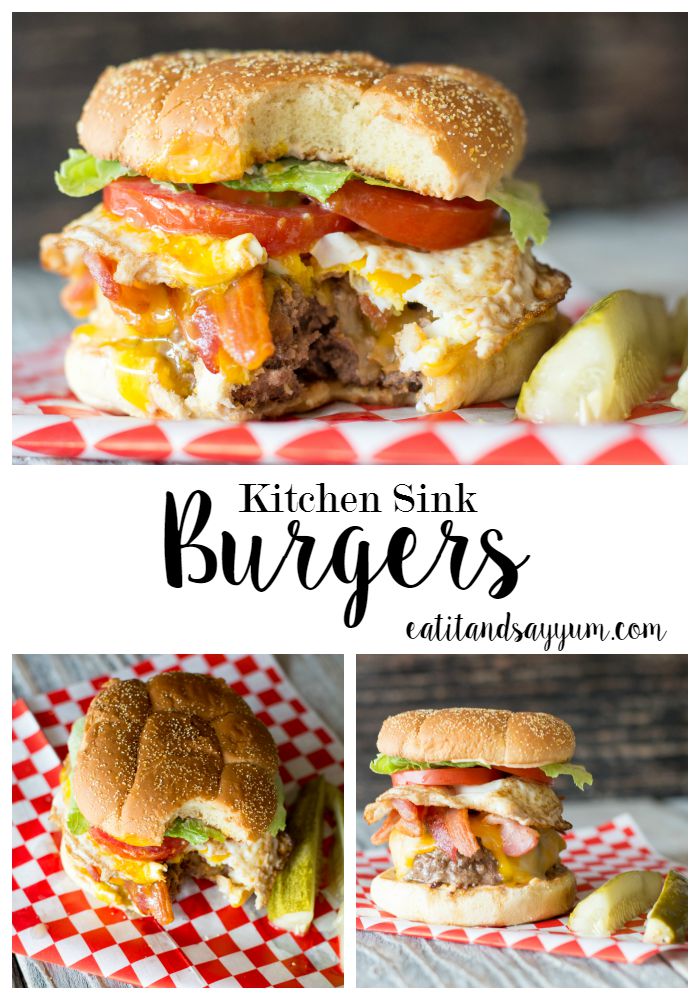 So, what are your favorite burger toppings?  You should definitely try them on this burger.  You can add everything but the kitchen sink.  Pretty much.  As long as you can get it in your mouth…  You may need some napkins…
Ingredients
2 lbs ground beef- thawed
1 Tbs olive oil
1 Tbs liquid smoke
1 tsp sesame oil
2 tsp Worcestershire sauce
1/2 tsp chipotle powder
1 egg
salt and pepper to taste
Sriracha Mayo: 1/2 cup mayonnaise
1/2 Tbs (or more) Sriracha
Toppings: fried egg- yolk runny
crispy bacon
onion rings
avocado/ guacamole
lettuce
tomato
cheese
and toasted hamburger buns
Instructions
Mix the ground beef with the olive oil, liquid smoke, sesame oil, Worcestershire sauce, chipotle powder, the egg, and salt and pepper. Mix all together- in a bowl or in a large ziplock bag for less mess and easy clean up.
Shape the beef into 6-7 patties. Season the patties with salt and pepper on one side, you can season the second side when you put them on the heat.
Cook the patties over high heat on the grill, or in a cast iron skillet. I use a little bacon grease in my skillet, for extra flavor and help against sticking. Let the burgers cook for about 5-7 minutes on one side then flip. I cook my burgers all the way through, but if you like them a little more rare, then remove them when you are ready.
Fry your eggs, but leave a runny yolk.
Toast the burger buns under the broiler. Top the patties with cheese before removing them from the heat- so the cheese can melt.
Mix the mayonnaise and the Sriracha together and spread onto each toasted bun. Top the buns with the burgers, bacon, fried egg, and any other toppings you choose. Serve immediately.
http://eatitandsayyum.com/kitchen-sink-burgers/
A few tips-
We usually buy beef that is 90% lean- you can use a fattier beef, but you might not want to add the olive oil.  It won't need that extra fat.
For easy cleanup, you can mix the beef and all the seasonings in a large zipper bag.  Then you throw the bag away when you are done.  Easy.
Once your burgers are cooked you can keep them warm in the oven while you finish any remaining toppings, like the Sriracha Mayo, or the fried eggs.  Try to have most toppings prepared before the burgers.
These things seriously require a napkin- so have some ready.
There you go!  You are all ready to whip out some super tasty burgers, right at home.  🙂
You might also like: