Several years ago, I was out to eat with my husband, at the Olive Garden (one of my favorite places), and we had some pumpkin cheesecake for dessert.  It was good.
I thought about that cheesecake for a long time.  And finally decided I needed to make my own version.
And with Fall in the air, it's time to share my creation.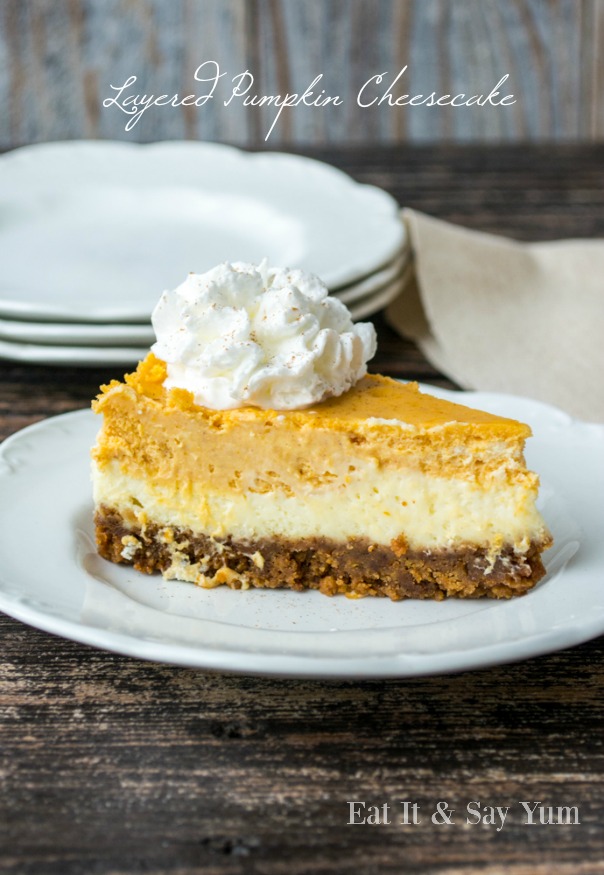 My version is not an exact copy of the Olive Garden's.  I mean they are both pumpkin, and both have a ginger snap crust, but that is really as far as they go together.
My cheesecake, is layered.  There is some regular cheesecake under that layer of pumpkin.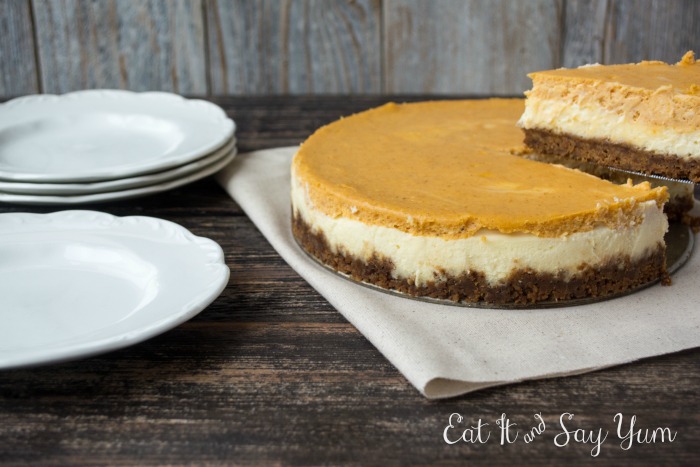 Just like any other cheesecake, this is a rich dessert.  But it's not overly sweet, which I like.  I have a hard time eating desserts that are rich AND too sweet.  Not, that I don't eat them, I just regret it afterwards.
So, I wanted to find a good balance.   And I did.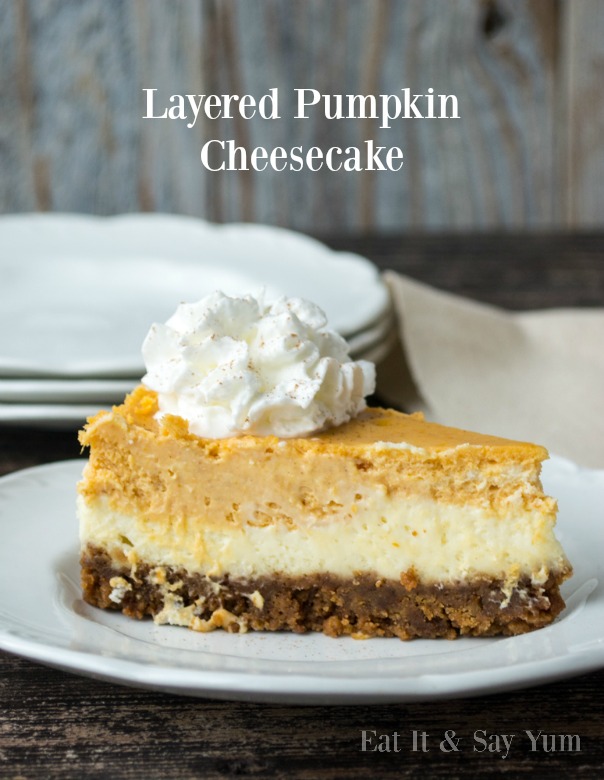 You could always add some caramel sauce, or even hot fudge sauce over the top of this, if you so desire.  But it doesn't NEED it.  Add a little whipped cream, and there ya go.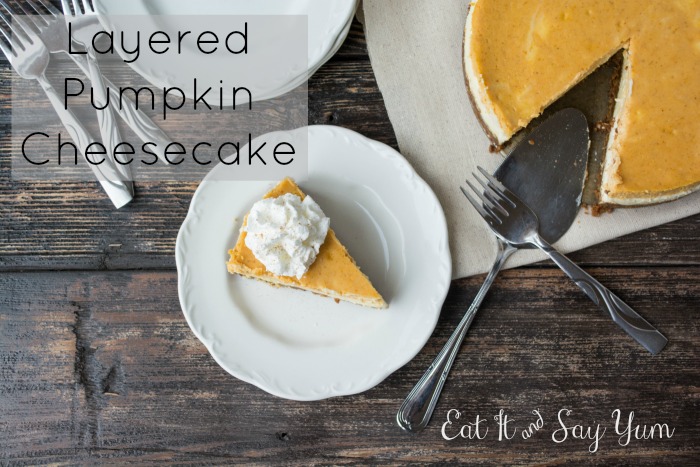 For my own sake, I have to share this picture of the pan I used.  I love this pan.  It is a spring form pan.  But it is a vintage piece that has been in my family for a while.  You can tell it has been used, a lot.  I like that.  Not really sure how much this would be worth now, but I wouldn't part with it anyway.  Love it.  (I also love how you can see that orange glow from the cheesecake on the pack edge of the pan.)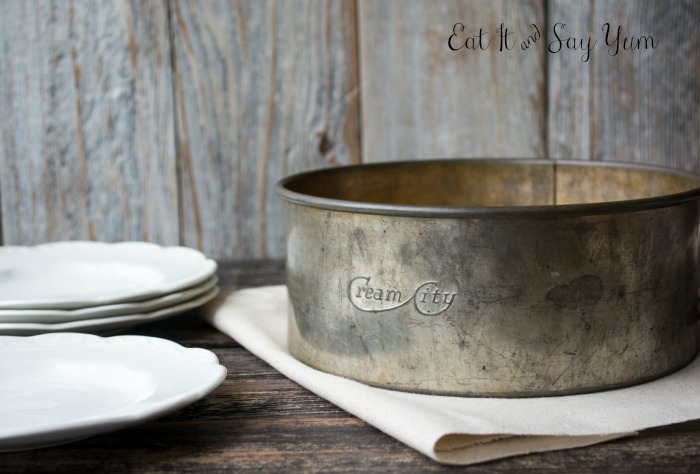 So, do you think you could handle a slice of pumpkin cheesecake?  We have a few months of Fall and Winter holidays, so why not whip up this yummy dessert and give it a whirl?  I think you will like it.  Even my kiddos chowed down on this.  (They like to claim they don't like pumpkin, but I have yet to serve them something with pumpkin in it that they don't end up loving.)

Layered Pumpkin Cheesecake

Ingredients
Crust: 2 cups crushed ginger snaps (or Oreos, or Vanilla Wafers, or Graham Crackers)
6 Tbs butter, melted
Filling: 2, 8 oz, packages of cream cheese
1/2 cup + 2 Tbs sugar- divided
2 eggs- at room temperature
1/2 tsp salt
1 tsp vanilla
1/4 tsp cinnamon
1/8 tsp nutmeg
1/2 cup canned pumpkin (not pumpkin pie filling)
Instructions
Preheat oven to 350 degrees. In a food processor, or ziplock bag, crush ginger snaps to fine crumbs. Mix those crumbs with the melted butter in a medium mixing bowl. Press the crumb and butter mixture into an 8 inch spring form pan. Set aside.
In a clean, medium sized mixing bowl, beat the cream cheese til smooth. Add the 1/2 cup sugar and beat again. Add the eggs one at a time, beating between each addition. Scrape the sides of the bowl if needed. Add the vanilla, and salt, then mix til smooth. Pour 2/3 of the cream cheese mixture into the prepared ginger snap crust, use a spatula to evenly distribute over the crust.
In the same bowl, add the pumpkin, cinnamon, nutmeg, and 2 Tbs sugar to the remaining cream cheese mixture. Beat until smooth. Carefully pour this mixture over the cream cheese layer in the pan. Gently spread it out to cover the white layer.
Wrap some tin foil around the bottom and sides of the spring form pan. Carefully place a cookie sheet with 1/4 inch of water in it, in the oven. Set the foil wrapped pan in the water on the cookie sheet. Let bake at 350 degrees for 30 minutes. Then turn the oven down to 325 degrees for 20 minutes. Don't open the oven door during cooking time. After the full 50 minutes of bake time is up, turn off the oven but leave the cheesecake in it for another 15-20 minutes. Try not to open the oven for this time either.
After setting in the oven for the 15-20 minutes, remove the spring form pan and set to cool on a cooling rack. Carefully remove the pan of water. Once cheesecake is fully cooled, store it in the fridge to chill through out. Serve chilled.
http://eatitandsayyum.com/layered-pumpkin-cheescake/
What's your favorite pumpkin dish?
See where I link up.
You might also like:
Vanilla Bean Cheesecake with Caramel and Apples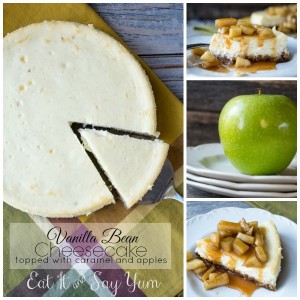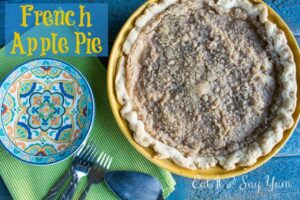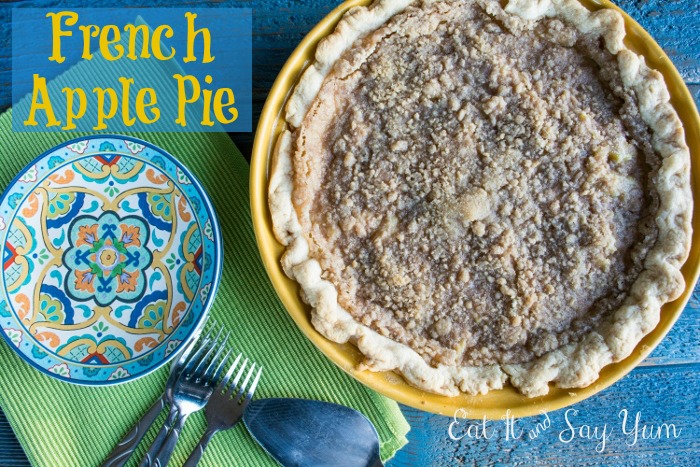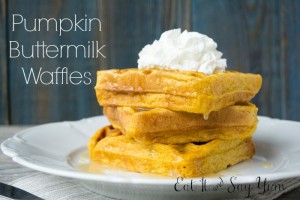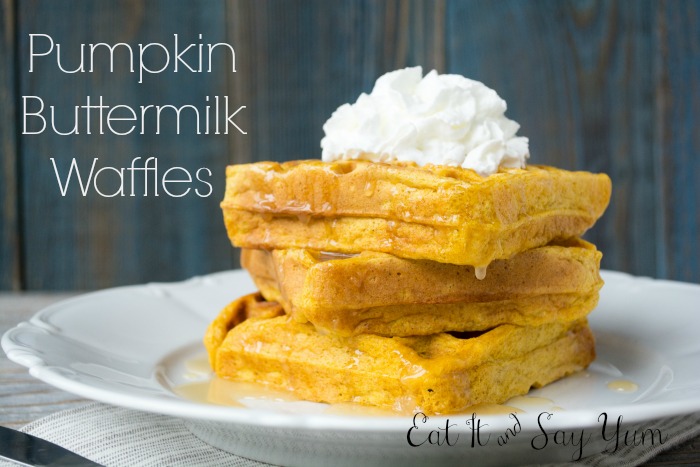 Carrot Cake with Ginger Snap Crumbles