I have a bit of a love hate relationship with muffins at my house.
Half of my kids love pretty much any muffin I make.  The other half are very picky.  They don't want blueberries, or apples, or bananas, or peaches in their muffins.
But, peace was finally reached with these light and fluffy, orange and poppy seed muffins.
All the kids ate them.  And said yum.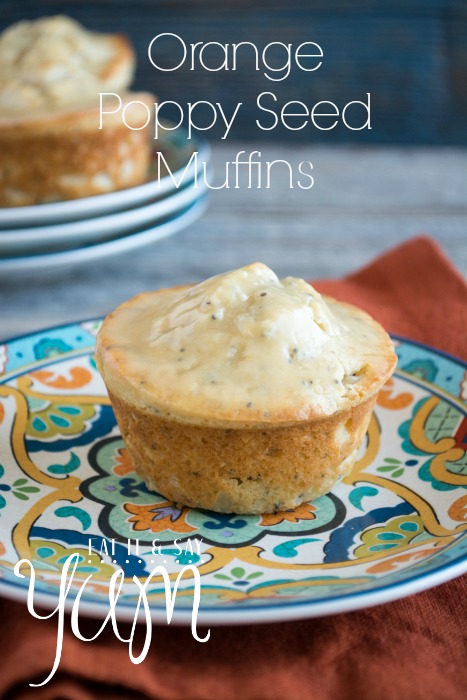 Inspired by a recipe from my sister-in-law, I wanted a poppy seed muffin, but not with lemon.  For some reason lemon isn't my favorite flavor.  I like it in sweet things, but not savory.  Anyway, I wanted to break away from the typical 'lemon and poppy seed' combination.  I  know this isn't a huge difference, but I like it.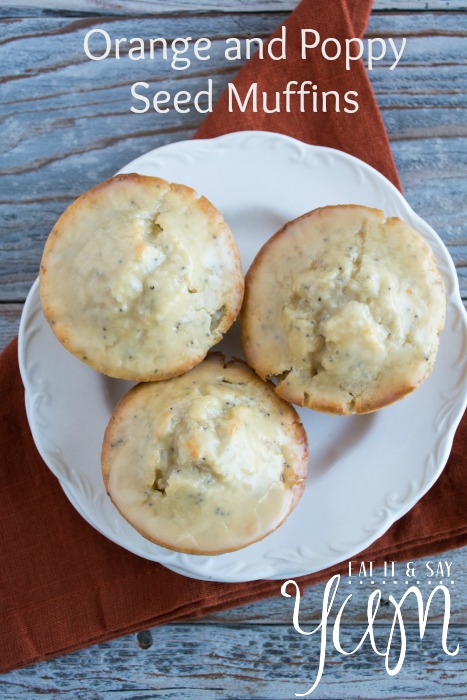 I also wanted a muffin that was light, not too dense, which is how lots of muffins turn out.  No good.
So, I separated the egg yolks and whipped the whites, folding them in at the end.  The result is a perfectly light muffin.  Success.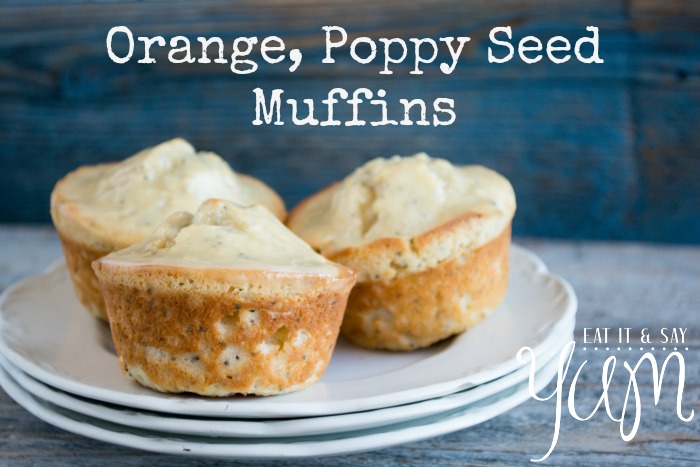 For the glaze I used powder sugar and orange juice with just a splash of vanilla.  Then I added a pinch of salt, so it wasn't too sweet.  It's still sweet, but that salt really cuts through the OVERLY sweet.
Light and Fluffy, Orange, Poppy Seed Muffins
Ingredients
1/2 cup butter- softened
2 eggs- yolks and whites separated
1 cup sour cream- yogurt can be substituted
1 tsp vanilla
1 cup sugar
2 Tbs orange juice
2 Tbs orange zest
1 3/4 cups flour
1 Tbs poppy seeds
1/2 tsp salt
1/4 tsp baking soda
For glaze: 1/2 cup powdered sugar
2-3 Tbs orange juice
1/4 tsp vanilla
pinch of salt
Instructions
Preheat oven to 400 degrees. Separate egg whites and yolks. Place the yolks in your large mixing bowl, and the whites in a smaller mixing bowl. Using a hand mixer beat the eggs whites till semi-stiff peaks form.
In the large mixing bowl with the egg yolls, add the sugar, sour cream, very soft butter, vanilla, and 2 Tbs orange juice. Briefly mix together. Add the flour, salt, poppy seeds, baking soda, and orange zest to the bowl. Gently stir together, but do not fully mix. Using a rubber scraper, gently fold in the egg whites and finish mixing the batter.
Grease your muffin tin well, and divide the batter among 12 muffin cavities. Bake for 18-20 minutes, or until a tooth pick inserted in the center of the biggest muffin comes out pretty clean.
While the muffins are baking make the glaze by whisking the powdered sugar, 2-3 Tbs orange juice, 1/4 tsp vanilla, and pinch of salt. Set aside.
After baking remove the muffins from the tin and let cool until they are cool enough to hold. Hold each muffin upside down and dip the top of the muffin into the glaze. Hold it upside down over the bowl for a few seconds to let any excess glaze drip off. Then turn right side up again and set on a cooling rack to dry. Repeat with each muffin. Serve warm.
http://eatitandsayyum.com/light-and-fluffy-orange-poppy-seed-muffins/
All in all, I am SUPER happy with this muffin.  Even my husband was raving about it.  That always makes a girl happy.  🙂
Here are some more breakfast ideas you might like:
Maple and Bacon Stuffed French Toast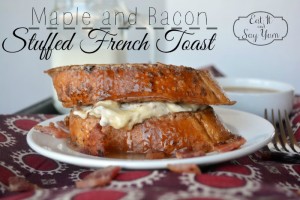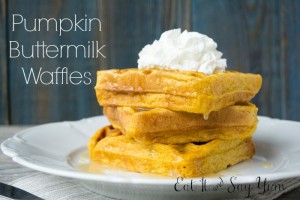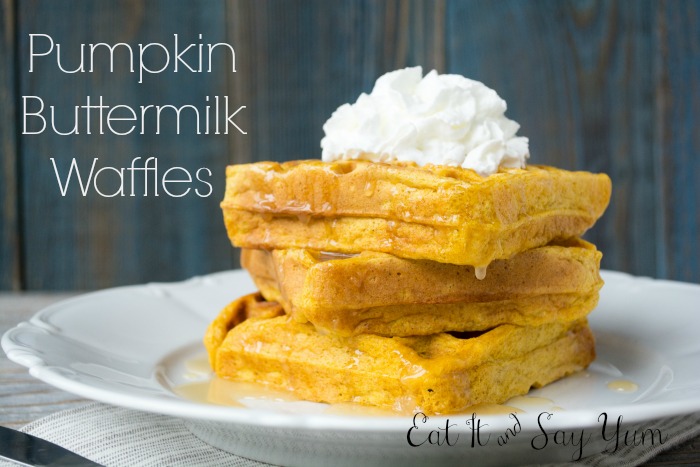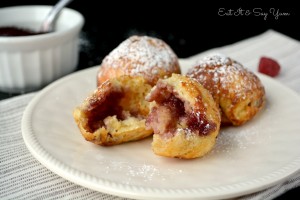 See where I link up.