So, my baby is growing up!  He turned one.  😉
We had a Lumberjack themed party for him.  SInce this Mama don't make no plain cakes, we did a Birch tree looking log.  With his name carved in it and all.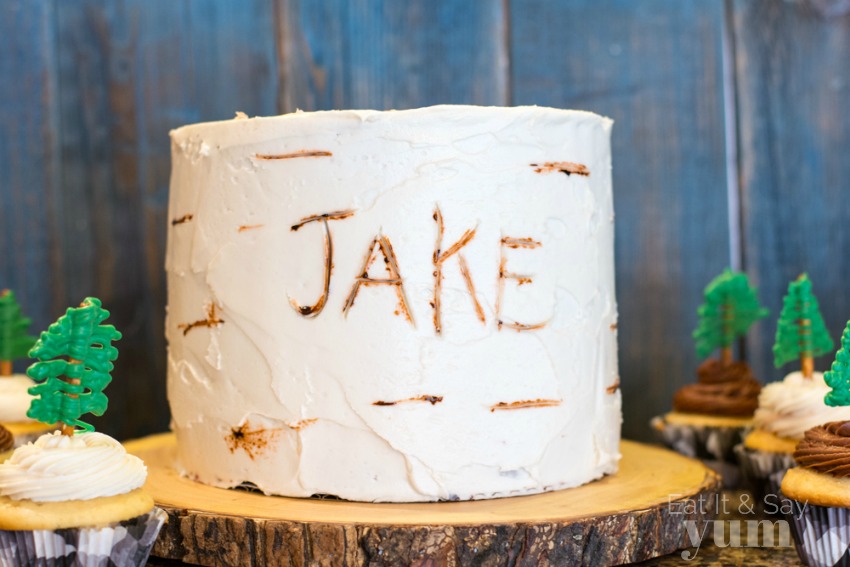 I decorated the cake with buttercream.  Chocolate on the inside and for the crumb coat, then white, with some salted caramel sauce mixed in, for the outside.  The top of the cake I colored some of the white frosting with a little yellow and brown, then put a couple dollops of the chocolate frosting and spread it all in a circular motion, to match the rings of the cake.   I used a toothpick to draw rings and cracks along the top of the cake.  Then I used some slightly watered down brown food dye to brush into the cracks I drew on the frosting.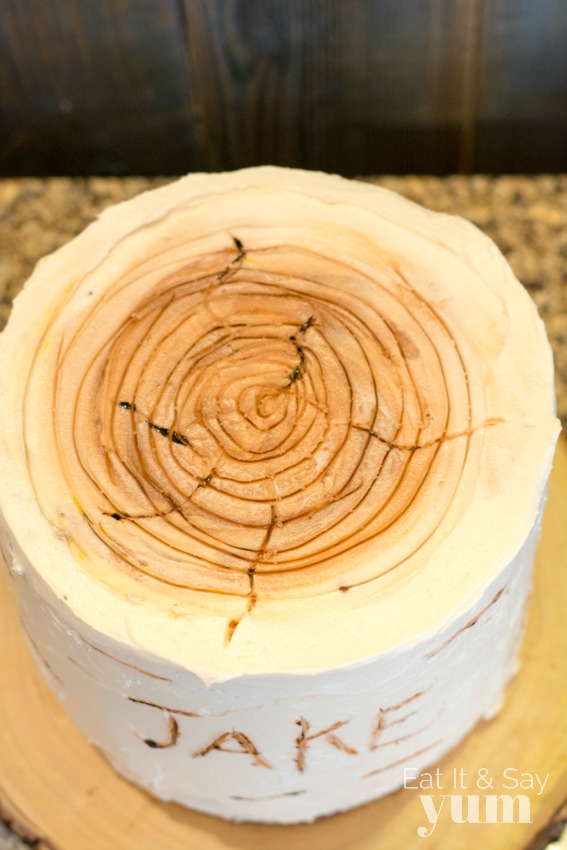 There were cupcakes, too.  With trees on them.  And these would also be cute for Christmas.  You could add some white sprinkles to them to look like snow, or colored ones to look like ornaments.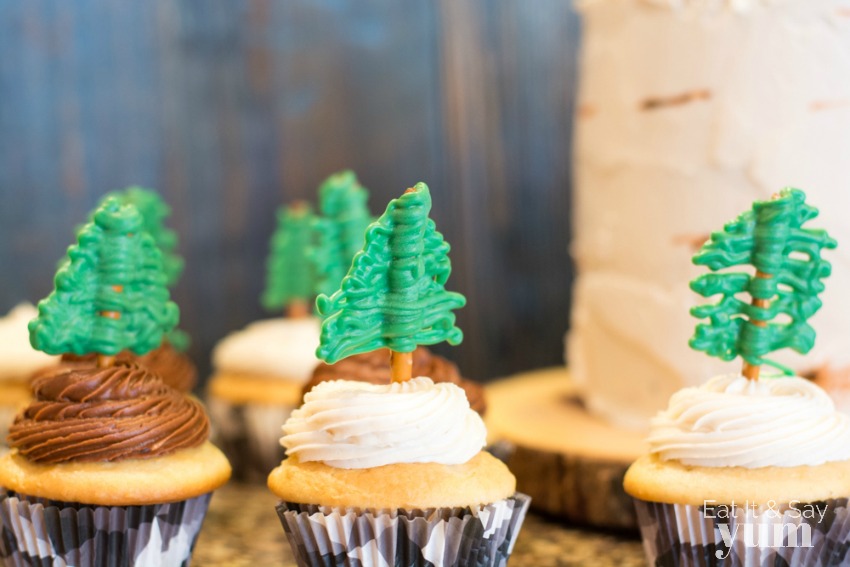 I swear someone broke the top off that white one in the middle there…, but no one would confess to it…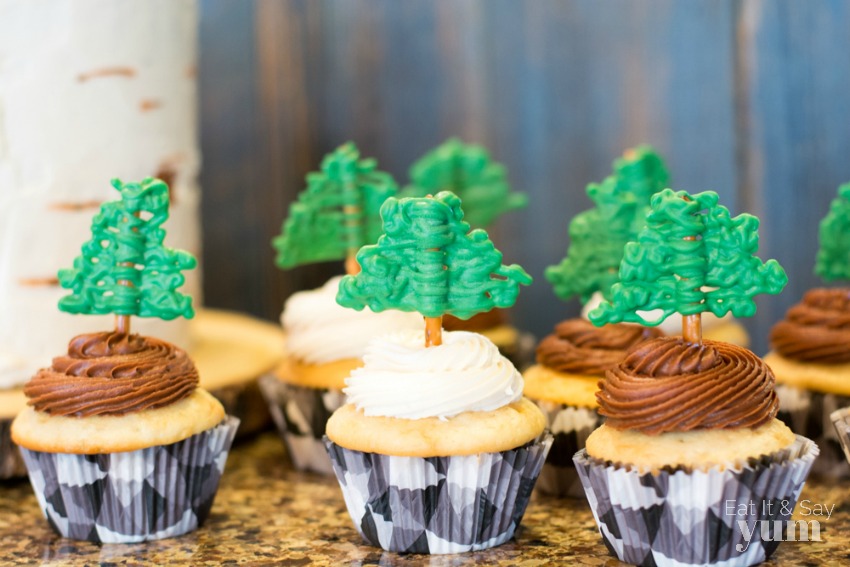 I'm super happy with how it all turned out.  Taking pictures during a birthday party isn't my favorite thing, so I felt rushed in that respect.  But, you get the idea.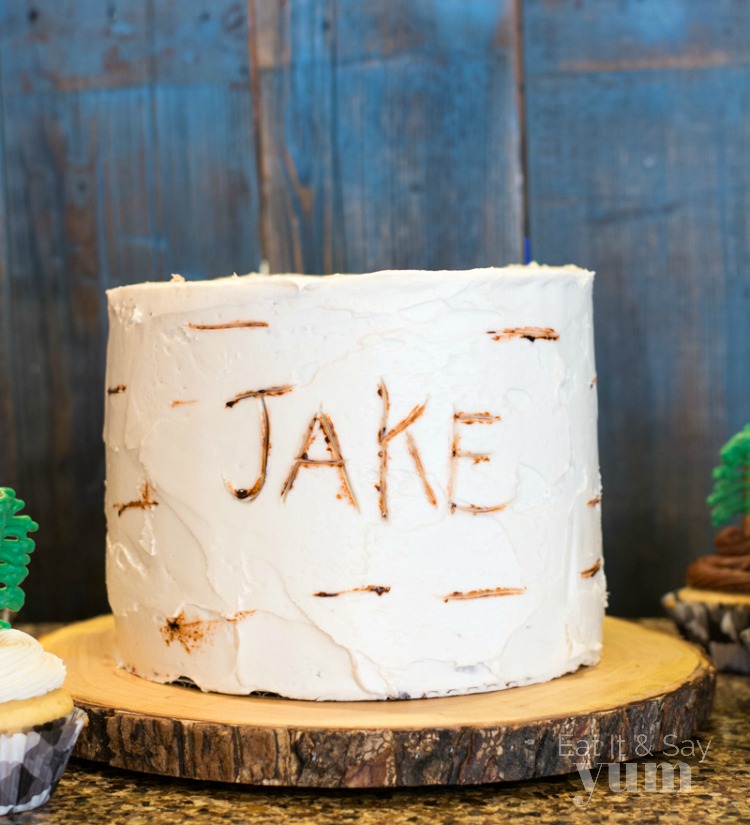 The inside of the cake was a fun surprise.  I'll need to perfect the art of the "surprise inside" cakes, but again, I'm happy with it.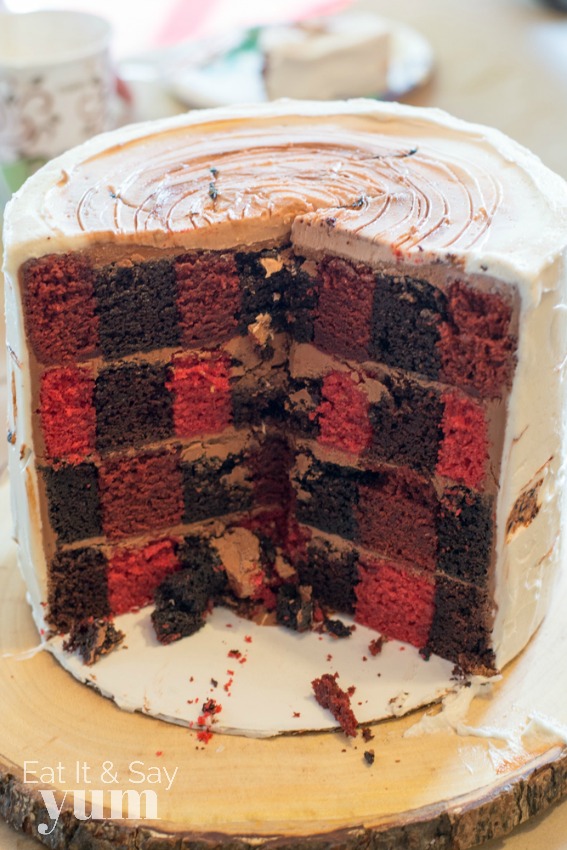 For our "hearty, Lumberjack lunch", I did a chili bar with baked potatoes.  We also had a veggie tray.  Yum.
To add to theme and atmosphere, I made a photo booth, so all the party goers could have some fun with photo props.  My kids are all too happy to be handed a camera and have at it.
I got a roll of brown paper from the dollar store, cut it half and taped the long sides together, to make it wider.  I sketched my idea for the back drop on a piece of printer paper first.  So I could easily make changes and have a rough draft for what I wanted.  Then I drew it on the big brown paper.  In the middle picture below, you can faintly see my pencil marks for the fence and the bear.  Then I painted it.  It did take some time, and I bought two bottles of the $.50 craft paint from Walmart.  So the total cost was $2.00  I already had some craft paint at home, for the small amount of colors I wanted.  I mostly needed white and brown.  Anyway, super cheap!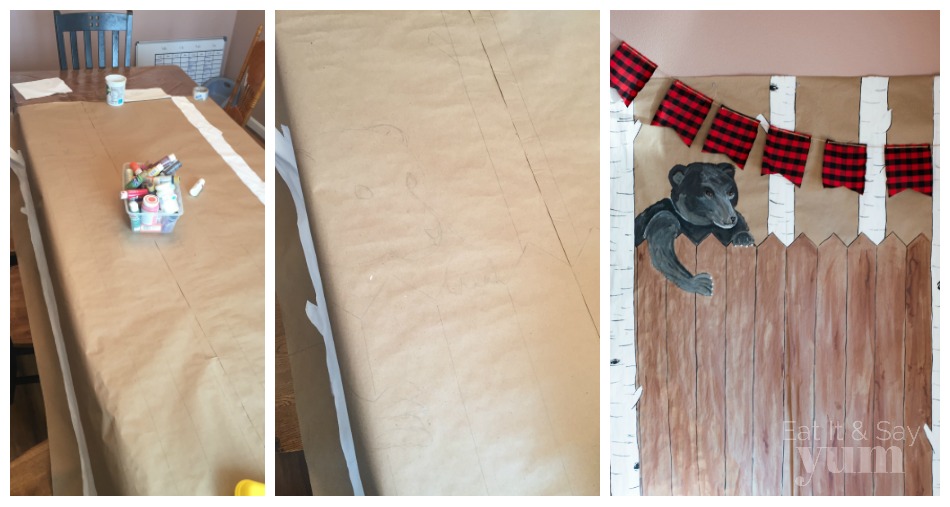 And I LOVE how it turned out!  I am NO ARTIST, trust me.  But I looked up "how to draw a bear" online  and just figured it out from there.  It's not perfect, but it served its purpose!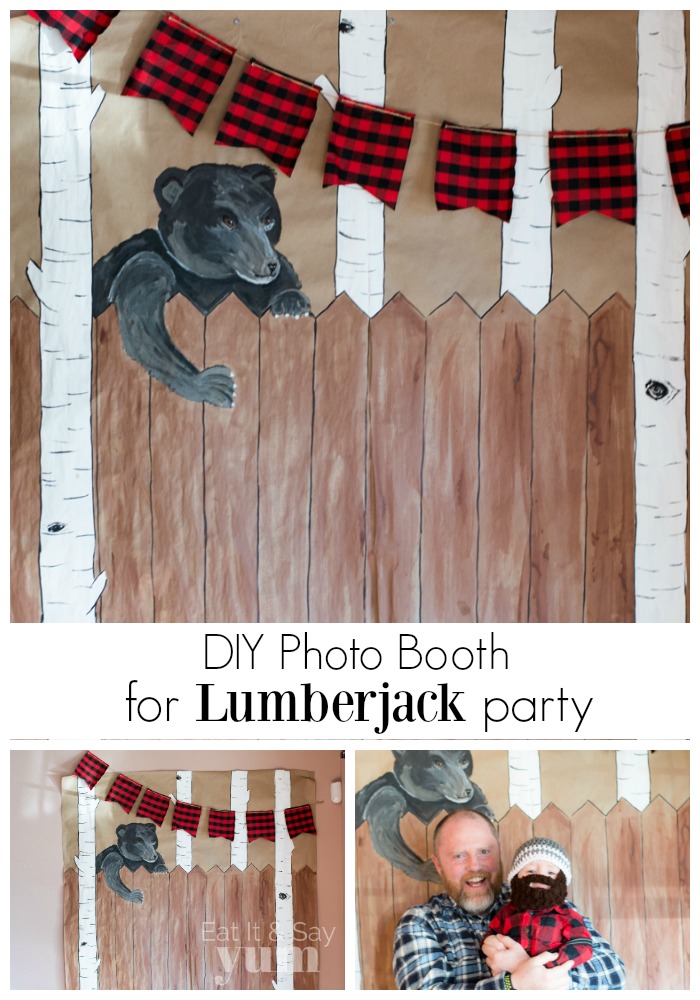 So, you could apply this same idea to pretty much any theme you want.  Oh, and I got the buffalo plaid bunting at Target.  It was $3, so if you count that in the total cost, I guess it was $5.  But that's optional.  I also like to make homemade buntings with fabric scraps that I already have at home, and that's free.
Anyway, super fun and cute party.  If I do say so myself.  😉 Click here to see the smash cake!