I love a good luau, with Kahlua Pork, sticky rice, and Hawaiian rolls.  But it's just not complete with out a great macaroni salad on the side.
I've been dreaming of the perfect macaroni salad for some time.  With the help of my mom, we came up with a great recipe for macaroni salad.  It had all the elements we were looking for, and the taste was spot on.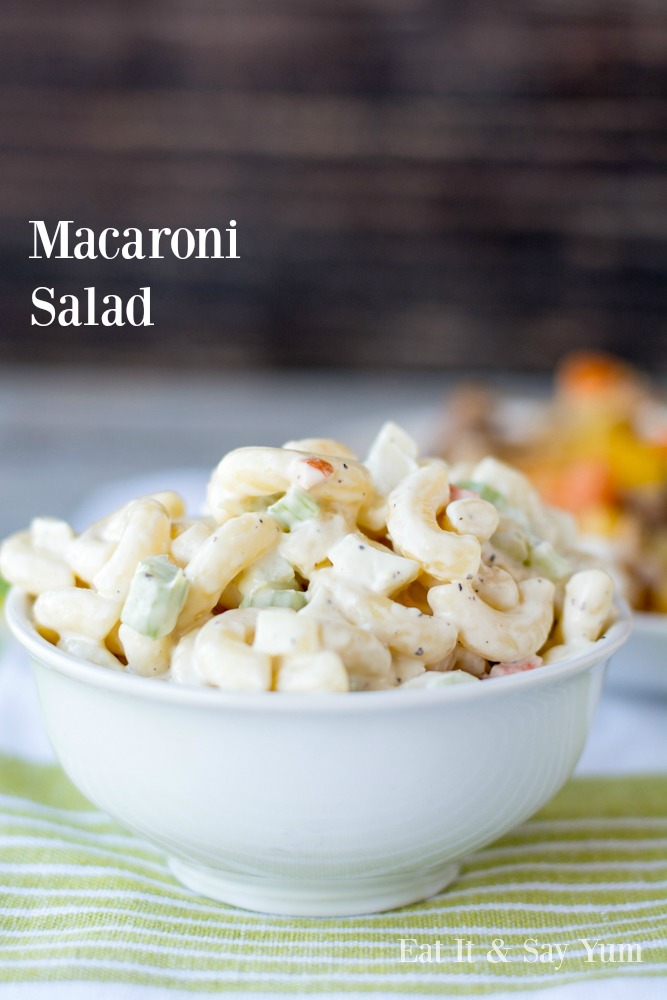 This recipe is super easy to make, and feeds a crowd.  (Little effort, but big reward!)  It has some fresh veggies, macaroni noodles, a yummy dressing, and boiled eggs.
 This side salad easily goes great with almost any meal.  I picture it with burgers, ribs, hot dogs, kabobs, tri-tip, brisket, pulled pork, the list goes on.  The cool salad is a great balance to a hot barbecued meat entree.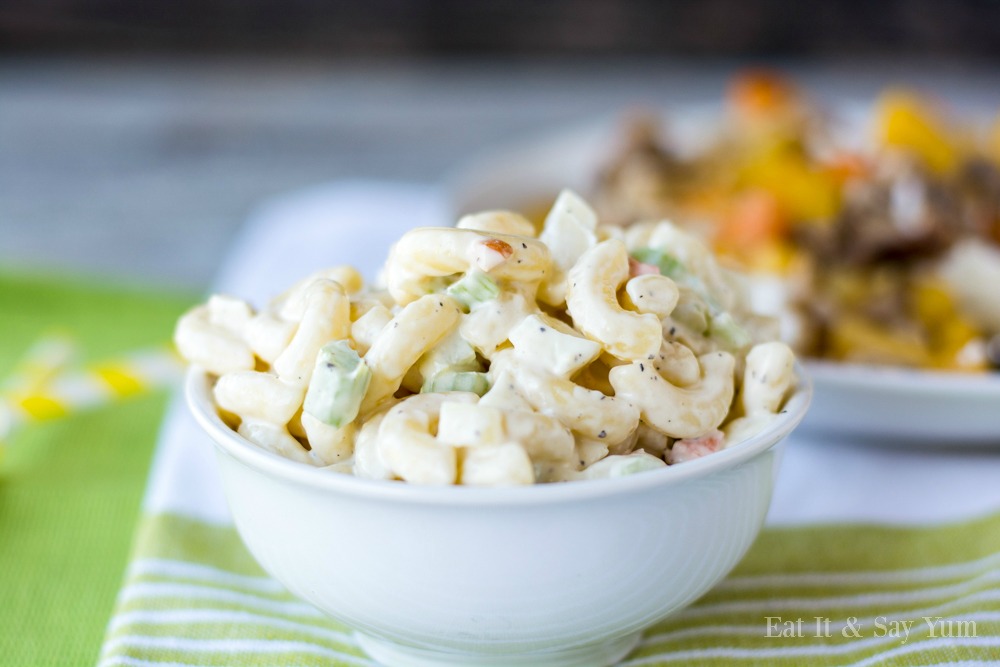 There is a restaurant called L&L Barbecue that I have eaten at in Hawaii, and in Fresno, CA.  They serve a heaping scoop of macaroni salad along side their entrees, and this pasta salad totally reminds me of theirs.  Except mine might just be a little bit better.  😉
Ingredients
1 pound elbow macaroni noodles
1/2 onion- finely chopped
2 carrots, grated- or 1/3 of a 10 oz bag of pre-shredded carrots
1 stalk of celery- finely chopped
3 eggs- hard boiled
3 Tbs milk
1 2/3 cup mayonnaise- not miracle whip
4 tsp red wine vinegar or apple cider vinegar
1 1/2 tsp salt
1 1/2 tsp ground black pepper
1 Tbs sugar
Instructions
In a large pot of boiling, salted water, cook macaroni according to package directions (typically 6-8 minutes). Once cooked, immediately rinse the noodles with COLD water, until they are completely cooled. Set aside.
While pasta is cooking, chop the celery, onion, boiled eggs, and shred the carrots. Add these to a large mixing bowl, and set aside until the noodles are cooled.
In a small mixing bowl, add the mayonnaise, sugar, salt, pepper, milk, and vinegar. Mix together with a fork or small whisk until smooth. Pour the dressing over the veggies, eggs, and macaroni in the large mixing bowl. Gently stir, to evenly coat everything. Keep the salad in fridge until ready to serve. If the salad sits for more than an hour you may want to add additional milk and salt to enhance the flavors and texture again. The pasta will have absorbed some of the liquid and salt.
http://eatitandsayyum.com/macaroni-salad/
Give this Macaroni Salad a try next time you are heading to a potluck, or hosting a barbecue at your house.  A nice filling dish, that is easy to make, you can't go wrong with that.
You might also like: