Today we are taking a break from bring you yummy recipes and doing a little get-to-know-you.  Read on to meet one of our fabulous friends.
So, Hannah is the genius behind All Things Delicious.  In case you haven't noticed, she is also one of the great bloggers we have teamed up with for our GIVEAWAY.
Hannah and I go WAY back.  We grew up in the same town, and go back to at least to our junior high days.  It's hard to know for sure.  However, it wasn't until high school that we really spent much time together.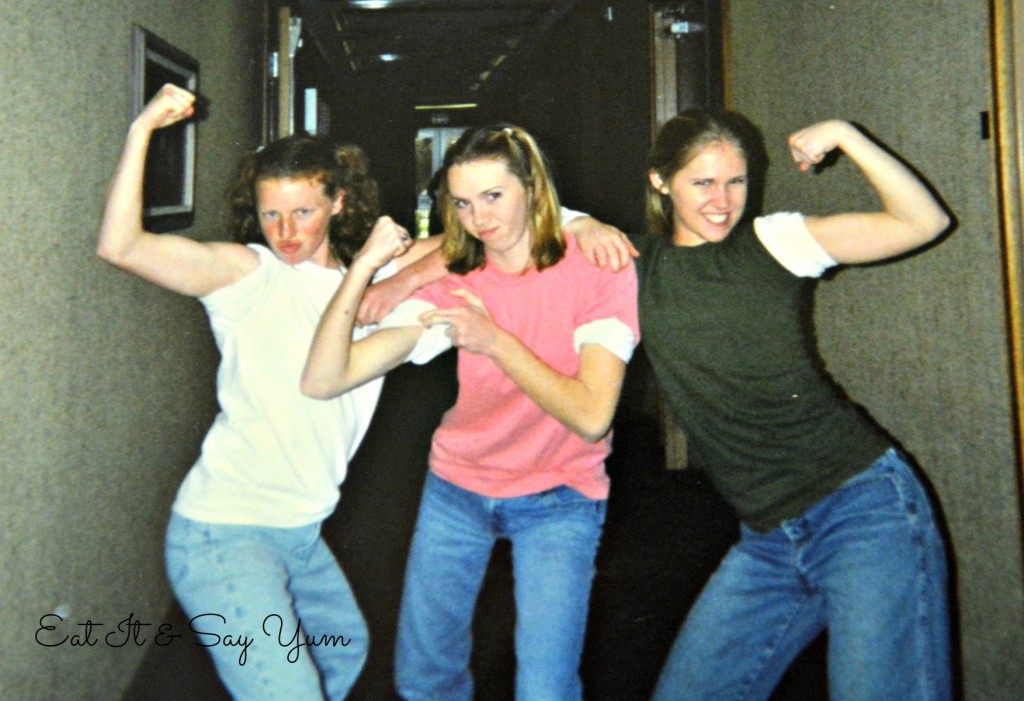 Leia, Nicole (from The Jones Way blog- also part of our giveaway), and Hannah.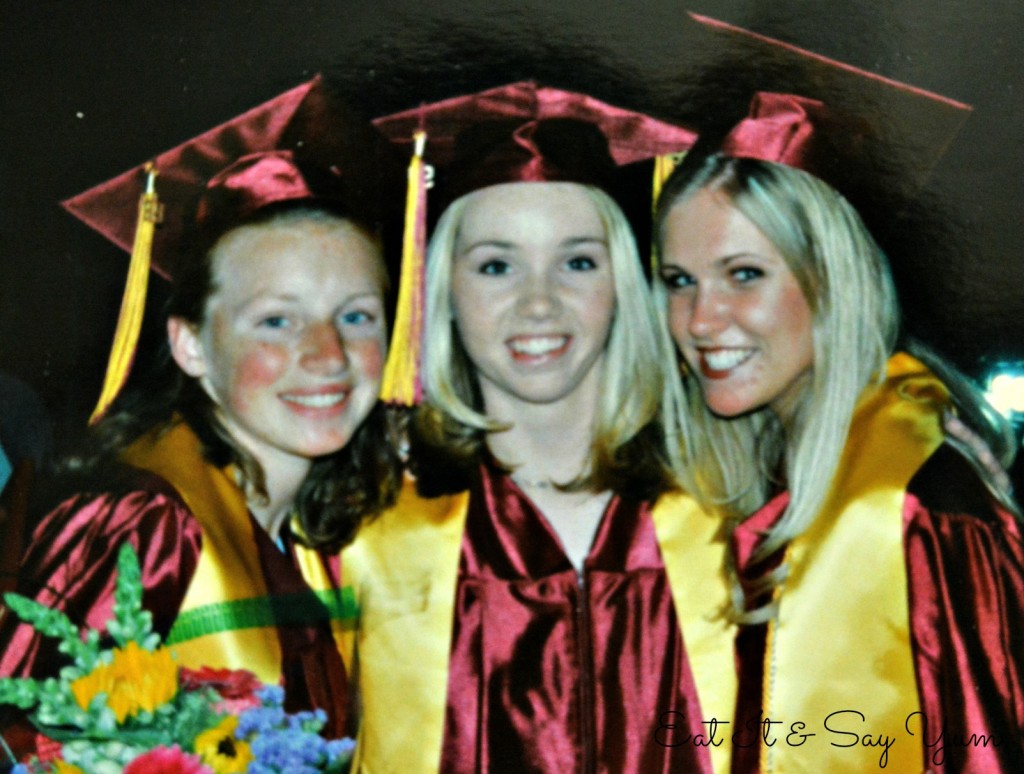 And again at our high school graduation.
Anyway, we wanted to give you all a chance to get to know Hannah, and her blog.  So we did a little Q&A to share with you.  Enjoy!
1. Give us a brief introduction to your blog.
"I started blogging way back in 2008. I always had people asking me for my recipes and it was such a pain in the neck to have to write out or type up a recipe time and time again. So it was soon after (and oddly enough) my good friend, Leia, encouraged me to start a food blog that I jumped online and started a food blog of my own…All Things Delicious. My whole goal with the recipes on my blog are to be family-friendly, fairly easy to make, and uses common ingredients that are usually found right in your pantry and fridge. But above all, the recipes have to be DELICIOUS!"
2. What sparked your love for cooking/baking?
"When I got married, I married into a family of amazing cooks/bakers. At that point, I only knew the basics about cooking. I knew how to cook only a few things like hamburger, chicken, pasta, and eggs. I wasn't even close to being like my new in-laws. So in an effort to please my husband with good food, like he'd had his whole life, I turned to the cookbooks we had been given for our wedding and the Taste Of Home magazine subscription my mother had given me. It was through a great deal of reading and trial-and-error over years and years that I have taught myself almost everything I know today. And through that learning process I found that I LOVED to cook and bake."
3. If you could take any cooking/baking class, what would you want to learn about?
"There are SO many areas in the cooking and baking world that I would LOVE to learn more about. My desire to continue to learn about food is truly insatiable! But if I had to pick one thing that tops the list, I would have to say that learning how to make true French pastries would be it. Some day, it will happen!"
4. If you had to teach a cooking/baking class, what would you feel most qualified to teach?
"I have been so lucky to have been asked to teach several cooking classes. Let me just tell you that there are few things that are more fun for me than that. The class that I felt most qualified to teach was teaching over 300 college students the art of quick and easy cooking. As a busy stay-at-home mom, quick and easy cooking is an absolute necessity for me, just as it is for super busy college students who don't have much experience with cooking."
5. Anything else you think readers should know about you?
"I have been so blessed to live a life I never dreamed of. I never expected that I would end up married to such a wonderful and patient husband. I would never have guessed that I would be expecting my sixth child. And I most certainly couldn't have ever imagined that this California "city" girl would have ended up raising a family on a small cattle ranch in Idaho and learning the unique talents of chasing cows and driving tractors. But it's a life I would never trade for anything."
So there ya have it, folks.  Go check out All Things Delicious and see what great things Hannah is cooking up these days.