Meringue Pie Crust is a unique crust, that is light and airy and so delicious.  Fill it with your favorite no-bake pie fillings.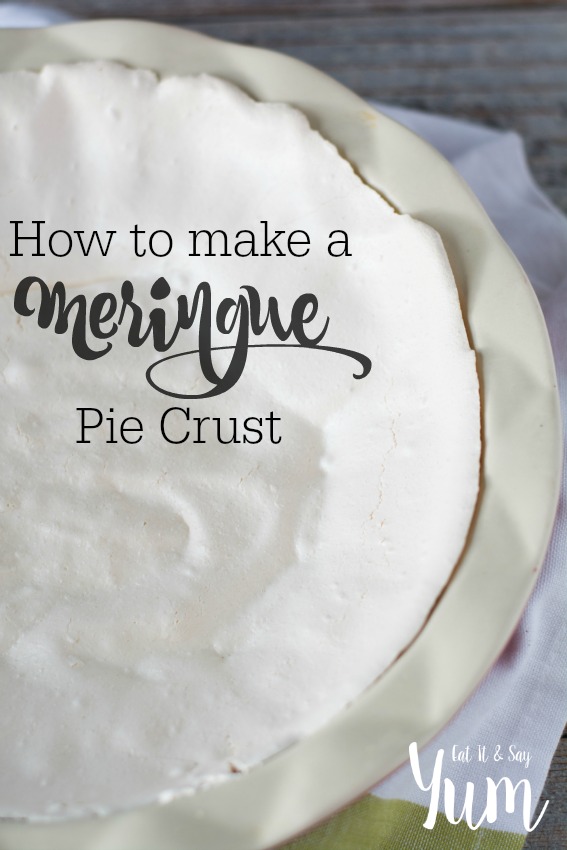 Meringue pie crusts are just that, crust made out of meringue.  They turn out slightly crunchy, and so airy.
They are actually pretty easy to make as well.  But make sure your pan is heavily buttered, or the crust will stick.  Anywhere the meringue is going to touch the pan, cover it with butter.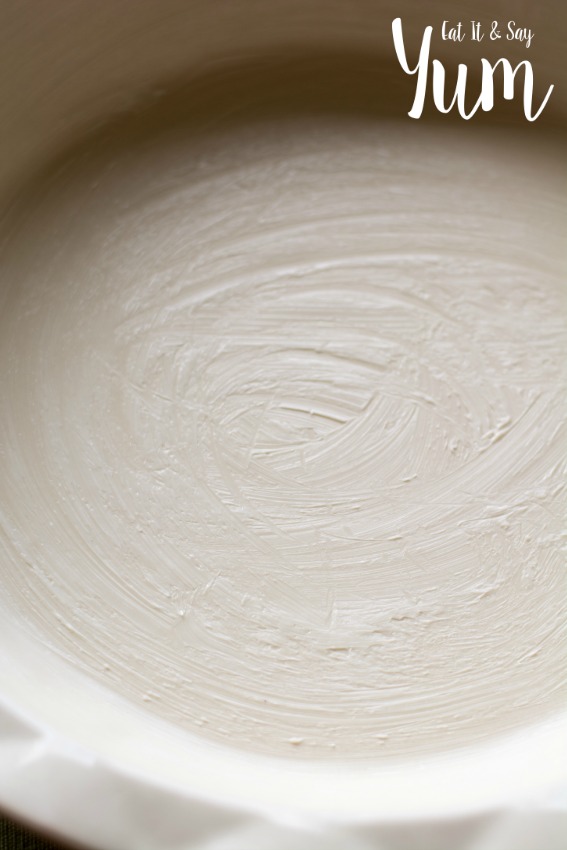 Add the whipped meringue to the pie pan and spread it around with a spatula or rubber scraper.  Form the meringue up the sides, just like a normal crust.  It will be thicker than a normal crust, and you probably won't get it perfectly even or smooth, but that's ok.  Whichever pie filling you use will fill in around any imperfections.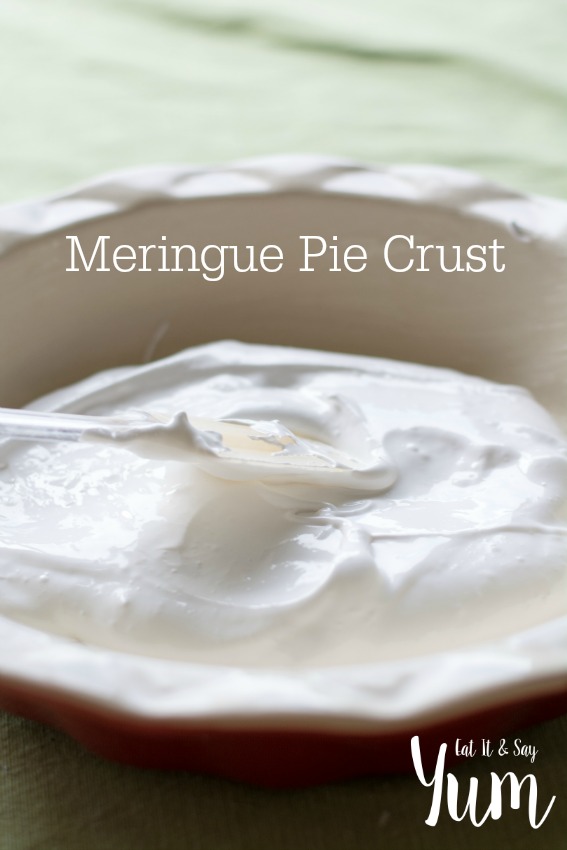 The meringue should be stiff.
Some tips to ensure a stiff meringue:
Use egg whites that are room temperature- not cold.
Make sure your bowl is clean.  Use a glass or metal bowl- plastic bowls can hold in more grease from previous uses.  You can wipe a glass or metal bowl with a paper towel and some vinegar to make sure there is no remaining grease in it.
Make sure there is NO egg yolk in your mixture- that can make the meringue soupy.
Add the sugar 1 Tbs at a time, when mixing it with the egg whites.
If you have done all of these and still have a soupy meringue- try adding a little more cream of tartar and/ or 1 more egg white (at room temp).
If you have tried all the above steps, but the meringue isn't stiff, still try baking it in the pan.  Better to use it than throw it all away.  You can always try again if you need to.  🙂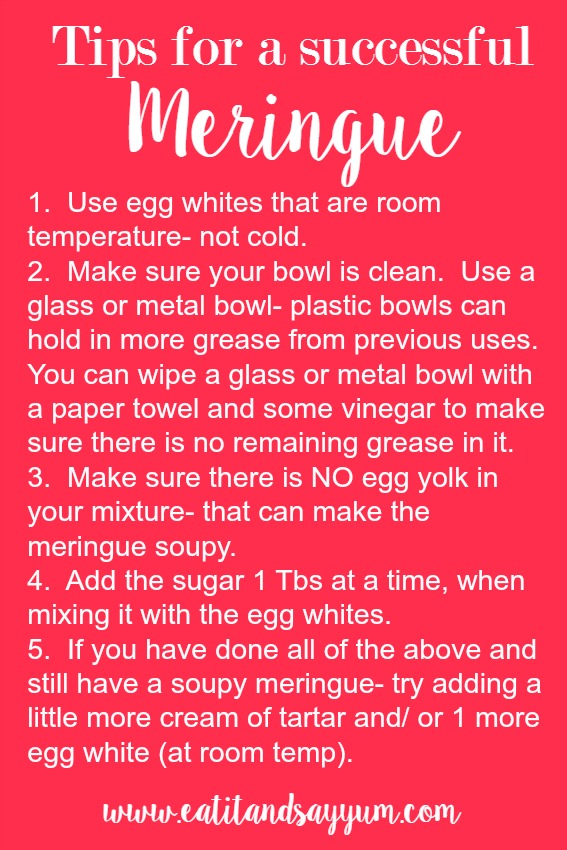 You can use this crust with any no-bake pie filling.  You will bake the crust, but then you don't want to bake it again.  My family loves this with Cloud Pie.  (Recipe coming soon!)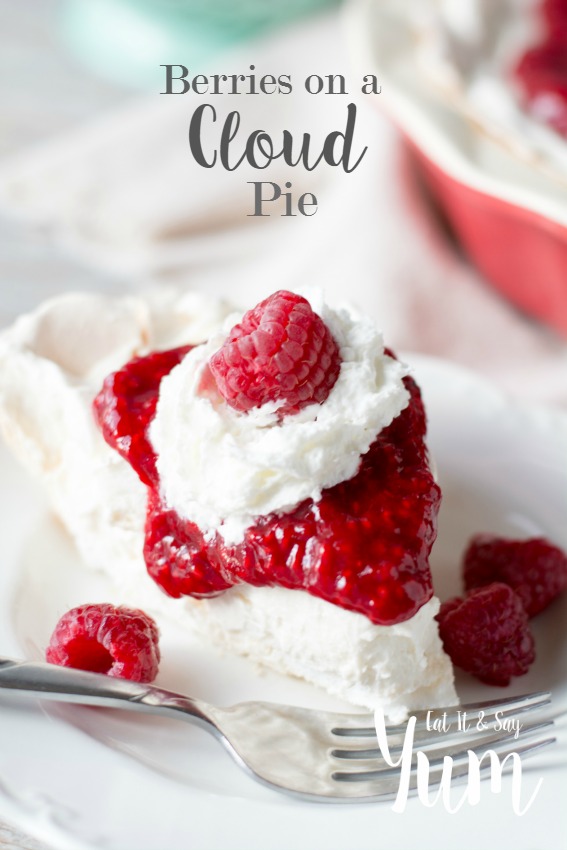 This crust would be great with an no-bake Oreo Pie, no-bake Cheesecake, chocolate cream pie, etc.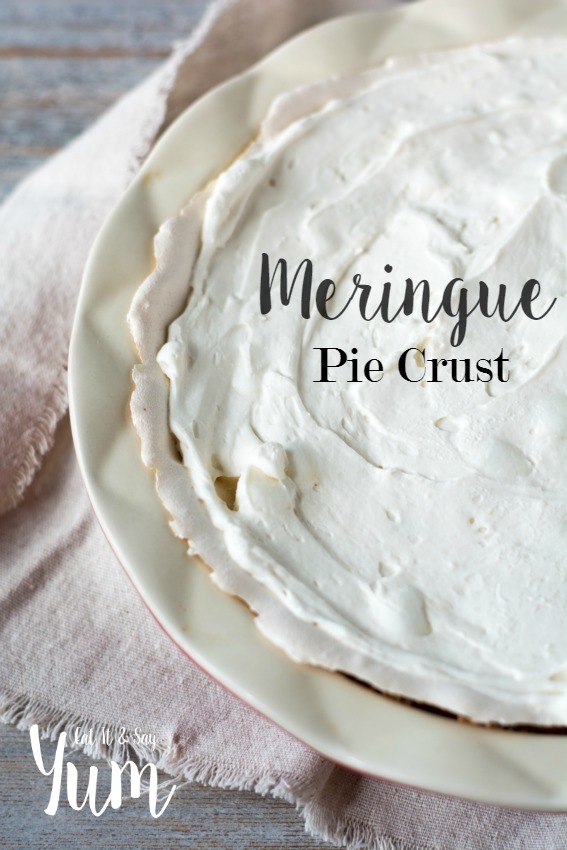 Ingredients
2 egg whites
1/4 tsp cream of tartar
1/2 cup sugar
butter- for greasing the pie pan
Instructions
In a clean glass or metal bowl, beat the egg whites with the cream of tartar, until they are frothy- about 30 seconds.
Add the sugar to the egg whites, 1 Tbs at a time. Beat the egg whites until they are stiff and glossy. This can take several minutes- about 4-7.
Heavily butter a 9" pie pan, everywhere the crust will touch.
Spread the meringue into the pie pan with a rubber scraper or offset spatula.
Bake at 275 degrees for 45 minutes. Then turn the oven off, but leave the crust in the oven for another 45 minutes. Don't open the oven until the full 1 1/2 hours has passed. Remove the crust from the oven and let cool completely. Fill with your desired pie no-bake pie filling. Crust is best when served within an hour or so of being filled- for a nice crispness. But leftovers are still great for a day or two.
http://eatitandsayyum.com/meringue-pie-crust/