Confession time…  Several months ago I posted on Facebook about foods I just don't like.  and quinoa was one of them.
I really just didn't care for the taste.  Since then, I did a cleanse with my hubby and we actually learned to like quinoa.  Maybe because we felt like it was one of the few replacements for grains and carbs that we had.  At any rate, because of that cleanse, I came up with a few ways that I enjoy quinoa.  This is one of them.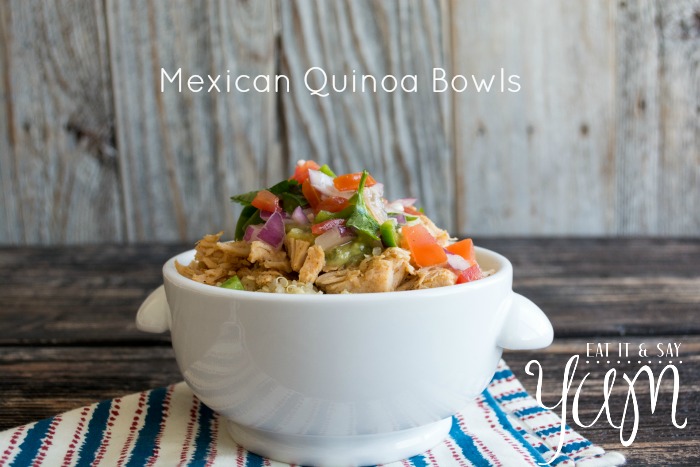 These bowls are similar to a typical rice bowl, but I start with a bed of cooked quinoa.  On top of that I add a healthy portion of chicken.  Because this is a 'Mexican' bowl, I add my favorite Mexican food toppings.  Your options are limitless, but here are some of my favorite:
Avocado and Tomatillo Green Salsa– I HAVE to have this one.
Pico de Gallo– another must in my book
Cheese
Sour Cream
Guacamole
Sauteed Peppers and Onions- gives the dish a nice fajita taste
Sliced olives
Sliced green onions
Refried Beans
Or any other topping you choose.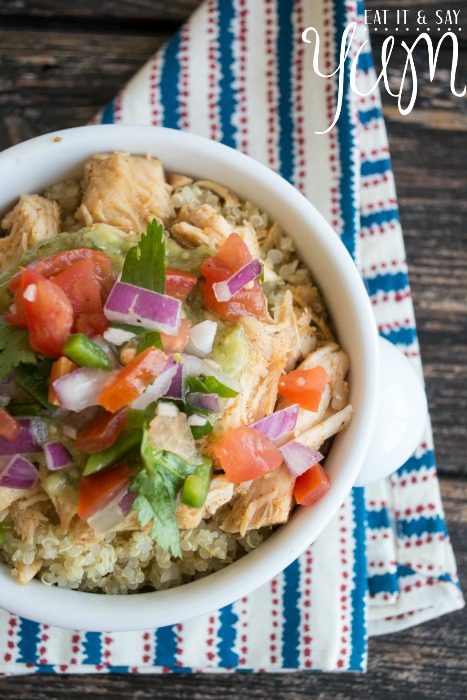 One thing I love about this dish is that it is easy.  When I make quinoa I always cook extra to have as left overs, and I do the same with the chicken.  So I can easily reheat the quinoa and chicken, and throw whatever else I want on top.  Great for lunches!
Ingredients
1 cup uncooked quinoa- cook with water according to package directions
2-3 cups of shredded or diced chicken
1/2 tsp chili powder
1/2 tsp garlic powder
1/4 tsp chipotle powder
1/2 tsp seasoning salt
pinch of pepper
1/2 tsp cumin
Toppings of your choice, I recommend: pico de gallo
avocado and tomatillo green salsa
guacamole
cheese
sour cream
sliced green onions
etc.
Instructions
Cook the quinoa according the package directions. Chop and saute your chicken over medium-high heat, adding the seasonings as you cook the chicken. Or use leftover shredded chicken, saute in a pan with the seasonings.
Prep your toppings while the quinoa and chicken are cooking. (Some may take advance prep- depending on what toppings you choose.)
Once everything is ready, divide the quinoa into four bowls. Top that with the chicken, and any other toppings you choose.
Serve immediately and enjoy a healthy meal.
http://eatitandsayyum.com/mexican-quinoa-bowls/
And like I mentioned before this meal was something that I ate while doing a cleanse, so that right there should tell you that is healthy.  Just don't go crazy with all the toppings if you want to see more health benefits from eating this type of food.  (Read cut out the cheese and sour cream.)
Anyway, do you like quinoa?  I'd love to hear what your favorite way to eat it is.
You might also like: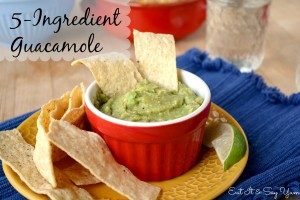 Avocado and Tomatillo Green Salsa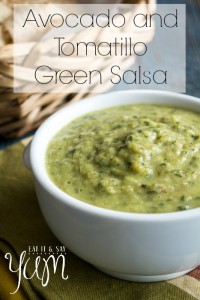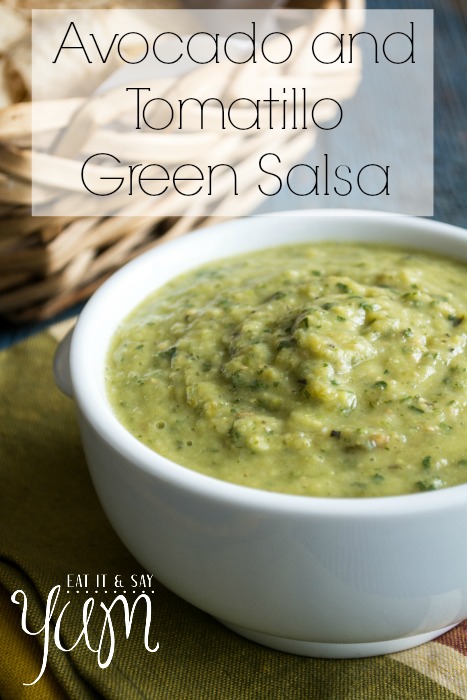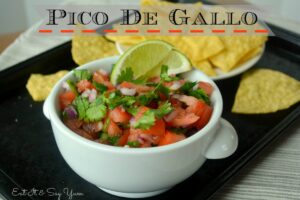 I like to join these fun linky parties.