All the flavors of Mexican Street Corn, in a convenient casserole.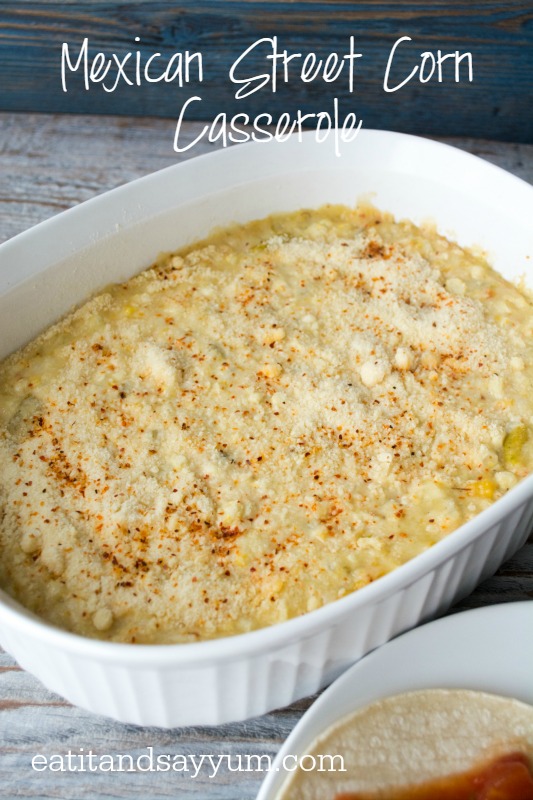 So have you seen the movie Nacho Libre?  It's one of my family's favorites.  One of our favorite lines in that movie is when Nacho yells "Get that corn out of my face!"  Crack us up.  You should watch the movie.  Anyway, the corn he is referring to is some Mexican Street Corn.  You know, corn on the cob that is smothered with mayonnaise, cheese, and Tajin seasoning, or chili powder.  I took all those flavors from the Mexican Street Corn and put them in a casserole.  It's easy to make, and tastes great.  And it's easier, and less messy to eat, that corn on a stick.  Trust me.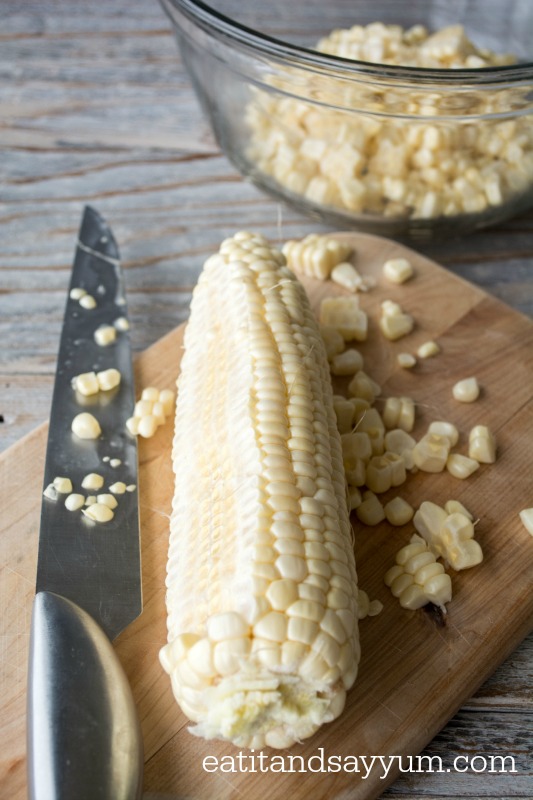 I used a combination of both fresh corn, cut right off the cob, and some canned creamed corn, for texture and consistency.  To make it 'street corn' I had to add some key ingredients, like mayonnaise, Tajin, and cheese.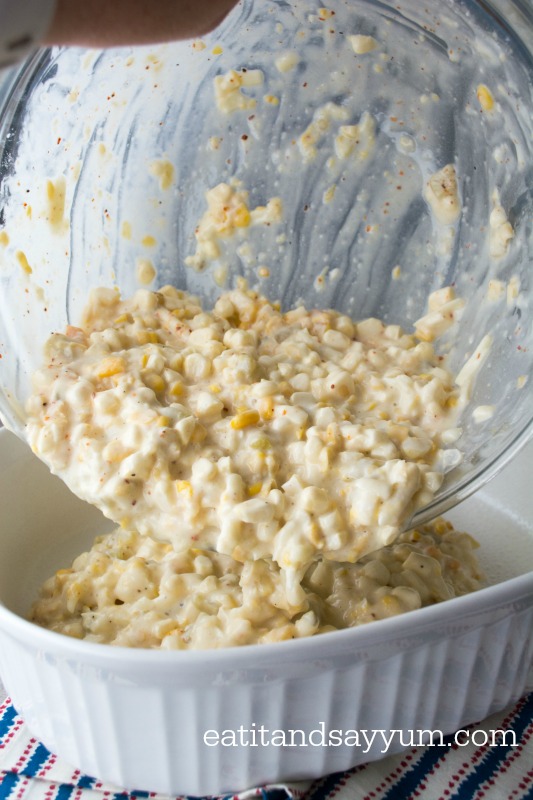 I put it all in a casserole dish, and topped it with some Parmesan cheese.  When you use the finely grated Parmesan cheese, the texture is just perfect, and it melts over the casserole and makes a great crust.  (That crunchy crust might be my favorite part of the whole dish!)  Then I sprinkled a little more Tajin over top of that.  You could always more Tajin if you like.  And if you don't have Tajin, you can substitute chili powder, for a similar taste.
Mexican Street Corn Casserole
Ingredients
1 can creamed corn, 15 oz size
2 ears of corn, shucked and kernels cut off sides
¼ cup mayonnaise
3 T flour
1 can diced green chiles, 4 oz size
½ cup grated pepper jack cheese
½ cup finely grated parmesan cheese (or crumbled cotija cheese)
1 t Tajin seasoning or more (or chili powder can be substituted)
Salt and pepper to taste
Instructions
Drain the creamed corn in a fine mesh strainer- just to remove as much liquid as possible. Add the creamed corn and the fresh cut corn kernels to a large mixing bowl.
Add the pepper jack cheese, green chiles, mayonnaise, salt and pepper, ½ tsp Tajin, and flour to the corn. Stir everything together then pour in to a greased 2 ½ qt casserole dish. Top with the parmesan cheese and the other ½ tsp of Tajin.
Bake at 350 degrees for 25 to 30 minutes, until bubbly hot. Serve hot.
http://eatitandsayyum.com/mexican-street-corn-casserole/
Serve this corn alongside your favorite Mexican food.  I love rice and beans, but sometimes it's nice to shake things up a bit, right?!
You might also like: