When the weather turns cool, I've got the perfect soup to warm me up.  This Minestrone soup is full of veggies, pasta, beans, and even Italian sausage.  So many yummy flavors going on in here.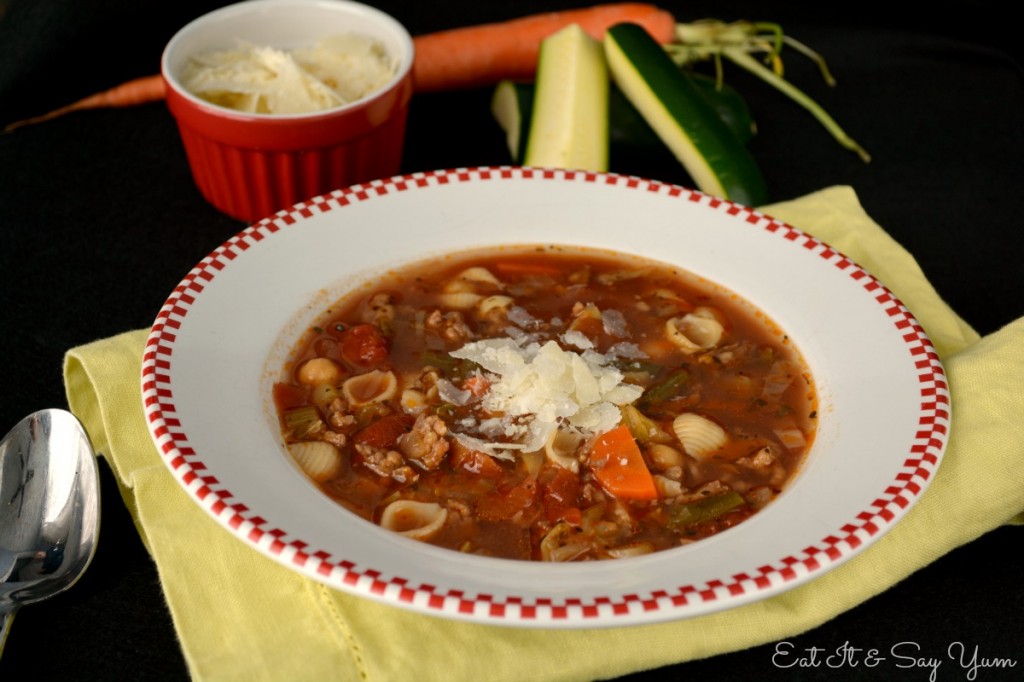 I love all the fresh veggies in here.  They get tender as you cook them, but they aren't mushy.
I use 1 lbs of Italian sausage, but not the links.  Most grocery stores have Italian sausage available in 1 lbs portions, if you can only find the links, you can use those as well, just peel the casings off before cooking so you can break the sausage up into crumbles.
This dish is naturally gluten-free.  If you want a vegetarian option, you can omit the sausage, and use vegetable broth instead of beef broth.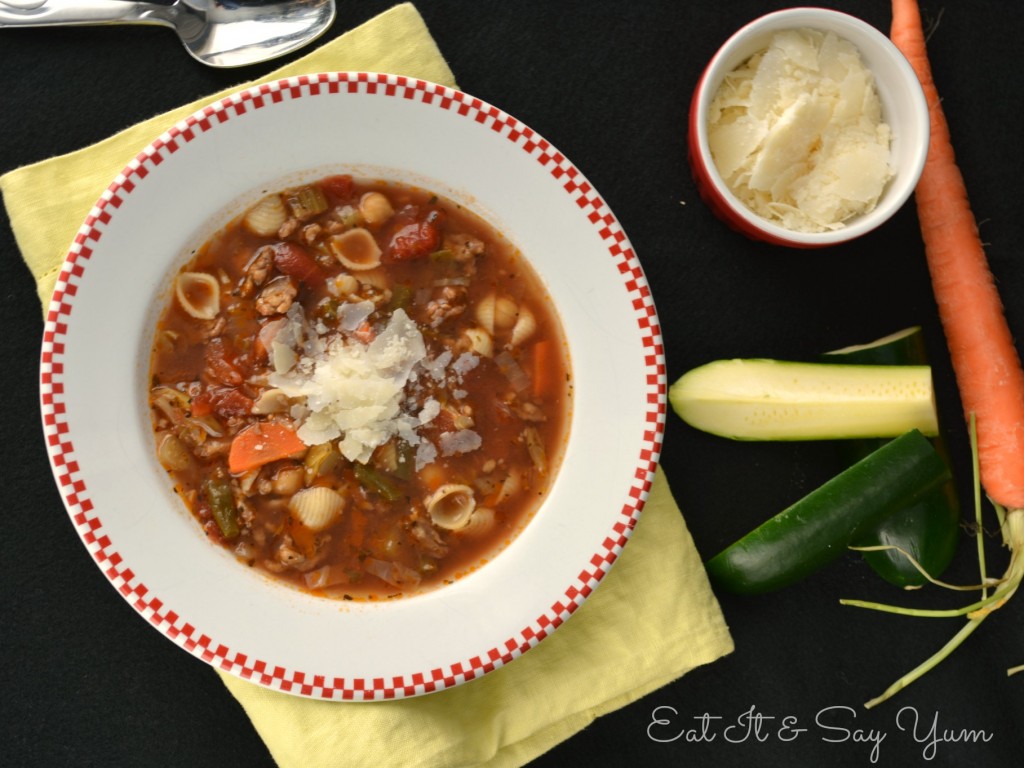 I am using this soup in my 'healthier' meal plan this week.  And you really don't have to make any changes to it.  Omitting the sausage will cut down on the calories, but it's not necessary.  All the veggies and the broth make it a great healthy meal during these winter months.
Minestrone Soup with Italian Sausage
Ingredients
1 lbs Italian sausage (preferably not links, but either will work)
1 onion- diced
2 carrots- peeled and sliced
1 celery rib- diced
3 cloves of garlic- minced
1 medium zucchini- cut into 1/2 inch pieces
1 handful of green beans, trimmed and cut into 1 inch strips
6 cups beef broth (vegetable broth can be substituted)
2 cans (about 15 oz size) diced tomatoes
2 cups shredded cabbage
1 tsp dried basil
1 tsp dried oregano
1/4 tsp pepper
1 can (15 oz size) garbanzo beans- drained and rinsed
1/2 cup uncooked small pasta shells
2 Tbs dried or fresh parsley
Parmesan cheese to sprinkle on top
Instructions
In a large pot, brown the sausage and cook the onions together. When sausage is cooked through add the carrots, garlic, and celery. Cook about 3 minutes then add the green beans and zucchini, cook 2 more minutes.
Add the broth, tomatoes, cabbage, basil, oregano, and pepper. Bring to a boil, then reduce heat to simmer. Cover and simmer for 30 minutes.
Return soup to a boil, add the pasta, beans, and parsley. Cook 6-9 minutes, or until the pasta is tender.
Serve hot, topped with Parmesan cheese. Makes about 3 quarts.
http://eatitandsayyum.com/minestrone-soup-with-italian-sausage/
Click here to see what parties I link up with.
*Recipe adapted from a Taste of Home submission.
You might also like: