Can you really have enough good cookies recipes?  I say no.
Here's another one to add to your recipe box.
This cookie is called the Monster Cookie because that's what it is.  It's big.  And it has everything in it.
Peanut butter?  Check.
Oatmeal?  Check.
Chocolate chips?  Check.
M&Ms?  Check.
What more could you want?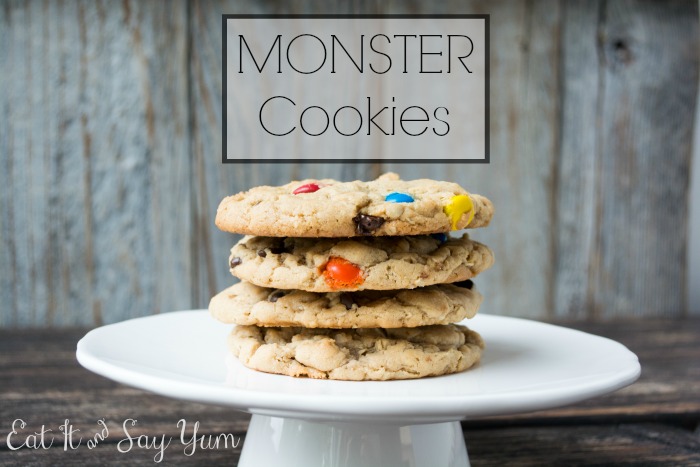 You might already know about my family's love of M&M cookies, but the combination of chocolate and peanut butter just can't be beat.
I make these about 2-3 times bigger than my normal cookies.  Then I bake them up so they are cooked but still soft and chewy.  That's just the way I like 'em.
And when they come out of the oven I let them sit on the pan for a minute or two, and then transfer to a cooling rack.  And then I eat way too many while they are still warm.  Mmmm, melty chocolate.  Yum
Ingredients
1/2 cup butter- room temp
1 1/4 cup peanut butter
1 cup sugar
1 cup brown sugar
3 eggs
2 tsp baking soda
3/4 tsp salt
1 1/2 tsp vanilla
1 3/4 cup quick cooking oatmeal
2 cups flour
3/4 cup chocolate chips
3/4 cup M&M's
Optional: coarse sea salt
Instructions
Preheat oven to 350 degrees. In a food processor (or blender) pulse the dry oatmeal for about 10-15 seconds. Not too fine, just chopped up a bit.
In a stand mixer on medium-low speed, cream the butter, peanut butter, and both sugars for about 1 minute.
Add the eggs, and vanilla and mix again.
Add the oats, flour, baking soda, and salt. Mix just until fully combined. Add the chocolate chips and M&Ms and stir in on low speed.
Form the dough into balls about 1 1/2 inches across. Place on a greased cookie sheet about 2 inches apart. Bake for 10-13 minutes. The center should be soft when you remove them from the oven, they might look slightly under cooked. Let the cookies cool on the pan for about 1-2 minutes, then remove them to a cooling rack.
Optional: You can sprinkle (or use a grinder) to add a tiny bit of salt (a few grains of salt per cookie) on top of each cookie ball before baking. You may want to cut the salt in the recipe down to 1/2 tsp if doing this. This brings out the flavors as you eat the cookies.
http://eatitandsayyum.com/monster-cookies/
So, whip up some monster cookies, and pour yourself some cold milk.  Enjoy!
See where I link up.
You might also like:
Stay Soft Peanut Butter Sandwich Cookies