Fall is almost, officially, here.  There is a crisp to the air already, and I'm loving it.
Fall is a favorite time of the year for me.  I love all the holidays, and the leaves changing color, my birthday is in the Fall, and it also means Christmas is right around the corner.
I am one those people who LOVE Christmas.  Enough that all those decorations at Hobby Lobby right now, aren't bothering me a bit.
Anyway, back to Fall.  With the cooler weather comes warm soups.  A great way to make a meal out of soup is with some sort of bread on the side.  I have already shared a great recipe for more of a sweet cornbread.  Today I am sharing a more savory recipe of cornbread.  This is what I grew up with.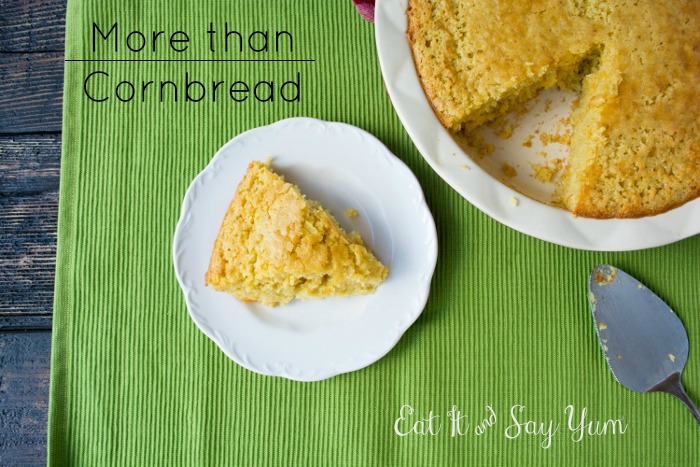 More than Cornbread is called that because it really is MORE than normal cornbread.
There are green chiles, and grated cheese in here.
There is also a can of creamed corn.  You get great moisture and texture from that can.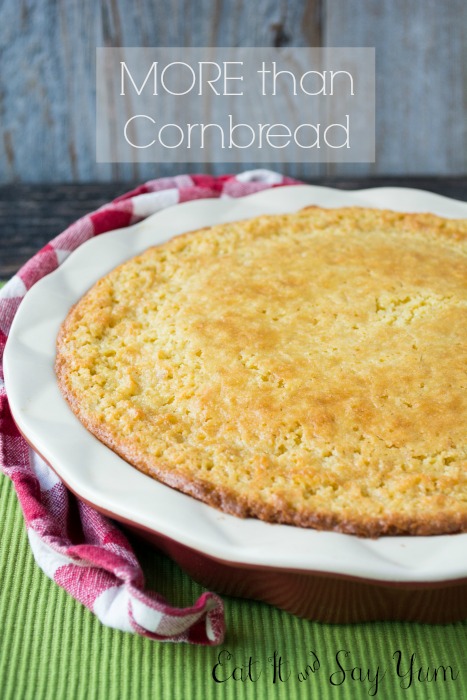 You can bake this in a pie tin, or just an 8×8 pan.
Don't forget the honey!
Ingredients
1 cube butter
3/4 cup sugar
4 eggs
1, 4 oz can chopped green chiles
1 cup grated jack cheese (pepper jack, colby jack, or monterey jack all work, even a combination with cheddar is fantastic)
1, 15 oz can creamed corn
1/4 tsp salt
1 cup flour
1 cup yellow corn meal
4 tsp baking powder
Instructions
Preheat oven to 350 degrees. In a large mixing bowl, cream together the butter and sugar. Beat in the eggs. Add remaining ingredients and mix til fully combined.
Pour into a greased 8×8 pan, or a large pie tin.
Bake for 45-60 minutes. Until a toothpick inserted near the center comes out mostly clean.
Serve warm with butter and honey.
http://eatitandsayyum.com/more-than-cornbread/
What's your favorite soup, stew, etc. to go with cornbread?
I love mine with Chili.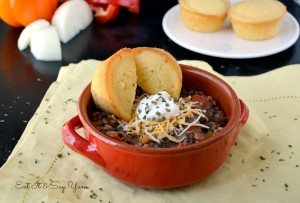 Keep scrolling to find this MORE than Cornbread recipe.
See where I sometimes link up.
Some more great soups to pair with cornbread: