My family loves, loves, loves these cookies.  We make them a few times a month.  They are my 'go-to' cookies.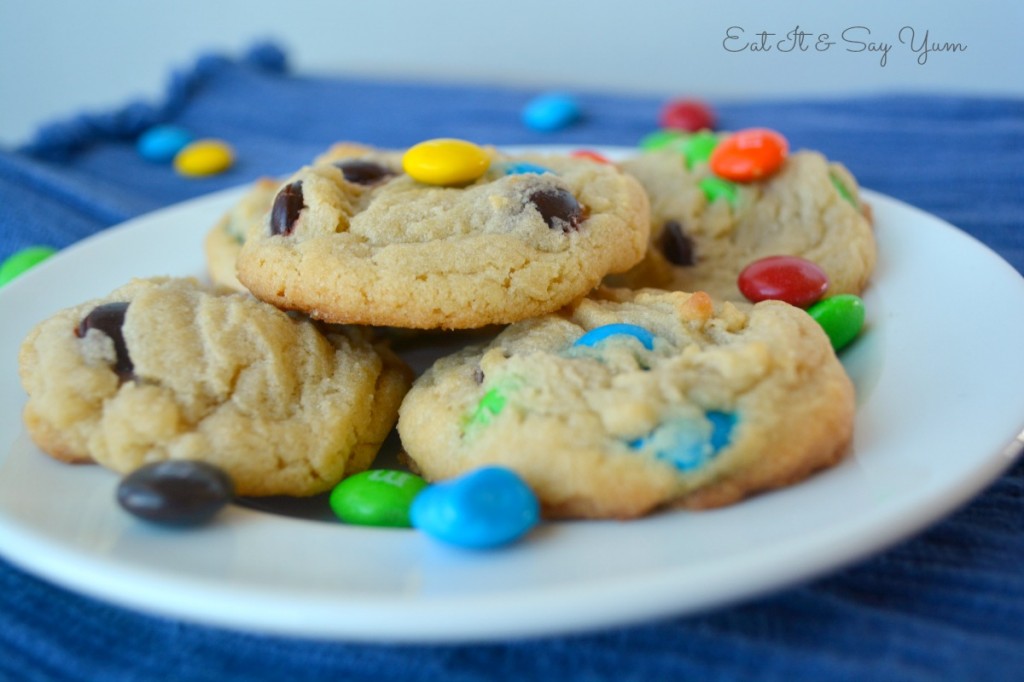 They are soft on the inside, with just enough crisp to the outside.  To me, the perfect cookie.
And the method I use for making them, makes me love them even more.  🙂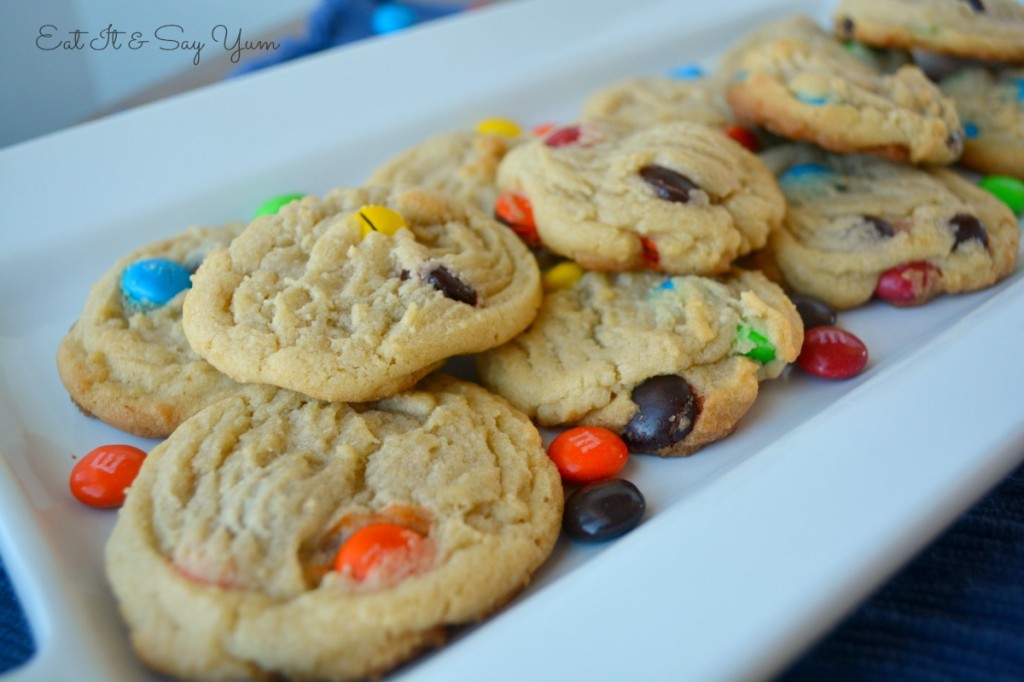 I got this recipe from a friend years ago, and of course gave it my own special touch.  EVERY TIME I make these, I triple the batch.  Let's be honest, the best part of making cookies isn't mixing up the dough.  So I get that part over with, and the reap the rewards of warm baked cookies whenever I want.
"How?" you ask…  Well, when I mix up the dough, I scoop ALL the dough into balls ready to bake, but instead I put whatever I'm not baking right then into the freezer.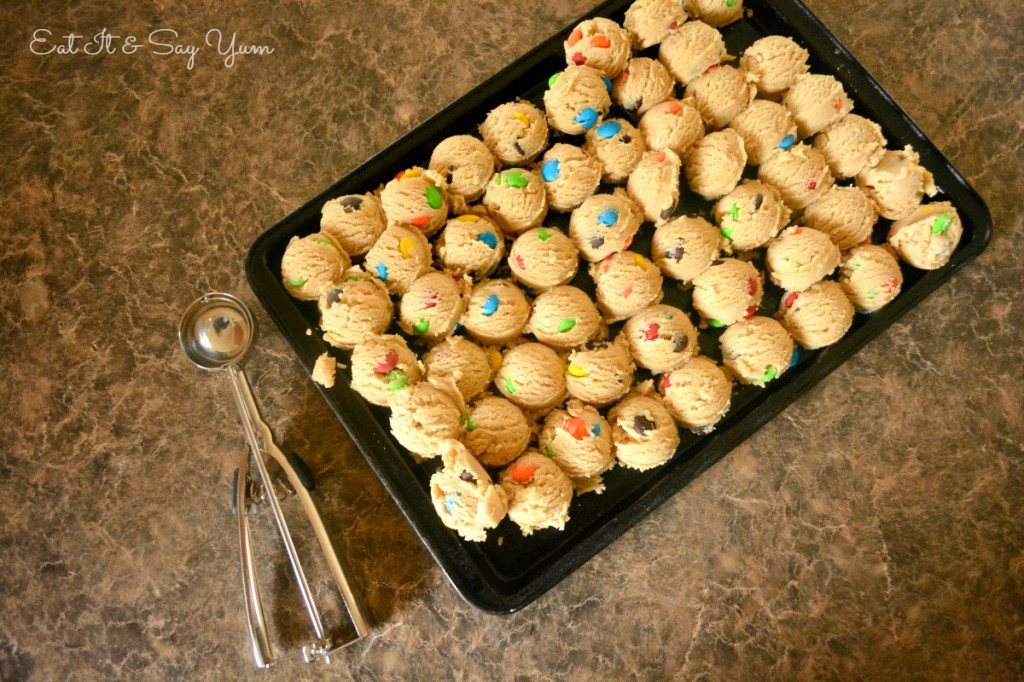 Now I have pre-scooped cookie dough ready to toss in the oven whenever I need a cookie.  Which is pretty often.  And awesome.  Have you ever bought cookie dough from the store in a big tub, and it's so cold and hard you can't form it into balls for baking, unless you let the whole tub sit out and come to room temperature, and then your not sure if you should bake the whole batch because you let it come to room temperature?  No?  Well, I have.  This solves that issue.  Once all the dough is scooped into pretty little balls, I put the pan they are on in the freezer over night.  The next day I pick the balls of dough off the pan and place them in a plastic zipper bag.  Back in the freezer they go, and they are all set to bake up at any given moment.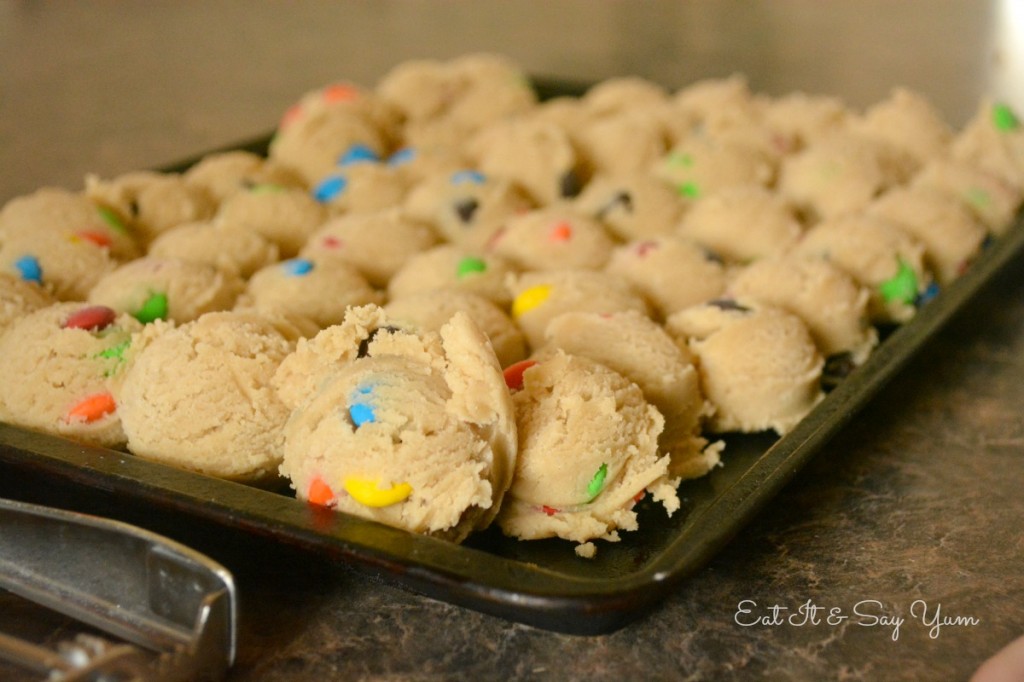 Seeing those raw cookie balls makes me happy.  🙂
So what if you are someone who prefers eating raw dough?  (NOT that I am recommending that, this dough DOES have eggs and could be potentially harmful when eaten raw!)  I can't convince my husband that raw dough might not be the best thing.  Then you can grab a ball out of the freezer and eat it raw as well.  (Again, I'm not counseling you to do that.  Eat raw eggs at your own risk.)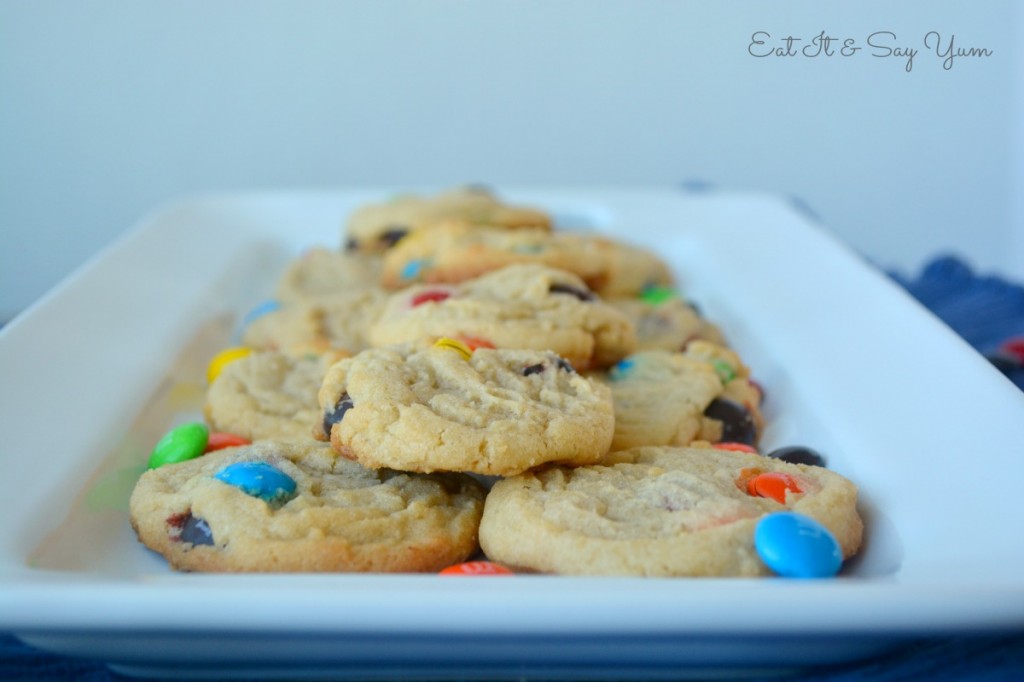 In case you are wondering how well the cookies bake up after having been frozen…  Let these photos put your mind at ease. All of these cookies you see here were baked after having gone through my freezing process.  And they are still beautiful, and taste amazing.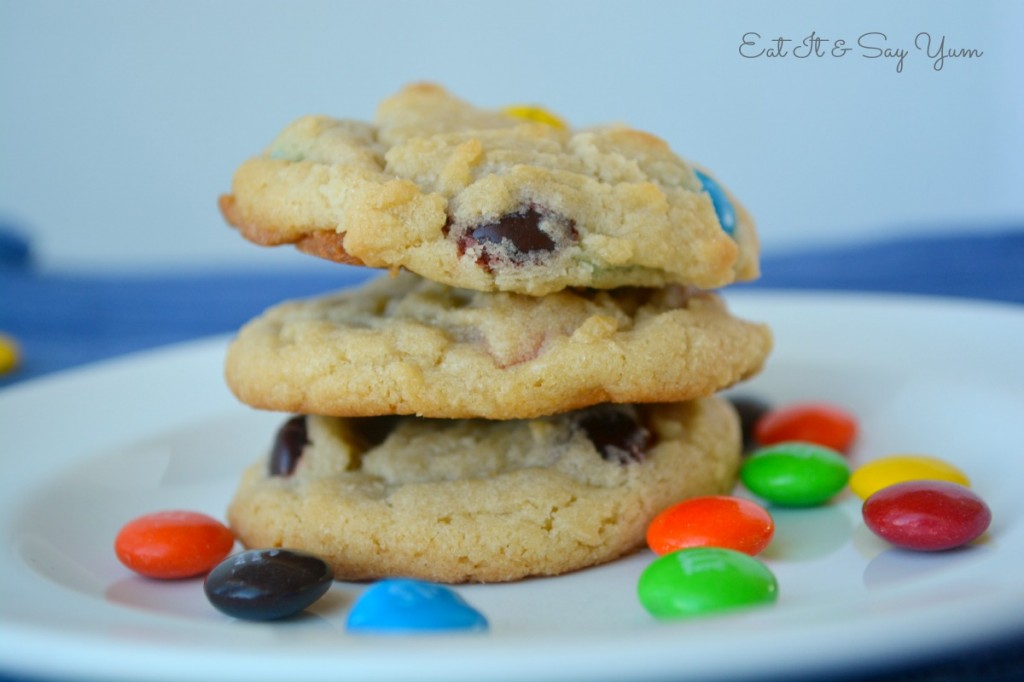 In fact, I suggest that you chill or freeze the dough before baking.  Baking the cookies immediately after mixing will render delicious cookies, but they tend to flatten more.  But letting the dough chill first allows the butter and shortening to firm up and hold their shape longer during baking.  Just long enough to render a beautiful cookie that is soft and delicious.  
Now, feel free to substitute chocolate chips for the m&ms, or better yet, do a combination of both!  Either way, you can't go wrong.
The ingredients listed below are in the measurements I use.  If you don't want to make a large batch I am including measurements for a small batch as well, they will be in parenthesis after the first measurement.
Ex:  3 eggs (1 egg)
1 1/2 cups brown sugar (1/2 cup)
Large batch measurement  (small batch measurement)
etc, etc, etc.  Make sense?
See the instructions below for my tips on how to get the cookies to be soft, and lightly golden.  Unless you don't like sugar, or chocolate, then I promise you will enjoy these cookies.  (In fact EVERY time I have made these for other people, they ask for the recipe.  To me, that is proof of their overall appeal.)
My Favorite Soft and Chewy M&M Cookies
Ingredients
Remember the measurement given in parenthesis is for a smaller batch!
1 1/2 cups brown sugar (1/2 cup)
1 1/2 cups sugar (1/2 cup)
1 cup butter- room temp (1/3 cup)
1 cup shortening (1/3 cup)
3 eggs (1 egg)
3 tsp vanilla (1 tsp)
1 1/2 tsp baking soda (1/2 tsp)
1 1/2 tsp salt (1/2 tsp)
4 1/2- 5 1/2 cups flour (1 1/2- 2 cups) Depending on your elevation and humidity, the amount of flour needed can vary. Start with the smaller amount for the batch you are making, and slowly add more if the dough is still too sticky.
3 cups m&m's or chocolate chips (1 cup)- Try any kind of m&m's! I love peanut butter m&m's as well!
Instructions
Preheat oven to 375 degrees, if baking right away.
In the bowl of a stand mixer, cream together both sugars, the butter, and the shortening. Beat until smooth and fluffy. Add the eggs and beat again. Add the vanilla, baking soda, and salt and mix again. Add the flour, using the smaller measurement for whatever size batch you are making, then slowly add more, up to the higher measurement, if needed. The dough should be slightly sticky, but not hard. On low speed, add the m&m's or chocolate chips, and only stir until incorporated. You don't want to over mix at this point.
Scoop dough into balls, about 1 inch round. Place on greased cookie sheet 1-2 inches apart, if ready to bake. If chilling or freezing for later, place the cookie dough balls on a greased cookie sheet, close together, and place in freezer. Once chilled you can remove the desired number of balls onto a greased sheet for baking. Place extra balls of dough into a plastic zipper bag and return to the freezer for later use.
Bake cookies at 375 degrees for 9-10 minutes. Remove them from the oven before they are completely done baking. Let them sit on the hot pan for another minute or so, then use a spatula to remove them to a cooling rack. They continue to bake while sitting on the hot pan, so don't over bake them in the oven. Removing them early allows the center to stay soft, and the edges to not get too crispy.
http://eatitandsayyum.com/my-favorite-soft-and-chewy-mm-cookies/
Click here to see where I link up.
You might also like: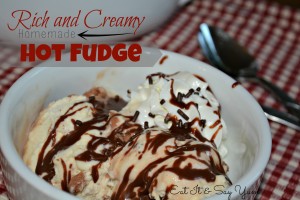 Peanut Butter Cocoa Crispy Treats