I am a BIG breakfast fan.  I like it in the morning, or even for dinner.  I would eat it on a plane or in a train.  Yada, yada, yada…  There are so many yummy breakfast foods.  And I'd eat most of them.
One breakfast that I think everyone would enjoy are these Open Faced Breakfast Sandwiches with Bacon Country Gravy.  Oh yeah!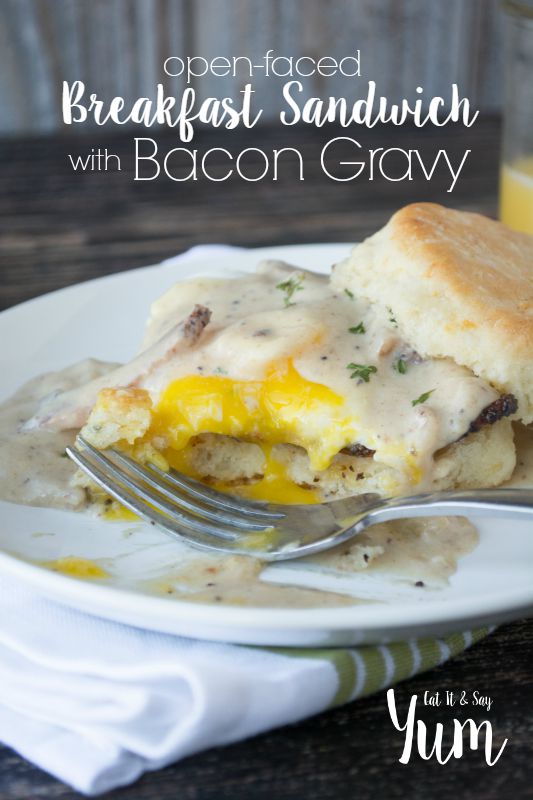 These sandwiches are so good partly because I use my delicious, homemade biscuits for them.
Plus, not to sound too high and mighty, but I make a mean breakfast gravy.   For this recipe I used bacon instead of sausage, but either way works.
Biscuits and gravy were just made to go together, and when you throw in an over easy egg, that is just oozing with yolk, you get something mind-blowing.  (Or mouth-blowing… I guess.)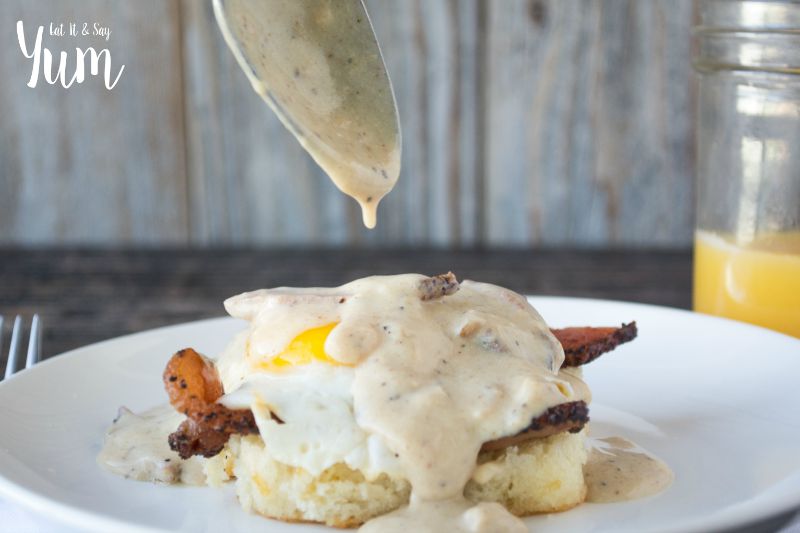 So trust me, your Saturday morning is calling and it wants THIS!  You gotta make the people happy.  And this will do it.  I promise.
Open Face Breakfast Sandwiches with Bacon Country Gravy
Ingredients
Biscuits- see post for link to recipe- 1 per person
eggs- 1 per sandwich
Gravy: bacon- 2 pieces per sandwich- cooked until crispy
3 T bacon grease
2 ½ T flour
2 cups milk
fresh ground pepper- to taste
a few dashes of cayenne pepper
¼ t garlic powder
Instructions
Have the biscuits ready to go, before you start the gravy.
Cook the bacon and set aside. Discard the grease from the pan, reserving 3 tablespoons for the gravy.
Add the grease and flour back to the pan and whisk to combine. Slowly add the milk and let the gravy come to a slow boil. Add the pepper, cayenne pepper, and garlic powder. Let thicken slightly, and remove from heat. It will thicken more as it cools. If you have extra, cooked bacon, crumble it and add to the gravy now (optional).
In a greased, non-stick pan, over medium-high heat, carefully crack the eggs and sprinkle them with salt and pepper. Let cook for about a minute, then gently turn the egg over. Be careful with the eggs so you don't break the yolks. Cook until the whites are set, but the yolk is still runny. Remove the eggs from the pan and place directly on a split open biscuit.
Top the eggs with two slices of bacon and then the gravy. Enjoy!
http://eatitandsayyum.com/open-face-breakfast-sandwiches-with-bacon-country-gravy/
Some other breakfast favorites you might enjoy: