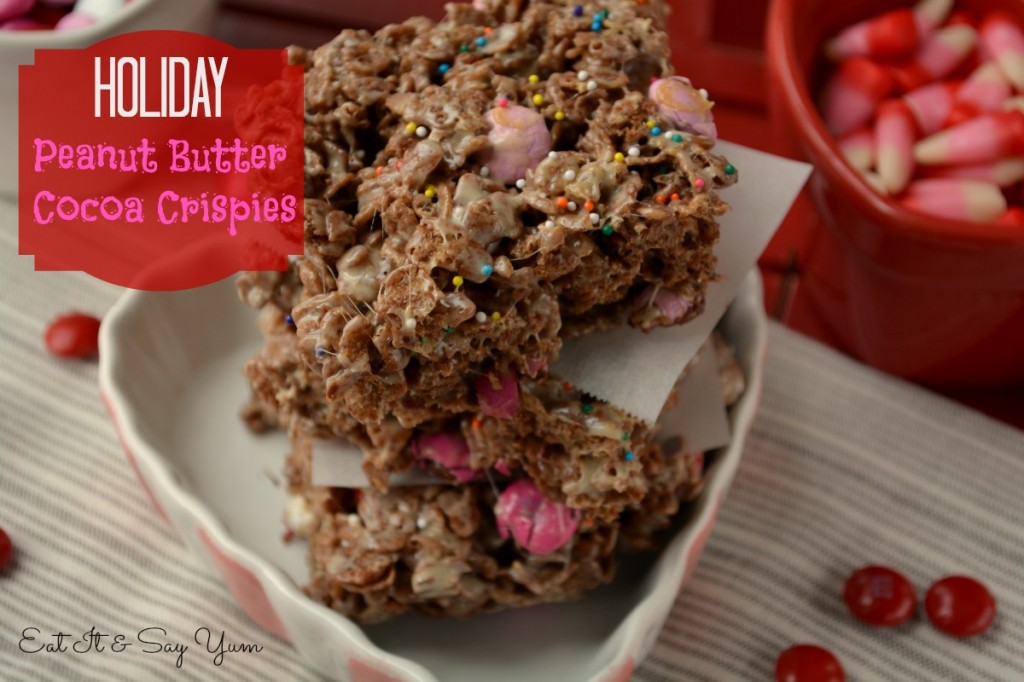 Not to brag, but if you have had my rice crispy treats, you know they are good.  Better than normal.
I've noticed that a lot of rice crispy treats tend to get hard, and too crunchy.
I don't like that.
So, today I'm sharing my secret for stay-soft-ooey-gooey crispy treats.  But even better, they are peanut butter and chocolate treats.  Yay!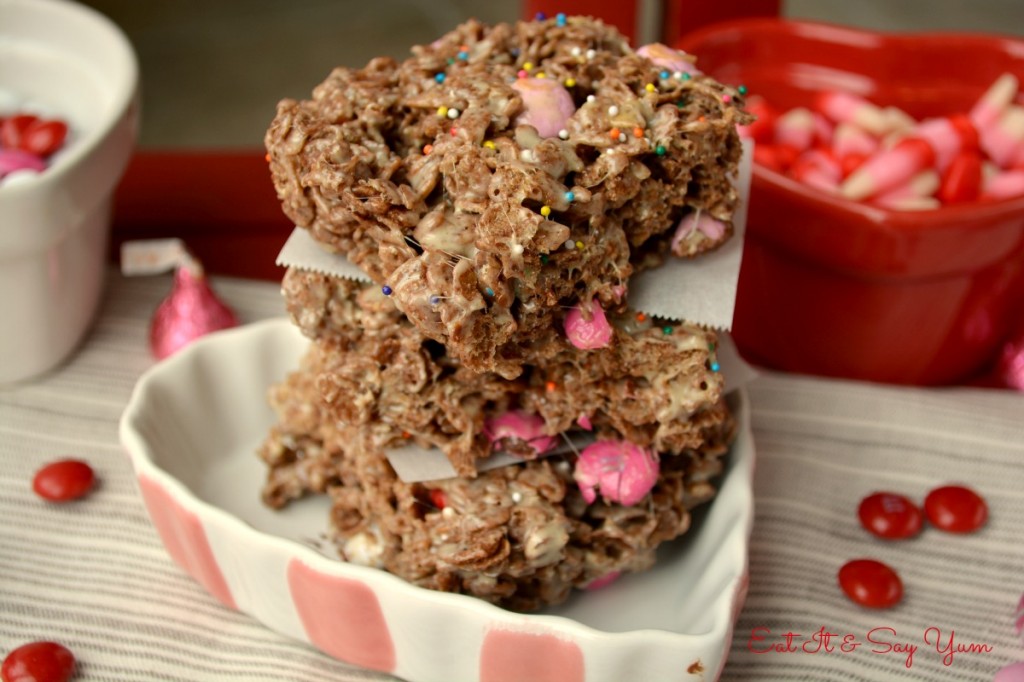 I love adding M&M's to them.  A little extra chocolate is always the right choice, in my book.  And some sprinkles never hurt, either.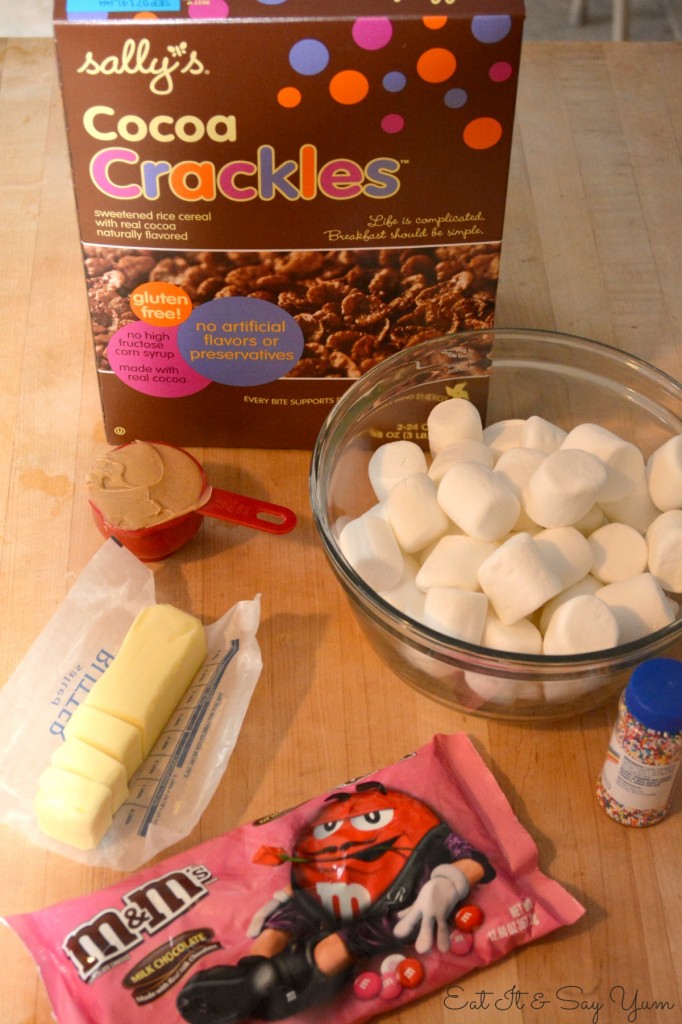 So those are all the ingredients.  I found this amazing cocoa crackles cereal at Costco.  I highly recommend using it, if you can find it.  (It's even gluten-free!)  However, any kind of cocoa crisp cereal will work.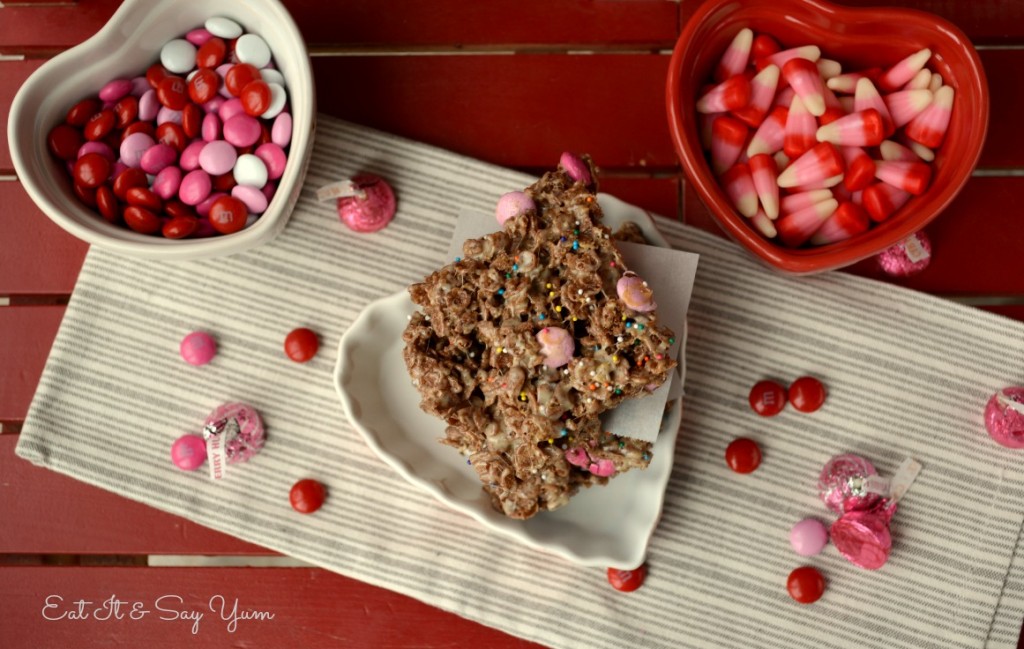 So, when I prepare the marshmallows, butter, and peanut butter for these treats, I make sure not to OVER heat those things.  If you melt the marshmallows too much, they start to turn yellow, and be too liquidy.  That gives you hard, dry crispy treats.
So, as a general rule, I start with less time in the microwave, and then slowly add more if needed.  For this recipe, and my microwave, I find that one minute, then stir, followed by 30 seconds then stir, is the perfect amount of time.  The marshmallows are still fluffy, but mix easily when I stir it all the together the second time.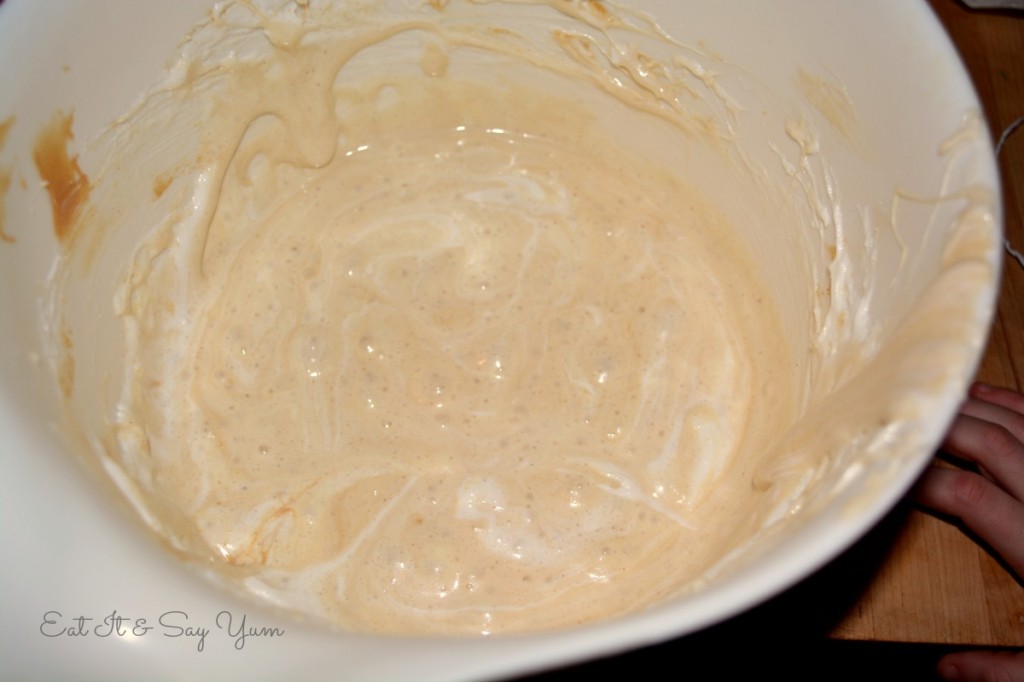 These are a perfect treat for Valentine's Day, just right around the corner.  But you can easily throw any holiday M&M's in there and make it great for any time of year!
Peanut Butter Cocoa Crispy Treats
Ingredients
46 large, marshmallows (not the huge camping size)
1/3 cup creamy peanut butter
3 Tbs butter
7 cups cocoa crisp cereal
1 cup M&M's (plain or peanut butter)
1 Tbs sprinkles (optional)
Instructions
Grease a 9×13 pan, set aside. Measure 7 cups of the dry cocoa crisp cereal into a bowl, set aside. In a separate large, microwave safe mixing bowl, add the marshmallows, peanut butter, and butter. Microwave for 1 minute, then stir. Microwave again for 20-30 seconds. Check at 20 seconds, if everything mixes well then you are done microwaving. If it is still not mixing well microwave again for 10 seconds, then stir.
Add the cereal to the marshmallow mixture. Stir well, scraping the sides and bottom of the bowl to combine all the marshmallow mixture. When almost fully mixed, add the M&M's and half the sprinkles. Stir, then add the remaining half of sprinkles.
Press mixture into the greased pan. Grease your hands and use them to press the cereal mixture down and get it level. Can add a few more sprinkles on top, if desired. Let cool, before cutting. Don't refrigerate. Keep covered.
http://eatitandsayyum.com/peanut-butter-cocoa-crispy-treats/
Don't forget to follow along using the buttons on the sidebar.
Click here to see where I link up.
Also linked up at Hun…What's for dinner?
You might also like:
White Chocolate and Toffee Coated Popcorn