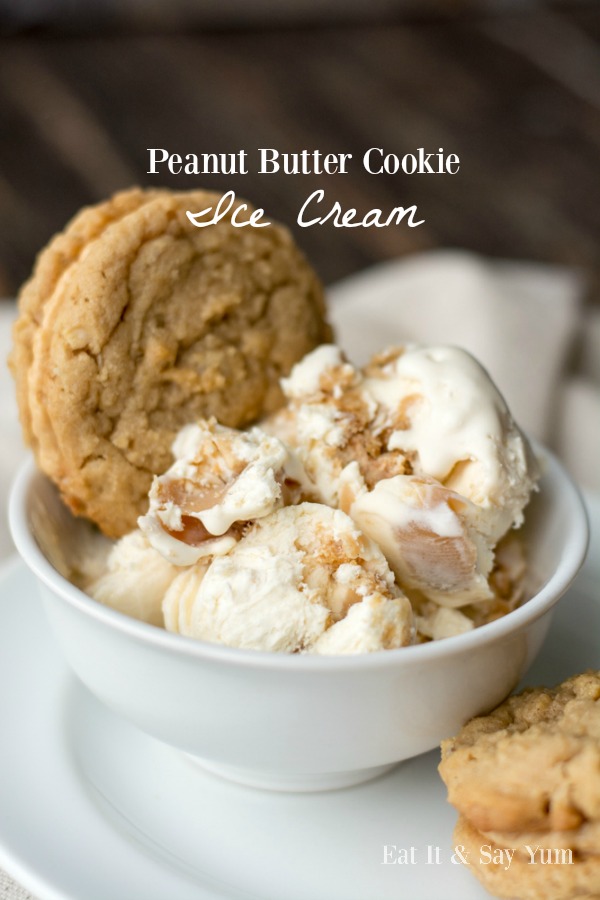 Can it really get any better than Peanut Butter Cookie Ice cream?  I say, no.
This ice cream is homemade, and has ribbons of peanut butter fudge sauce in it.  AND it has chunks of my delicious peanut butter sandwich cookies.  Oh man!  Yeah, it's pretty much amazing.
And with summer approaching, you know everyone will be wanting ice cream!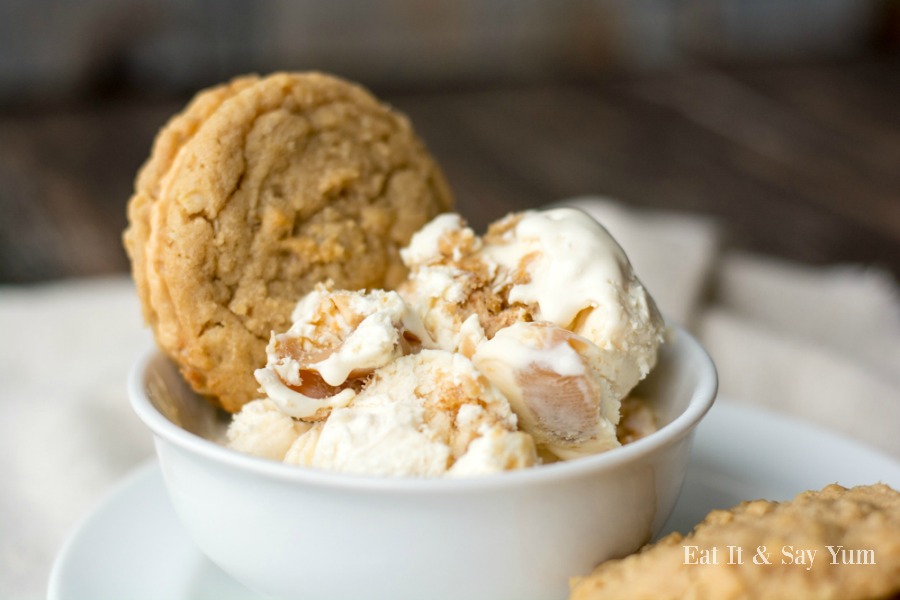 This recipe does require some prep work, because you need to make the Peanut Butter Fudge Sauce, and the Peanut Butter Sandwich cookies.  But you'll be so glad you did.  Quick tip: enjoy the cookies separately one day, and stick a few in the freezer to save for when you want to make this ice cream.  Then they are already to go and you are even closer to this yummy ice cream.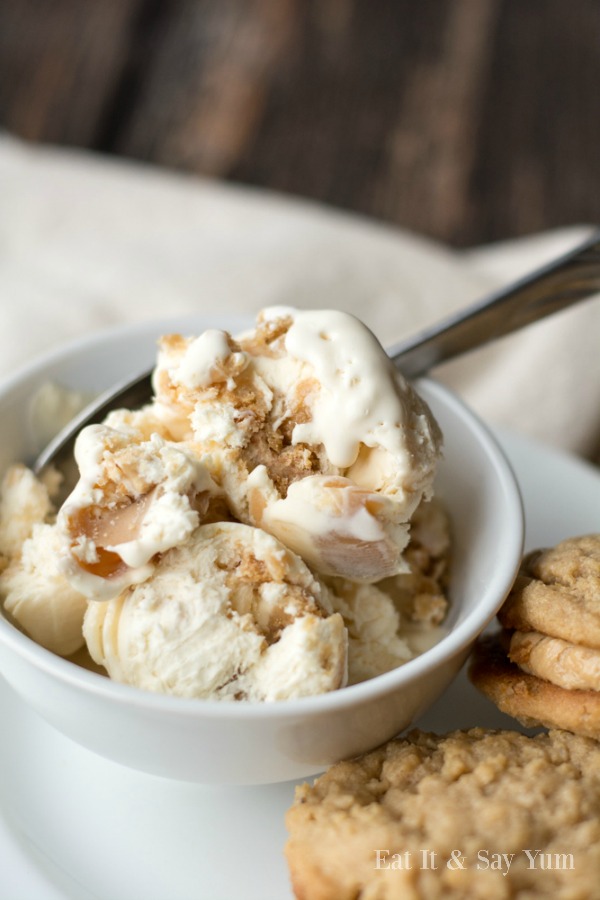 My husband has declared this his new favorite ice cream.  And I don't blame him.  🙂
It would also be delicious with Hot Fudge Sauce on it!  Because I just can't get enough of chocolate and peanut butter together.
Peanut Butter Cookie Ice Cream
Ingredients
2 cups heavy cream
1 1/2 tsp vanilla
1, 14 oz can sweetened condensed
3/4 cup peanut butter fudge sauce (get recipe through post link)
4-6 peanut butter sandwich cookies- roughly chopped (get recipe though post link) (12-14 store bought peanut butter sandwich cookies could be substituted)
Instructions
Beat the heavy cream with the vanilla, until it is light and fluffy. Gently and slowly fold in the sweetened condensed milk, until evenly mixed.
Pour the mixture into a freezer safe container, and add the peanut butter fudge sauce and cookie chunks as you go. Gently stirring it when needed, but don't mix them together. Leave the sauce in ribbons throughout the ice cream.
Freeze for at least 4 hours.
Optional- top each serving with additional peanut butter fudge sauce that is warm, and extra cookies if desired.
http://eatitandsayyum.com/peanut-butter-cookie-ice-cream/
If you are really pressed for time, or just don't feel like baking, you can substitute some store bought peanut butter sandwich cookies for the homemade ones.  Realize you will be sacrificing on flavor a little, and you won't have the satisfaction of eating those extra cookies while they are still warm… but you can make that substitution.  Because store bought cookies are much smaller, I would use 12-14 of them.
You might also like: