No-churn homemade ice cream that is packed with crushed Oreos, peppermints, and fudge sauce!  
It doesn't matter how cold it is outside, ice cream is always in season!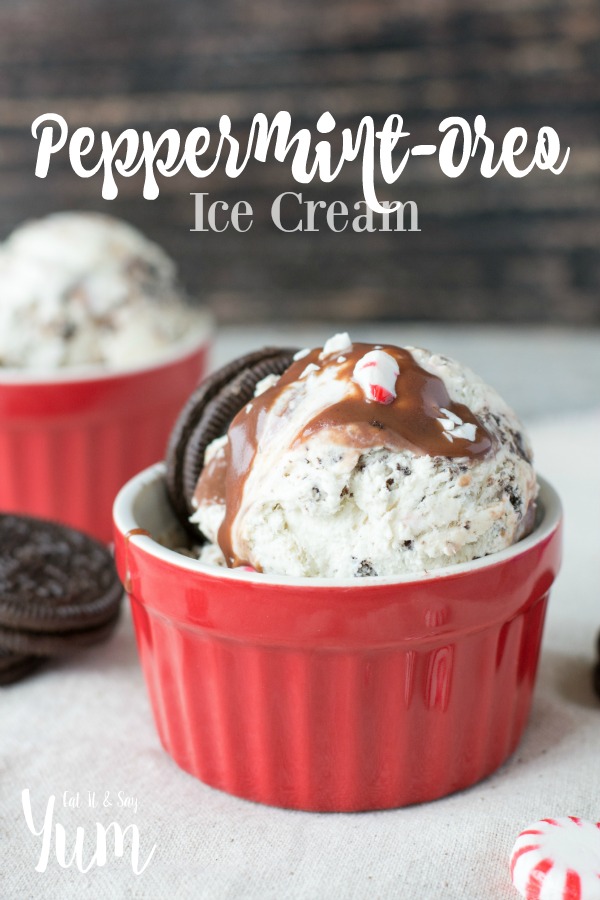 This is my absolute, all-time, favorite homemade ice cream.  The texture is spot on.  The flavor is amazing.  And it's just so easy.
You don't need an ice cream maker for this recipe.  Just some electric hand beaters, or a stand mixer.  No-churn ice cream has become pretty popular, and it's easy to see why.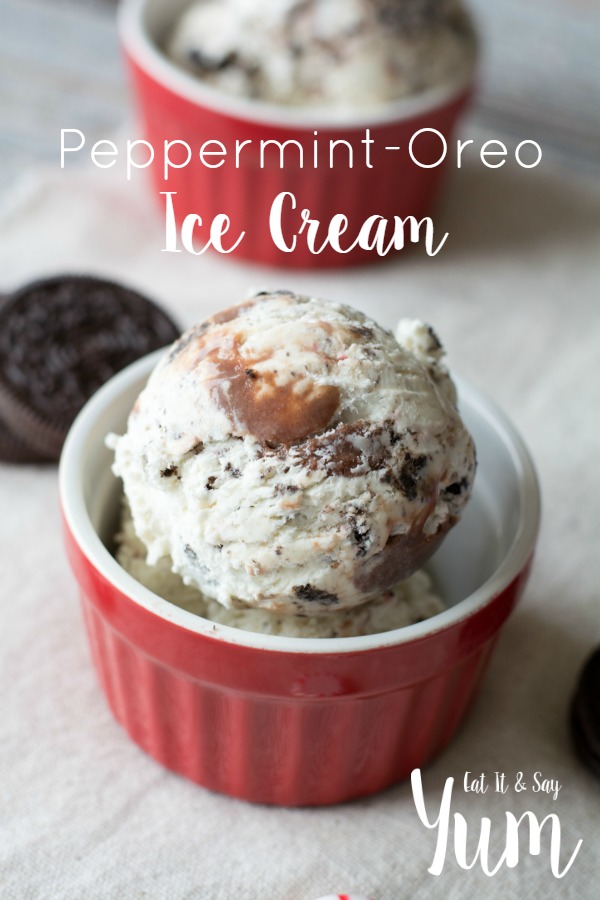 This vanilla based ice cream has crushed peppermints and oreos in it.  And ribbons of fudge.  Oh my!
I use my homemade fudge sauce, but you can use store bought if you want.  (But you'd be crazy to not try my homemade recipe!  Just saying.)
You can make the ice cream in less than 15 minutes, but it does take at least 4-6 hours to set up in the freezer.
This recipe is so easy, and I usually have all the ingredients on hand.  I'm going to keep my freezer stocked with this.  I also think it would make a great holiday gift for friends and neighbors.  All those holiday cookies would taste great with a side of this ice cream!  Don't you think?!   These containers would be great if using this as a gift.
Peppermint Oreo Ice Cream
Ingredients
1, 14 oz can of sweetened condensed milk
2 cups heavy cream
1 tsp vanilla
12 Oreos- crushed
12 peppermints- crushed
3/4 cup hot fudge sauce- at room temperature
Optional: extra peppermints, Oreos, and hot fudge as toppings
Instructions
In a large mixing bowl, or stand mixer, beat the heavy cream until stiff peaks form. Then slowly add the condensed milk and vanilla, while beating. Don't over beat, just until fully mixed.
With a rubber scraper, fold in the crushed Oreos and the crushed peppermints.
Into a large, freezer-safe container, pour 1/4 of the ice cream mixture. Drizzle 1/4 cup of the room-temperature fudge sauce over top. Repeat with a layer of the ice cream, and then 1/4 cup of the fudge sauce. Repeat once more. End with the last 1/4 of the ice cream. Cover the bowl with a lid or plastic wrap and place in the freezer. Let freeze for at least 4 hours.
Optional- top each serving with additional crushed peppermints, Oreos, and more hot fudge.
http://eatitandsayyum.com/peppermint-oreo-ice-cream/
You might also like: