Has anyone else ever been afraid of making pie crusts?  No, just me?  Hmmm.
Well, I am no longer afraid.  I have fallen in love with my food processor all over again.
This pie crust recipe came together just beautifully, with the help of my food processor.
Now, you can definitely make this without a processor, don't worry.
And it will be SO worth your time.
Let me introduce my Aunt Linda's Pie Crust used for this Peach Crostata.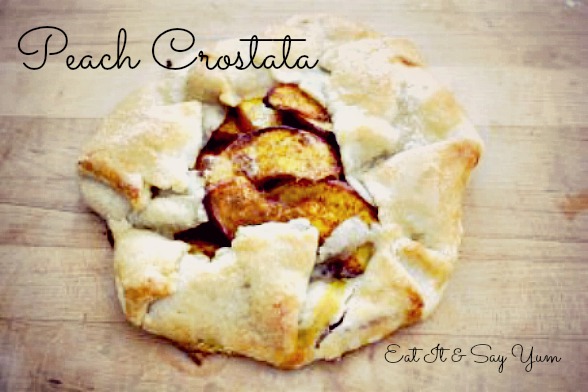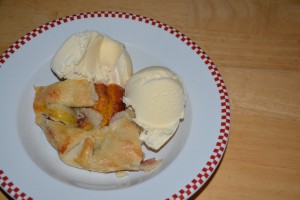 These peaches were at their peak for ripeness.  They were just the right amounts of sweet and tart, soft yet firm, and just so yummy.
So to make the crust I put the flour and butter into the food processor and started out with pulses but then turned it on until all the chunks were broken up and evenly mixed with the flour.  Then I added the water slowly with the processor on and let it go until it came together.
If you're not using a food processor then cut the butter with a pastry cutter until it resembles coarse crumbles, then add the water slowly and continue to cut the cough until fully incorporated.
I pulled all the dough out of the bowl and formed it into a ball, wrapped it in plastic wrap and placed it in the fridge.
After a short chill the dough was ready.  I divided it into three equal (or kind of equal) parts to make three crusts.
Lightly flour your board and roll out the crusts to about 1/8 of an inch.  Not so thin the crust is going to tear.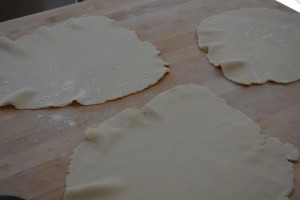 While the crust was chillin' in the fridge I set to work on the peaches. They were at their peak of perfection.
They sliced like a dream, and you don't even need to peel them!  The hardest part was not eating them before they were put into the crostata.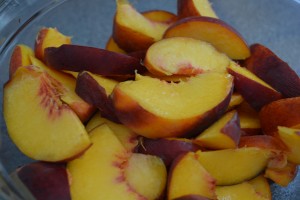 I divided the peaches evenly among the crusts.
Sprinkled them with cinnamon, nutmeg, brown sugar, and dots of butter.
Then fold up the edges of the crust like so.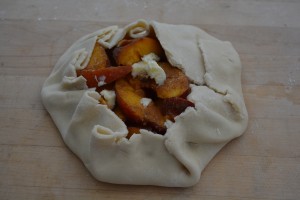 I used my cake spatula to move these babies onto a pan lined with parchment paper, and sprayed with PAM just in case.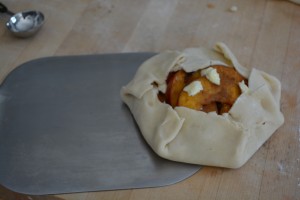 Once on the parchment paper, brush the top of the crust with an egg wash and sprinkle sugar over it as well.
Then bake.
Oh, my goodness.  Doesn't that look good!?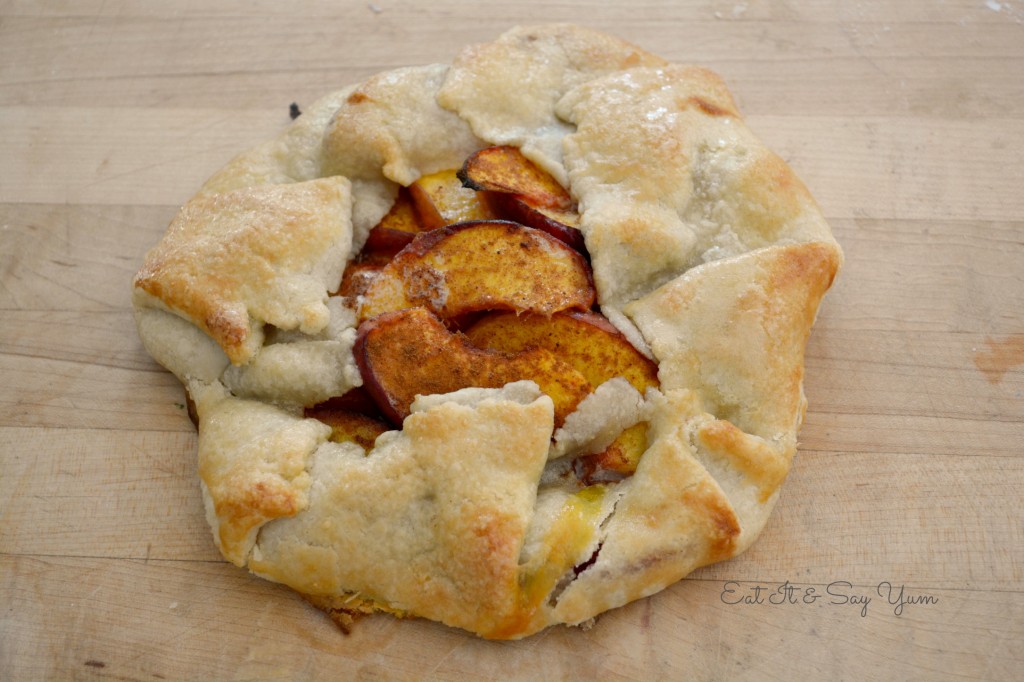 Pie Crust and Peach Crostata
Ingredients
5 peaches
1 1/2 Tbs brown sugar
1 1/2 tsp cinnamon
dash of nutmeg
1 1/2 Tbs butter
1 egg
2 Tbs white sugar
Pie Crust:
2 cups flour
2 cubes butter (frozen or VERY cold)
1/4 cup water
Instructions
Pie Crust: Pulse flour and cold butter in food processor until butter is fairly uniform in size and the mixture resembles coarse crumbles. With the food processor on, pour the water through the hole in the lid and let mix until the dough comes together into large balls. Pretty much all of the flour should be mixed into the balls of dough.
Remove from the processor and shape into one large ball. Wrap in plastic wrap and refrigerate for at least 10 minutes, or until ready to use it.
If making two crostatas divide the dough into two equal parts, three parts if making three crostatas. Roll dough out on a lightly floured surface until the desired size and thickness is achieved.
Peach Crostatas: Slice peaches and place equal amounts on each portion of pie dough. Sprinkle equal amounts of the brown sugar, cinnamon, and nutmeg on the peaches. (Half of each if making two, one third of each if making three, you get it, right?) Dot the butter evenly atop the peaches. Fold up the edges of the dough around the peaches leaving a hole in the middle. The crust should not completely cover the peaches. Place each crostata on a pan lined with parchment paper. Spray the paper with non-stick spray. Scramble an egg in a bowl and brush it on the top of all the dough. Sprinkle the white sugar on top of the egg wash.
Bake at 425 degrees for 15- 25 minutes. Check at 15 minutes and add more time accordingly if not done. (Mine took 25 minutes to bake.) They should be golden brown with a firm dry crust.
http://eatitandsayyum.com/pie-crust-and-peach-crostata/
It smelled amazing and I think it just looks beautiful.
I love the more rustic and simple look, verses a normal pie that needs symmetry and perfection.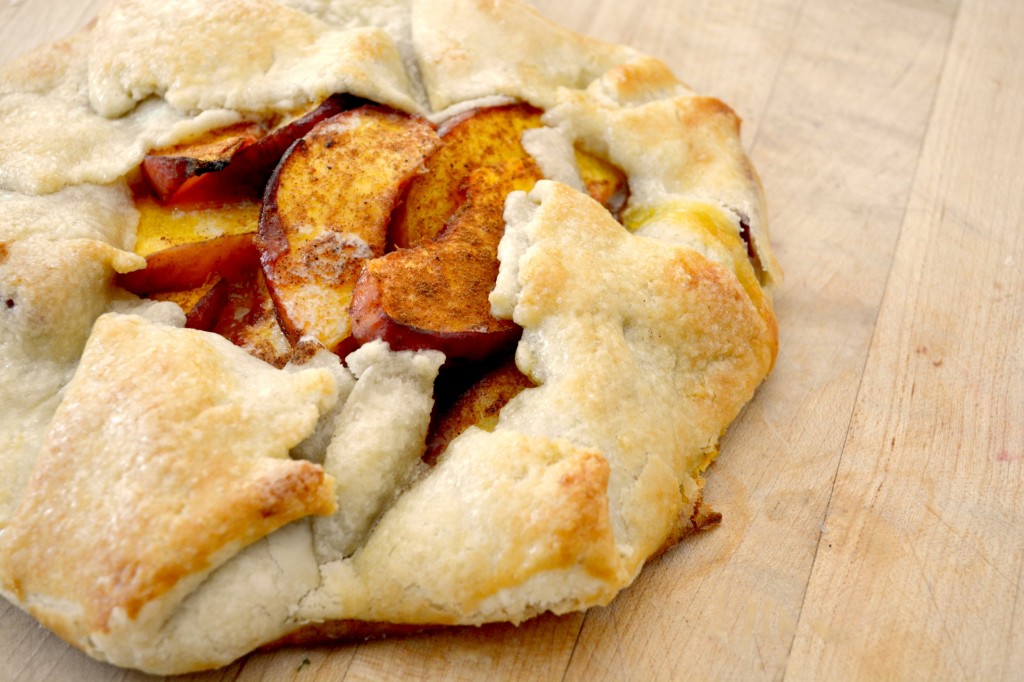 Serve it warm with some ice cream.  To. Die. For.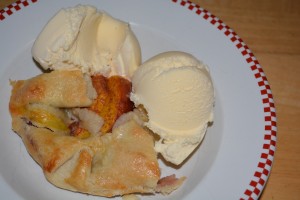 Crostata recipe adapted from http://jennysteffens.blogspot.ca/2011/07/peach-crostata-simple-summer-peach.html?m=1