I came up with this recipe to go with my Sweet and Sour Meatloaf.  I wanted some rice with flavor, and this worked perfectly!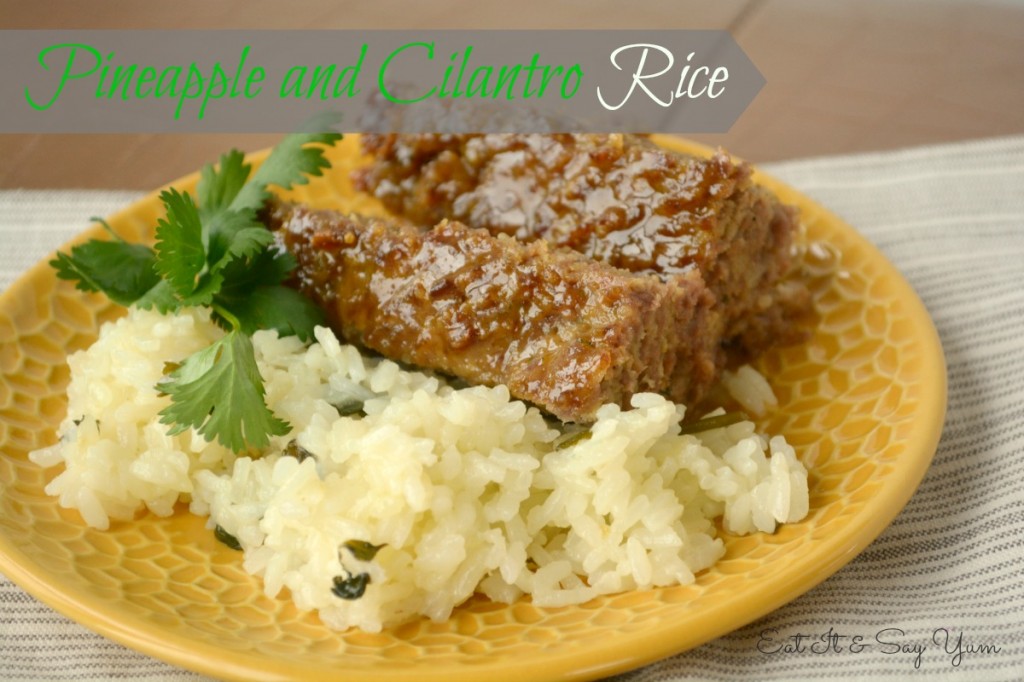 You could serve this rice with any Asian or even Mexican dish.  It would be great with stir fry, or even chicken enchiladas.  Or these teriyaki chicken skewers.
Ingredients
1 1/2 cups uncooked rice
1-2 Tbs olive oil
1 cup pineapple juice
1 chicken bouillon cube, or equivalent
1 Tbs lime juice
1 tsp lime zest- optional
1/2 cup chopped cilantro
1/4 cup chopped onion
2 cups water
1 Tbs butter
1/4- 1/2 cup pineapple- crushed or tidbits
salt and pepper to taste
Instructions
In a medium pot with a lid, over medium heat, lightly toast the grains of rice in the olive oil, stirring frequently. Don't let them burn! Add the bouillon, onion, butter, salt and pepper (just a little- you can add more later if needed). Cook for about 1 minute, stirring frequently.
Add all remaining ingredients and bring to a boil, while stirring. Once boiling, reduce heat to simmer and cover the pot. Set timer for 15 minutes. Then check the rice and test for tenderness. If still not done, or if too moist still, continue cooking for 2-5 minutes more.
When done fluff with a fork, serve warm.
http://eatitandsayyum.com/pineapple-cilantro-rice/
The rice really is easy to make.  Even without a rice cooker.  (My last rice cooker broke before I moved, and I have yet to replace it.  I may be going through withdraws…)
I start by heating the rice in a little olive oil to lightly toast the grains.  I add in some chicken bouillon, salt and pepper, onions, and butter.  Then water, cilantro, pineapple with juice, and lime juice.  If you can cook rice, you can handle this.