Cake is delicious.  Add fruit, delicious.  Add a caramel-y sauce over that cake?  Even better.  That's what I've got for you guys today.  Pineapple cake, soaked with a caramel-y sauce.  I love it with ice cream.  🙂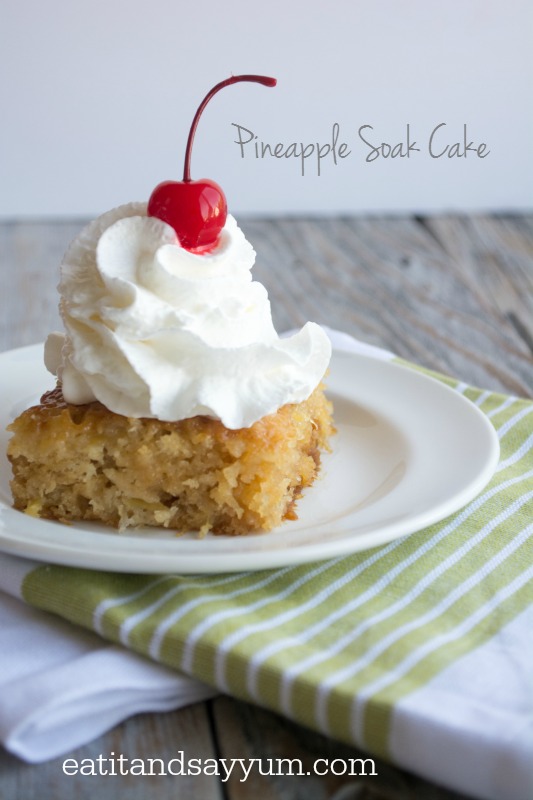 The cake itself is simple.  And you bake it in a 9×13 pan.  How easy is that?
The sauce is only 3 ingredients.  You pour that over the baked cake and let it soak down into the cake.  Thus the name 'soak cake.'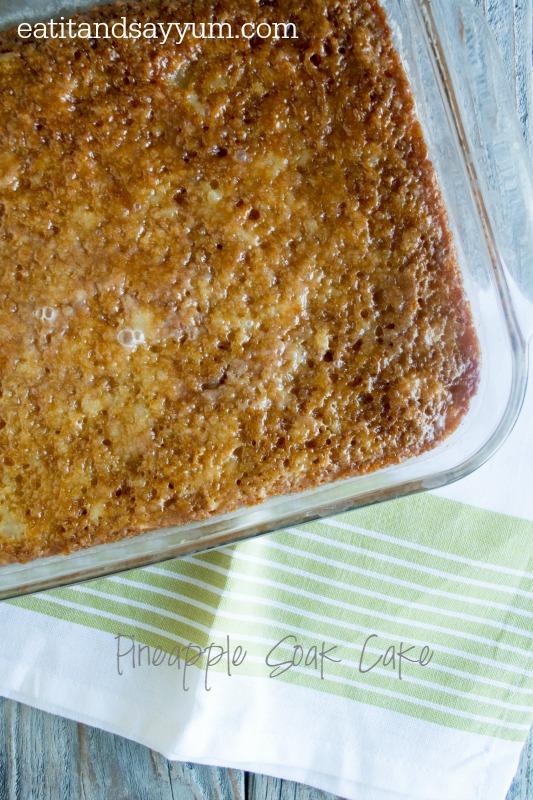 This is a family favorite recipe that has been passed down for years.  It's a keeper.   It goes fast whenever we make it.  That's a sure sign of people liking it.  😉
Ingredients
Cake: 2 cups flour
1 1/2 cups sugar
2 tsp. baking soda
1/2 tsp salt
1 20-ounce can crushed pineapple
1/2 tsp. vanilla
Sauce: 1, 5-ounce can evaporated milk
1/2 cup butter
3/4 cup sugar
vanilla ice cream or whipped cream- to top the cake
Instructions
Mix the flour, 1 1/2 cups sugar, baking soda, and salt in a large mixing bowl.
Add the pineapple with its juice, the vanilla, and beat to combine.
Pour into a greased 9x13 pan and bake at 350 degrees for 30 minutes.
Just before the cake comes out of the oven, mix the sugar, evaporated milk, and butter in a sauce pan and bring to a boil for 2 minutes, stirring frequently.
Pour the sauce over the hot cake when it comes out of the oven, pouring slowly, allowing the sauce to soak into the cake.
Serve warm or at room temperature with whipped cream and/ or vanilla ice cream.
http://eatitandsayyum.com/pineapple-soak-cake/
You might also like: