This pasta salad is probably my favorite pasta salad.  It is really simple, but has such bold flavors.  I absolutely love it!
Pomodori Secchi means sun-dried tomato in Italian.  Apparently, Italians were some of the first to dry their tomatoes in the sun, so they could preserve them for the winter months.
It is made up, mainly, of pasta, sun-dried tomatoes, feta cheese, and cilantro.  Those last three each have strong flavors, but when you combine them each bite is like an explosion of flavor in your mouth.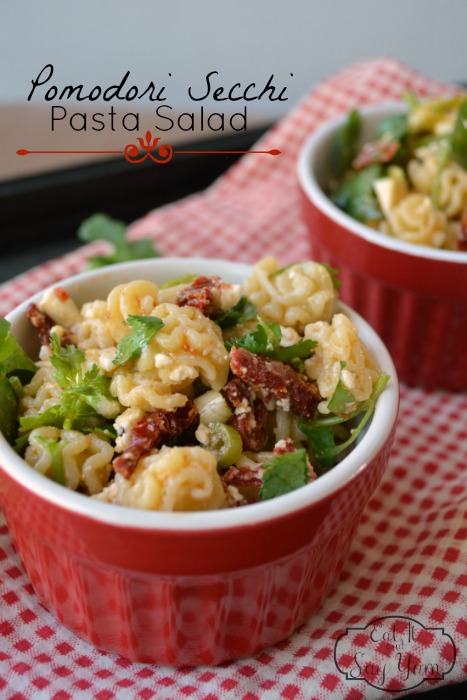 My mom has been making this salad for years.  Now each of her four daughters make it as well.  We each put our own spin on it.
This salad is perfect for summer barbecues.  It is nice and cool, and goes great with hamburgers, or ribs, or grilled chicken, or steak.  The list goes on.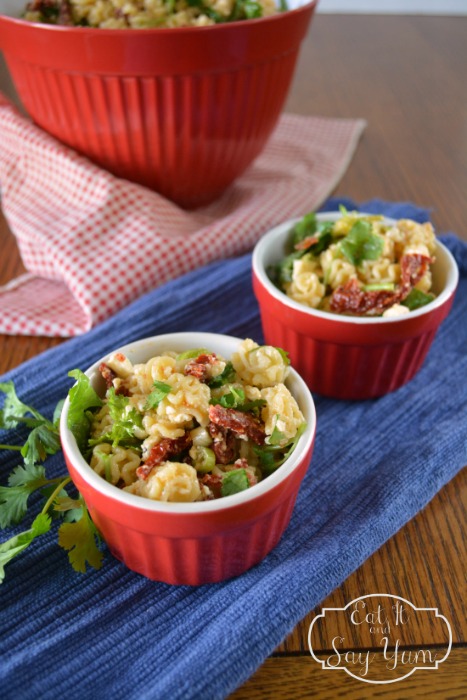 However, on occasion, I also like to serve this as a main dish.
You can easily add diced grilled chicken, or crispy bacon to the salad.  One of my sisters adds diced ham.  Either way, it's delicious.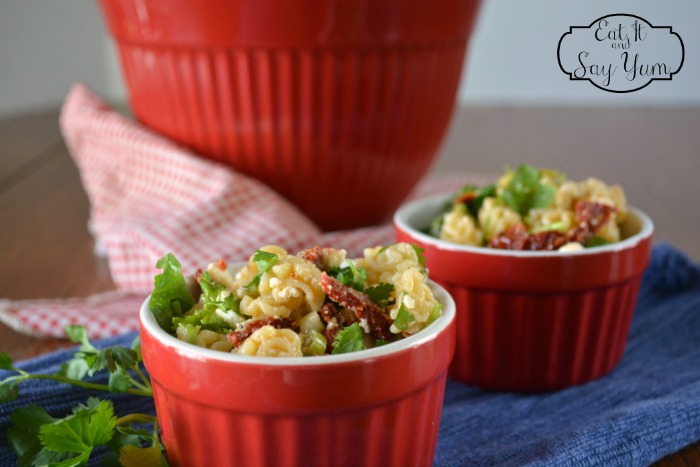 Another of my sisters doesn't care for sun-dried tomatoes, so she substitutes fresh cherry tomatoes.  It's easy to customize, but I really don't think you'll need to make changes.  I love it.
You can use pretty much any shape pasta in this salad.  My favorites are angel hair (what my mom always uses), and this radiatore shape that is pictured.
Pomodori Secchi Pasta Salad
Ingredients
1 pound dry pasta
1/2 cup sun-dried tomatoes in olive oil- can dice if desired
3-4 Tbs olive oil (using some from the jar of sun-dried tomatoes)
1 tsp seasoning salt
pepper to taste
2-3 green onion stalks- sliced
1/2 a bunch of cilantro- diced about the stems
heaping 1/2 cup feta cheese
Optional: Grilled chicken, or diced ham, or crispy bacon.
Instructions
Cook pasta according to package directions, for al dente. When pasta is soft enough, drain the water and rinse the pasta with cold water, until it is completely cooled.
Pour pasta into a large serving or mixing bowl. Add the olive oil, using about half the oil from the jar of tomatoes, and then adding more olive oil for a total of 3-4 Tbs. Add the seasoning salt, pepper, chopped cilantro, feta cheese, and sliced green onions. Gently toss all together. If too dry add a little more oil. Store in refrigerator until ready to serve. After sitting in fridge, some oil and salt may have been absorbed, if needed add more of both. Serve chilled, or at room temperature.
http://eatitandsayyum.com/pomodori-secchi-pasta-salad/
So, give this delicious Pomodori Secchi Pasta Salad a try this summer.  You won't be sorry.  🙂
See where I link up.
You  might also like: