Delicious Lettuce Wraps filled with ground pork and chopped vegetables.  Healthy and tasty!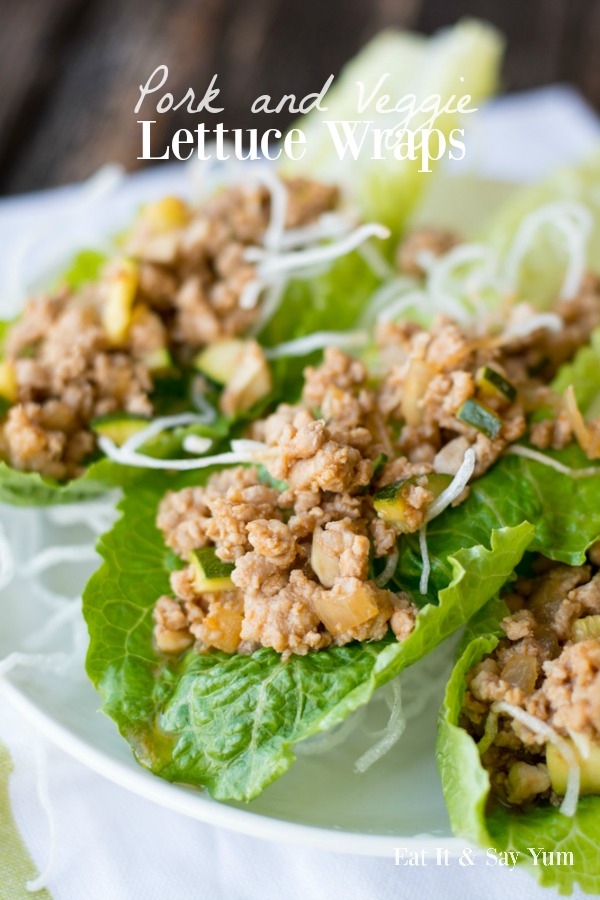 Every January I fall into that group of people who is convinced they are going to eat healthier!  And by January 6th or so, I have completely fallen off the bandwagon.   So, instead of just trying to go cold turkey on giving up all my favorite foods, and I just trying to incorporate more healthy choices.  And cut back on some of the bad choices.
So, one of my favorite healthy meal options are Lettuce Wraps.  I love the wraps they serve at P.F. Changs.  Those are yummy.  But let me assure you, these wraps are just as tasty!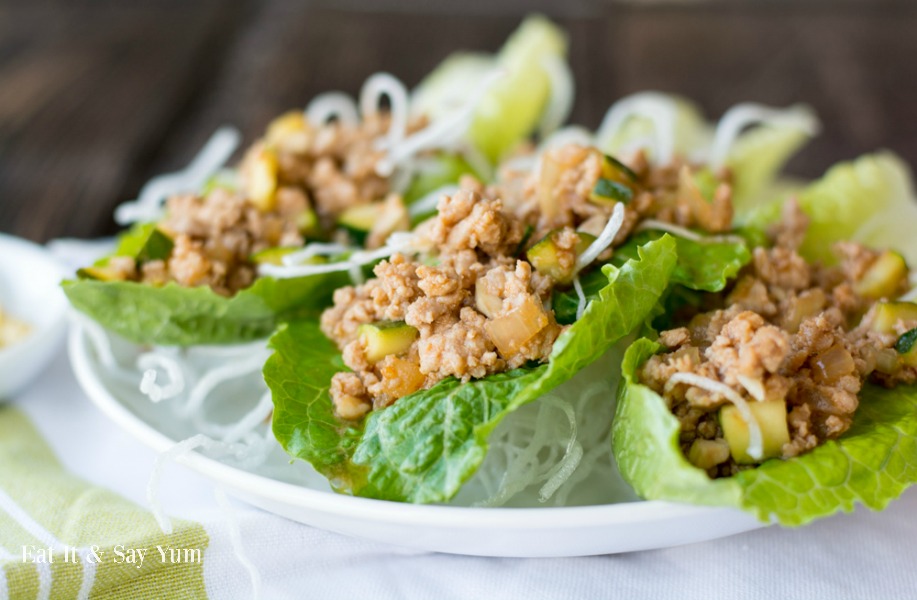 I used to do like P.F. Changs and have a sauce that I could pour over each wrap as I made it.  But that got old real fast.  All that sauce would just run our of the lettuce and all over my hands.  So, I changed up my recipe and now I have a less-messy lettuce wrap, that still has lots of flavor.
I cook my meat filling in a wok, but a large frying pan would work as well.  It helps to have all of you veggies diced and ready to go before you start.  I cook the meat with the onion, and 3/4 of my sauce.  Then add my mushrooms and zucchini just for the last minute or so of cooking, and I add the remaining sauce, too.  The liquid in the sauce cooks out, leaving the filling nice and juicy and flavorful.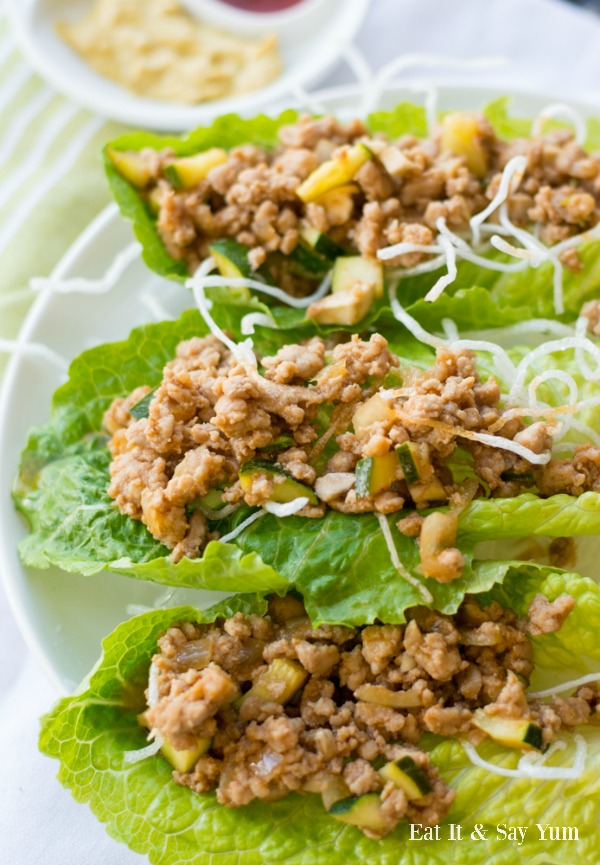 Another thing about these wraps, I like to fry up some Cellophane noodles to add to the wrap.  They give some good crunch.  So, if you choose to use those, fry them first, before you start on your meat filling.  Just get them done and out of the way.  Don't worry, they cook fast, and you won't need a lot.  If your oil is hot, they fry up in about 2 seconds.  No joke.  If you don't want to mess with them, you can do without.
Pork and Veggie Lettuce Wraps
Ingredients
1 pound ground pork (ground turkey or chicken can be substituted)
1 white or yellow onion- diced
3/4 cup diced mushrooms
1 cup diced zucchini
3 Tbs brown sugar
1/3 cup water
2 Tbs soy sauce
2 Tbs rice wine vinegar
2 Tbs ketchup
1 Tbs lemon juice
1/4 tsp sesame oil
1 tsp red chili garlic sauce- or more if you want spicier
1/4 tsp hot mustard- or more if you want spicier
romaine lettuce leaves
Cellophane noodles- fried according to package directions- optional
Optional garnish- sliced green onions, cilantro
Instructions
Fry the cellophane noodles, if using, and set aside on a paper towel to drain the oil.
In a small mixing bowl, add the brown sugar, water, soy sauce, rice wine vinegar, ketchup, lemon juice, sesame oil, chili sauce, and hot mustard. Whisk together and set aside.
In a large, greased wok, or frying pan, add the pork and onion. Use a wooden spoon to break the meat up into small pieces and stir everything. Add 3/4 of the sauce to the wok, stir everything together while the meat continues to cook and the liquid evaporates.
When the meat is cooked through, and the liquid is mostly gone, add the diced mushrooms and zucchini. Stir they into the meat for 1 minute, then add the remaining sauce and cook until the liquid is mostly cooked out again- about 1 min. Remove the pan from the heat.
To serve, spoon some of the hot meat filling into the romaine lettuce leaves, top with some cellophane noodles.
http://eatitandsayyum.com/pork-and-veggie-lettuce-wraps/
You might also like: