Growing up my FAVORITE soup was Potato Cheese Soup.
My mom made it the best.  Adding a little of this and that, no measuring.  That's how she rolled.
I learned from the best.  😉
Well, when I moved out and needed some soup, I tried to make it.  Like Mom did.  But, it didn't work out like I hoped.  I kept trying, and over the years I got closer to that childhood taste.  So, I finally set out to write down the recipe.  EACH and EVERY time I tried to figure the measurements, it just wasn't right.
Since the birth of this blog, I have had an even deeper desire to get the recipe right.  But time and time again, I just wasn't fully satisfied.
So, finally I gave up.  I thought forget it, I'm just going to make the soup for my family, and not get to share the recipe with my readers.
Guess what, the next time the soup turned out PERFECT!  SO, I racked my brain with what I had done to make it, and wrote the recipe.  I just had to trick myself, I guess.
So, I give you MY VERSION of my Mom's potato cheese soup.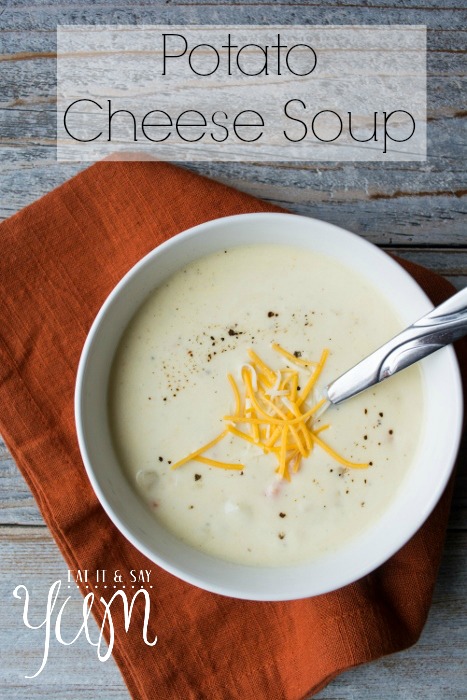 You might be asking 'why is this Leia's version, if she's been trying duplicate her mom's soup?'
Well, I was trying to match the taste and texture.  I'm pretty sure we use different methods to get to our end results.  And, my mom always used velveeta cheese.  And it gave the soup such a smooth and creamy texture.  But processed cheese isn't so popular these days.  And I don't have it on hand very often.  So, I changed that a bit.  (My mom has since changed cheeses, too.  But she did that after I moved out.)
Anyway, I wanted to use what I would normally have on hand.  So I used Parmesan cheese, and some Colby Jack.  But if I had different cheeses around, I wouldn't hesitate to throw those in.  Cheese is so great, in that you can use a variety of kinds to get different flavors.  I love cheese.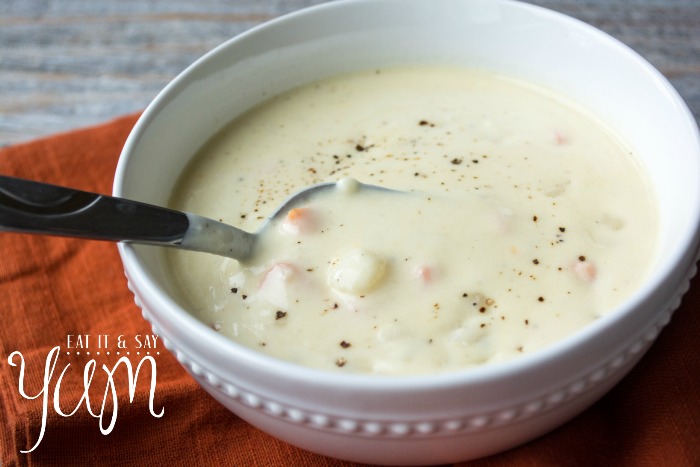 This soup is so creamy.  I do use cream, but milk can be substituted for a lower calorie version.  I do that when I don't have cream, or I'll use both together.  Either way, it's good.
Another thing I love about this soup is that my kids love it.  Winner, winner potato-cheese-soup dinner!  Err, something like that.
A meal my kids will eat without complaint is always a good thing.
Potato Cheese Soup- like Mom makes…
Ingredients
3 small- medium sized potatoes- diced
2 carrots- diced
2 1/2 Tbs butter
3- 3 1/2 Tbs flour
1/2 onion- diced
1-2 cloves garlic- minced
4 cups chicken broth
1 1/2 cups cream (heavy cream or whipping cream)- milk can be substituted
1/8 tsp dry mustard
dash or two paprika
salt and pepper to taste
1/3 cup Parmesan cheese- grated
1/2 cup cheddar cheese- grated (or any cheese you want- Colby-Jack, Pepper- Jack, white cheddar, etc.)
Instructions
In a medium pot over medium-high heat, boil enough water to cover the diced carrots and potatoes. Boil them until they are fork tender, but not mushy. Drain the water out and set the potatoes and carrots aside.
In a larger pot, over medium-high heat, saute the diced onions and minced garlic in the butter, for about 2-3 minutes. Don't let the butter burn, reduce heat if necessary. Add the flour and whisk it together with the butter and onions to make a roux. Slowly add the cream or milk, whisking while adding to make a smooth sauce. After the cream (or milk) is added slowly add the broth, whisking to keep everything smooth. Let the soup come to a slow boil.
Add the dried mustard, paprika, pepper, potatoes and carrots into the large pot. Reduce the heat to a simmer. Add the cheese and whisk to combine everything. Now you can taste the soup and add enough salt to suit your tastes. Don't add the salt before the cheese. Cheese, especially Parmesan cheese, can be very salty, so you don't want to over power the soup with salt.
Serve the soup while hot, with some bread or rolls for dipping.
http://eatitandsayyum.com/potato-cheese-soup-like-mom-makes/
Let me not forget our favorite breads to dip in this soup.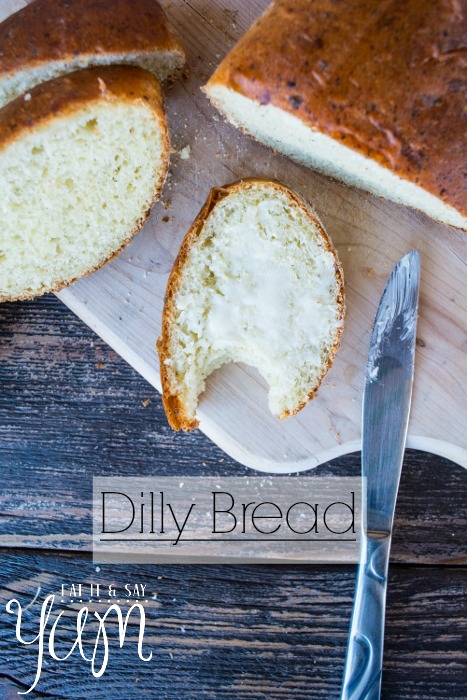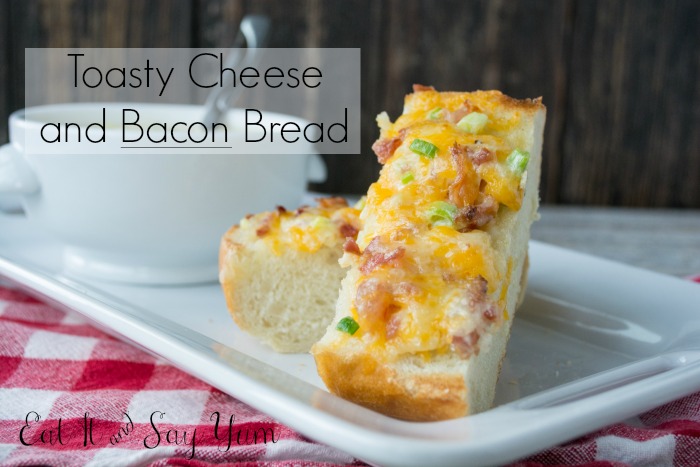 You might also like: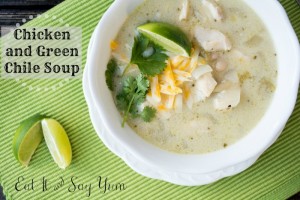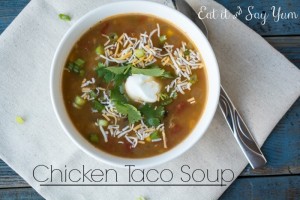 Minestrone Soup with Italian Sausage