No-bake Pumpkin and Nutella Cheesecake, two cheesecakes poured into one crust.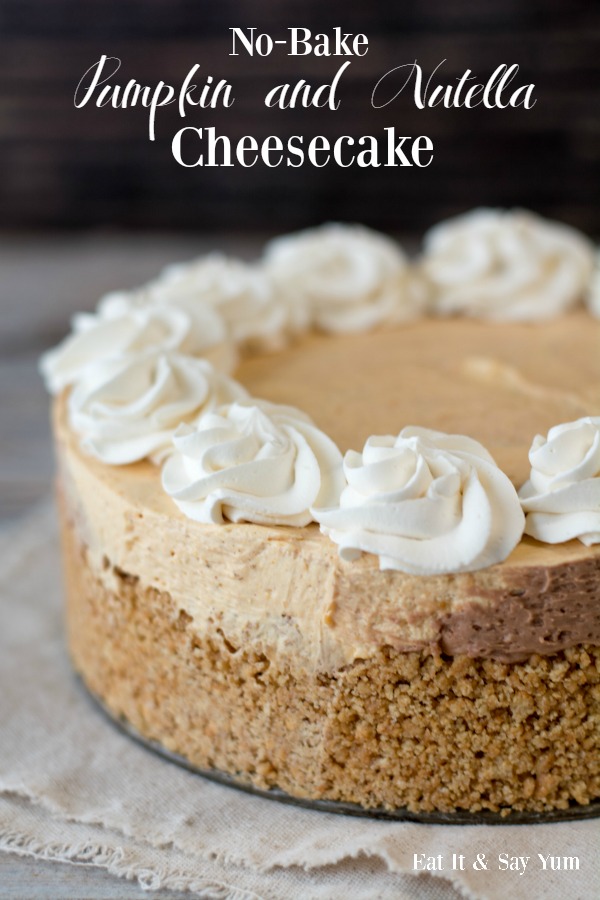 So this is a recipe I thought about for a long time before I actually made it.  I thought about making it a normal cheesecake that would be baked, but in the end I figured 'the people' seem to like no-bake desserts, so I tried that.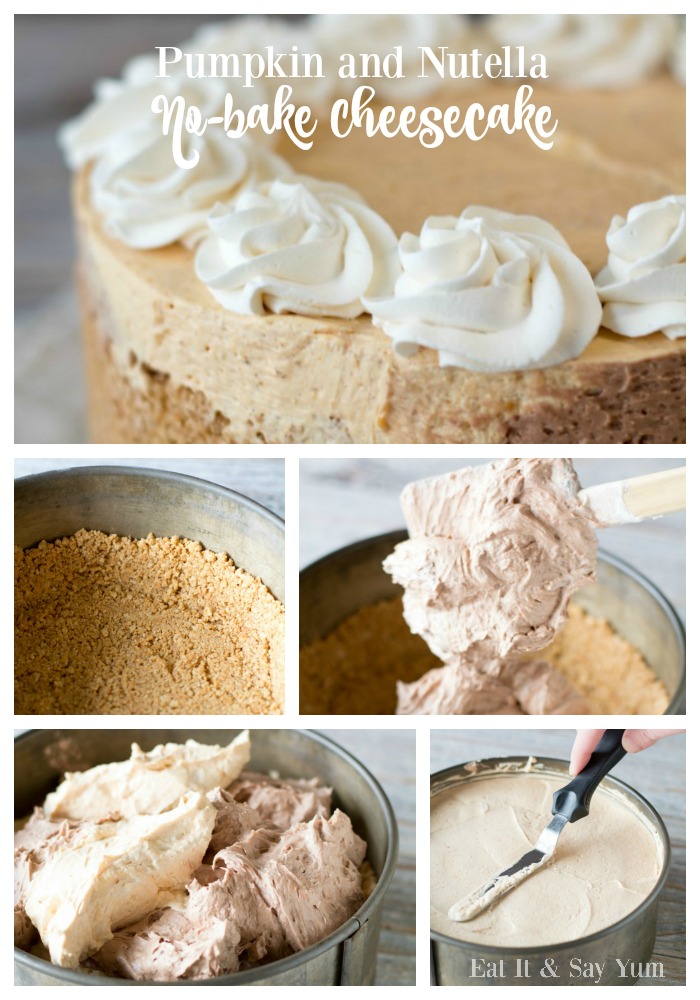 I think no-bake cheesecakes are pretty easy.  Who can't whip up some cream, beat some cream cheese and fold those together.  You can add all kinds of flavors, and spices.  I make one basic mixture and divide that in half for the pumpkin and the nutella flavors.   Once the fillings are all done you can randomly fill your crust, so you get both flavors in each slice.  Then smooth out the top.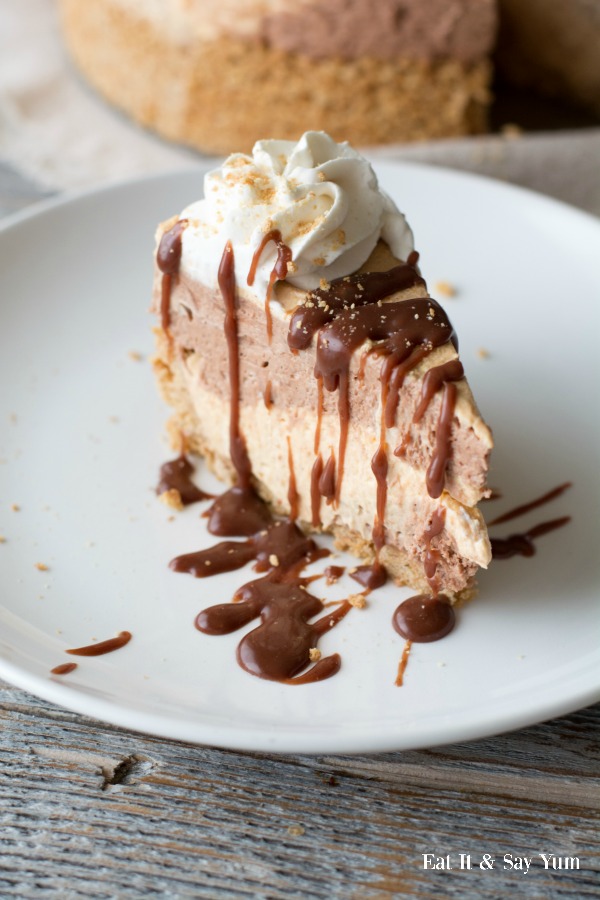 I pipe some whipped cream around the edges, and then drizzle hot fudge over each slice.  Some extra graham cracker crumbs were sprinkled over top as well.
No-bake desserts are also really fun to serve in mini mason jars.  They are cute, fun to eat, and easy to serve.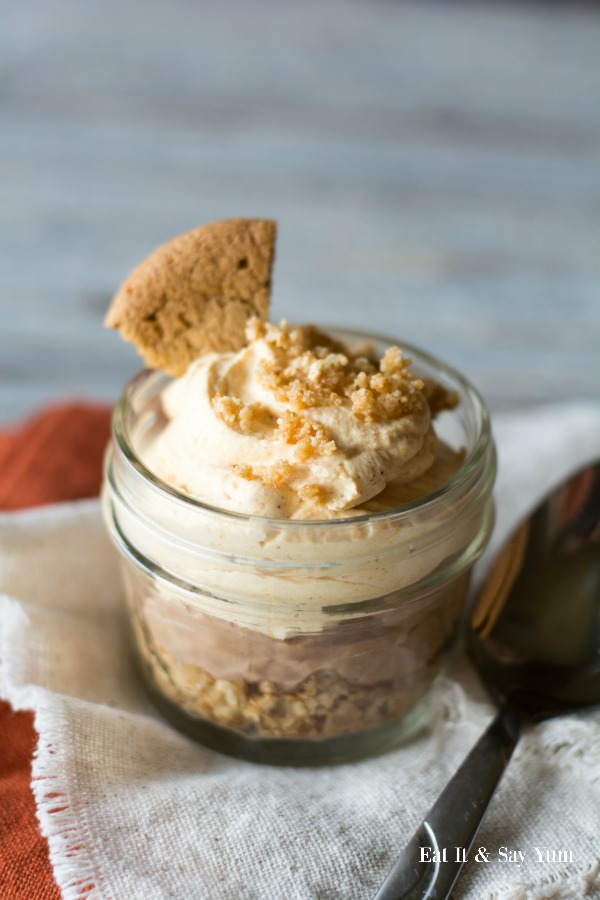 Pumpkin and Nutella No-bake Cheesecake
Ingredients
Crust- 12 graham crackers
6 Tbs butter- melted
2 Tbs sugar
Filling- 16 oz cream cheese
1/3 cup sugar, plus 2 Tbs sugar- separated
1/2 tsp salt
1 1/2 tsp vanilla
1/2 cup pumpkin
1/2 tsp cinnamon
scant 1/2 tsp nutmeg (just less than a 1/2 tsp)
1/8 tsp all-spice
heaping 1/2 cup nutella
1 1/2 cups heavy whipping cream
1/2 cup powdered sugar
whipped cream for garnish
Optional toppings: hot fudge, caramel sauce, crushed Oreo cookies, etc.
Instructions
Crust- Crush the graham crackers in a food processor or plastic zipper bag.
Mix the crumbs with the melted butter and 2 Tbs sugar. Press into a springform pan, 10-12 inch.
Let crust set in the fridge or freezer while you make the filling.
Filling- In a mixing bowl, beat the heavy cream and powdered sugar, until stiff peaks form. Set in fridge until ready to use.
In a large mixing bowl, beat the cream cheese until smooth. Add the 1/3 cup sugar, salt and vanilla. Beat again until smooth.
Divide the cream cheese mixture in half, spoon one half into a separate bowl. In one bowl with cream cheese mixture, add the pumpkin, 2 Tbs sugar, cinnamon, nutmeg, and all-spice. Beat until smooth. Add half of the whipped cream and fold together gently with a rubber scraper.
With the second bowl of cream cheese mixture, add the Nutella and beat until smooth. Fold in the remaining half of whipped cream with a rubber scraper.
Spoon both fillings randomly into the crust. Smooth the top with an offset spatula.
Let the cheesecake set in the fridge until firm. Keep stored in fridge whenever possible.
Decorate the edges of the cheesecake with additional whipped cream. Drizzle each slice with warm, hot fudge, or your choice of topping.
http://eatitandsayyum.com/pumpkin-and-nutella-no-bake-cheesecake/
You might also like: