Hey friends!
It's been a while!  Unless you are an avid reader here at Eat It & Say Yum, then you probably didn't even know that I was MIA.  Missing from the blog, that is.
But even if you didn't notice, I'll pretend that you have all been wondering 'what the heck happened to Leia?!'
And I'll get to that…
But first!  Let me tell you how excited I am about FALL!!!  I know it's not 'technically' here yet, but I am so excited for it.  In fact, today I enjoyed my first cup of hot chocolate.  Not because it's cold here.  In fact today's temp is around 95 degrees!  I drank hot chocolate because I wanted to!  It sounded good.  And maybe if I drink enough of it Mother Nature will take pity on me and send some cooler weather.  A girl can hope.
I am excited about the cool weather, football games, upcoming holidays, jeans and sweaters, pumpkins, leaves, pretty much EVERYTHING that has to do with Fall.
So, today I'm sharing my Pumpkin Banana Muffin recipe, so you can get excited about Fall, too.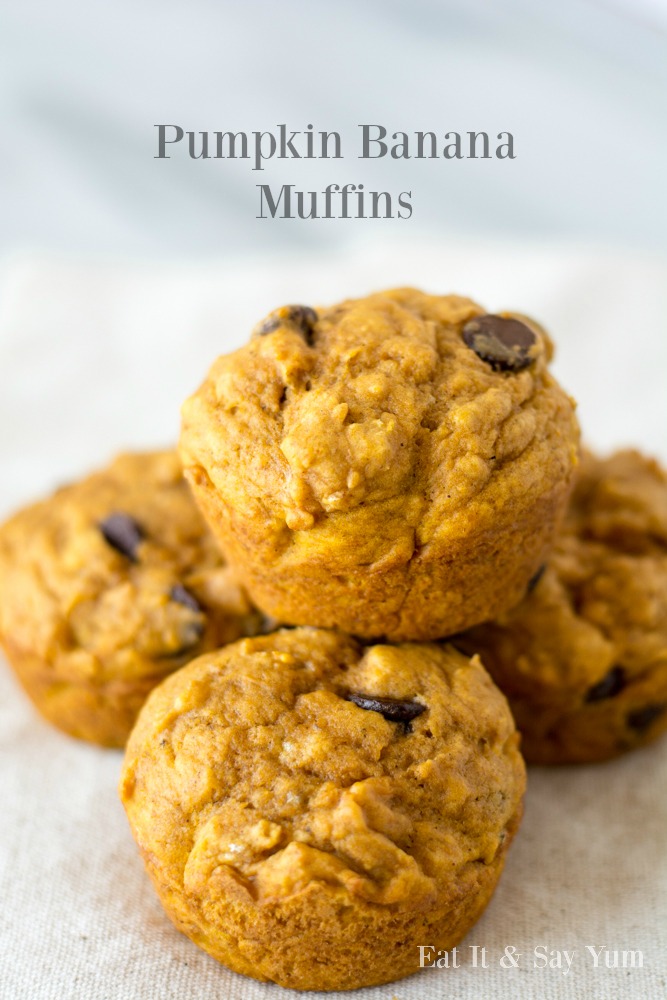 Muffins are one of my favorite things.  Who wouldn't want a handheld baked good that is warm and slathered with butter?  These are great because they have that great cinnamon flavor, plus pumpkin, plus banana, plus chocolate chips!  Although, you could leave out the chocolate chips if you wanted.  My daughter doesn't like chocolate, so now I have to think about things like 'omitting chocolate from recipes…'  Sad, I know.
Anyway, these are easy to make- only one bowl is required.  And they bake up beautifully in regular muffin tins, or mini muffin tins.  I like to bake mini muffins because 1. kids love them, 2. they are super convenient for packing in school lunches, and 3. because I don't feel bad for eating more than one!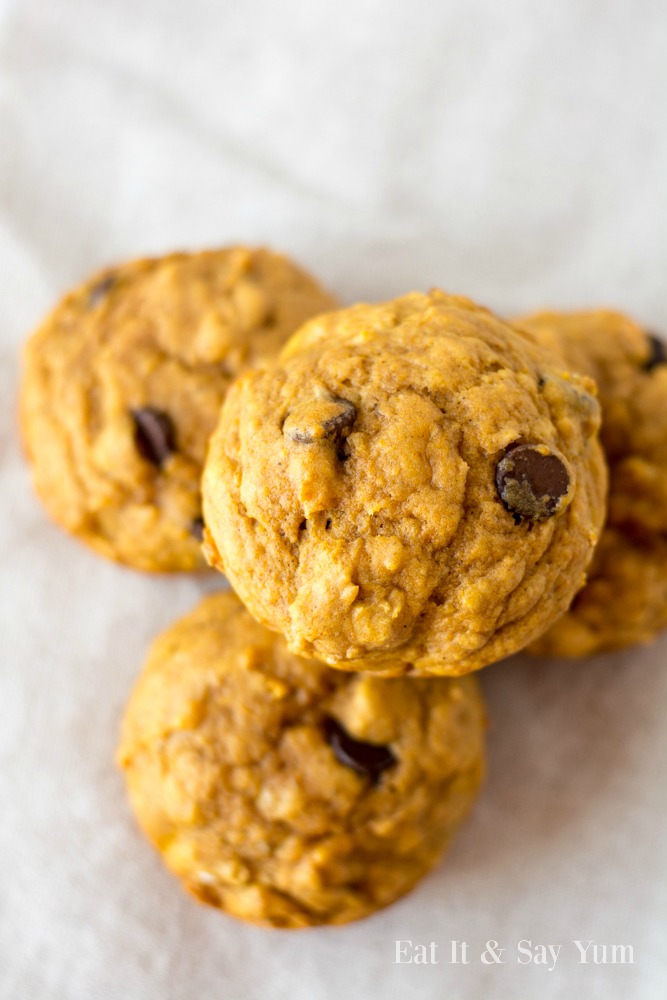 Now, before I get to the recipe for these delicious, fluffy, muffins…  Let's talk about me being MIA.  (Missing in Action)  Can I even call it that?  I don't know.  But whatever you call it, I haven't published a post here in at least 4 months.  I have been pretty quiet on my social media pages.  And I might have left some of you hanging!  Sorry.
Well, here's why…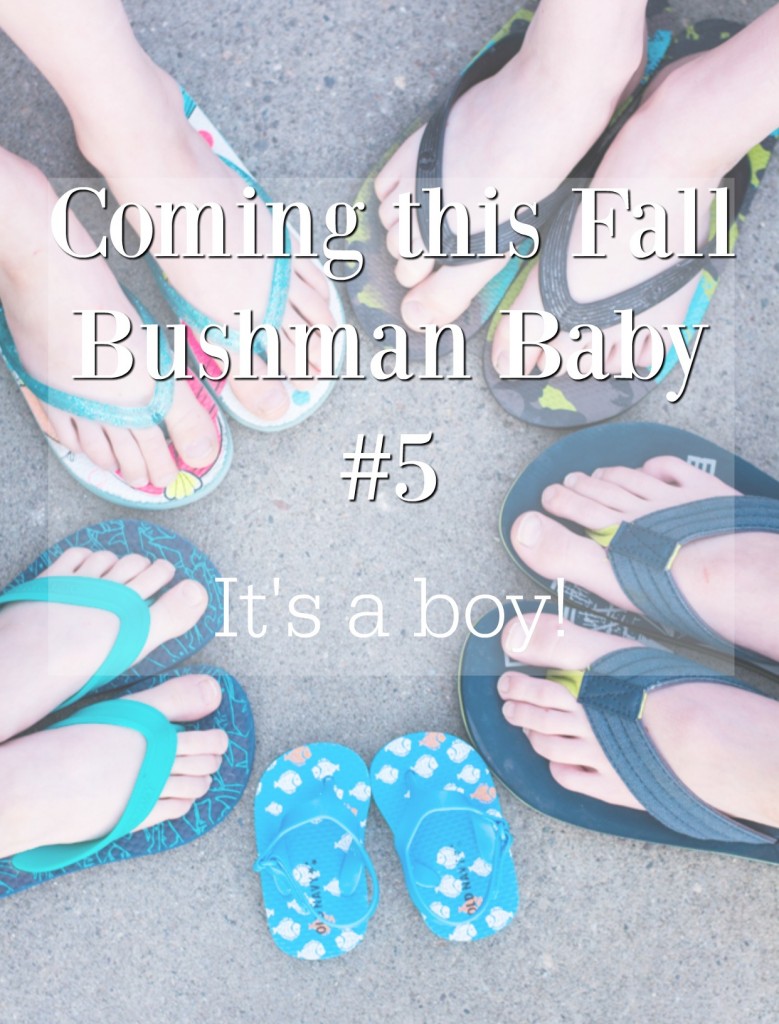 All of us here in the Bushman household are super excited to be expecting our 5th baby!  And it's a boy.  If you're counting, that makes 4 boys and 1 girl.
We are SO thrilled, and surprised, and shocked, and surprised, and anxious, and very surprised.  My youngest is currently 6, and just started first grade.  So, last year we celebrated having all our kids in school.  And no more kids in car seats.  And three years ago we celebrated having all our kids potty trained.  And every few months or so we prematurely celebrate all our kids not sleeping in our bed anymore. (And then inevitably, a kid starts finding their way back to our bed in the middle of the night again…)
And even though we thought we were finished with all these  milestones, it was always a little bitter sweet.  We never felt that we were done having children, but we just weren't being blessed with anymore.  Despite our best efforts.  😉
So, when I got really sick back in March, and didn't get any better- we thought something might be up.
And due to that 'morning sickness' (that actually lasts ALL day for me), I found myself unable to keep up with the blog.  I thought of lots of recipe ideas, but I couldn't bring myself to make any of them.  Cooking made me nauseous.  Looking at food on Pinterest made me nauseous.  It was really tough.  Ya know, since I am a food blogger and all.
At any rate, I am feeling better now than I was 5 months ago.  Not back to normal, but hopefully that will come after the baby is born.  I am due in November, but all my previous kiddos have come 1 or 2 weeks before their due date, so I'm shooting for the end of October.  (I do realize that I have no control over when the baby comes, but a girl can hope, right?!)
I didn't want my readers to be surprised when I announce that I've had a baby and you're all thinking 'I didn't even know she was pregnant!'
So that's my BIG news.  It's almost as big as my belly these days.  😉
As far as once the baby comes, I'm really not sure how often I will be sharing new recipes with you.  I'd like to think that I'll still be on here often, but let's face it, I'll have a new baby!  I've been through this before, and I know I will be busy.  I would however, like to share more than just recipes.  I mean, did you all know that I do more than just cook and bake? 😉  I do have somewhat of a life.  Albeit crazy and chaotic.  And I'd like to share more of that with you.  You might get blog posts about my baby.  Or my family life.  Or funny things about my kids.  Or even a little about my faith, because that is SO IMPORTANT to me.  Hopefully you will get to know a little more about ME.
Now, before you run for the hills because I've rambled on for so long here….  Let's get that recipe for those yummy muffins.  Sound good?
Ingredients
1 ripe banana, medium-large
2/3 cup pumpkin puree (canned or homemade)
1/2 cup brown sugar
1 egg
1/4 cup oil
1 tsp vanilla
1 1/2 cups flour
1 1/2 tsp baking powder
1/4 tsp baking soda
1/4 tsp salt
1 tsp cinnamon
1/2 tsp nutmeg
1/2 cup chocolate chips- mini size works great, too
Instructions
Preheat oven to 350 degrees. In a large mixing bowl, combine the banana, pumpkin puree, brown sugar, egg, oil, and vanilla. Stir together until combined.
Add the flour, baking powder, baking soda, salt, cinnamon, and nutmeg to the bowl and stir again, just until combined. Don't over mix.
Fold in the chocolate chips. Grease muffins tins and spoon the batter into the tins. Bake regular sized muffins for about 15-18 minutes. Mini muffin tins should bake for about 12-14 minutes.
Let cool for a minute, then remove the muffins onto a cooling rack, or your plate. Serve while warm, with butter.
Store extras in an airtight container on the counter for a few days, or in the freezer for longer term.
http://eatitandsayyum.com/pumpkin-banana-muffins-and-where-the-heck-did-i-go/