Here is a dish I grew up eating. Swiss Enchiladas.  Why are they called Swiss Enchiladas, you might ask.  Well, I'll tell you.
These enchiladas have a creamy white sauce on the outside, but inside is a bit of a surprise.  There you will find a red sauce, filled with chicken.  So two sauces.  One red, one white.  Think of the Swiss flag.  Red and White.  There you go.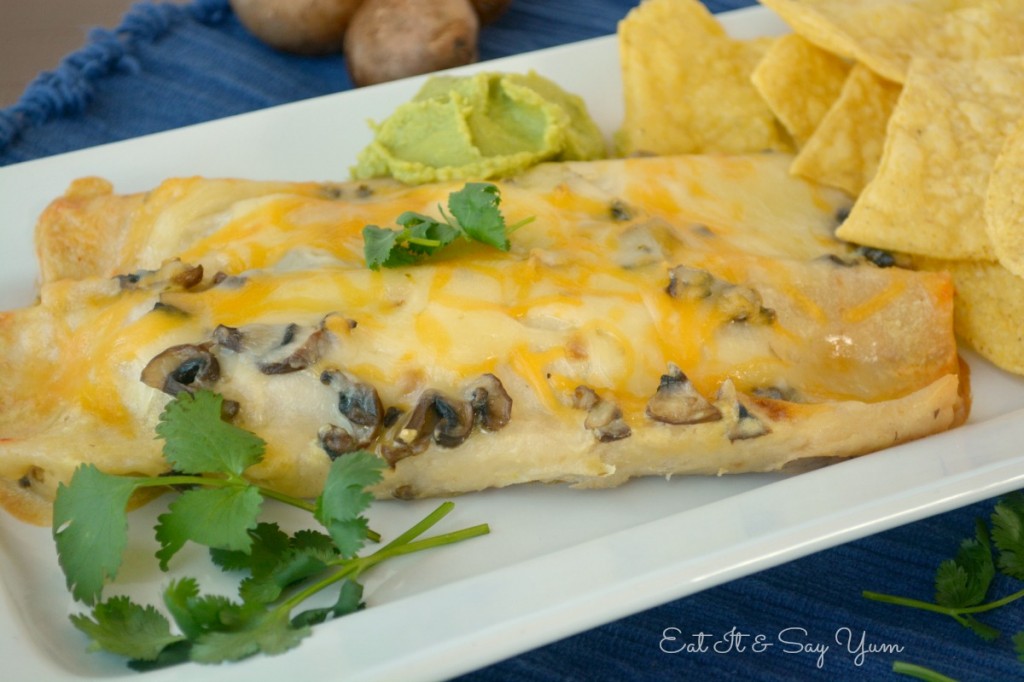 The white sauce also has mushrooms, for all your mushroom fans.  You don't typically see Mexican food with mushrooms, huh?!  Surprise!
So you start with some chicken, and add the ingredients for the red sauce right to the chicken. Let it simmer, and voila, the filling is ready.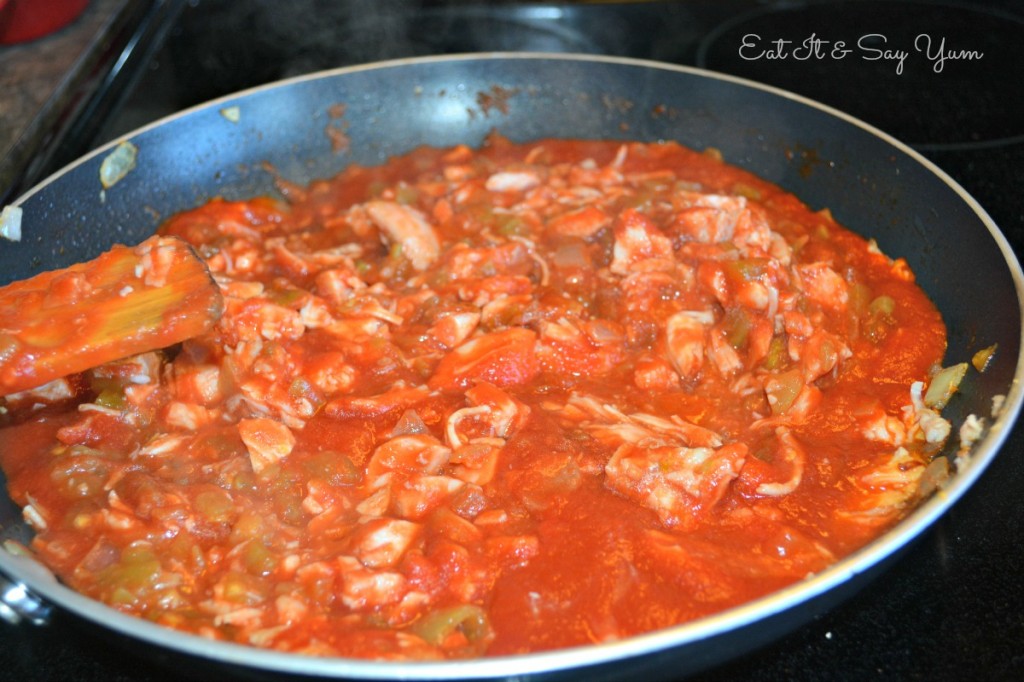 The white sauce is simple as well.  All the ingredients for it are cooked in one pot.  I recommend using cream or half and half for the sauce.  You can substitute milk, but the sauce will be very runny.  Still works though.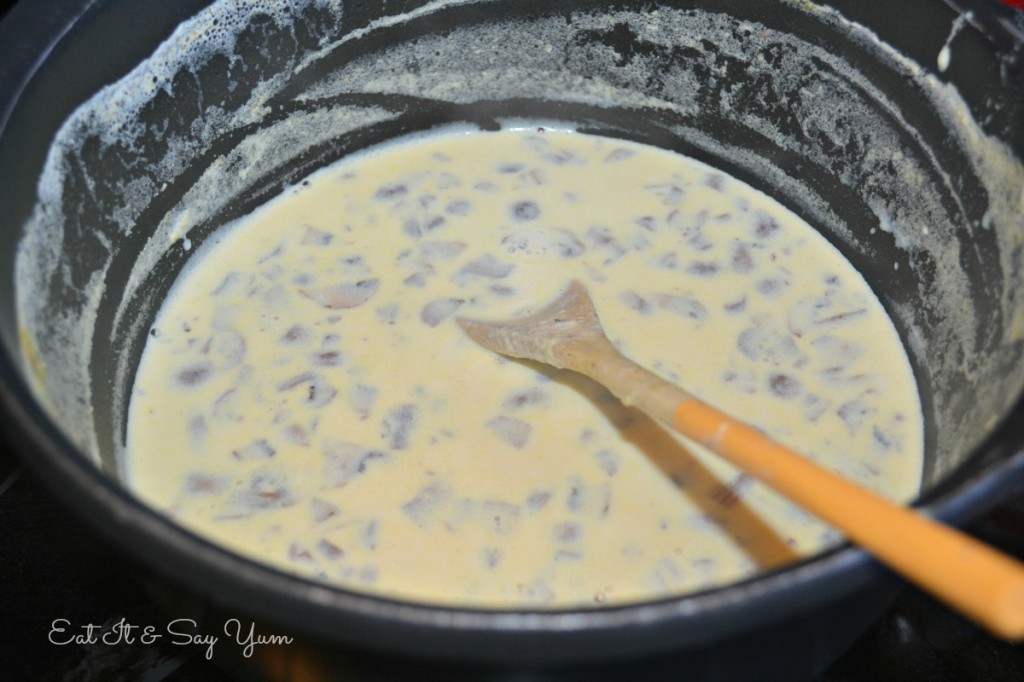 Dip each tortilla, one at a time, in the white sauce and lay in a greased 9×13 baking dish.  Fill with the chicken and red sauce, add a little cheese, then roll up.  Repeat with the next tortilla and so on, until the pan is full.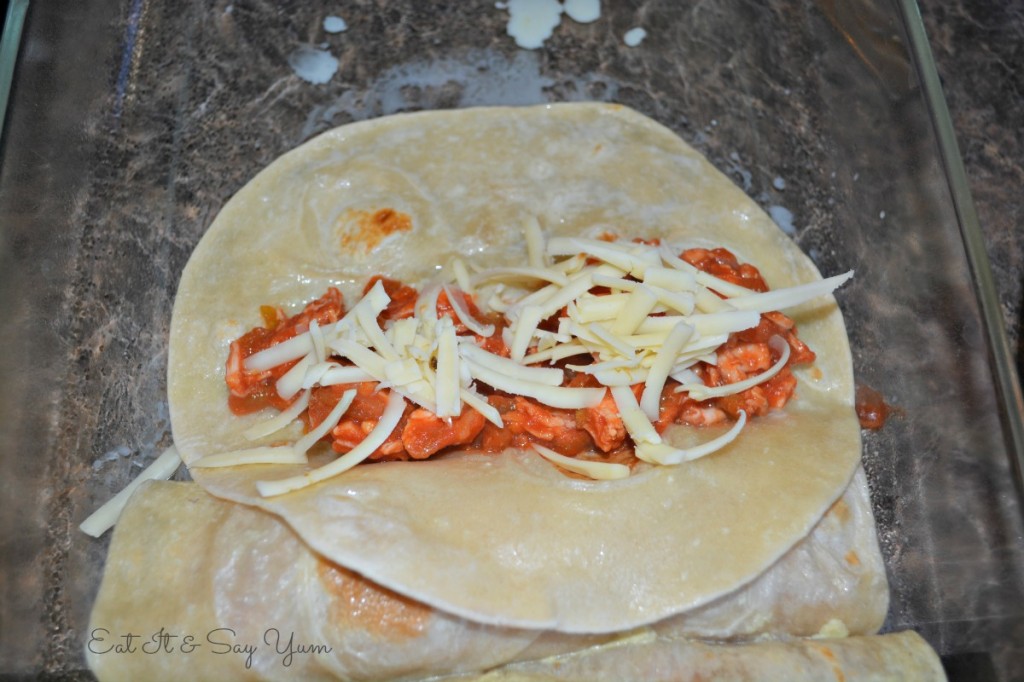 Pour the remaining white sauce over top of all the enchiladas, be sure to get all the mushrooms into the pan as well.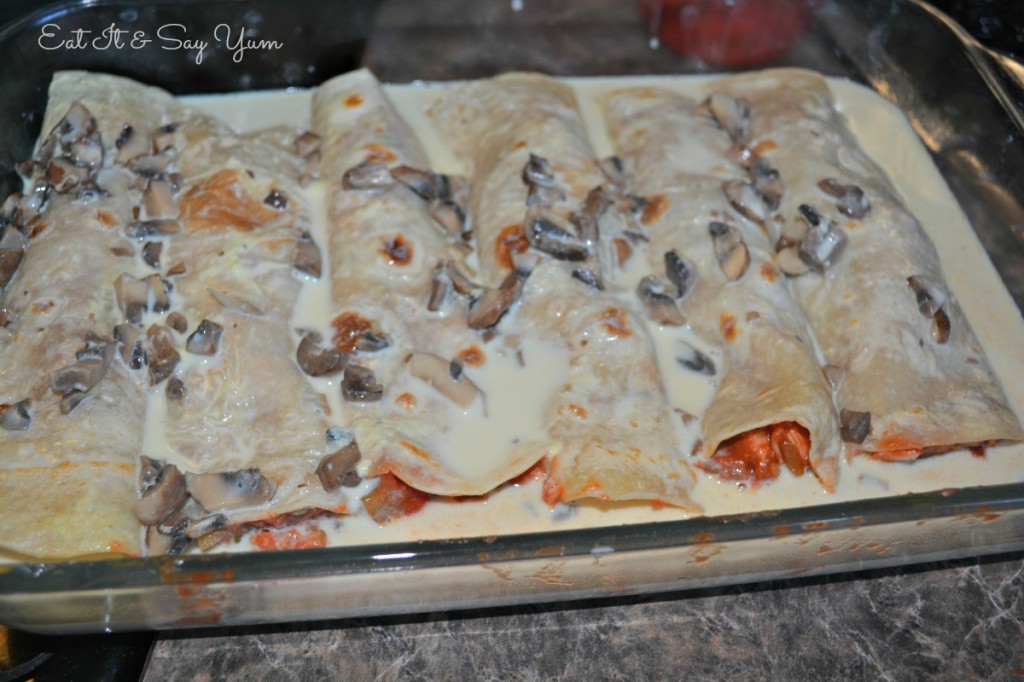 Add more cheese on top, and bake.  I love how bubbly, and cheesy the sauce gets during baking.
Red and White Swiss Enchiladas
Ingredients
3 cups cooked chicken- chopped or shredded
1 onion- diced
2 Tbs butter
2, 8 oz cans of tomato sauce
1 clove garlic- crushed or minced
1, 7 oz can of diced green chiles
5-6 mushrooms (I used baby bellas)- washed, de-stemmed, and sliced
1 Tbs butter
6 chicken bouillon cubes
3 cups cream, or half and half (or milk)
12 flour tortillas
1/2 lb jack cheese- grated
Instructions
In a large saute pan, over medium heat saute onion and garlic in 2 Tbs butter. Cook about 3 minutes, then add tomato sauce, chicken, and green chiles. Reduce heat and simmer for 10 minutes, stirring occasionally.
In a medium-large pot, saute the mushrooms in the remaining 1 Tbs butter. Cook about 2 minutes, then add cream (or half and half, or milk) and bouillon cubes. Let mixture reach a boil, stirring often, then remove from heat.
Grease a 9×13 pan. Dip tortillas, one at a time, in the white sauce. Lay tortilla in the pan and spoon some (about 1/3 cup) of the chicken mixture onto the tortilla. Top with a sprinkle of cheese, then roll the tortilla up, and slide it to the end of the pan. Repeat with each tortilla until the pan is full. May need an 8×8 pan as well to use all of the tortillas.
When all the tortillas are filled, pour the remaining white sauce over the rolled tortillas. Sprinkle cheese over the top and bake at 325 for 20-30 minutes, or until hot and cheese is melted and bubbly.
Serve warm, with sour cream, guacamole, salsa, pico de gallo, etc.
http://eatitandsayyum.com/red-and-white-swiss-enchiladas/
I eat ALL Mexican food with sour cream, but you can top these with your favorite toppings.  (Guacamole, salsa, cilantro, pico de gallo, etc.)