Cheesy Alfredo sauce poured over tender, sweet, red peppers, tasty chicken,  and pasta.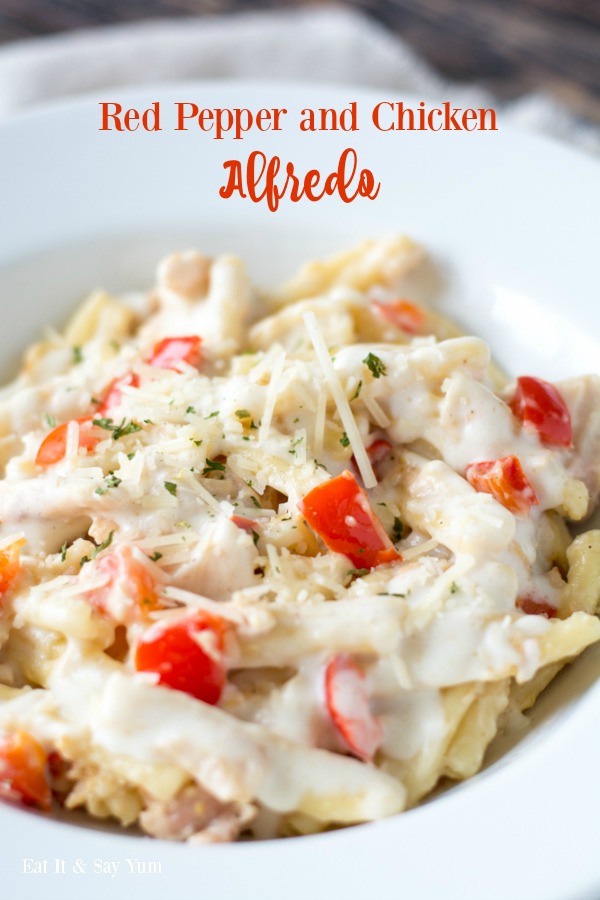 This pasta is SO delicious!  I had to pat myself on the back for this one.  *wink wink*
The challenge ingredient in this months Monthly Ingredient Challenge was peppers.  Any kind.  I chose these lovely, sweet red peppers.  I love their flavor.  And their color.  And I think they look amazing with the white alfredo sauce.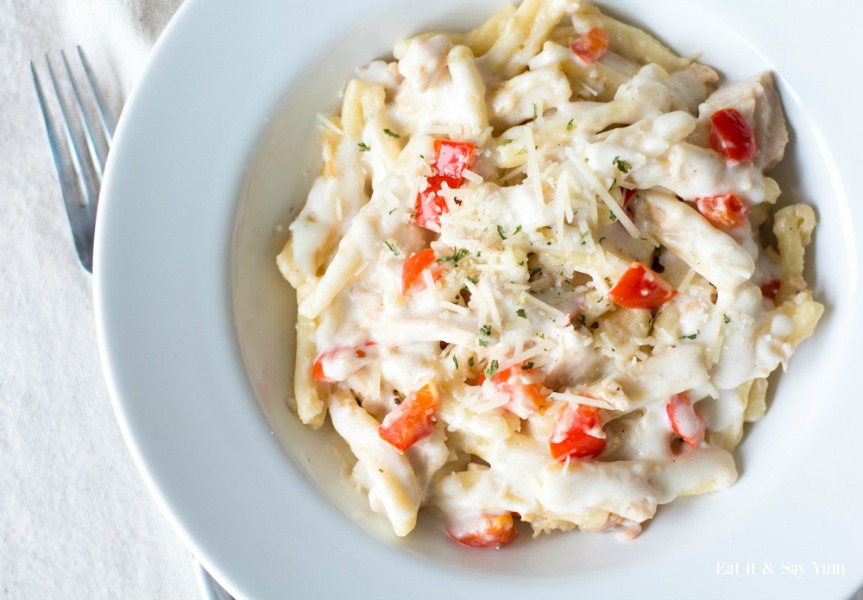 This dish is really like a whole meal.  It has shredded chicken to make it hearty, and appealing to men.  Plus peppers, pasta, and sauce.  Yum.
I used leftover rotisserie chicken for this, because I LOVE that stuff!  It makes my life easier.  However, feel free to start with raw chicken breasts and cook them yourself.
The recipe calls for some optional crushed red pepper flakes.  Those ARE optional.  They are spicy- not the same red pepper as the bell pepper that is also in the recipe.  Feel free to adjust the amount of those crushed pepper flakes.   A little goes a long way, and I know how kids can be about spicy food.

Red Pepper and Chicken Alfredo
Ingredients
2 cups chicken, cooked and shredded
1 red bell pepper
salt and pepper
1 Tbs butter
1 clove garlic
1/2 tsp crushed red peppers- or less
3/4 pound pasta- cooked according to package directions
parsley as garnish- optional
For the sauce- 2 Tbs butter
3 Tbs flour
1 cup chicken broth
1 cup half and half
1/4 tsp garlic powder
1/2 cup grated parmesan cheese- plus extra for serving
salt and white pepper to taste (or black pepper can be used, too)
Instructions
Get your pasta cooking in a large pot, set a timer for it- so you know when it should be done. In a large pan, over medium heat, spray with cooking spray then add the diced red pepper. Let the peppers cook for about a minute or two, then add the cooked, shredded chicken. Season with salt and pepper, the garlic, butter, and crushed red peppers. Let these heat over low heat, until ready to serve.
In a medium pot, using the ingredient from the sauce list, add the butter and let melt over medium-high heat. Once melted, but not browned, add the flour and whisk until smooth. It should be thick. Slowly add the chicken broth while whisking. Keep whisking until smooth. Slowly add the half and half, whisk until smooth. The mixture should still be hot, and starting to bubble when you aren't constantly whisking. You can turn the heat down to medium if the sauce is too hot, or sticking to the pot.
Add the garlic powder, and parmesan cheese to the sauce and whisk to combine. Taste the sauce and add salt and pepper as needed. I like to use white pepper, but black will work, too. Once the three components are done, All them all to a large serving bowl, the drained pasta, the chicken and peppers, then the alfredo sauce. Sprinkle with more cheese and garnish with parsley if desired. Serve while hot.
To reheat leftovers, add a small amount of milk over the pasta before reheating so the noodles don't stick together.
http://eatitandsayyum.com/red-pepper-and-chicken-alfredo/
Check out these other yummy recipes from The Monthly Ingredient Challenge.

You might also like: