Hello!
I'm so glad you are here!  
I know you are looking for fun, festive recipes for Valentine's Day, and these Red Velvet Sugar Cookies are perfect for that.
My husband LOVES red velvet cake.  For the first 8, or so, years of our marriage that was what he picked for his birthday cake.  Every. Time.  (He has branched out a little over the past few years.)
Anyway, what's not to love about red velvet?  Am I right?!
Red Velvet is a chocolate cake, but it has a light chocolate flavor, similar to a Devils Food cake.  But it also has a distinct tangy flavor from buttermilk.  Without those qualities, you would really just have a red cake.
Today, I am combining those distinct qualities, along with the red, into a sugar cookie.
Sometimes ideas just pop into my head. It's like angels singing 'Ahhhhhhh!!"  Such was the case with these cookies.  But then comes the part of actually bringing my idea to fruition.
Luckily, these cookies worked out.  Better than I had even imagined.
They really do capture those flavors.  And my husband loved them.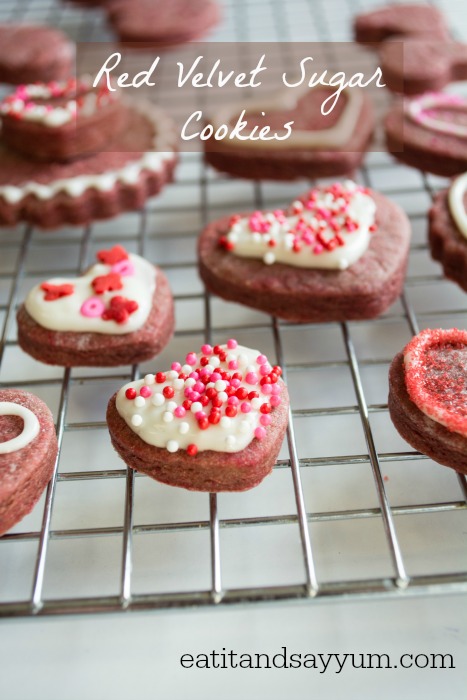 My kids loved them, because they got to frost and decorate them.
Ok, I enjoyed that part, too.
The frosting is a cream cheese frosting, because hey, it's red velvet!  Those two just go together.
But I wanted to pipe the frosting on, so it's kind of a cross between a frosting and a glaze.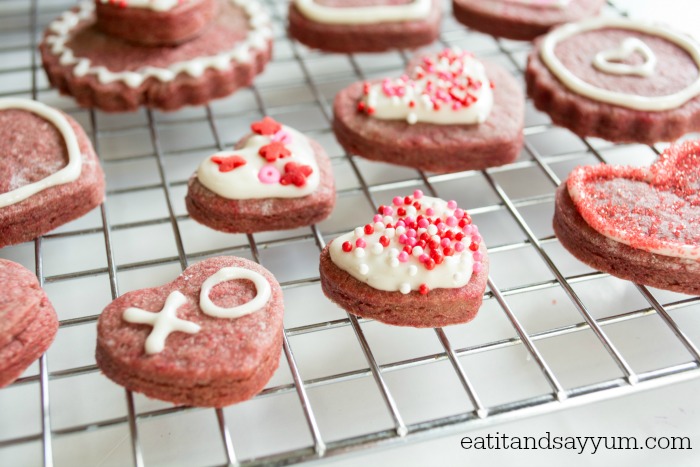 You could have lots of fun decorating these.  I keep thinking of conversation hearts.  'Be Mine' would have been cute.  Or you know, the oh so modern, 'Text Me.'   (Insert eye roll.)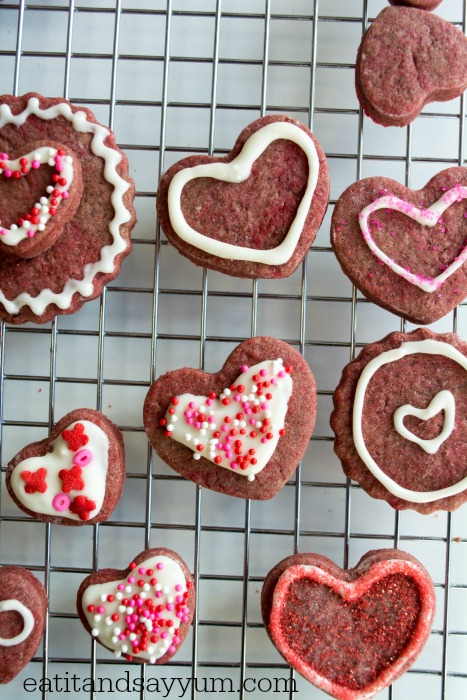 Anywho, these cookies are obviously perfect for Valentine's Day.  But I say why not any day?!  Or even Christmas?  They are a red cookie after all.
Oh, and to get the red color you obviously use food coloring.  Because I had my daughter helping me we used part red and part pink coloring for these.  If you want a deeper red color, use more food coloring.  If all that red dye #40 business doesn't bother you.  😉
Note:  You can substitute sour milk for the buttermilk.  I'm not talking about milk that has expired, I mean use regular milk and add some vinegar to it.  For this recipe you need 2 Tbs of buttermilk, so you could add 1 tsp vinegar and then fill the rest of the 2 Tbs with milk.
Ingredients
Cookies: 1 cup butter- soft
1 cup sugar
1 1/2 tsp vanilla
1 egg
1 1/2- 2 tsp red food coloring
2 Tbs buttermilk or sour milk (see note in post)
2 3/4 cup flour
1/4 cocoa powder
1 1/2 tsp baking powder
1/2 tsp salt
Frosting: 4 oz of cream cheese
1 1/2 cups powdered sugar
3 Tbs milk
pinch of salt
1 tsp vanilla- clear vanilla will give a whiter frosting, but regular vanilla will work if you don't mind a slightly darker color (the photos above have regular vanilla in them)
Instructions
In a stand mixer, cream together the butter and sugar till light and fluffy, about a minute. Add the egg, vanilla, buttermilk, and food coloring. Mix again until smooth. In a separate bowl add all the dry ingredients for the cookies and whisk together. Slowly add the dry ingredients to the stand mixer and mix on low until fully combined. Wrap the dough in plastic wrap and shape into a flat disc, let set in fridge for about 30 minutes.
Preheat oven to 350 degrees and roll the disc of dough (without the plastic wrap) on a lightly floured surface. Cut into your desired shapes. Bake on a greased baking sheet for 9-10 minutes. Let cool slightly, on the pan, before removing the cookies to a cooling rack. Let cool completely before frosting.
Frosting: Beat the cream cheese in a large mixing bowl with a hand mixer, or in a stand mixer. Beat till smooth. Add the vanilla and pinch of salt, beat again. Add the powdered sugar, about 1/2 a cup at a time, adding a splash of the milk when the frosting gets thick. End with the last bit of the powdered sugar. You can always add more milk if you want a runnier frosting, or less milk if you want it thicker.
Frost the cookies and decorate as desired.
http://eatitandsayyum.com/red-velvet-sugar-cookies/
What would your conversation hearts say?  Tell me in the comments.
You might also like:
Cocoa Crispy Treats for Valentine's Day