Thinking about this pasta dish makes my mouth water.
The sauce here is loaded with mushrooms, garlic, and rosemary.  It's so creamy, too.  Mmmmm.
My kids loved this pasta and sauce.  Even though some of them don't care for mushrooms, the flavor in the sauce is still so yummy.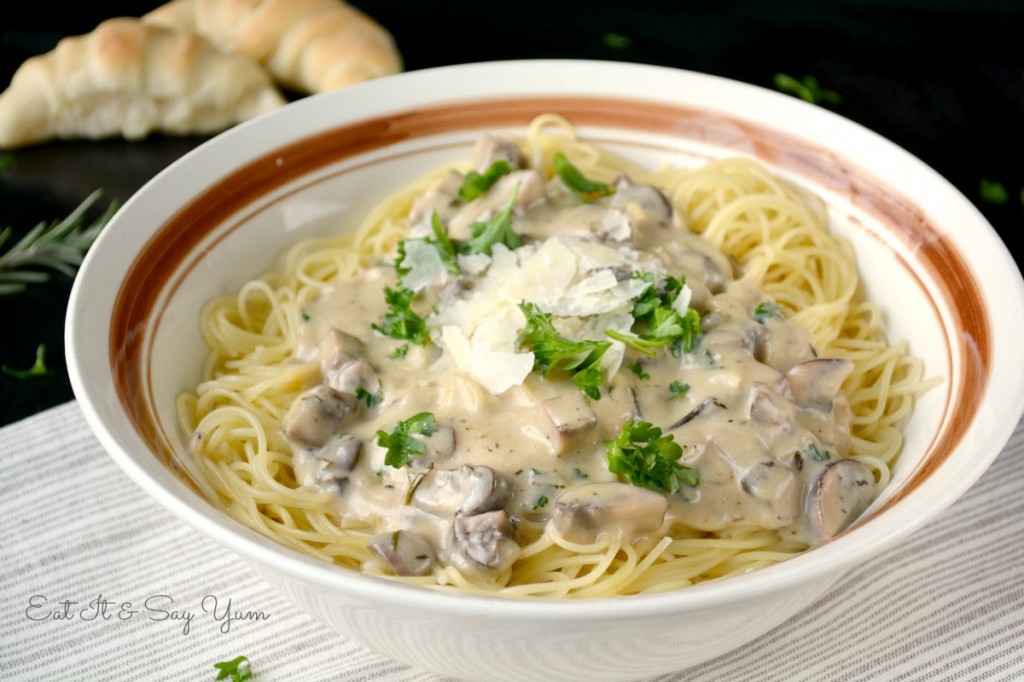 I love dinners that come together pretty quickly.  And this sauce really does that.
I sauteed the mushrooms and garlic in some butter, adding salt and pepper to taste.  I removed the leaves from a few rosemary sprigs and gave them a rough chop.  Throw those in the pan, with some thyme.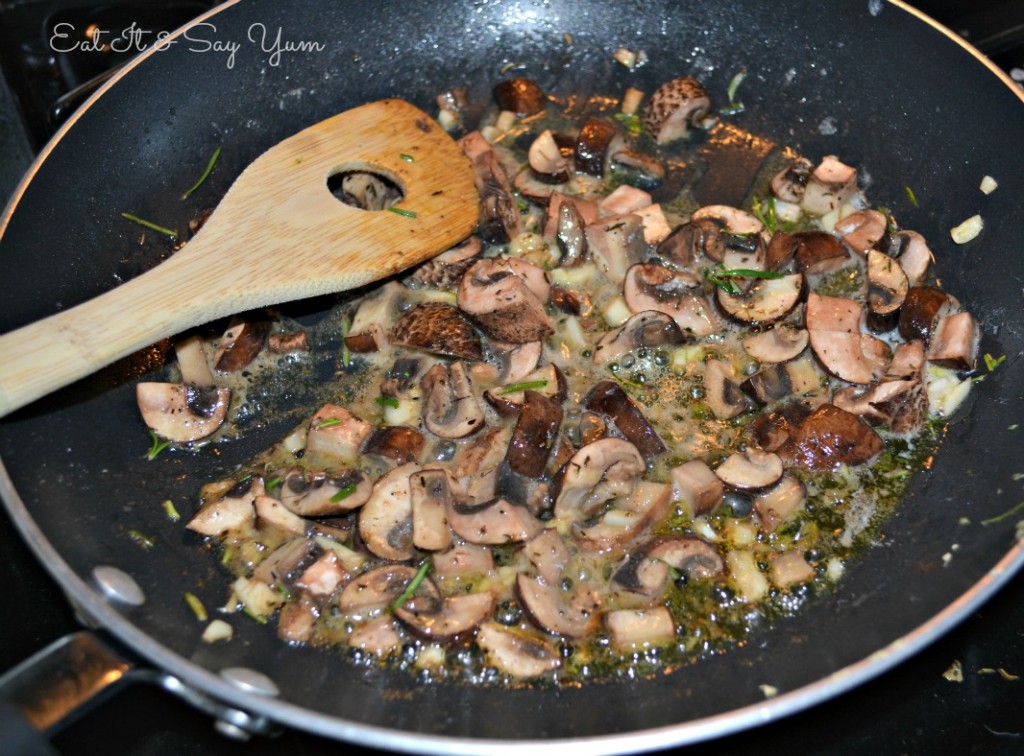 When the mushrooms start to soften I added a little flour to make a roux.  To make it saucy I used chicken broth and cream.  Slowly adding half the broth while stirring to combine.  Make sure you don't stir too vigorously, you don't want to smash the mushrooms.  Then stir in the cream, and then the rest of the broth.  Let the sauce simmer, stirring occasionally.  It should thicken, and become smooth, except for the mushrooms- obviously.  At this point I like to add some parmesan cheese, but you don't have to.  Just sprinkle it on top and stir it in.  Do the same with some fresh chopped parsley.
Then pour the sauce over some hot noodles.  I tossed the noodles with the olive oil to prevent them from sticking to each other.  I LOVE angel hair pasta.  It's my favorite.  But you can use whatever type of noodles you want.  Add a little more chopped parsley for a beautiful pop of color, and some extra flavor.
Rustic Mushroom and Garlic Pasta
Ingredients
3 Tbs butter
1 Tbs olive oil
4-6 mushrooms (any kind- I used Baby Bellas)
3 cloves of garlic- minced
salt and pepper to taste
1/4 tsp dried rosemary, or 2-3 sprigs of fresh rosemary- stems removed
1/4 tsp thyme
2 Tbs fresh parsley, chopped (1-2 tsp if dried)
2 Tbs flour
1 cup chicken broth (or vegetable broth)
1/2 cup cream (or milk)
1/4 cup grated parmesan cheese- optional
8-10 oz of pasta- cooked
Instructions
Remove the stems from the mushrooms then wash and chop them. Mince the garlic, remove the stems from the rosemary and give the leaves a rough chop.
Saute the mushrooms and garlic in the butter, about 2 minutes. Add salt and pepper to taste, and the rosemary and thyme. Stir together and let cook another minute. Add the olive oil, when it's hot add the flour. Carefully stir to combine so it makes a roux, or a thick paste. Let flour cook for 1 minute. Slowly add half of the broth, while stirring. The roux should get thinner and be smooth, incorporating the broth in with it. Once the sauce is smooth again, slowly add the cream, while stirring. Repeat with the remaining broth.
Let the sauce simmer and begin to thicken. Simmer about 2-3 minutes, stirring frequently. During the last minute of cooking time, add the parmesan cheese and stir, then add half the fresh chopped parsley.
Serve over hot pasta noodles. Garnish with additional cheese and remaining parsley.
http://eatitandsayyum.com/rustic-mushroom-and-garlic-pasta/
This sauce would also be amazing on some breaded chicken breasts.
Click here to see where I link up.