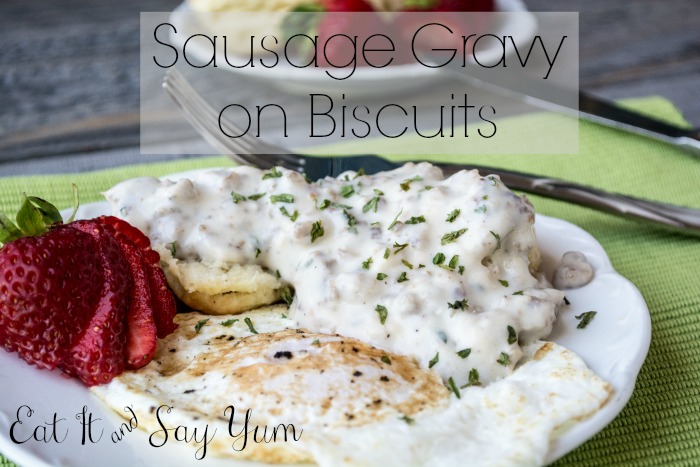 One of the first foods I learned to cook was biscuits and gravy.
I learned by adding a little of this and a pinch of that.  That's way we cooked.
So, for at least 15 years now, this dish has been one of my specialties.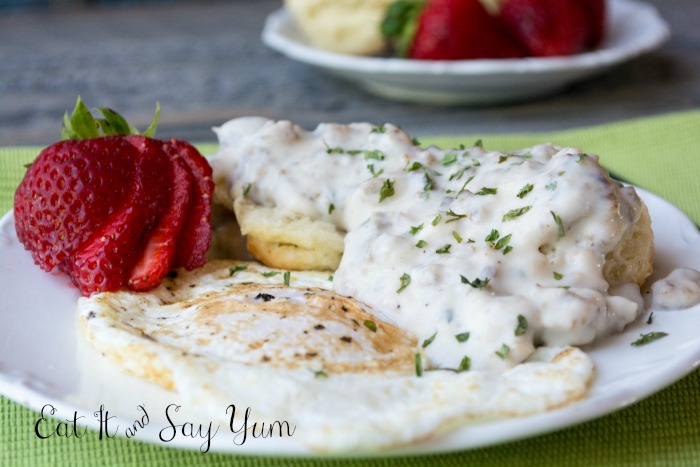 I like to add a little heavy cream, if I have it, when adding the milk.  It gives the gravy a nice richness, and makes it even creamier.  If you choose to do this, subtract the amount of cream you are using from the amount of milk called for in the recipe.  For example, the recipe calls for about 2 1/2 cups of milk.  So if you use 1/2 cup cream, then only use 2 cups of milk.
Does that make sense to anyone besides me?
Anyway, give these a whirl.  If the gravy turns out too thick, add more milk.  If it is too thin add a little more flour (I'm talking a tsp at time- don't go overboard).  Make it the consistency you like.
I like to eat these with a fried egg on the side.  The runny yolk of the egg just tastes amazing with the gravy and biscuits.  Mmm mmm mmm.
Sausage Gravy on Biscuits
Ingredients
1 lb pork sausage (uncooked, not in links or patties)
3 1/2 Tbs flour
2-3 cups milk
1 1/2 tsp parsley
1/4 tsp garlic powder
1/4 tsp onion powder
salt and pepper to taste
Biscuits
Instructions
Brown the sausage in a large pan. Once cooked, add the flour and stir to combine. The flour should mix in completely. Slowly add the milk (and cream, if you so desire). Stir until incorporated.
Add the parsley, garlic powder, onion powder, and salt and pepper. Bring to a boil and let the gravy thicken. You should be able to drag your utensil through the gravy and see the bottom of the pot. Add more milk until the consistency is how you like it. The gravy will thicken more as it cools. (2 1/2 cups of milk seems about perfect, but if it is too thick slowly add more milk, 1-2 Tbs at a time, and stir.)
Serve over warm, halved biscuits. I like these with a fried egg on the side.
http://eatitandsayyum.com/sausage-gravy-on-bisquits/
I use my favorite Buttermilk Biscuits with this gravy.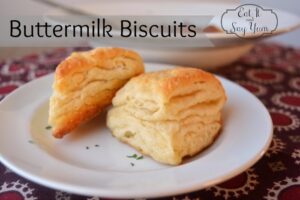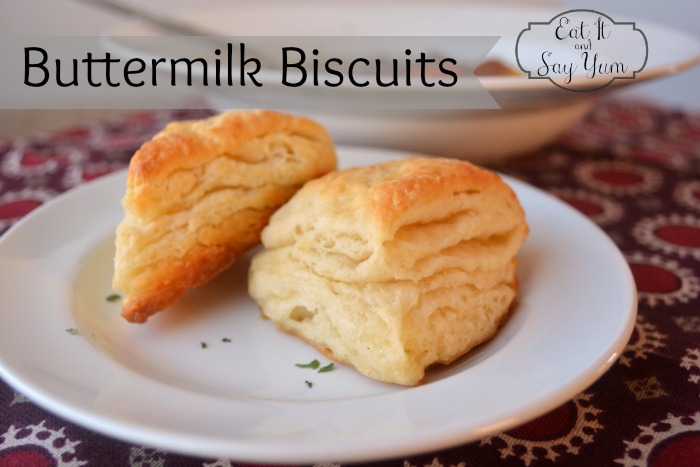 You might also like: