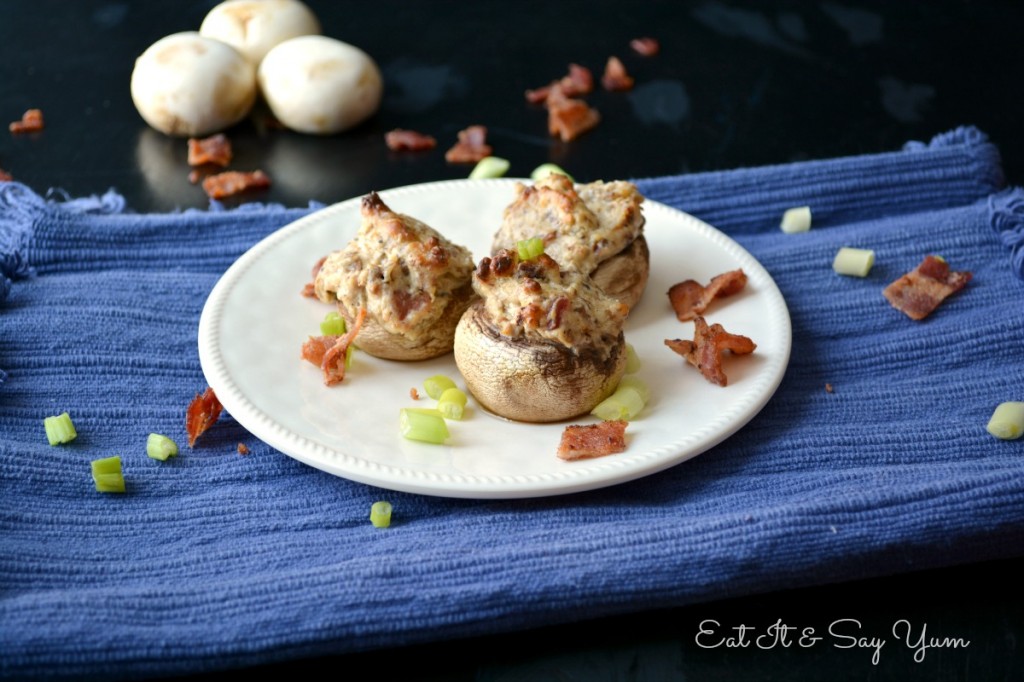 Looking for an appetizer that is full of flavor, and sure to be a hit at your next party?
How about these sophisticated, Savory Stuffed Mushrooms.
The filling in these mushrooms is to die for.  Cream cheese, parmesan cheese, and BACON!  Or not.  If bacon isn't your thing, then leave it out.  There is still plenty of flavor, and even a little heat.
This appetizer comes together pretty easily as well.  (Especially if your get your special someone to do the prep work for you…  thanks honey!)
Get your bacon cooked and crumbled, or use leftover bacon, or even bacon bits- as long as they are REAL bacon bits.
Prep the mushrooms.  Chop and saute the stems in some butter and garlic.  Yum.
Do you see how you really can't go wrong with these?
Once the filling is all ready you just fill the caps and bake them.
All your party friends will be happy.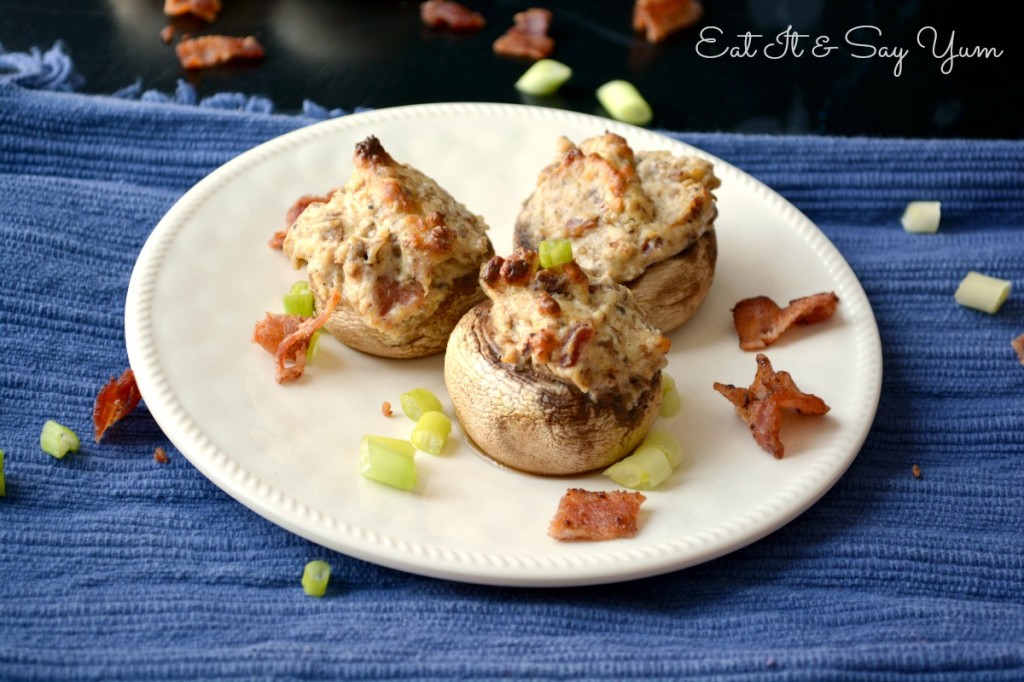 Give these a try, and let me know what you think!
Ingredients
20-25 white mushrooms
6 oz cream cheese- softened
1 Tbs butter
1/4 tsp cayenne pepper
1/4 tsp onion powder
fresh ground salt and pepper
1 Tbs garlic- minced
3 slices bacon- cooked and crumbled (optional)
1/4 -1/2 cup parmesan cheese
Instructions
Wash mushrooms, and remove stems. Place the mushroom caps hole side up in a baking dish. Finely chop the stems and saute them in a pan over medium heat. Cook the chopped stems with the butter, cayenne pepper, garlic, and onion pepper. Add salt and pepper to taste. Cook until soft and most of the moisture has evaporated, about 3-5 minutes. Remove from heat and allow to cool slightly.
Pre-heat oven to 375 degrees. In a medium mixing bowl beat the cream cheese til smooth. Add the parmesan cheese and beat again to combine. Add the mushroom stem mixture and the bacon, beat again.
Fill each mushroom cap with the cream cheese mixture and return them to the baking dish. Bake the mushroom caps at 375 degrees for 20 minutes. Then turn on the broiler to crisp the tops. Watch carefully so you don't burn them.
Serve hot out of the oven.
http://eatitandsayyum.com/savory-stuffed-mushrooms/
I adapted this recipe from sisters recipe.  Thanks, Kayla!  They were awesome!!
Linking up with Love, Pasta, and A Tool Belt.