Is anyone out there still sticking with their weight loss resolutions??
If so, this post is for you!  And everyone else, really.
I love home baked goods.  Any time I try and do any sort of diet, it's the baked goods that eventually ruin my plans.
If you are like me, then this Banana Bread is coming to the rescue!
This is my skinny (read: low-fat) version.  Still has great flavor, and sugar, but no oil, or butter, etc.
Don't get me wrong, I have nothing against butter.  But when you are trying to cut back, it's nice to have an option to curb those cravings.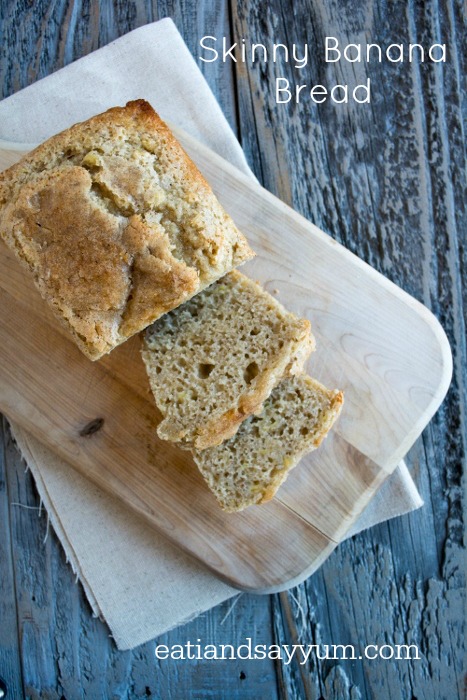 I gave this to my husband and he said he never would have guessed that is was low-fat.  And my kids scarfed it down as well.  Which is fine, because this recipe makes two big loaves.  Or 1 big loaf and 5 mini loaves.  Which is what I made.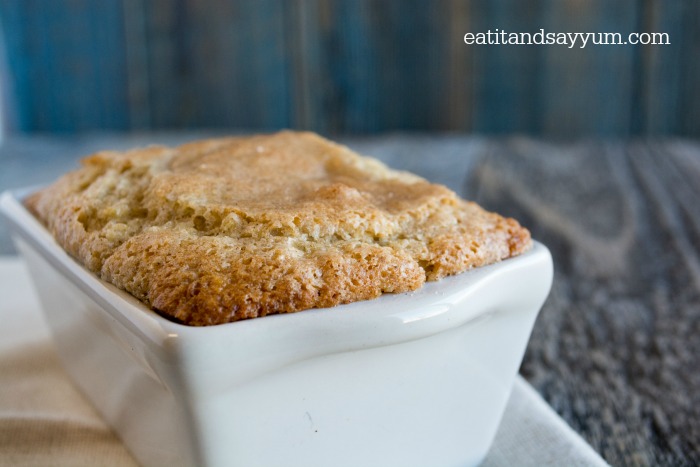 With such a big batch, this makes a great recipe for gifting some to friends.  I"m sure they'll love you for it.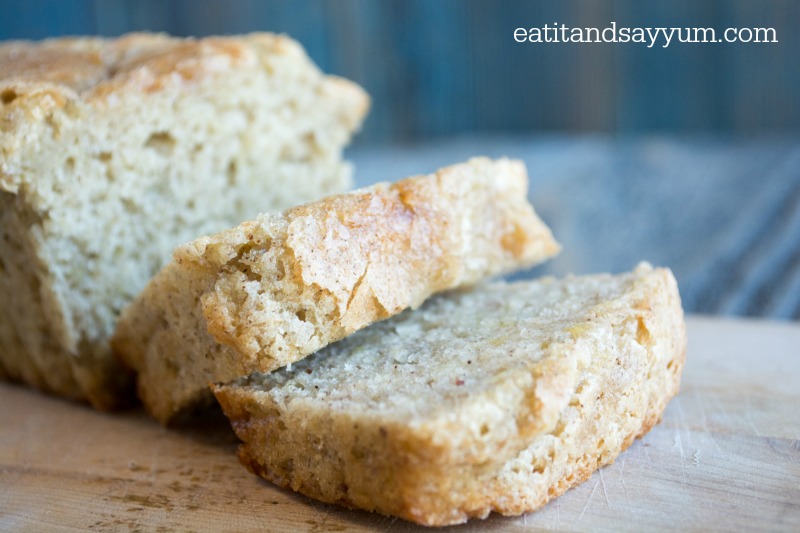 And even though this bread doesn't have all the fat in it, that didn't stop me from spreading some butter on it and warming it up before heating.  Even without the butter, who can resist some warm banana bread?!
(Skinny) Banana Bread- Resolution Friendly
Ingredients
5 bananas
1 cup apple sauce
4 eggs
1 cup plain yogurt
1 tsp vanilla
4 cups flour
2 1/2 cups sugar
1 Tbs baking powder
1 tsp baking soda
11/4 tsp salt
1 tsp cinnamon
1/2 tsp nutmeg
1/2 cup chopped nuts- optional
extra cinnamon and sugar
Instructions
Preheat oven to 350. In a medium-large microwave safe bowl, add the bananas and microwave for 2 minutes. Mash the bananas and microwave for 1 minute more.
In a separate large mixing bowl add all the dry ingredients (flour, sugar, baking powder, baking soda, salt, cinnamon, and nutmeg). Whisk and set aside.
To the mashed bananas add the yogurt, apple sauce, vanilla, and eggs. Stir to mix the eggs and combine everything.
Add the wet ingredients to the dry ingredients and stir to mix. Mix/ fold the ingredients together just until fully combined, don't over mix.
Grease loaf pans on the bottoms and half up the sides, fill 3/4 of the way up with batter. Makes about 2 large loaf pans, or 1 large pan plus about 5 mini pans. All depending on the size of the pans.
Sprinkle some extra cinnamon and sugar over top of the batter in the pans.
Bake large pans for 50 minutes, or until a toothpick inserted near the center comes out mostly clean. Mini pans bake for about 30 minutes, or until a toothpick comes out nearly clean.
Cool slightly before removing bread from the pans. Loosen the sides and gently invert to get the bread out. Let cool right side up on a cooling rack. Best eaten while warm.
http://eatitandsayyum.com/skinny-banana-bread-resolution-friendly/
You might also like: