If you want a tender, fall apart, roast- try slow roasting it.  This is the same method I use for cooking roast beef.    The meat is so tender it just falls apart.  I like to buy boneless roasts, but you can use a bone-in roast, just remember the bone does take up some of the weight.  So if the package says you are buying a 3 pound bone-in roast, you aren't actually getting 3 pounds of meat.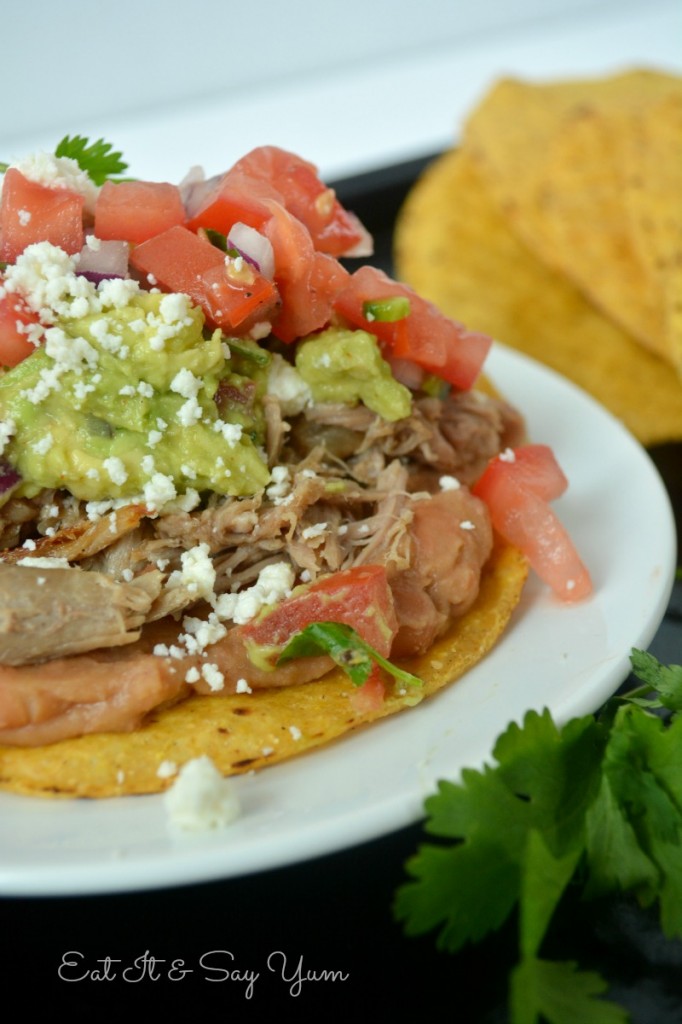 This recipe is SO easy!  It's not done in a crock pot, but in the oven.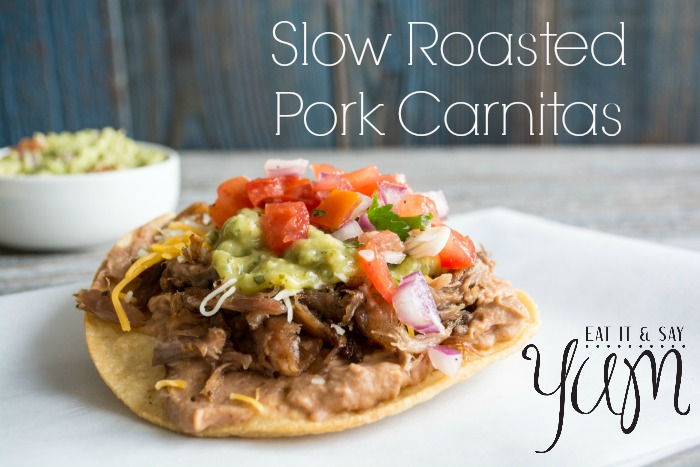 You get the roast all wrapped up in foil, and then stick it in the oven for several hours.  Slow roasting, baby.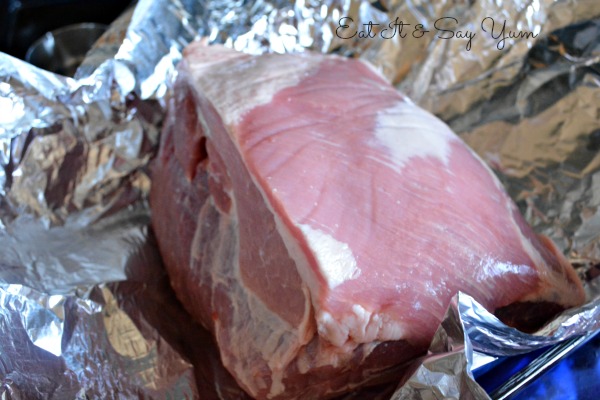 Mix up the ingredients for the rub.  (You can double the rub recipe if you are using 4 or more pounds of roast.)  Top with sliced onions and oranges.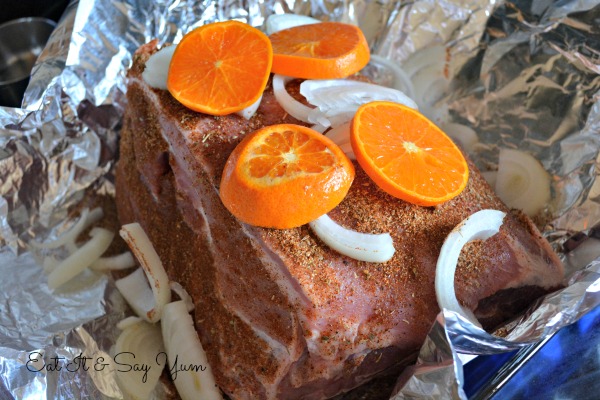 Cook for several hours, til tender.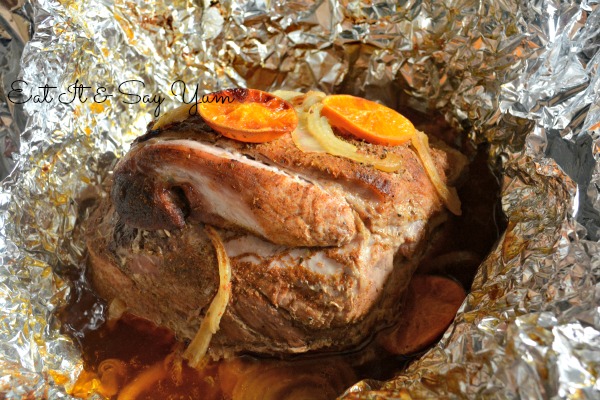 The meat is ready when it is super tender.  It should easily pull apart.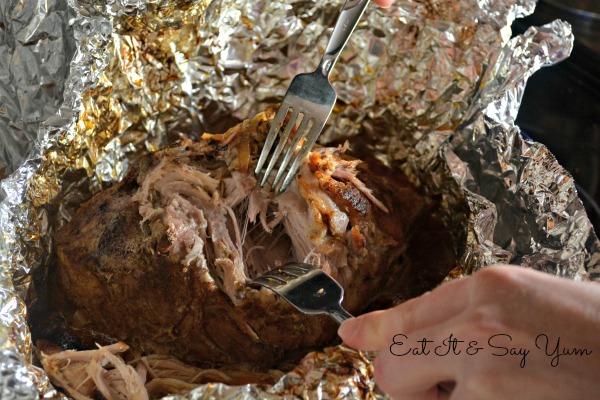 You can shred it and use it in SO many ways.  In this post, I am showing you the same meat on tostadas, and on tacos.  If you aren't feeding a crowd you can easily get two meals out of one roast.  Have tostadas one night, and use the leftovers in tacos a few days later.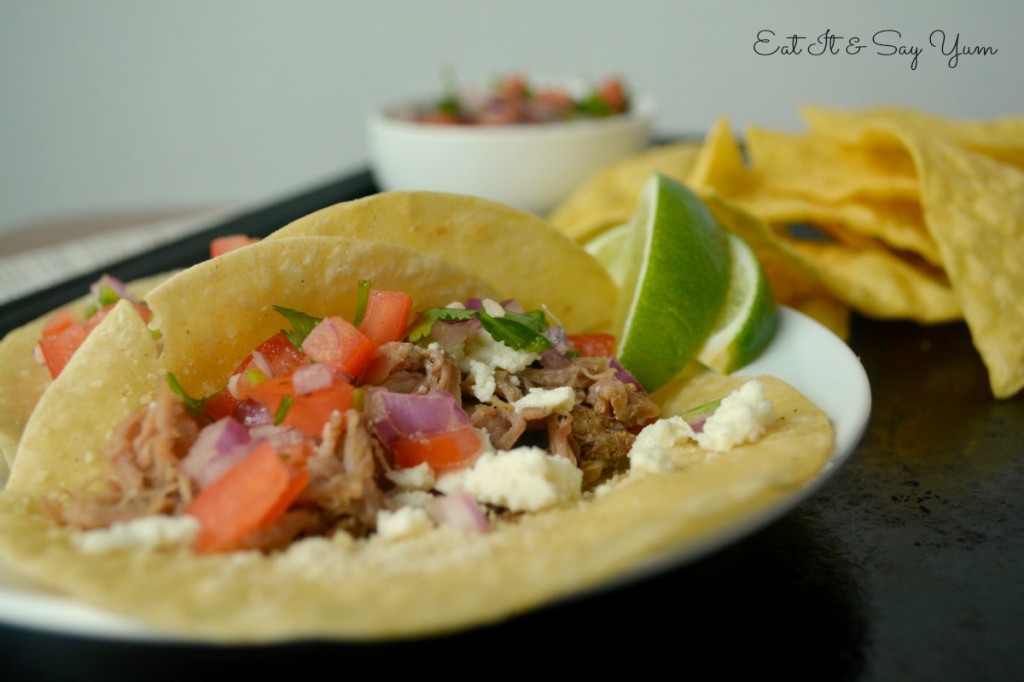 It's pretty heavenly topped with guacamole, and pico de gallo, cheese (I love queso fresco!), a squirt of lime, etc.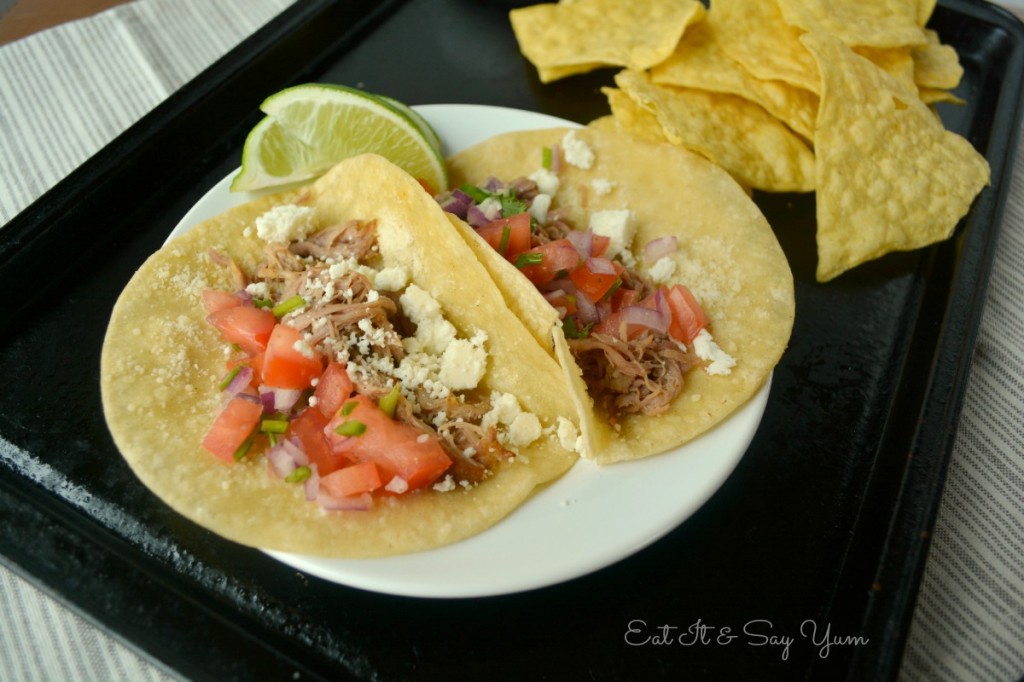 The rub used to season the roast is my own creation, and it has a little secret ingredient… a dash of cinnamon.  Trust me, the end result will NOT taste like cinnamon, it's just the combination of all the seasonings is great.
Ingredients
3-5 lbs Pork Shoulder Roast (Pork Butt Roast)- thawed- I prefer boneless, but bone-in works well, too.
1-2 oranges- sliced, peel on
1 onion- sliced
Carnitas Rub (double these for roasts over 4 pounds): 1 tsp chili powder
1 tsp seasoning salt
1/4 tsp pepper
2-5 dashes chipotle chili powder
1/4 tsp garlic powder
1/2 tsp oregano
1/2 tsp cumin
1 dash cinnamon
Instructions
Preheat oven to 350 degrees. Place two sheets of foil (each sheet should be large enough to wrap around whole roast) perpendicular to each other, over a 9×13 pan. Place the roast on the top sheet of foil, fat side up. Sprinkle all of the rub over the roast. Top with the sliced onions and oranges. Seal the top layer of foil around the roast, then seal the second layer of foil around the roast.
Put pan with roast in the oven. Let cook for a minimum of 3 hours. Then add 1 hour per pound over 3 pounds. (4 pounds= minimum of 4 hours, 5 pounds= minimum of 5 hours, etc.)
After allotted cooking time, remove pan from oven and carefully unwrap the foil. Try shredding the roast with two forks, should be tender enough to easily pull apart. If not, put back in oven for another 30-60 minutes. When roast is tender and easily pulls apart, use two forks to shred the roast, while removing any fat you come across. Also, remove and discard the oranges.
Serve warm on tacos, tostadas, burritos, enchiladas, etc. Top with your favorite toppings.
http://eatitandsayyum.com/slow-roasted-carnitas/
I don't know about you, but my mouth is watering right now.
These would be perfect entrees for Cinco De Mayo!  If you can wait that long to give it a try.  😉
Click here to see where I link up.
And don't forget to like Eat It & Say Yum on facebook, and subscribe via email.  I know you don't want to miss out on any future posts, right?!
 You might also like:
Avocado and Tomatillo Green Salsa