Who's ready for the perfect ginger cookie?
These are almost a cross between ginger snaps and snicker doodles.  They are so soft and chewy.  Rolled in cinnamon and sugar.  Full of rich molasses flavor.  And have the ginger and cinnamon spice of a ginger snap.
I say all that equals… perfection.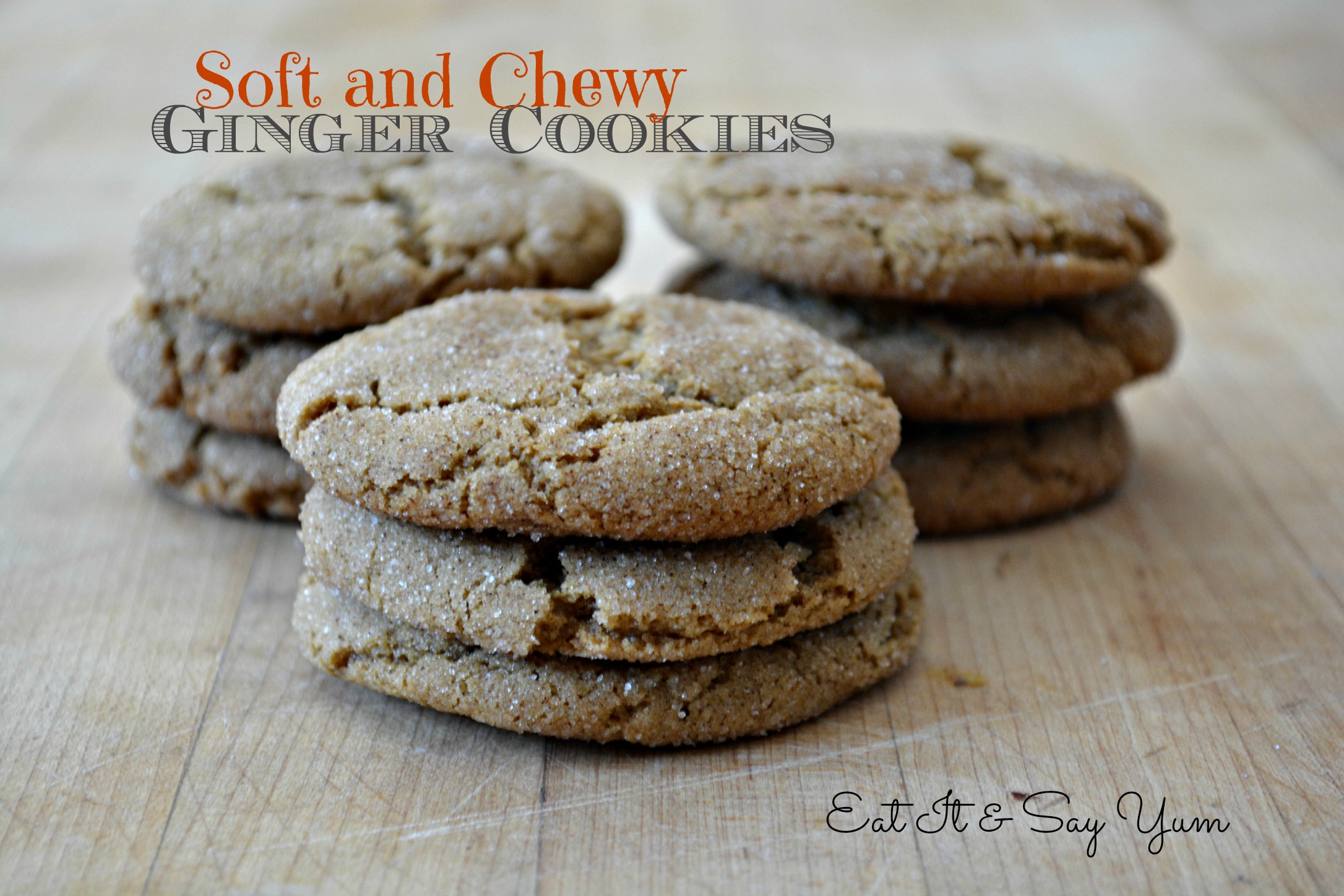 These cookies are made with molasses and brown sugar which gives them that rich, dark color.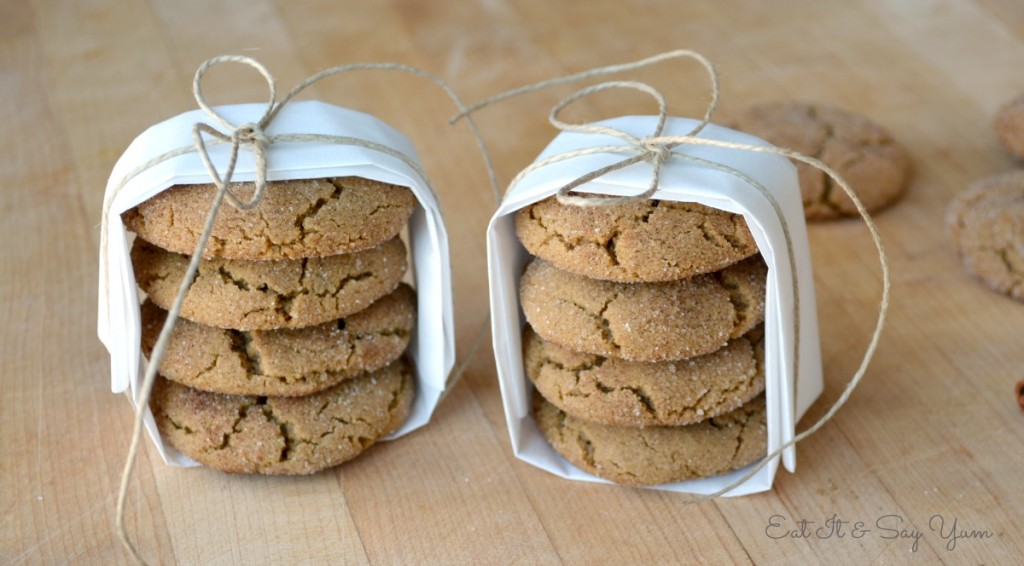 I found this recipe at Free Time Frolics.  I tweaked it a little.  You can find my version of the recipe at the bottom of this post, but if you click on over to Free Time Frolics you can see a great tip to use when measuring the molasses.
After creaming the butter and sugars, I recommend scraping the bowl.  Then scrape it again after the addition of molasses and eggs.
The molasses is thick and sticky and I noticed it didn't want to mix in on the bottom as well.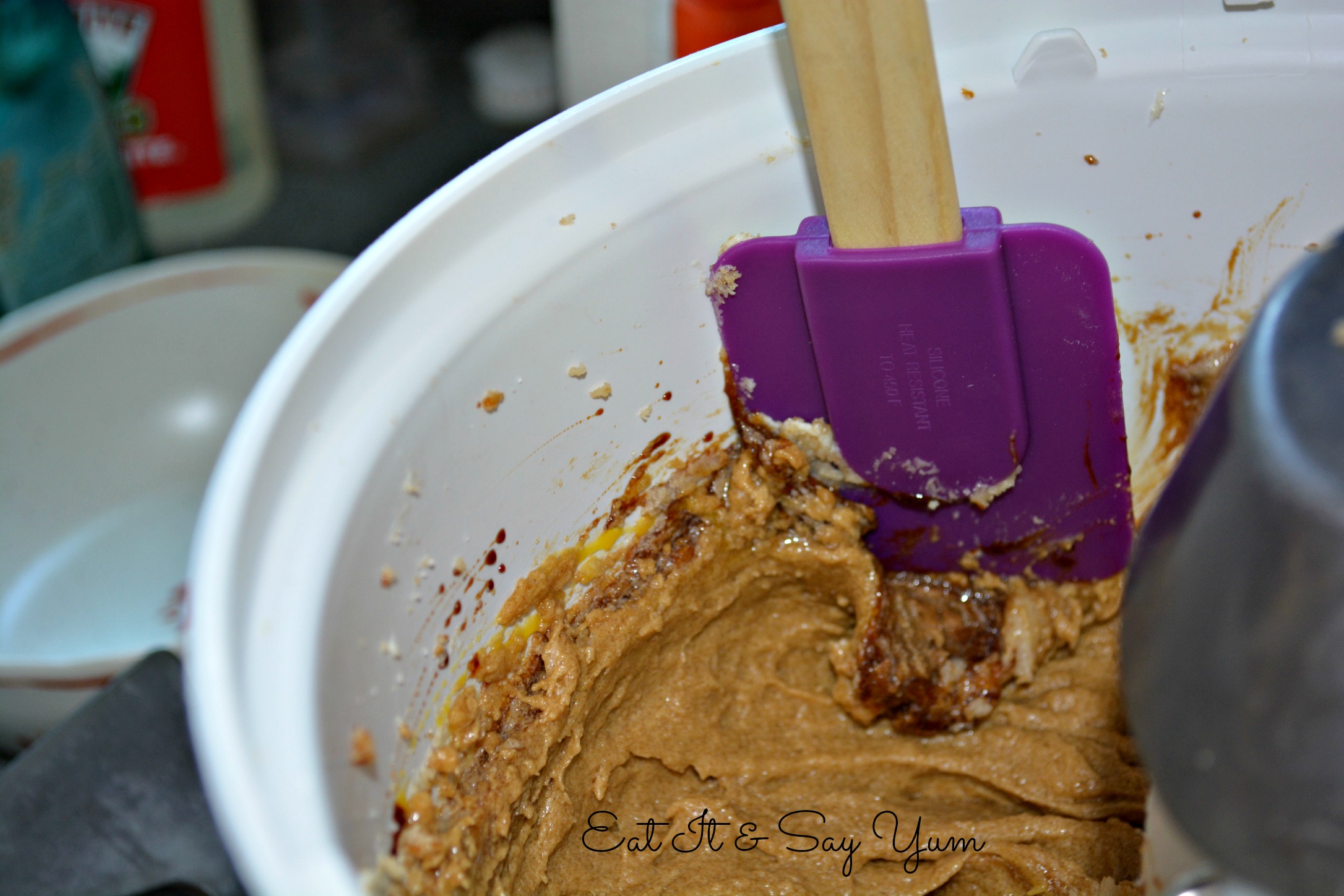 So scrape the side of the bowl and you'll be good to go.  Also, I had to mix the in the flour a little longer than other cookie recipes.  Just keep mixing until all the flour is combined.
Roll dough into 1 inch balls, then roll them in the cinnamon sugar mixture.  Coat all sides.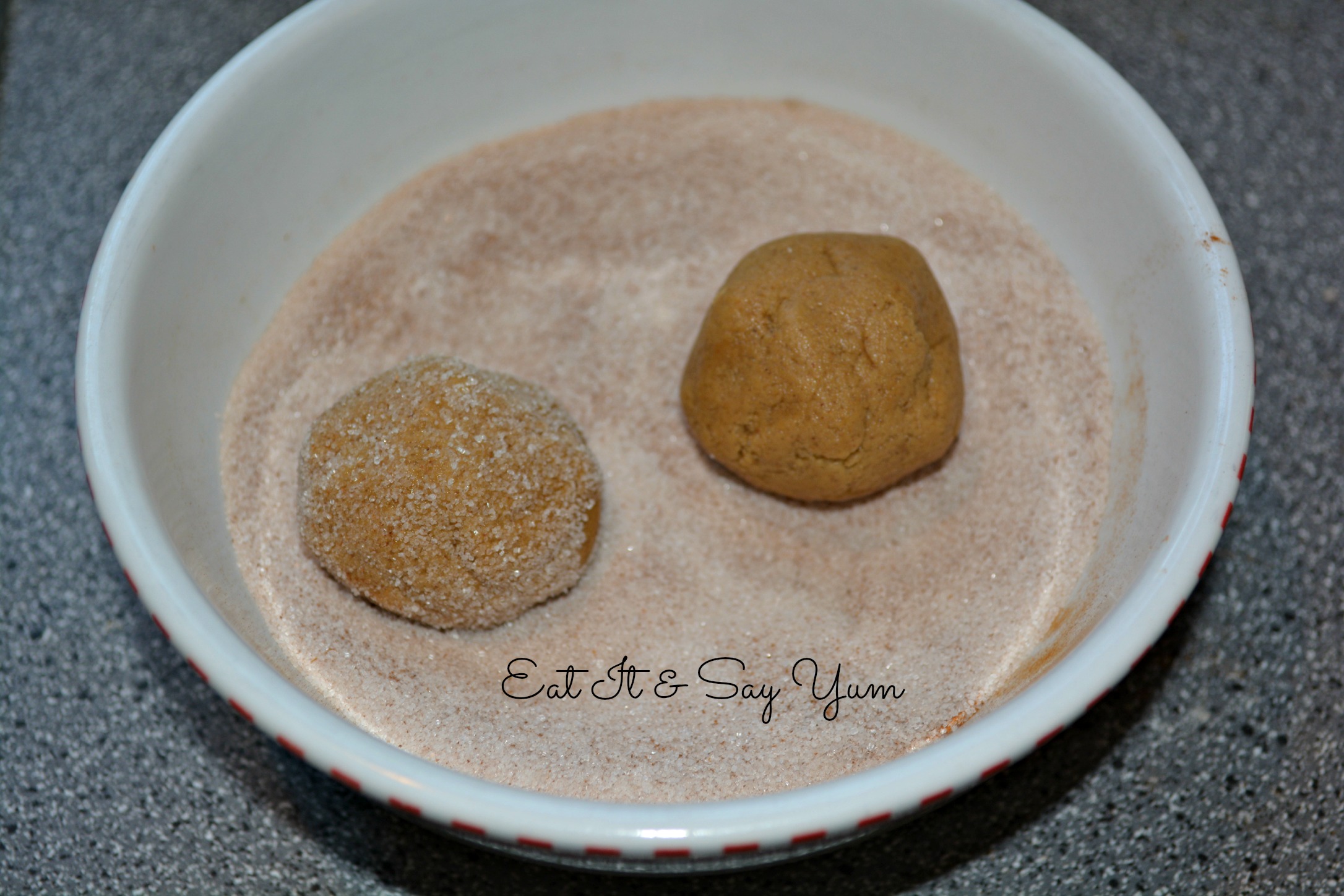 Bake at 350 degrees for 10 minutes.  Remove from oven and let sit on the pan for a minute or two, then remove to a cooling rack.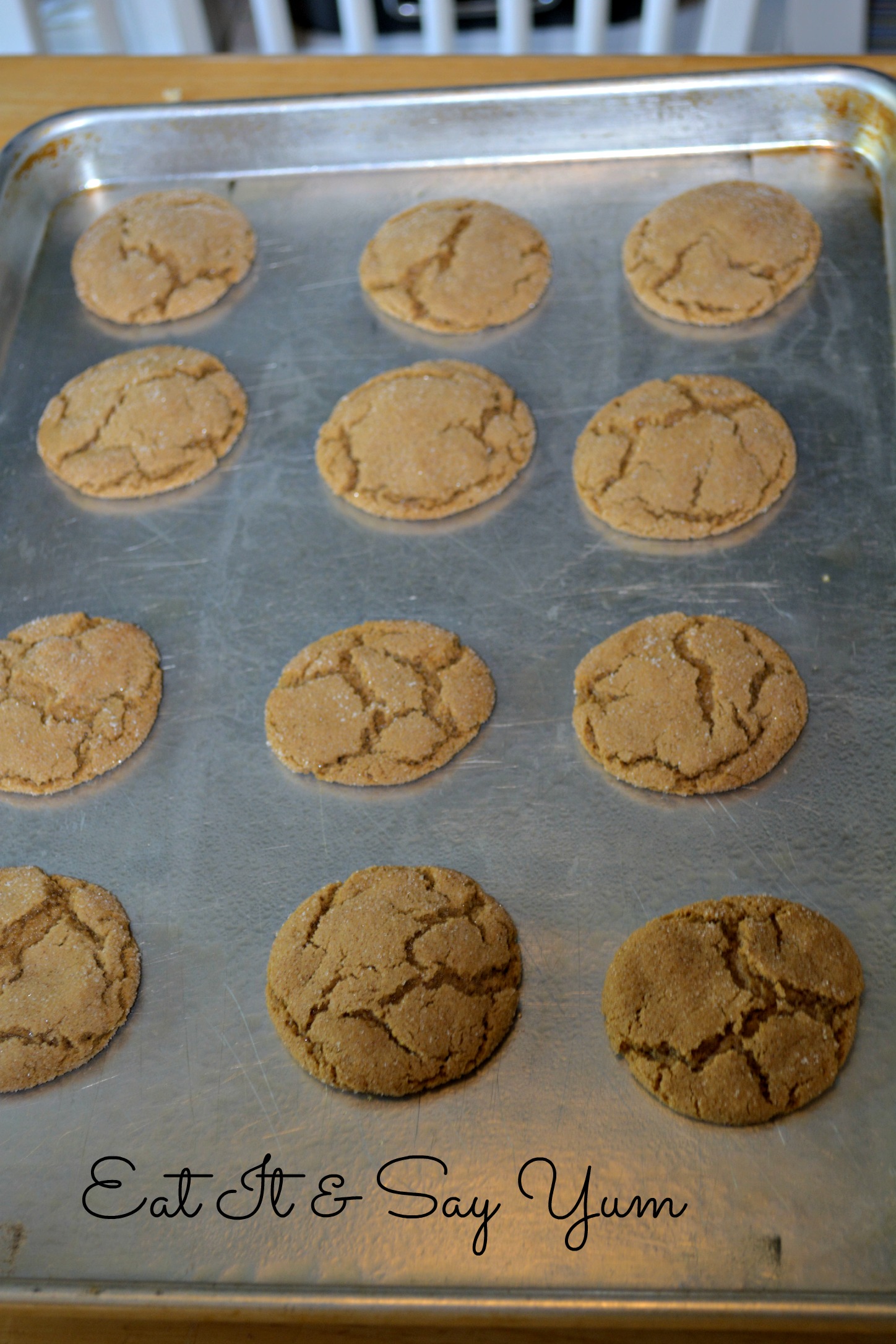 I'm thinking these cookies would be great for a holiday cookie exchange.  However, I could eat them anytime.  The cinnamon in them has been making my house smell so good.  You walk inside and can instantly tell I've been baking.  Mmmmm…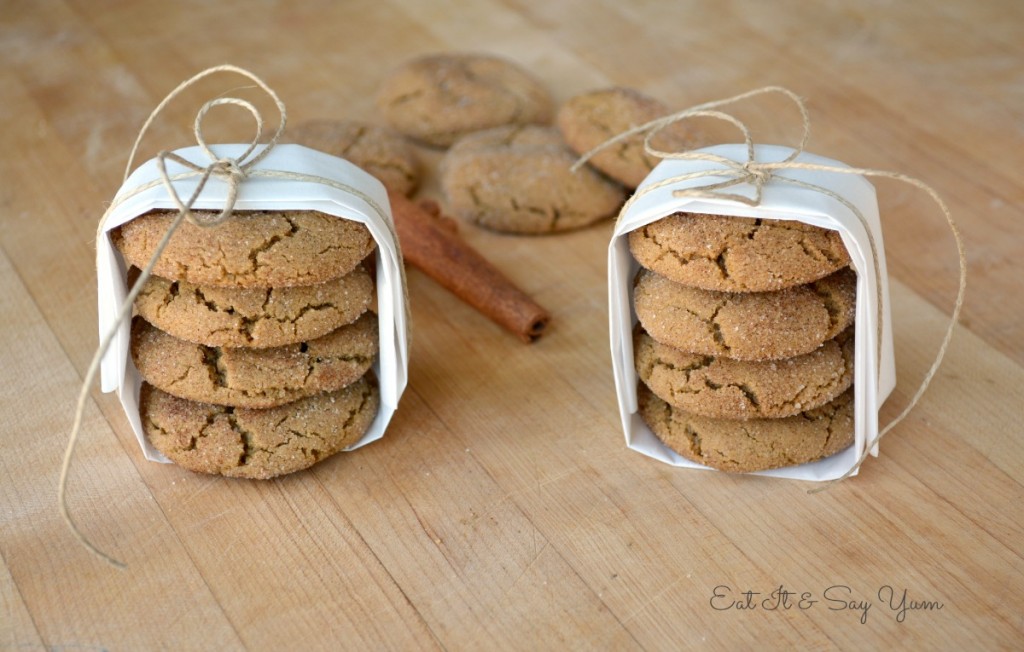 Edit: The above photo was a batch made during the dry winter months.  The photo below is from the humid summer months.  The winter batch turned out thicker, while the summer batch flattened out more.  See how much the humidity can affect your baking?!  Both batches still tasted amazing.  🙂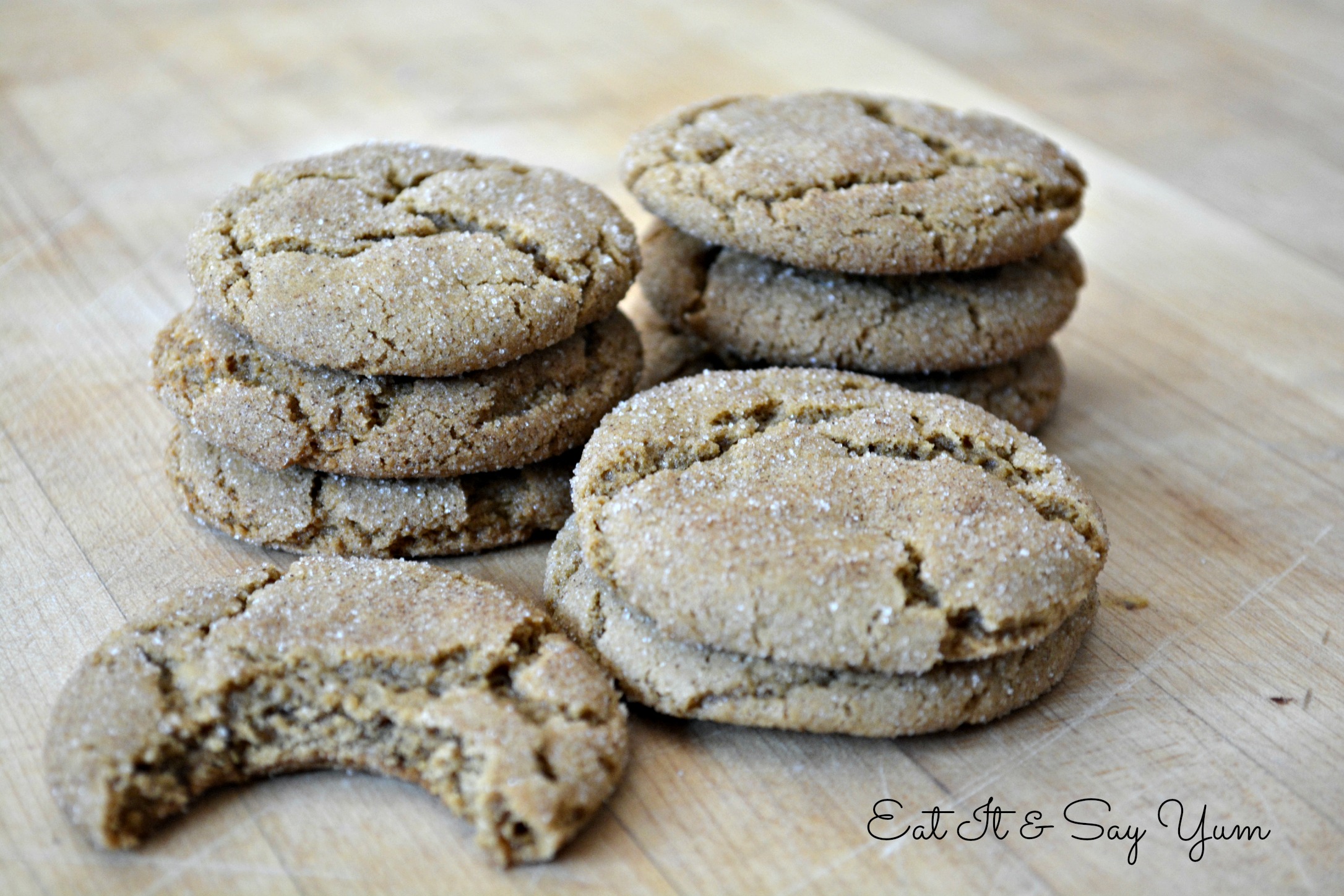 Soft and Chewy Ginger Cookies
Ingredients
1 cup butter
1 cup brown sugar
1 cup white sugar
1/2 cup molasses
2 eggs
3 tsp baking soda
1 tsp salt
1/2 tsp ground ginger
2 tsp cinnamon
4 cups flour
Extra cinnamon and sugar to roll cookies in. (About 1/2 cup sugar and 1 tsp cinnamon)
Instructions
Preheat oven to 350 degrees.
In large mixing bowl beat butter and both sugars, for about 1 minute. Scrape the sides of the bowl.
Add the molasses and eggs, beat again. Scrape the sides of the bowl again.
Then add baking soda, salt, ginger, and cinnamon, stir to combine.
Add flour 1 cup at a time and stir until fully incorporated.
Combine the 'extra' cinnamon and sugar in a small bowl and mix them.
Roll dough into 1 inch balls and then roll each ball in the cinnamon and sugar mixture. Place on greased baking sheet.
Bake cookies at 350 degrees for 10 minutes. Remove from oven and let sit on pan for a minute or two, then remove from pan and cool on a wire rack. Store in an airtight container.
http://eatitandsayyum.com/soft-and-chewy-ginger-cookies/
 You might also like: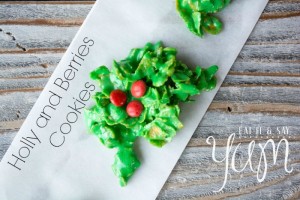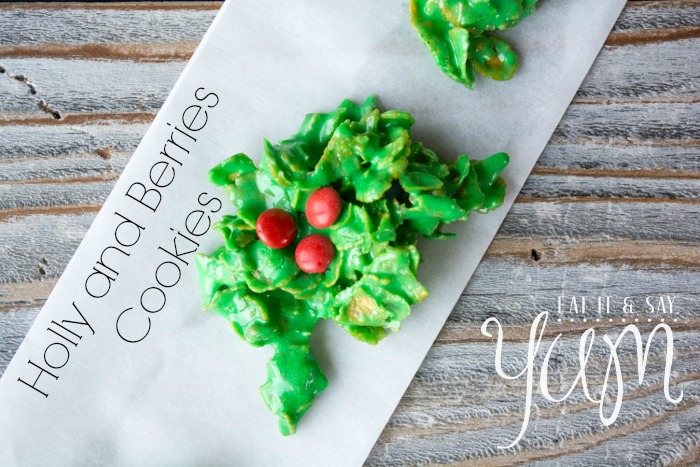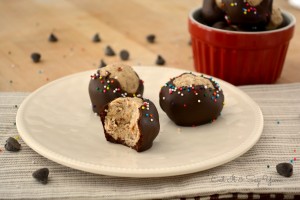 Stay Soft Peanut Butter Sandwich Cookies
Linked up at Whipperberry, and Blissful and Domestic.