Thanksgiving and Christmas just aren't complete without these rolls on the table.  Of course we have the traditional rolls, see below, but we ALSO have to have this sweet orange version.
This recipe is for both versions of rolls.  You can make one batch of dough and get both kids of rolls.  Read through this post for my instructions on how to do both kinds.
This batch makes a lot of rolls.  Feel free to half the recipe if you want less.  However, the dinner rolls freeze great, after baking.  Sometimes I pull some out of the freezer and pop in the oven to warm up.  They go great with any meal.
These would also be great for breakfast!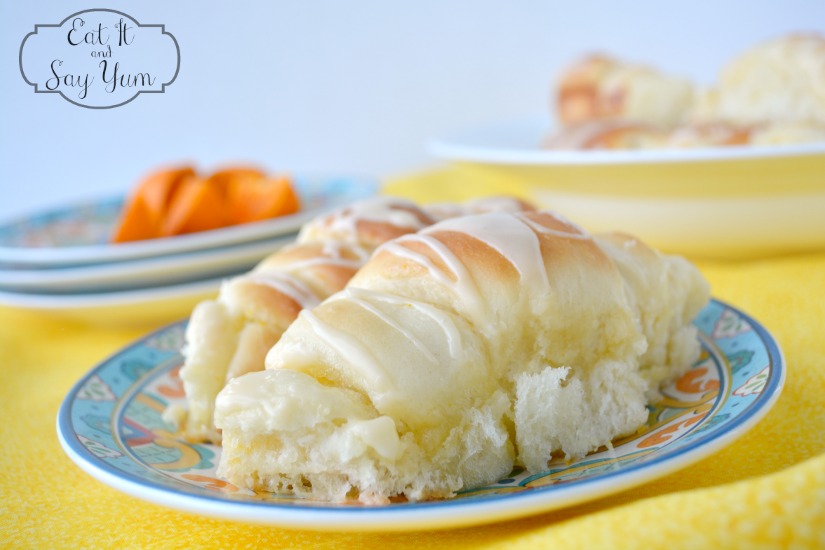 So, when I moved away from my mom and had to start making these on my own, I had been influenced by other people's cooking styles, as well as my mom's.
Now when I make these rolls, I actually use my mother-in-law's rolls recipe and my moms rolls method, and my mom's orange filling recipe.  Best of both worlds!  🙂
The rolls recipe is pretty easy and straight forward.  That's why I like it.
Mix the water, yeast, sugar,  and salt together for a few seconds- then let it sit until the yeast activates and gets bubble- about 5 minutes.
Then add your eggs and butter, mix briefly.  Then add your flour.  Mix and knead until it comes together and is nice and smooth, cleaning the bowl as it kneads,
Put that dough in a greased bowl and cover with a towel, or I prefer greased plastic wrap.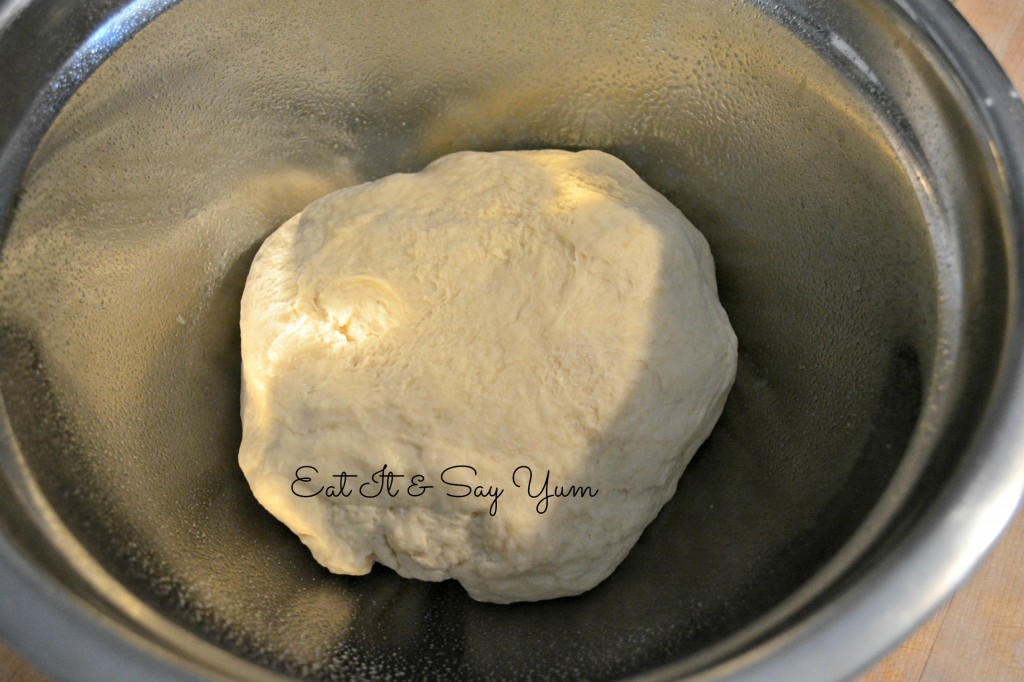 Put the bowl somewhere warm so the dough can rise, and double in size.  I like to set it in my dirty oven at warm (170-200 degrees) and put my dough in there.  I turn the oven off after a few minutes.  You don't want to cook it yet, just keep it warm.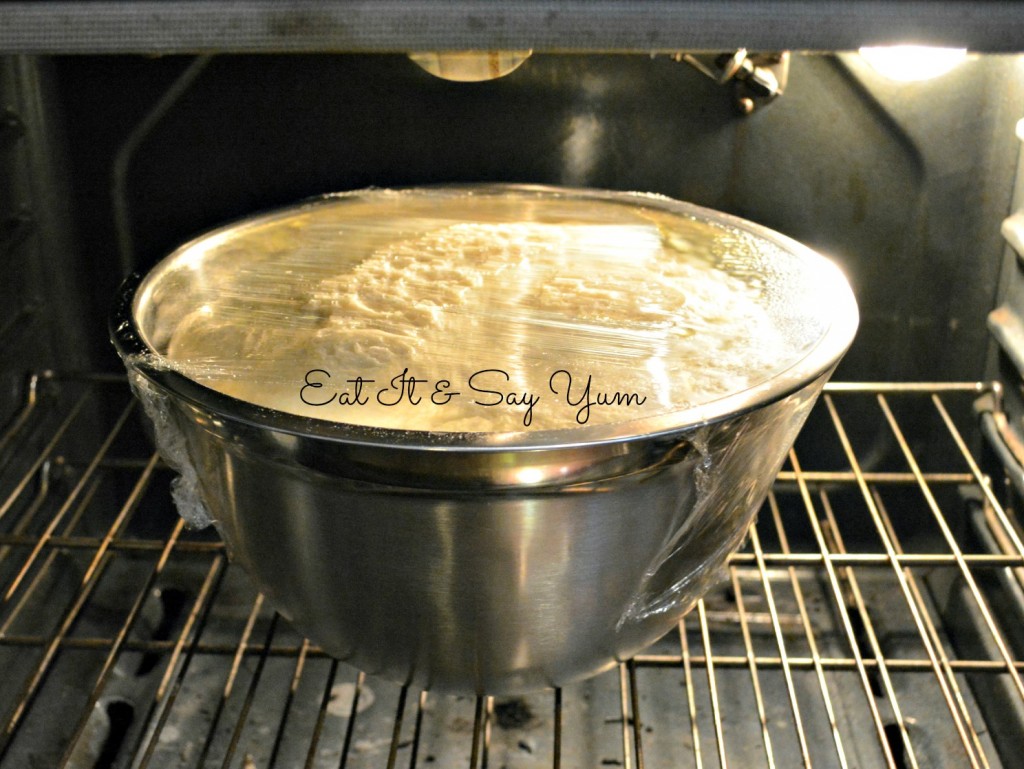 When the dough has risen, dump it out onto a lightly floured surface.  You are going to divide the dough into 6 equal parts.  I first cut the dough in half…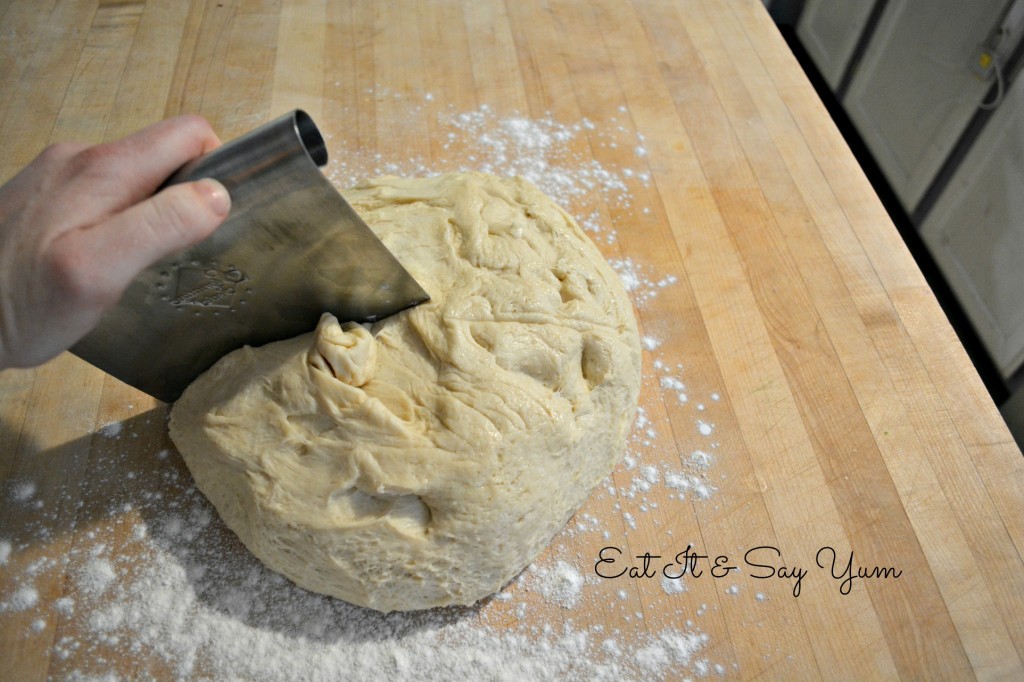 Then cut each half into thirds.  I find this is an easy way to get each section fairly even.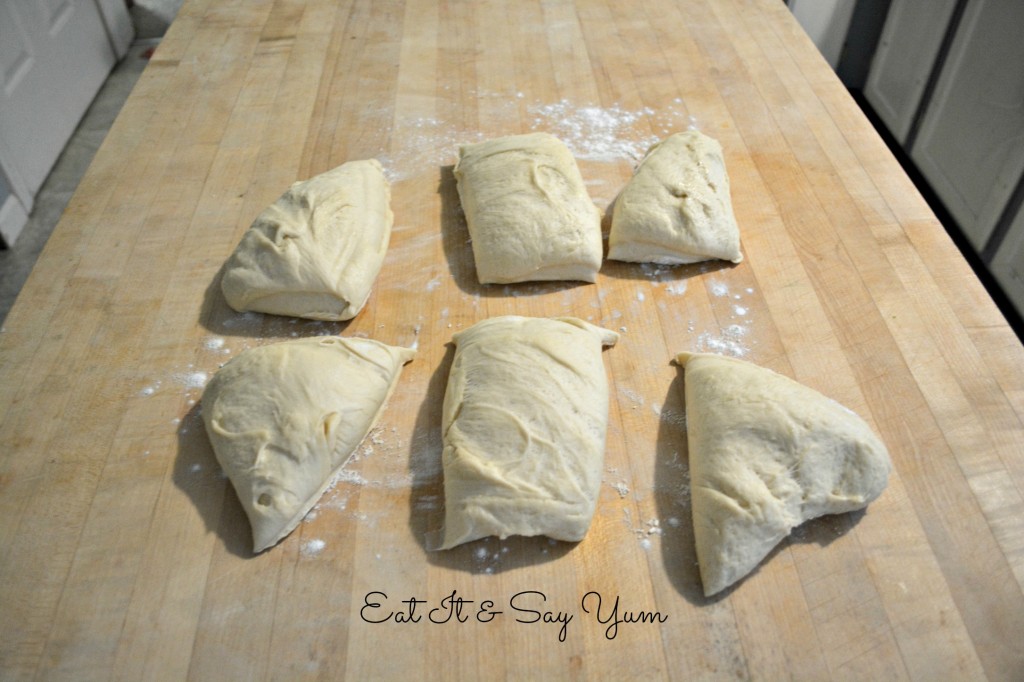 Take one piece of dough and gently shape it into a circle with your hands.  Like so…
Roll the circle disc out with a rolling pin.  It should be thin, but not too thin.  Around a 1/4 inch, maybe just a little less.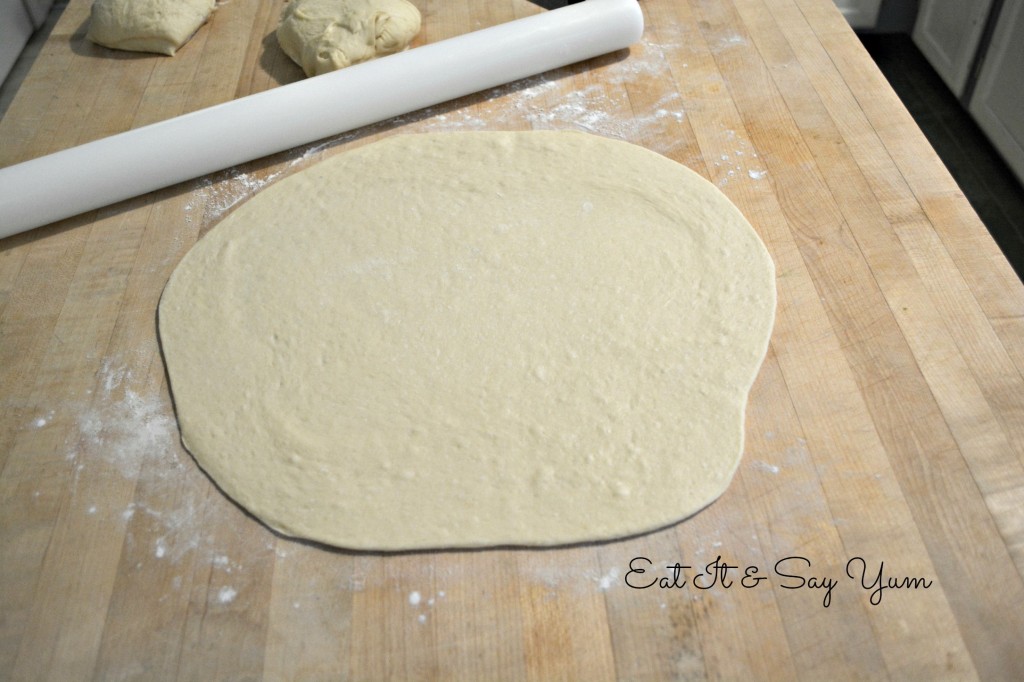 Now, whether you are making the orange rolls, or just the dinner rolls, the steps up to this point are exactly the same.  Here is where they begin to differ.  (I like to use 3 or 4 of the discs for the dinner rolls, and save 2 or 3 for the orange rolls.)
So, for the plain dinner rolls (don't let the word 'plain' spoil your opinion of these rolls, they are still good!) cut the dough into triangles.  I like to use a pizza cutter, but a sharp knife would work too.
I can easily get 12 triangles from each disc, but if you rolled yours into a smaller circle then you might get less, and that's fine.  The rolls just might be a little wider and thicker.  Who's going to complain, right?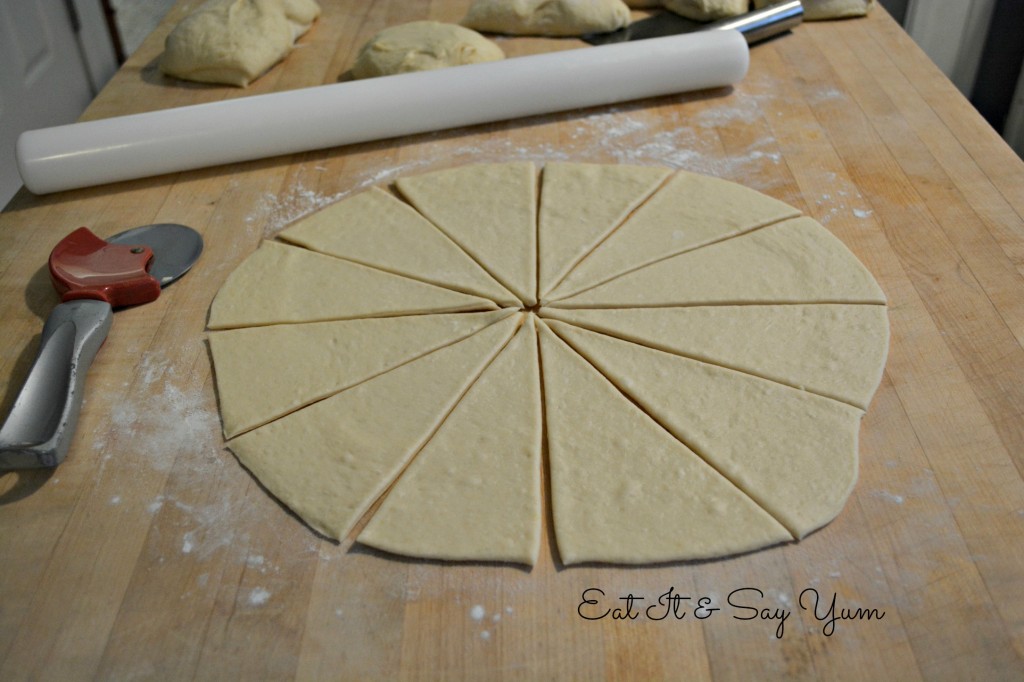 Then roll the triangles up, starting from the wide side, going towards the point.
Place fairly close together on a greased baking pan.  Let rise again, about 30 minutes, and then bake.
The rolls should be golden brown, and pretty fluffy.  Yummy.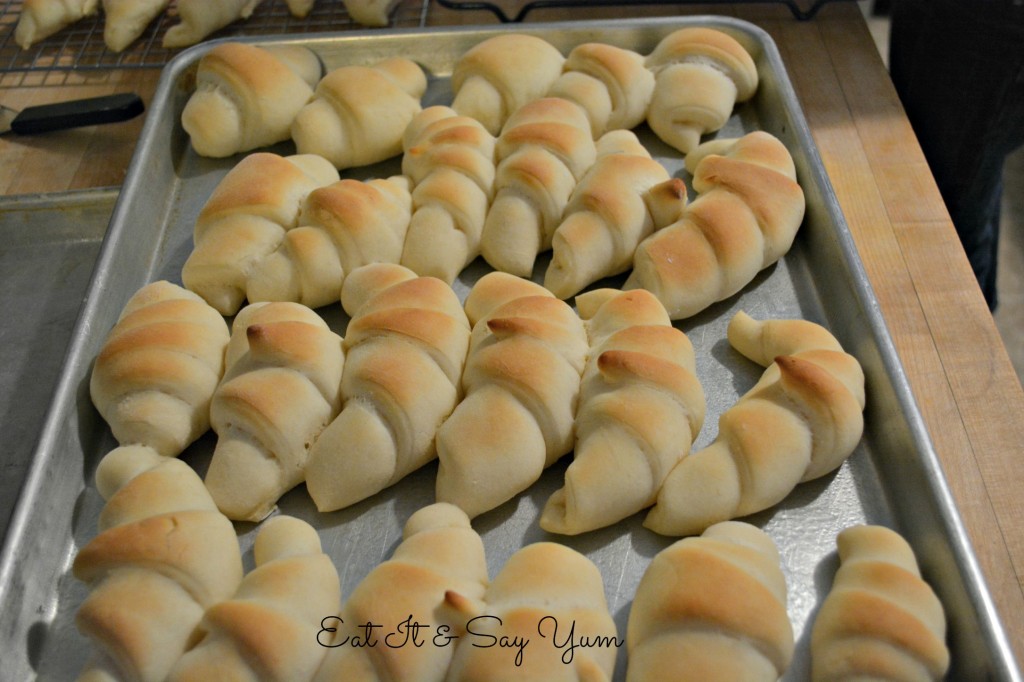 So, dinner rolls done!  Now let me show you  how to make the ORANGE ROLLS with the same recipe!  Click to the NEXT page.