Now, on to the orange rolls…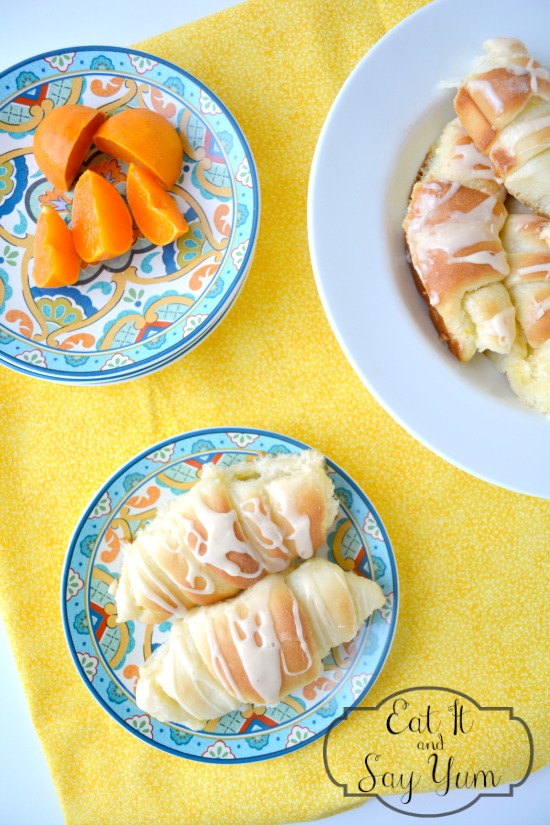 For the orange rolls, you do the same thing as with the dinner rolls, until you roll the discs out.  Then you get to make the orange filling.
Start with soft butter, sugar, and the zest of an orange.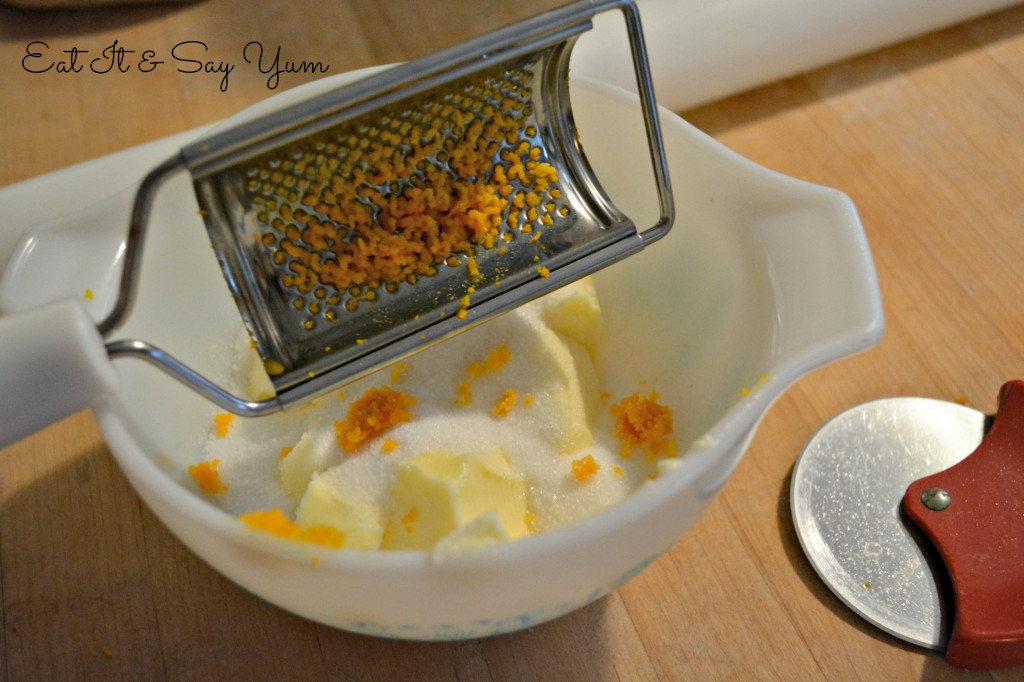 Mix that together to make a spread.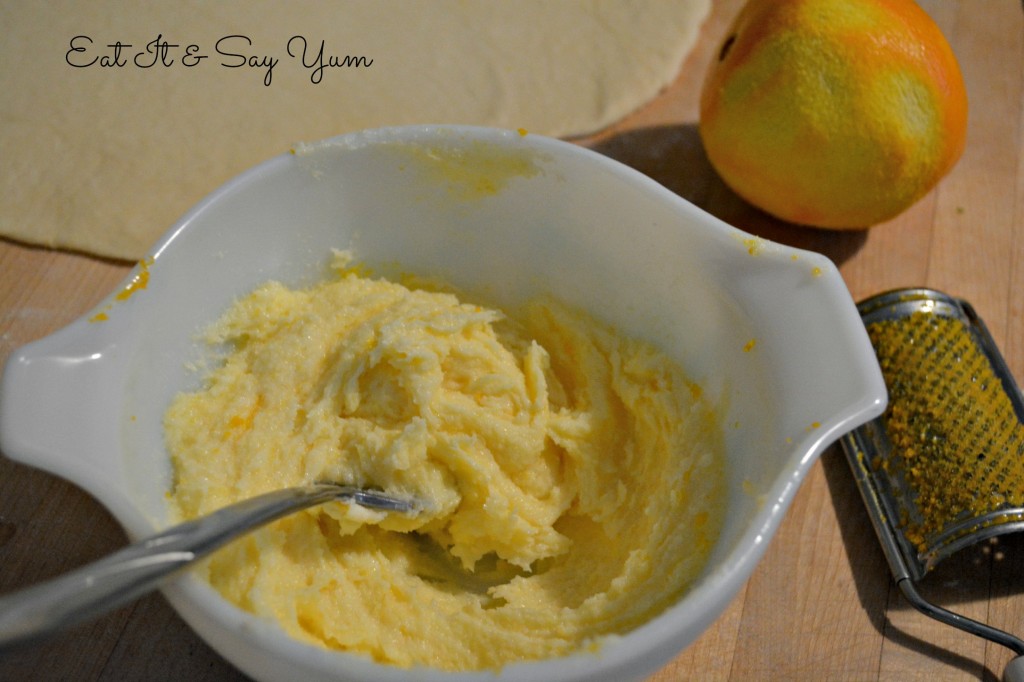 Spread the orange zest mixture onto the rolled out dough.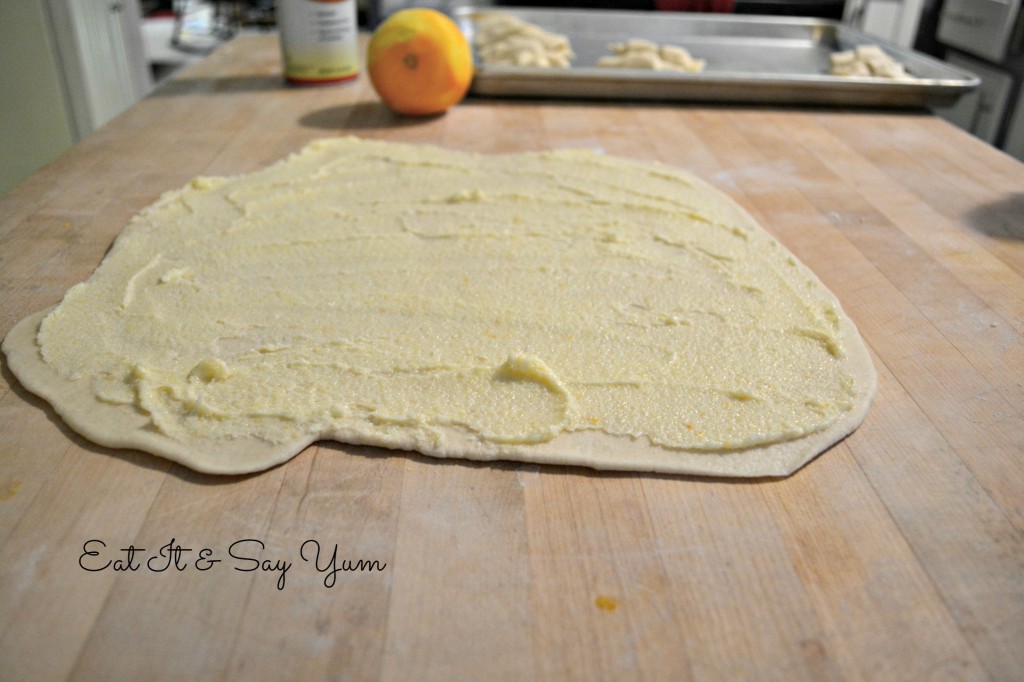 Then continue again with the previous directions.  Cut the circle into triangles, and roll then up from the wide side towards the point.  Place on a greased baking pan and let rise.  Bake til golden brown.
While the orange rolls are baking make the glaze.  Mix powdered sugar with orange juice.  I squeeze the juice from the orange I zested into a separate bowl, so I can measure it out for the glaze.
Whisk those two ingredients together.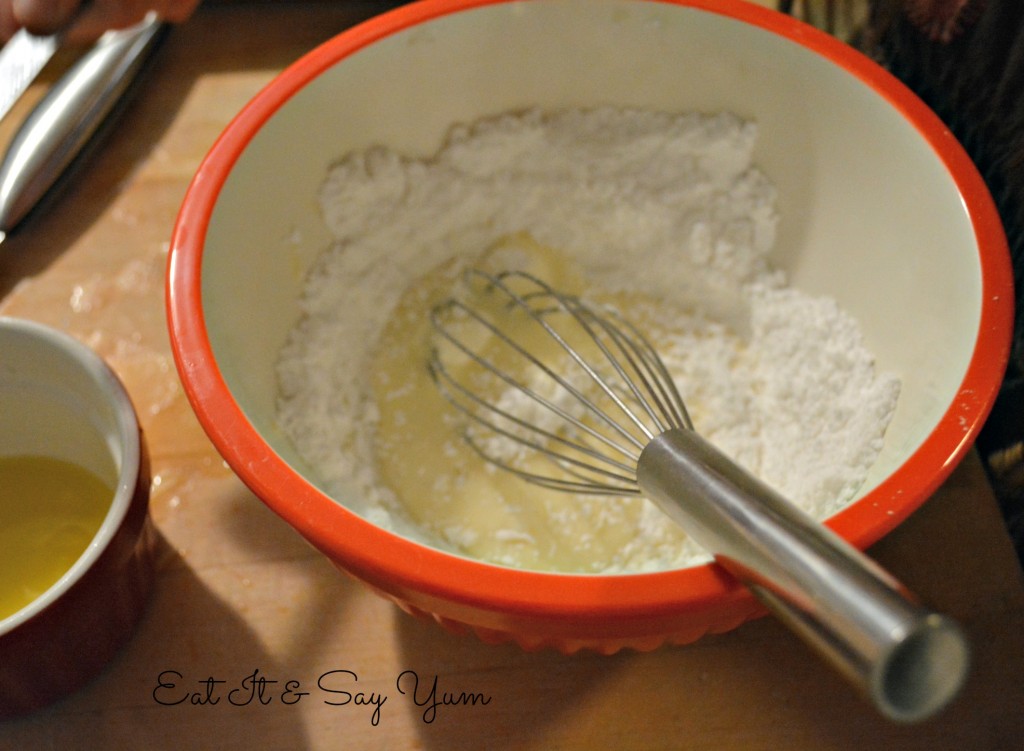 You should have a consistency that will easily drizzle off of a spoon, or whisk.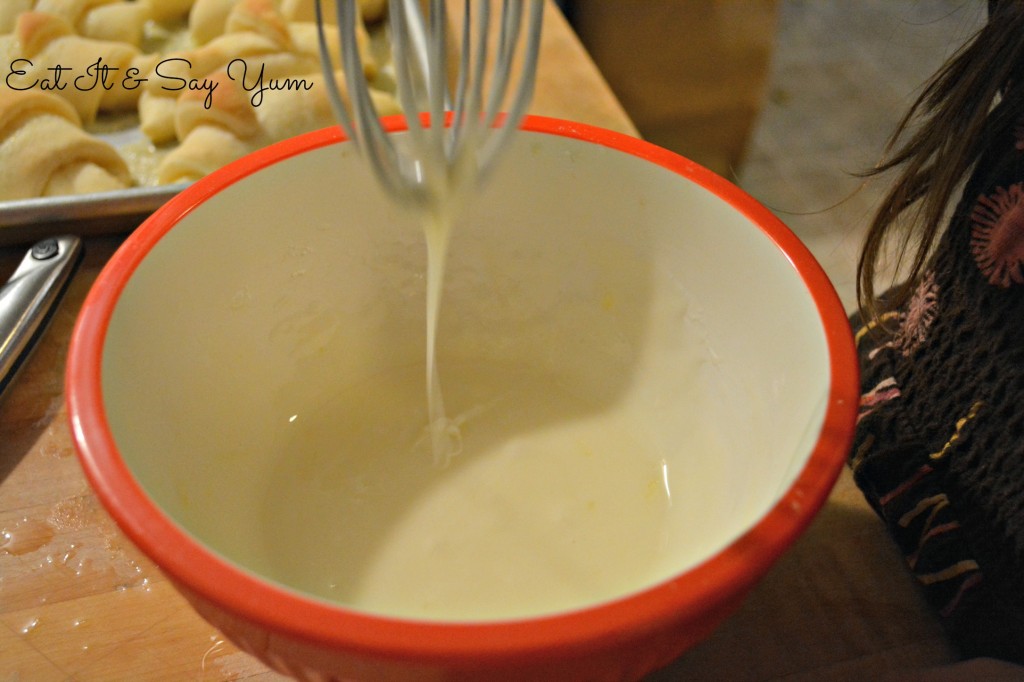 The rolls should be baked to a golden brown.  The fillings melts and comes out of the rolls a little, but that's ok.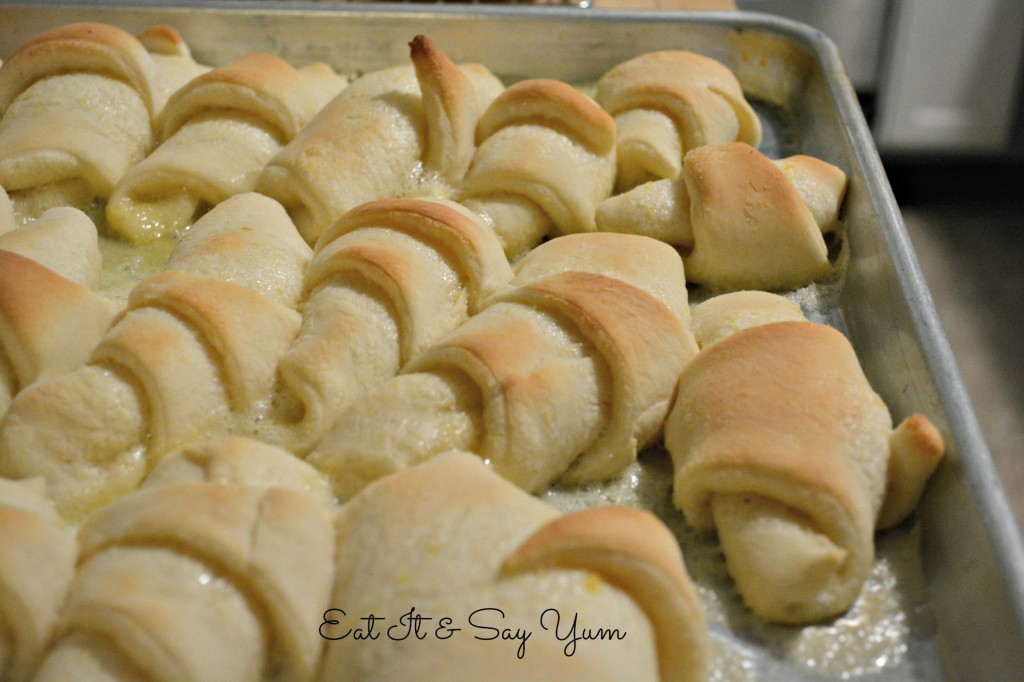 As soon as you take the orange rolls out of the oven, drizzle the glaze over the top of them.  (I think a spoon works best, but my 5 year old daughter has her own ideas…)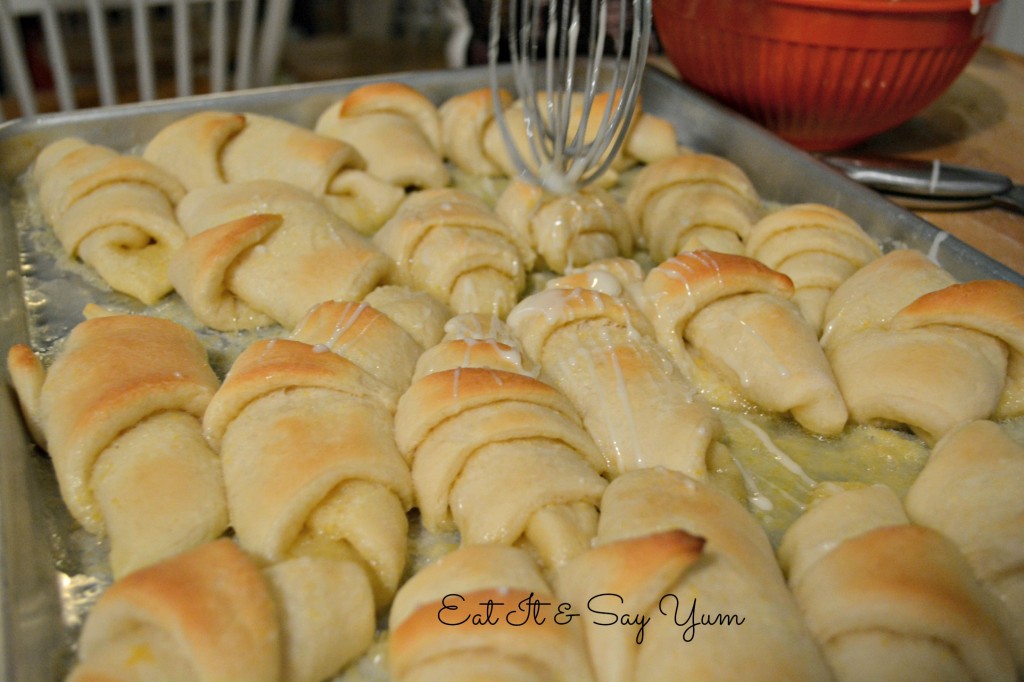 Eat the rolls while they are still warm.  I don't bake these rolls until 15 minutes before ready to eat.  That way they can bake for 10 minutes, be frosted, put in a serving dish, and still be warm when we sit down to eat.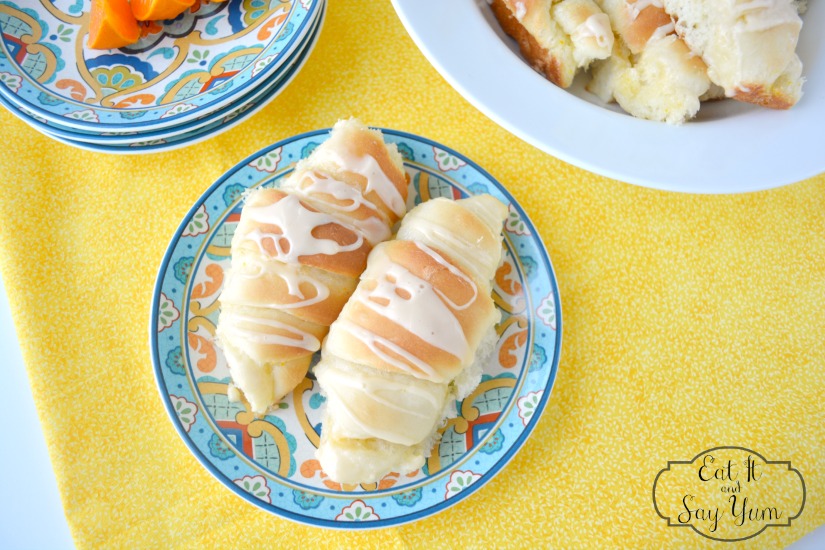 Soft and Sweet Orange Rolls (and Dinner Rolls)
Ingredients
Dough: 7ish cups of flour
1/2 cup sugar
1 1/2 tsp salt
2 Tbs yeast
1/2 cup butter, softened
2 cups water, very warm
2 eggs
Filling for Orange Rolls: (you can half these measurements if you are only making two or three of the dough discs into orange rolls) Zest and juice from 1-2 oranges
1 cup butter, softened
1 cup sugar
Frosting/ Glaze for Orange Rolls: About 3-4 cups powdered sugar. Juice from the orange.
Instructions
In the bowl of a stand mixer, with the dough hook attachment, mix 1 1/2 -2 cups of flour, 1/2 cup sugar, the salt, and the yeast.
Add the 1/2 cup butter, and two eggs. Mix.
Slowly add the hot water, and let mix for approximately 10 minutes on low speed.
Add more flour, about 4 cups, to make a soft dough. Knead. You can add small amounts of additional flour if the dough is still too sticky.
Place dough in greased bowl and allow to rise until double in size, about 30- 45 minutes.
Once risen, lightly flour your work surface, divide dough into 6 equal parts and shape them into discs then roll out into a circle, one at a time. (Cover the remaining portions of dough with plastic wrap or towel while working with each one- to prevent them from drying out.)
For dinner rolls, cut the circle into 12 triangles (like pizza slices). Roll each slice starting for the wide side going towards the point. Place on a greased baking sheet.
For orange rolls, mix the remaining butter, sugar, and orange zest. Spread this on the rolled out discs of dough. Cut dough into 12 triangles, roll each triangle up starting from the wide side going towards the point. Place on a greased baking sheet.
For both kids of rolls: Let the rolls rise, about 30 minutes. Then bake at 400 degrees, for 10 minutes, or until the rolls are a golden brown.
Let Dinner Rolls cool slightly on a cooling rack.
For Orange Rolls, make frosting/ glaze by mixing the powdered sugar and orange juice, using these proportions: 1 cup powdered sugar to 3-4 tsp orange juice. Make as much or as little glaze as you need. Drizzle the glaze over the orange rolls while they are still hot out of the oven. Serve warm.
http://eatitandsayyum.com/soft-and-sweet-orange-rolls-and-dinner-rolls/
So good!  These always go fast.  So enjoy one while you can!