A  Millennium Falcon cake tutorial- every little boy's dream birthday cake!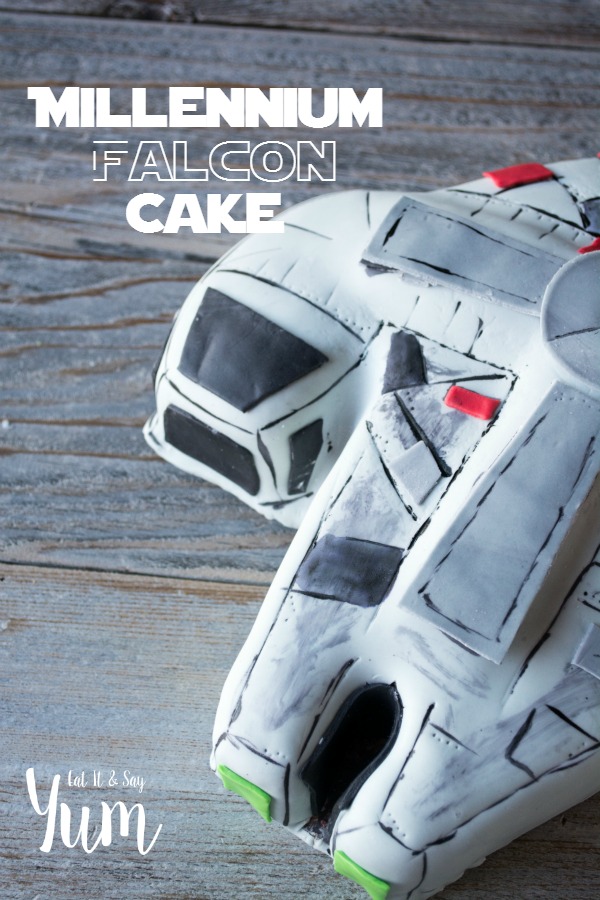 Since I have been blessed with three boys, Star Wars is a pretty big thing in our house.  And it doesn't hurt that my name is 'Leia.'  (Although I pronounce it 'Leah')  The new Star Wars movie 'The Force Awakens,' is coming out soon, so what better time to share this cake!?
My son requested a Millennium Falcon Cake for his last birthday.  And since I like to dabble in 'cakery,' I obliged him.  And because I know there are lots of Star Wars fans out there, I'm sharing a little tutorial so you can make your own cake.   I did use fondant for this cake, so some skills in that area are helpful- or at least an attitude of learning how to use fondant.  (Which reminds me, I don't have a tutorial on fondant up…  Is that something you would like to see here on the blog?)
Things needed:
1 cake mix- baked as directed- in 2, 8-inch round pans
a batch of buttercream frosting
a batch of fondant frosting, plus tools for using fondant (rolling pin, mat, small knife, etc.)
a cardboard cake board
parchment paper and a pencil
knife
lemon extract- or water can be substituted
desired food colorings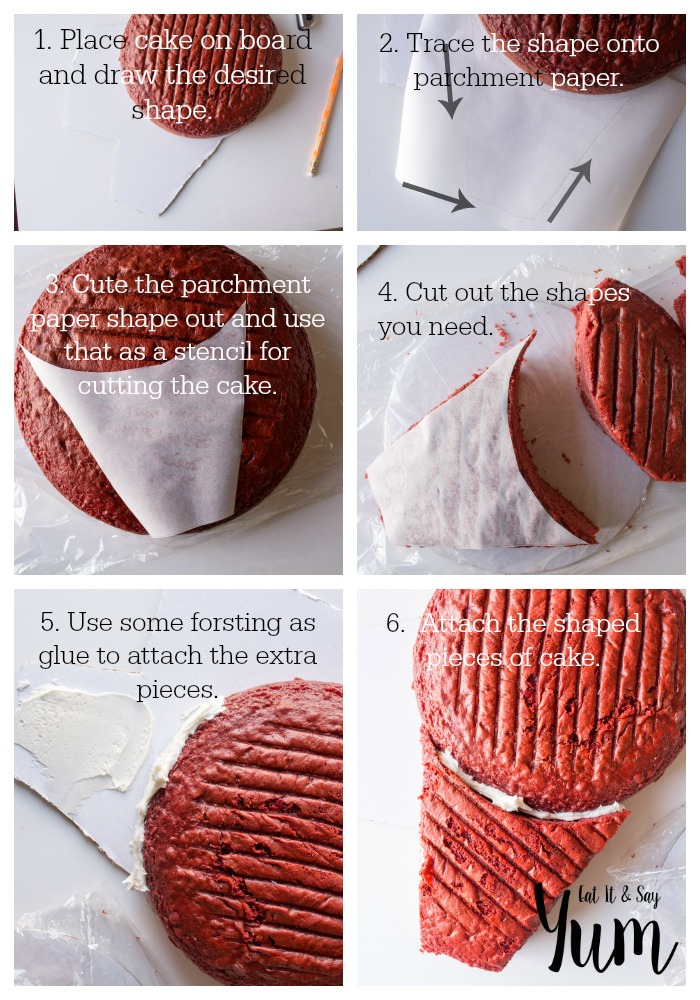 I used a Red Velvet cake mix, because that's what my son wanted.  And I only needed two 8-inch rounds.
I start by putting my cake on a cardboard cake board and drawing the shape that I wanted.  (I just freehand things, but you could print out a coloring page and trace that if you wanted. )
Then the I traced my board shape onto parchment paper and cut that out.  Now I can use the parchment paper as a stencil to cut those shapes out of cake.  The pictures show the front portion of the cake, but I followed the same steps for the side cockpit area of the ship as well.  Once the cake pieces are cut out, I attach them to my board and the main piece of cake with buttercream frosting.  I also cut a slit down the middle of that front piece, since that is how the Millennium Falcon looks.
Next is covering the whole cake with a thin layer of buttercream, so that the fondant will attach to it.  Then roll our your desired colors of fondant and add those to your cake.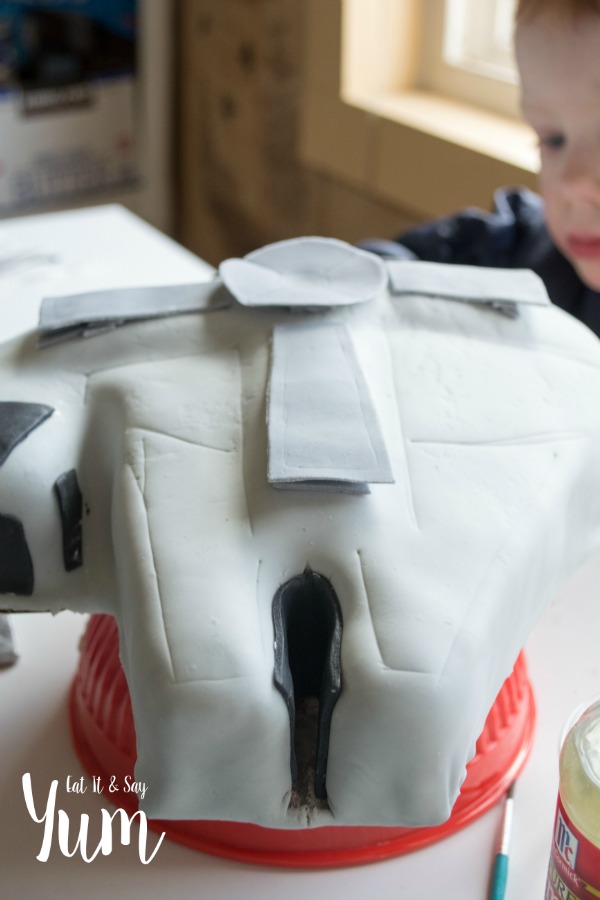 I used two shades of gray, black, blue, green, and red fondant.  You only need a little of most of the colors.  I use lemon extract and a food-safe paint brush to attach all the little fondant details to the light gray fondant.  And I used a toothpick to gently draw the lines on the fondant.
I also diluted some gel food coloring with the lemon extract to paint on more color details.  And I kept all the details pretty basic.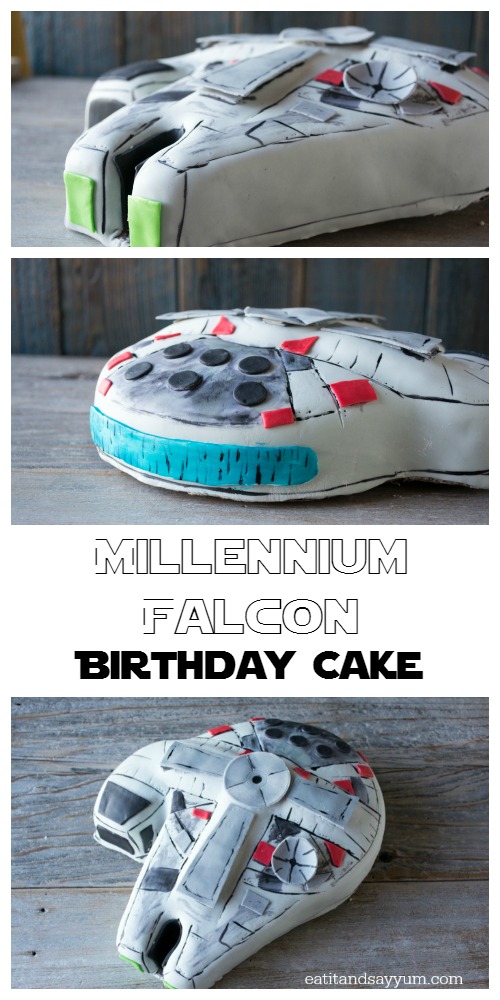 In the end I had a cake that won't be winning any awards, but my son LOVED it!  So did his friends, and their parents.  It was worth the work.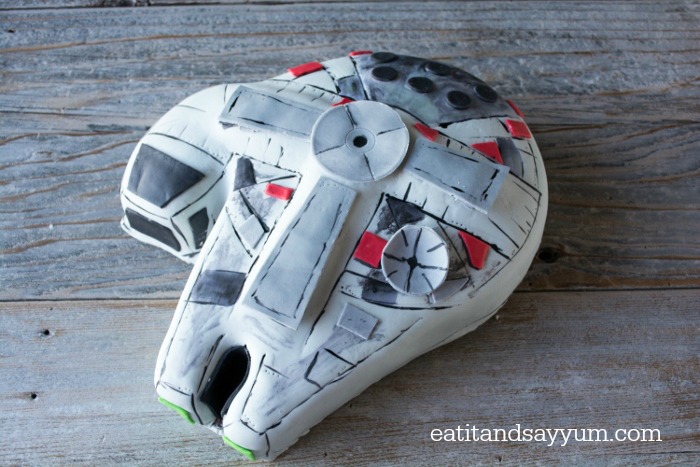 So, I have to ask, do you make your kids cakes?  Are you adventurous enough to try fun shaped cakes?  Just like anything else, your cakes will get better with time and practice.  Good luck, and enjoy the new Star Wars movie!!  I'm so excited for it!
Here are some more great ideas to get you pumped up for the new movie!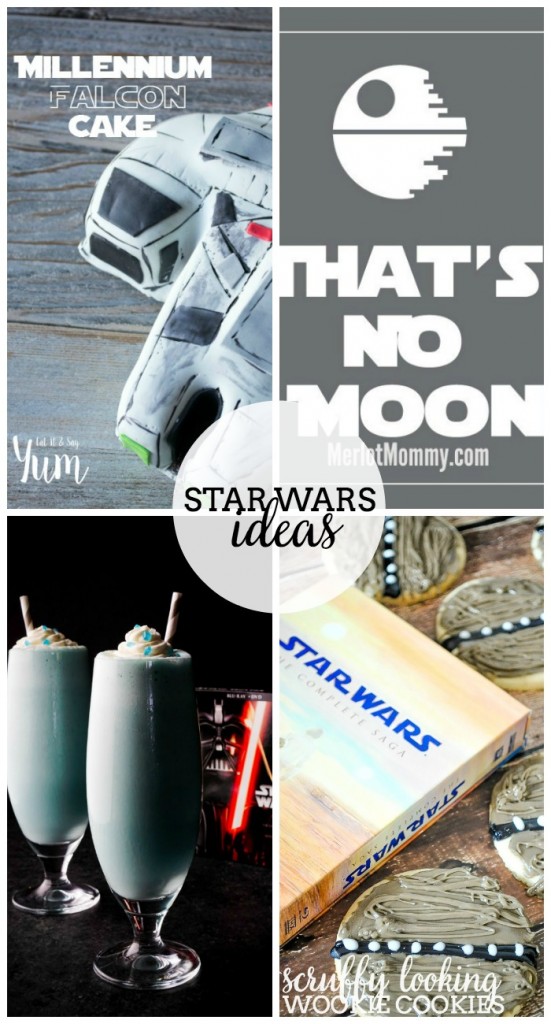 Enjoy these delicious recipes, perfect for a Star Wars movie night in or a Star Wars party, AND a fun free printable!
Scruffy Looking Wookie Cookies from The Love Nerds
Star Wars Blue Milkshake from Sugar & Soul
Millennium Falcon Cake from Eat It & Say Yum
FREE "THAT'S NO MOON" STAR WARS-INSPIRED PRINTABLE from Merlot Mommy